5 Tips on Implementing Salesforce Events Management for your Organisation
Different types of events have already become a regular part of the agenda for many companies as they're a great way to communicate, share experiences, build networks and find partners.
Both commercial companies and non-profit organizations use events in their activities, but as the number of events increases organizing them becomes a more complex and multi-tasking role. This is where Salesforce Event Management comes into play.
This is a solution that will help your event manager boost productivity, streamline event creation and collect analytics within your organization.
You can create a custom, branded site with detailed information about events, registration forms, plus different types of tickets and schedules.

Why Use Salesforce Event Management?
The Salesforce platform is an amazing tool for event planning that combines CRM which stores all of your customers' data and Event Management solutions.
There are Salesforce native apps that do not need any reconfiguration to work properly with Salesforce — they extend existing functionalities of your platform and keep all of your data in one place.

Each conference, seminar, or meeting needs to be structured and planned to ensure that all the important event processes like registration, schedule, payments, and tracking event attendance are able to run successfully.

Who Can Use Salesforce Event Management?
The Event Management app can be useful for all types of industries, such as education, charity, healthcare, high tech, and IT.
Non-profit organizations gather volunteer meetings or charity events for fundraising, and commercial companies can run seminars for their employees or conferences for partners.

Event Management for Non-Profits
For non-profit organizations implementing Salesforce event management software can make a big difference, especially if these events are generating revenue.
Each organization needs to be creative and find new fundraising strategies to raise money and keep moving forward their mission. It is also important to build a long-term relationship with donors and to keep in touch with them regularly.
Therefore, non-profits can use this online platform to host events and support their fundraising campaigns, volunteer work, and advocacy initiatives.

5 Tips to Successfully Launch Event Management in Your Organisation
Choose the appropriate app that will meet your needs.
You will find many different apps on AppExchange, but the AC Events Enterprise app is the most comprehensive Salesforce native Event Management app created by Advanced Communities.
With a whole host of functionalities and great integrations, our app will extend the range of your possibilities and definitely improve your events planning process.
Build the site for your events.
Salesforce Experience Cloud with our custom components enables you to create a branded space where attendees can find detailed information about the event, location, price, date, time, schedule, etc.
You can also publish information about speakers to engage a greater audience, and about sponsors in order to promote them and attract new ones.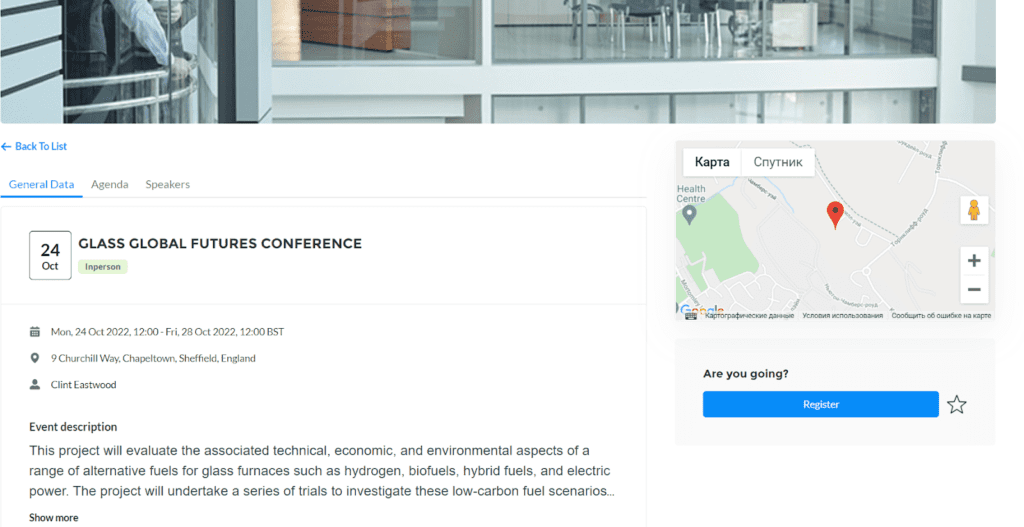 With Google Maps integration events locations can be displayed on the onsite map.
Event microsite holds all the information about your event, giving all your guests easy and convenient access.
Set up pricing packages for the events.
With AC Events Enterprise you can create custom pricing packages for each event.
It is possible to create free packages, paid packages with different prices, or a donation package, depending on your goals.
Users can register and pay for registration in a few clicks on the site using debit or credit cards with Stripe API integration. Attendees can register either themselves or another named delegate. Usually, events have limited capacity for attendee registrations.
Our app allows you to enable the waitlist feature when this limit is reached, so guests from the waitlist can get to the event if someone cancels their registration.
After your event, it's a good idea to analyze all the metrics from it using the reports and dashboards.
The AC Events Enterprise app collects information about event attendance, registration, tickets revenue, the most popular pricing packages, and engagement of attendees.
You can use this data to improve your future events and also make them more useful for your attendees.
The Salesforce platform enables you to create a personalized event site for any goals, thus making each event both special and memorable for your guests.
Events Management software discovers a world of new opportunities and improvements for managers and planning teams to create the best events.

Follow us on social media for more information about Salesforce and Experience Cloud.