Keep track of reported software bugs and issues with native to Salesforce AC Known Issues application
AC Known Issues component is designed to provide your customers with clear and systematic information about the product issues and their solutions. It helps product teams to prioritise most critical issues and customers report and track problems that they have.
Key Features

Issues Tracking and Management

Status and Tags Support

Prioritising bugs

Email notifications on status change
Take a look at how these key features can benefit your community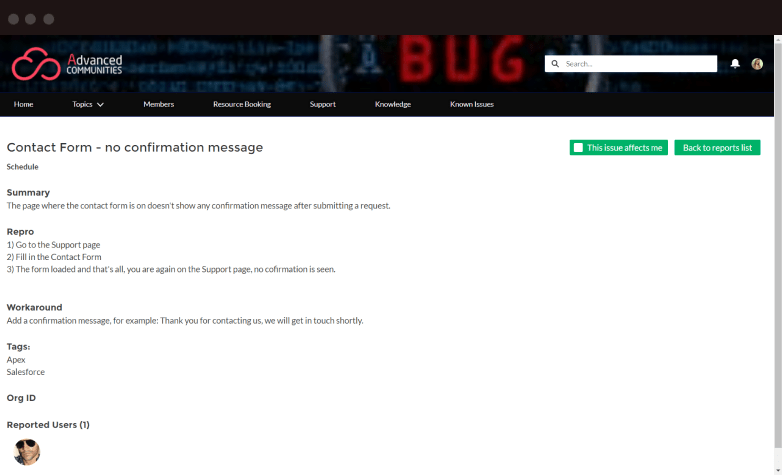 The most effective Salesforce Known Issues application that is sure to meet your needs!
Issues Management:

track and manage all possible issues and provide workarounds for them.

Custom Fields Support:

create additional fields to show on the issues detail page and create issue form.

Flexible Filtering:

filter and search issues by status and tags

Tags Support:

identify the areas of impact and easily browse for issues by assigning appropriate tags.

Status Support:

assign relevant statuses to show the accurate estimation and a state of the issues fixing process.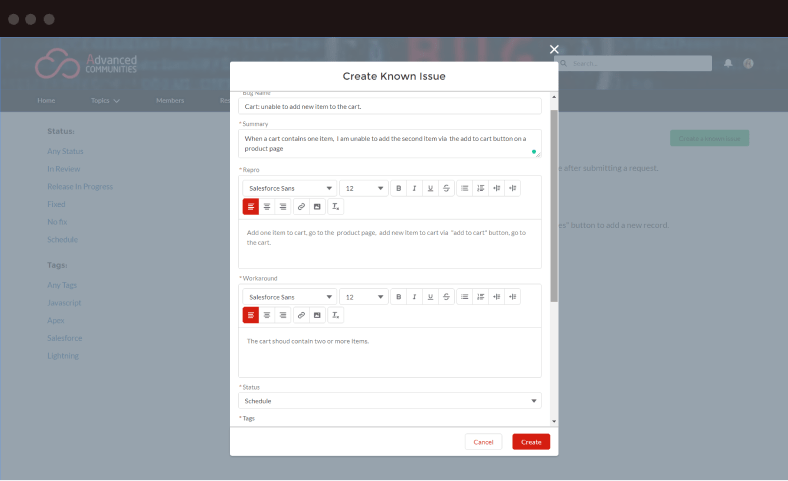 Made for developers, yet easyto-use AC Known Issues component.
Bugs Reporting from Community Members:

let community users help you and report on bugs from the community.

Issues Auto-Follow:

let community members follow issues that affect them. This will help you to detect a bug severity and

prioritise your resources to deal with the most critical bugs first.

Email Notifications: keep your customers informed as your team works through the backlog of issues.

Notify your customers about the status change of the issues they follow.

Moderation Support:

enable moderation to check issues reported by the community members.
AC Known Issues within your Salesforce Community Cloud by Advanced Communities effectively automates the process of tracking and monitoring bugs, defects and other issues.
Get in touch
If you want to have a conversation about anything related to Community Cloud or see demos of our free components and learn how to maximize the value of community to your business.