Get familiar with AC products!
Hello dear friends!

Many of you already know about our company and our team. Many of you use our components and communities built by our team.

Advanced Communities is a Salesforce partner and Community Cloud experts. We have been involved with the Salesforce platform for more than 10 years.

During that time we grew up professionally and are happy to share all our experience and products with you.

For now, we are one of the biggest app providers on the AppExchange and have over 80000 installations.

We are proud that our applications and solutions for Community Cloud are popular and that they help you experience customer and partner success.

We also provide custom solutions and community designs to create a unique experience for each of our customers!

One of the most popular components for Community Cloud is definitely Ideas. We provide two Ideas applications on the AppExchange: Free Ideas component and Ideas Enterprise (paid).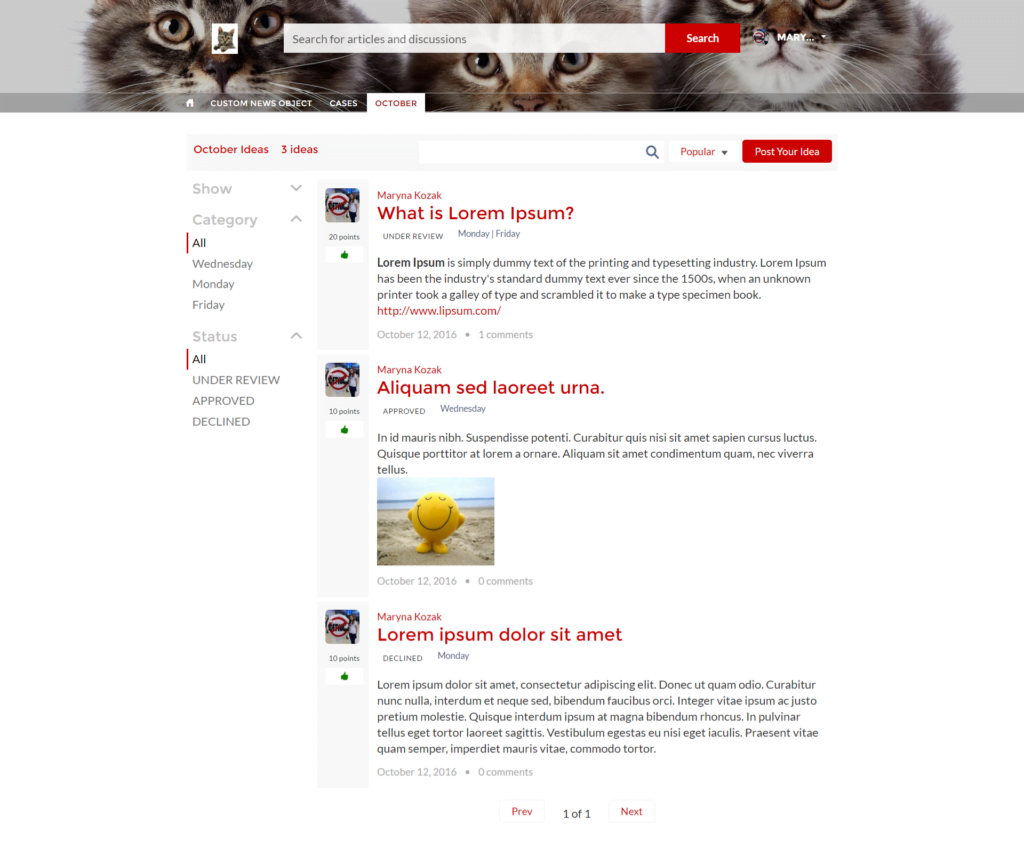 FREE Ideas for Community
Ideas is designed to engage your customers, partners, and employees within a community and to let them generate new and unique ideas.

Implementing Ideas will help you to understand the needs of your customers better and to get the most valuable feedback.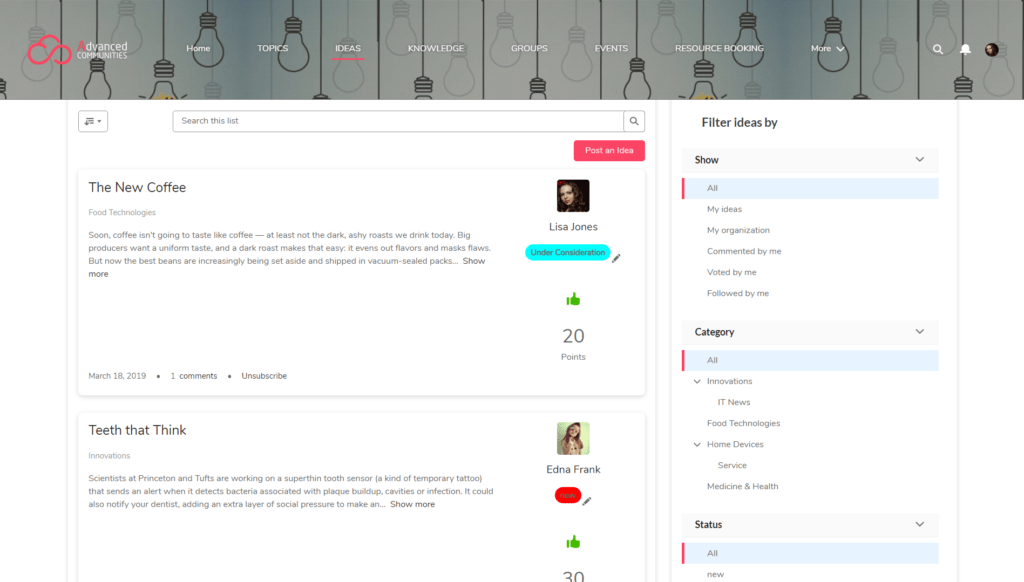 AC Ideas Enterprise with LEX support

AC Ideas Enterprise is the most powerful and comprehensive idea management application for Salesforce Community Cloud.
Flexible and rich application functionality allows you to automate and easily manage all ideation processes: submitting ideas, voting, subscriptions, notifications, and many other things.

The not less popular application for the community is Event Management.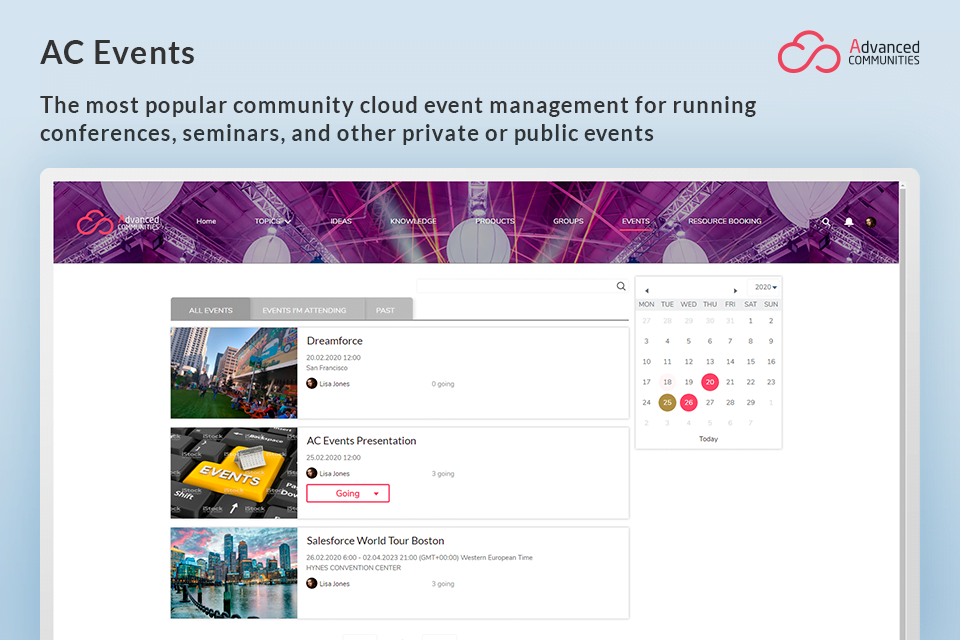 AC Events
Events is an ultimate community cloud event management app for running conferences, seminars, and other private or public events.

The component provides essential event functionality like ticketing, registration, dietary preferences, and RSVP.

The third place in our rating is definitely taking a Knowledge Management component for the community.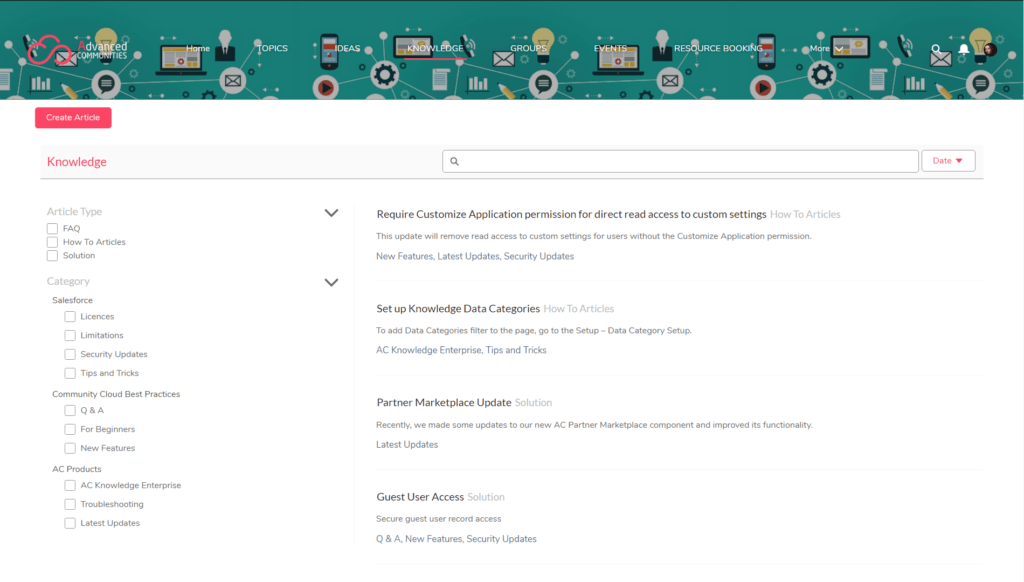 AC Knowledge Management Enterprise
The app is designed to help organizations share their documentation with their customers, partners, and employees effectively in a clear and structured way and to enable customers to contribute to the Knowledgebase.
AC Knowledge Management helps you empower employee knowledge, increase customer satisfaction, and decrease support costs!

AC Member Directory and AC Partner Marketplace are great tools to manage and collaborate with community members and partners. Also, the new powerful version of the member directory component is coming soon – AC Member Directory Enterprise! Don't miss it!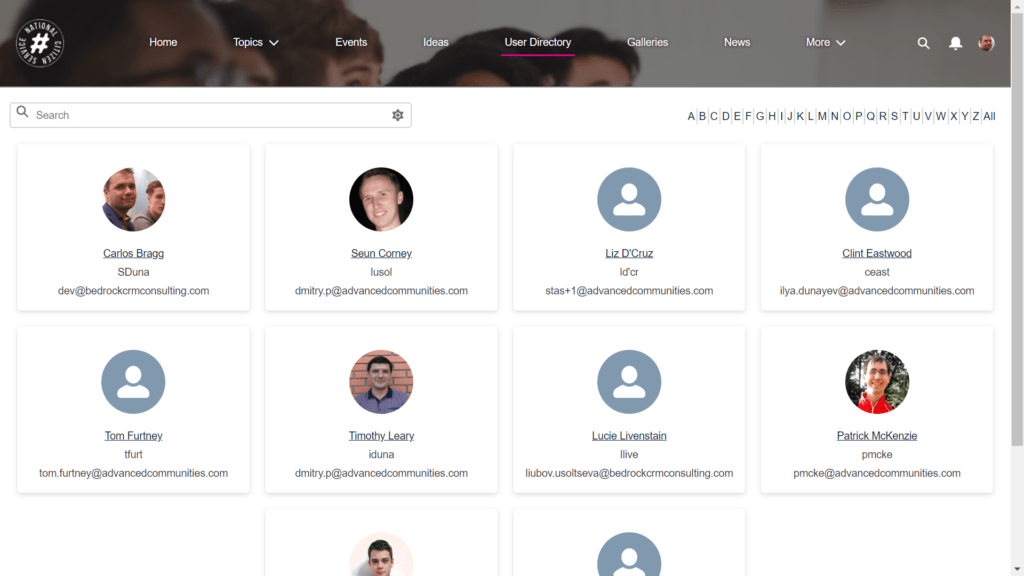 AC Member Directory

AC Member Directory is a comprehensive solution to track, manage, and collaborate with community members.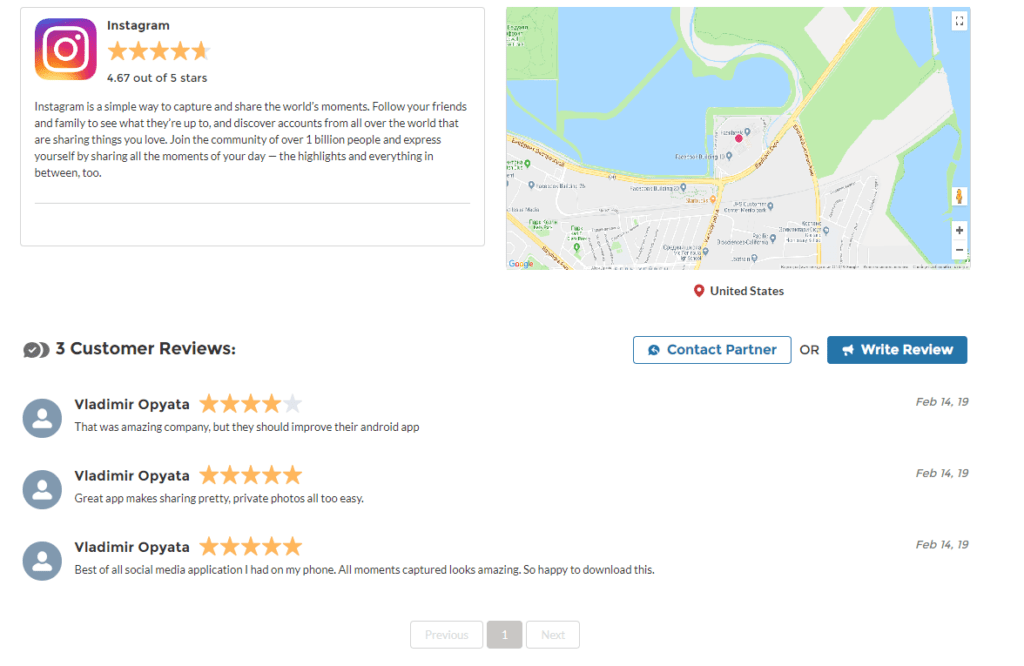 AC Partner MarketplaceAC Partner Marketplace
AC Partner Marketplace is an excellent tool for your partners to improve the process of attracting new customers, and for your customers to get the maximum freedom in choosing and searching for the best suppliers and products.
Today, eCommerce is a very popular business model that refers to the buying and selling of goods or services using the internet, and the transfer of money and data to execute these transactions. Advanced Communities provides two types of eCommerce software for Salesforce Communities: eCommerce application and a bolt solution.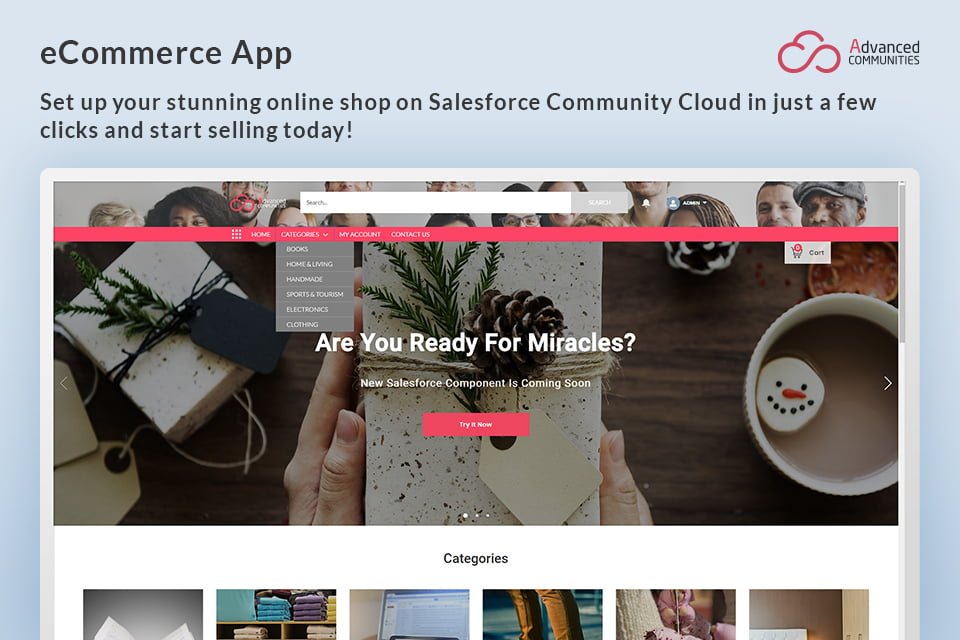 AC eCommerce

AC eCommerce provides the functionality to sell all kinds of goods or services online using the community, and accept debit and credit card payments.
eCommerce App comes with a set of lightning community components that allow you to add appropriate pages for shopping to your community.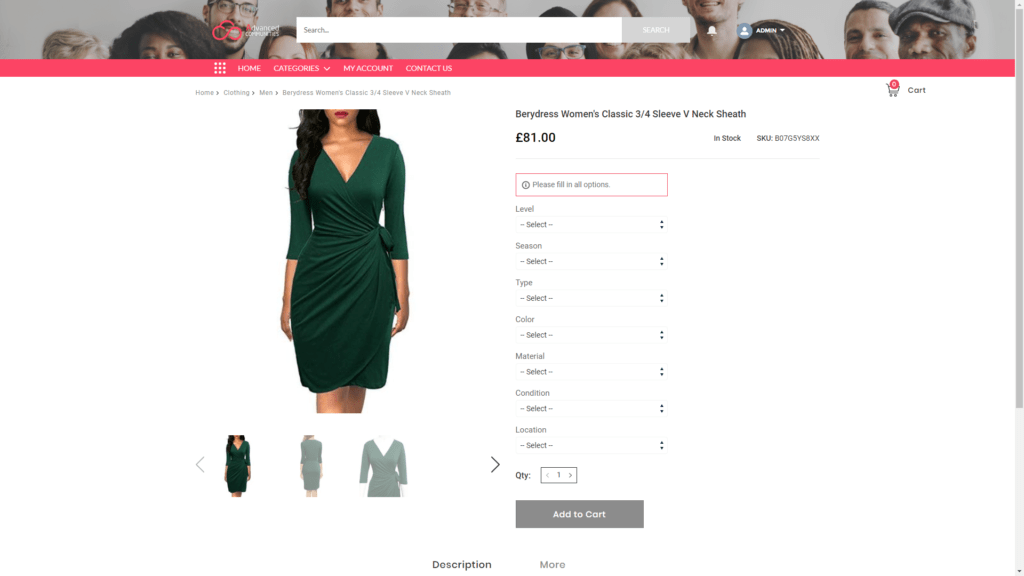 AC eCommerce Bolt Solution

eCommerce Non-Profit Edition is a lightning bolt solution with a prebuilt community template, perfect to create a standalone online shopping site.
eCommerce Non-Profit Edition is free for registered non-profit and charity organizations.

AC Blog
AC Blog is a great tool to help your community to be found online, become more popular, and generate leads and customers.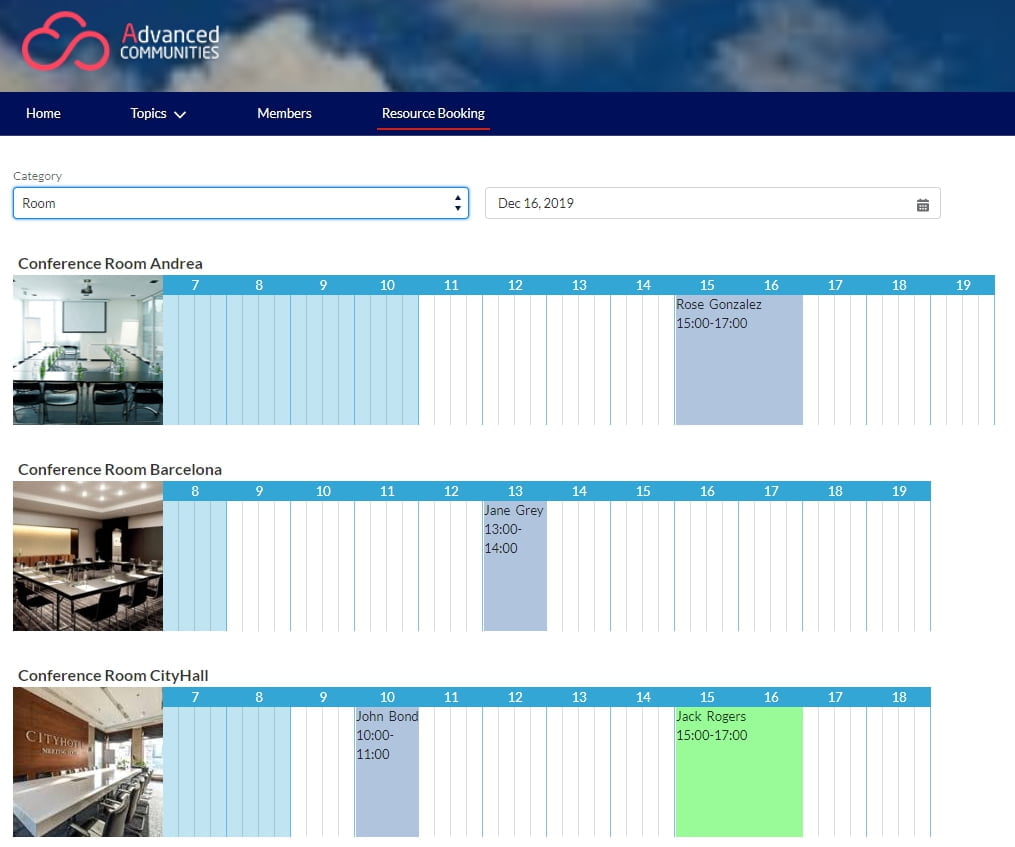 AC Resource Booking

AC Resource Booking software allows you to manage rooms, devices, workspaces, and services all in one place.
Present your products, accept online reservations, and provide customers with a great booking experience using AC Resource Booking for Community by Advanced Communities!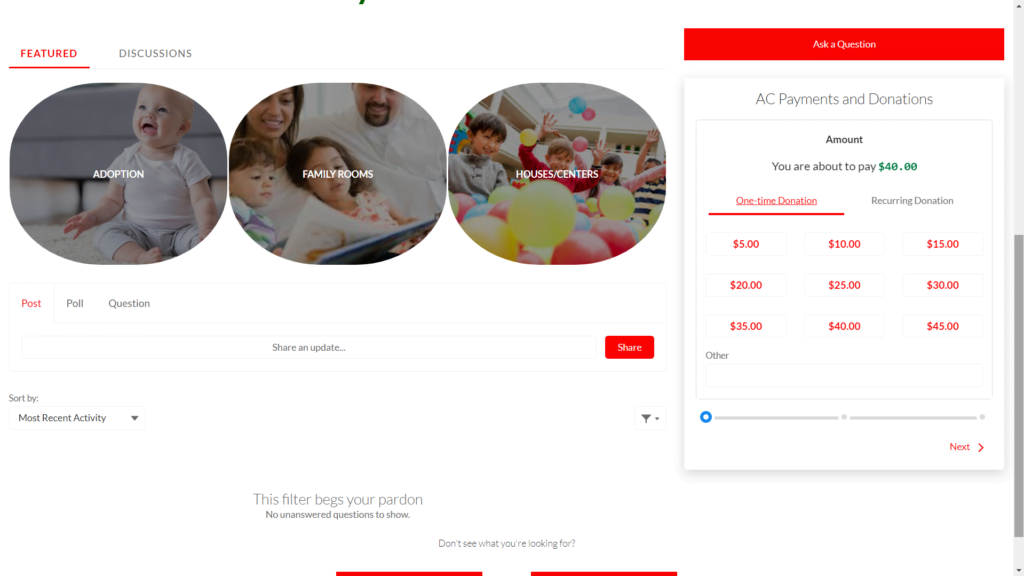 AC Payments and Donations

AC Payments & Donations is a powerful fundraising software for the community cloud that allows processing credit and debit card payments from your customers, partners, employees, and members today!
AC Payments & Donations is also adapted to the needs of non-profit organizations and integrated with Non-Profit Success Pack (NPSP).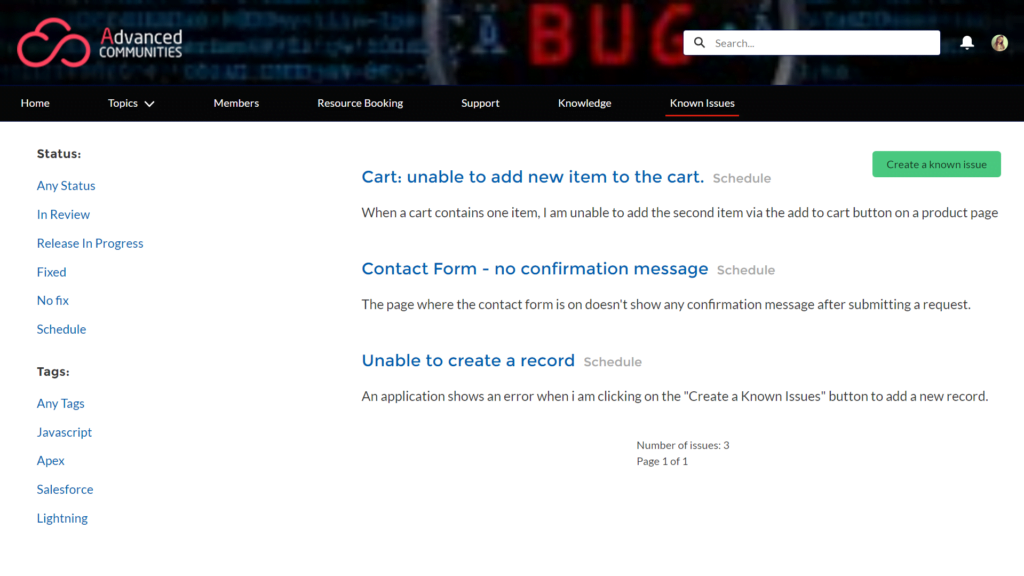 AC Known Issues
AC Known Issues is a bug-tracking application that keeps track of reported software bugs.AC Known Issues component is designed to provide clear and systematic information about possible issues and their solutions to your customers.
AC Gallery
AC Gallery is a great tool for showing images and videos on Community Cloud.
Use AC Gallery component to create attractive image and video collections and to share everything you want: the best images and videos from events and meetings, product images, or customers' photo feedback.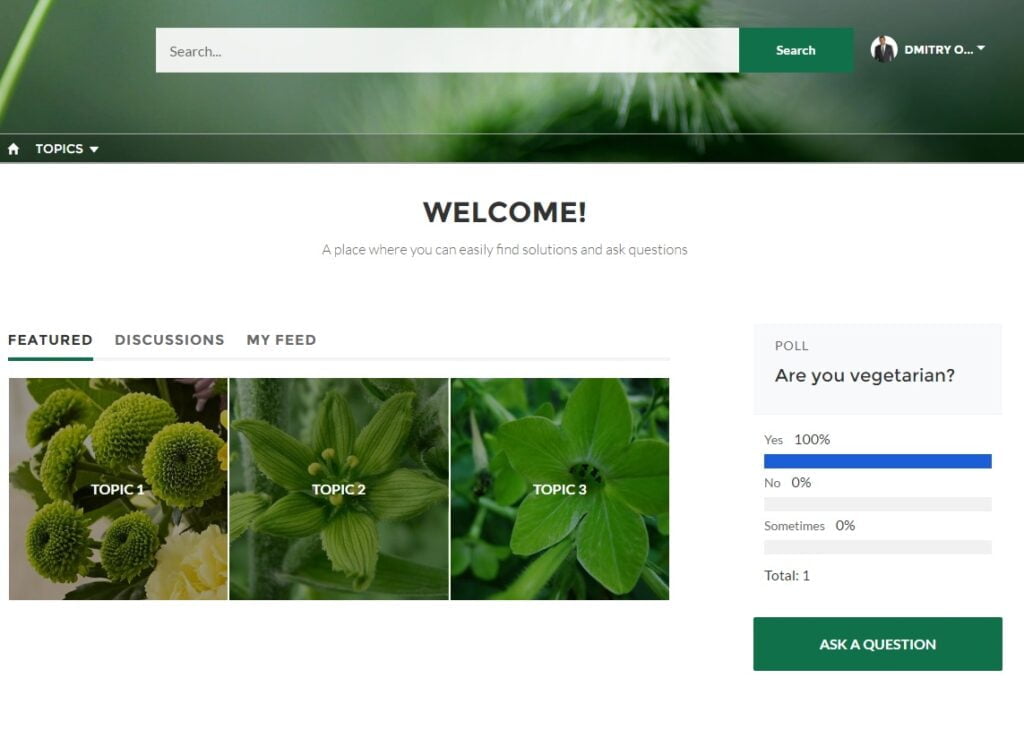 AC Voting
AC Voting is a lightning component for sharing polls on community cloud and tracking members' answers.
Take your time to learn more about AC components for Community Cloud. Contact us at salesteam@advancedcommmunities.com to ask your questions and to arrange a demonstration of the components you are interested in!