Unofficial Migration Guide To Salesforce Community Cloud
Unofficial Migration Guide To Salesforce Community Cloud
Unofficial Salesforce Community Cloud Migration Guide
Thinking about migrating data from a legacy forum or a social platform to Salesforce Community Cloud? Ever wondered how to move the thousands of users and millions of posts, reputation points, likes, followers, hashtags, comments, groups, images and files accumulated over the years?
Moving from one platform to another can be a significant and complex project and many things can go wrong.
We have distilled years of practical experience moving our clients' data to Salesforce into our comprehensive Community Cloud migration guide that is full of technical tips and best practices.
Downloading our guide and you'll get:
A detailed overview of Community Cloud capabilities;
A list of objects and Data Scheme of Community Cloud;
Advice on how to reduce risk in big migration project;
Practical tips, tricks and gotchas that will help you to avoid painful and costly mistakes when migrating;
Answers to questions such as:

How do I import user pics?
What's the best way to transfer images?
How do I move discussions votes and comments to Community Cloud?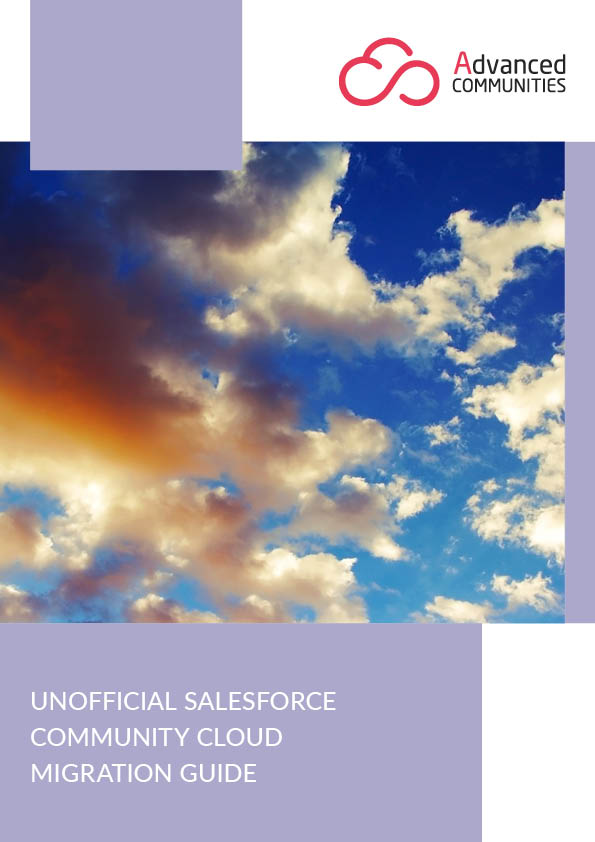 AdvancedCommunities.com is an award-winning boutique Salesforce Partner specializing in Community Cloud.
With over 30,000 installations, we are the biggest Community Cloud components provider on AppExchange.
Get in touch
If you want to have a conversation about anything related to Community Cloud or see demos of our free components and learn how to maximize the value of community to your business.