Salesforce Ideas Management App
INNOVATE YOUR PRODUCTS WITH FEEDBACK FROM CUSTOMERS
AC Ideas Ultimate is a LEX-native app that helps you manage ideas from your Experience Cloud site. With powerful ideation tools and customization options, you can gather insights and feedback from your customers and employees to use them to improve your products and services. If you are looking for Salesforce Ideas for Lightning for your Experience Cloud site, AC Ideas Ultimate is your best choice!

Try AC Ideas Ultimate today and transform the way you innovate!
Where Ideas Transform Technology.
Establish a centralized hub for idea and feedback sharing, evaluation, and communication of innovative initiatives within your organization. Transform the most impactful concepts sourced from your valued customers and partners to reality, all within the user-friendly environment of the Salesforce Lighting Experience platform.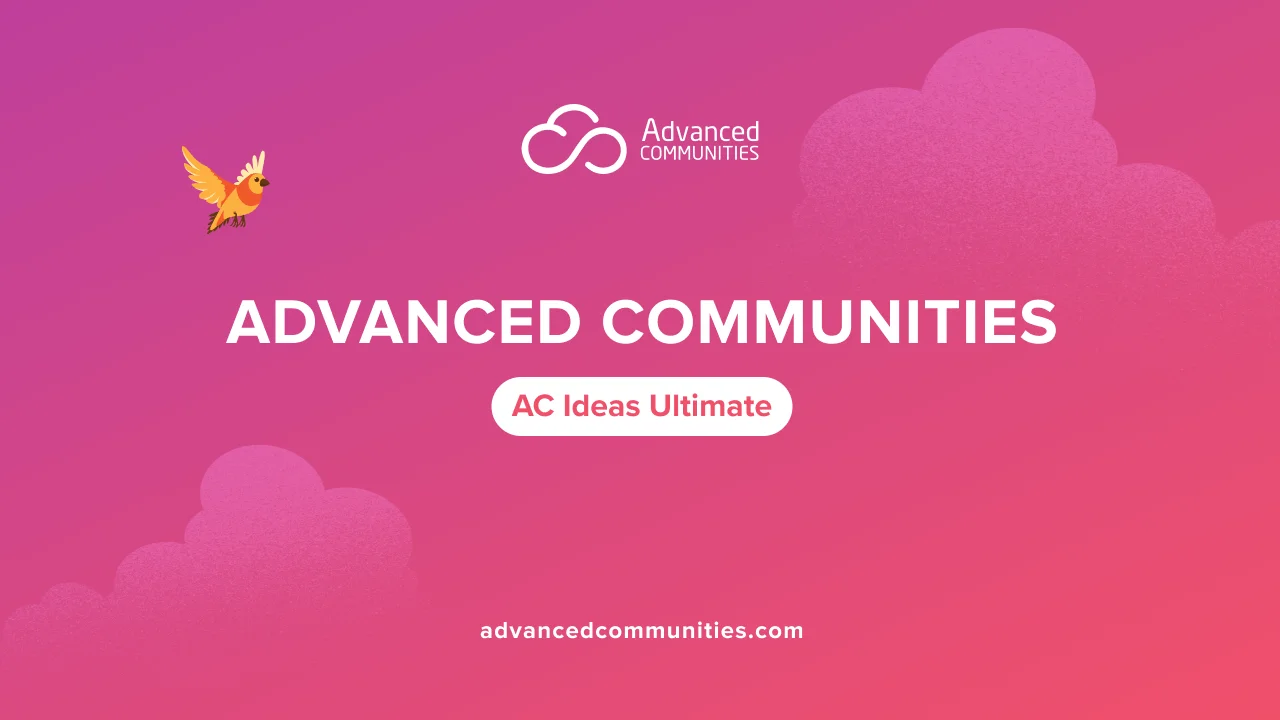 AC Ideas Ultimate Features
Zone-based Ideation
Organize your ideas and feedback into distinct zones. By creating separate zones, you can tailor the ideation process to specific products or target audiences. This means that each zone will have its own unique set of ideas, suggestions, and questions, as well as separate settings, categories, and statuses.
Cases and Opportunities related ideas
With AC Ideas Ultimate, you can link user ideas to cases and opportunities to streamline your workflow and improve efficiency. Convert cases into ideas and link them to opportunities for quick wins. Create new ideas from cases, and prioritize those related to opportunities.
Customizable reports & dashboards
With LEX-native capabilities, AC Ideas Ultimate lets you create reports and ideas dashboards to monitor idea performance, track votes, analyze statuses, posts, new ideas, and categories, and configure it by zones, time periods, and other criteria. Use the Ideas matrix to identify top-performing suggestions.
Idea campaigns
Launch targeted idea campaigns with AC Ideas Ultimate idea management app. Each campaign has its own landing page containing all the necessary details and a comprehensive description. Any ideas created for a particular campaign will be visually highlighted with the color you designate in the settings.
Jira integration
Simplify idea tracking with AC Ideas Ultimate by linking Salesforce ideas to Atlassian Jira issues. By enabling automated daily syncs, users are kept informed about the status of their ideas, reducing manual effort and increasing engagement in the ideation process.
Chatter support
Leverage Chatter capabilities to enhance collaboration and streamline communication within your organization. Share information, collaborate, and keep up with the latest updates in your organization. Mention people, add attachments and like best comments.
SFDC idea prioritization
Rank and prioritize ideas based on factors such as votes, development effort, or monetary value, ensuring that your resources are focused on the most impactful suggestions from your customers and employees.
Custom fields support
Capture the information that matters to your organization by configuring custom fields and fieldsets for creating ideas in Salesforce Lightning and on-site. You can attach files, screenshots, and documents and use the text editor to get creative with text descriptions, adjusting fonts, and colors, adding pictures, and more.
Kanban view support
View all ideas in a native Kanban layout with the Salesforce ideas app AC Ideas Ultimate. Easily move ideas between different statuses using drag-and-drop features and leverage additional path options for greater flexibility.
Ready to take your ideas management in Experience Cloud site to the next level? Try AC Ideas Ultimate today and see the benefits for yourself.
Get Started Now!
Contact us for
any questions
If you want to have a conversation about anything related to Experience Cloud or see demos of our components and learn how to maximize the value of community to your business.
FAQ
How do I notify customers that an Idea is developing/implemented/rejected?
Changing the status of the Idea will automatically notify anyone who created, commented, or voted for the idea. 
Can I connect Jira for task management and roadmaps?
Yes, we have a native integration with Atlassian accounts. You can easily collect ideas in Salesforce and synchronize them with Jira.
How do I manage new Ideas?
Set your product owners as Idea Moderators for a particular category and they'll be notified about each new idea in that category via email.
Is there any way of automating the escalation of Ideas?
You can automate the escalation of Ideas by setting up vote thresholds and sending email notifications to your product managers.
Is the Ideas dashboard flexible?
Absolutely! The dashboard contains separate reporting components, so they're flexible and can be configured almost any way you'd like. 
Why do I need an idea management system?
Businesses need an idea management system to generate new ideas and innovations to improve their products and services. An idea management system can streamline the idea generation and evaluation process, increase customer/partner engagement, improve transparency, and ultimately improve return on investment by identifying and prioritizing the most promising ideas for implementation.
What is the Salesforce Ideas Component for Lightning?
The Salesforce Ideas component for Lightning is a software solution that allows users to easily create and manage ideas directly within the Salesforce Lightning Experience. It enables users to submit, vote on, and comment on ideas, as well as track their progress from ideation to implementation. This is where LEX-native app AC Ideas Ultimate comes into play! 100% native to Salesforce, it helps businesses manage ideas from their Experience Cloud site streamlining idea management. 
Why use AC Ideas Ultimate in my Experience Cloud site?
Salesforce lightning app Ideas Ultimate from Advanced Communities can help you gather and organize ideas from various sources, such as employees, customers, and partners, and then evaluate, prioritize, and implement the most promising ones. By using AC Ideas Ultimate on your Experience Cloud site, you can streamline the idea management process, reduce manual effort, and increase the likelihood of generating innovative and valuable ideas. Additionally, it can help you engage your stakeholders in the idea generation process, fostering a culture of creativity and collaboration.
How do I start using AC Ideas Ultimate?
You need to install AC Ideas Ultimate from the Salesforce AppExchange into your Salesforce org. After installation, you can set up the app and start customizing it to fit your organization's needs. From there, you can begin gathering, managing, and implementing ideas from your stakeholders.
What if I need help with Salesforce ideas implementation?
If you need help with implementing AC Ideas Ultimate, the best option here is to hire a certified Salesforce consultant to assist you with the implementation process, for example, Advanced Communities. 
Additionally, there are various online resources available, including user guides and forums, where you can find answers to common questions and connect with other users for advice and support.