Donation & Fundraising Solution for Salesforce Communities
Engage your donors using the power of Salesforce for fundraising
AC Fundraising is a Salesforce donation management solution that helps nonprofits manage and track their fundraising activities. It provides a comprehensive set of tools to streamline donor management, donation processing, and campaign reporting. With AC Fundraising, nonprofits can increase donor engagement and raise more funds to support their mission. AC Fundraising app is a part of our ultimate solution for membership organizations – AC MemberSmart.
Your Mission, Our Solution.
Enhance your fundraising efforts, cultivate deeper connections with communities and donors, and steer a path toward meaningful positive change – all with the added convenience of secure online donations through your Experience Cloud site.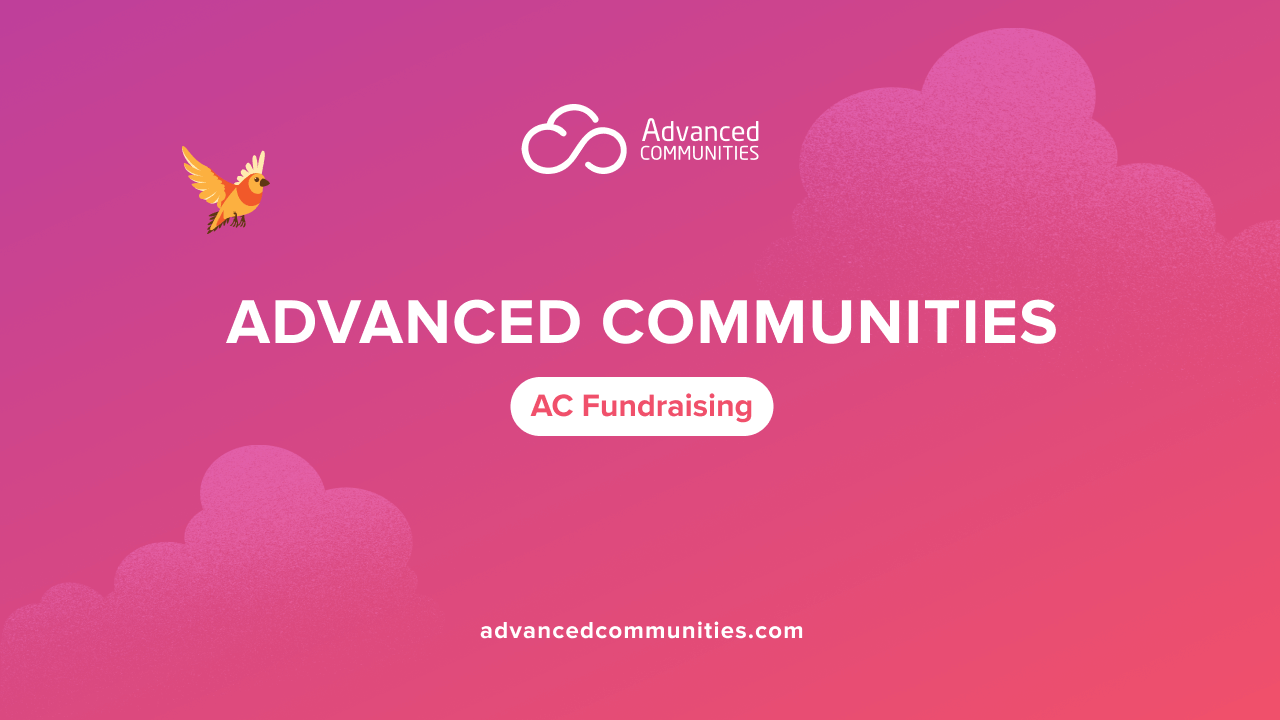 AC Fundraising Features
Secure payment processing
Use AC Fundraising nonprofit donation app to let your users pay with secure debit and credit card payments in the currency they prefer, as well as track all transactions easily. All payment processes are safe thanks to Stripe's online payment integration.
Easy fundraising campaign creation & administration
Create and track fundraising campaigns in just a few clicks, and track their performance in your Salesforce Experience Cloud site with our Salesforce fundraising software AC Fundraising. Easily edit and share updates, and activate or deactivate your campaigns as needed.
Simple donor registration and management
Use AC Fundraising as a donation tracker with Salesforce. Register donors with just a few clicks and track their involvement, including donation amounts and comments they've posted. Set up automated donation receipts and follow-up thank you emails to show your appreciation for their contribution.
Community-driven fundraising campaigns
Empower your volunteers and program supporters by allowing them to create their own fundraising campaigns within the community. Using Salesforce for fundraising along with AC Fundraising nonprofit donor software for Experience Cloud is a surefire way to achieve your philanthropic goals.
Centralized campaign data management
With our powerful fundraising tool, you can get a complete overview of the fundraising campaigns you manage: view their description, status, success, current goal, start & end date of each, and much more.
Flexible campaign overview customization
Tailor your campaign pages to match your unique branding and messaging needs. Edit and personalize campaign images, descriptions, and logos to create a compelling and impactful fundraising experience for your donors.
Robust security measures
Opt for Salesforce for donations and the AC Fundraising app to ensure the safety and privacy of your donor data. All data is securely stored within Salesforce and protected from leaks or unauthorized third-party access, giving you peace of mind that your sensitive information is fully protected.
Flexible interface options
Switch between two interface views – Tile View and List View – to suit your preferred way of working. Toggle between the views using a simple click on the icon for a more personalized user experience. Use AC Fundraising to create a fundraising system that fully suits your needs.
Optimized for mobile devices
Use AC Fundraising and Salesforce for donor management to ensure your donors can stay engaged on-the-go by providing them with seamless access to your fundraising campaigns on their mobile devices, anytime and anywhere.
Ready to take your donation processing in Salesforce to the next level? Try AC Fundraising today and see the benefits for yourself.
Get Started Now!
Top Benefits of Salesforce for Donation Processing & Fundraising

Increased donor engagement
Engage donors more effectively with personalized communications, targeted outreach, and donor recognition. Use AC Fundraising to segment donors, track their giving history, and tailor communications based on their preferences.

Improved campaign management
Use Salesforce for nonprofit fundraising to manage fundraising databases and campaigns from start to finish. AC Fundraising allows you to create custom campaigns, track goals and progress, and automate tasks such as sending thank-you emails.

Better data management
Centralize donor data with Salesforce for informed decision-making. AC Fundraising offers customized fields and data models to capture the information you need and allows more efficient tracking donations in Salesforce.

Enhanced reporting and analytics
Gain insights into fundraising performance with Salesforce's reporting and analytics tools. Use the AC Fundraising Experience Cloud app for fundraising & donation processing to create custom reports and dashboards to visualize fundraising progress and identify areas for improvement.
Who Is It For?

Nonprofit organizations
AC Fundraising is designed specifically for nonprofits seeking to enhance their fundraising efforts. It can help streamline donation tracking, engagement, and communication to maximize fundraising outcomes.

Education institutions
Schools, colleges, and universities can benefit from AC Fundraising's capabilities for managing donations with Salesforce, fundraising campaigns, and donor engagement. It can also help alumni relations teams maintain strong relationships with graduates.

Religious organizations
AC Fundraising can help religious organizations of all sizes manage their fundraising campaigns, track and collect online donations, and engage with donors. It can also help churches and religious groups maintain strong relationships with their congregations.

Social enterprises
AC Fundraising may be suitable for social enterprises seeking to raise funds for their mission-driven initiatives. It can help track donations, manage campaigns, and engage with donors to drive social impact.
Contact us for
any questions
If you want to have a conversation about anything related to Experience Cloud or see demos of our components and learn how to maximize the value of community to your business.
FAQ
Where is the donor and donation data stored?
All data is stored directly in Salesforce without the need for integrations.
Where can I see all the donations made to our fundraising campaign?
A full list of donations can be found on the fundraising campaign page. Campaign administrators can also view it on the Campaign management page.
Can donations be made anonymously?
Yes, benefactors can make donations anonymously.
Can we post fundraising updates on the campaign page?
Yes, there's a dedicated "Updates" section on the fundraising campaign page.
Can we automatically update donors with fundraising campaign news?
Yes, donors will automatically receive all fundraising campaign updates.
Can fundraising campaigns be temporarily deactivated?
Absolutely. Campaigns can also be placed in "draft" mode before it's published.
How can I use Salesforce for nonprofit donations?
Salesforce can be used for nonprofit donations by utilizing the Nonprofit Success Pack (NPSP) which provides pre-built fundraising and donor management tools tailored to the needs of nonprofits. In addition, third-party apps like AC Fundraising can be integrated with Salesforce to enhance donation tracking, fundraising campaigns, and donor management processes. 
What are the best donation apps for nonprofits that use the Salesforce Experience Cloud?
To find the best donation app for your nonprofit using Salesforce Experience Cloud, it's important to carefully evaluate each option based on your organization's specific needs and requirements. AC Fundraising is a recommended solution for nonprofits that want a 100% native Salesforce app to handle all their fundraising needs. With its powerful features for managing donations and fundraising campaigns, AC Fundraising provides a fully integrated and customizable interface for tracking donor data and donations within Salesforce.
What is AC Fundraising and how does it work?
AC Fundraising is a donation software for nonprofits that use Salesforce. It is a powerful tool that helps nonprofits manage their fundraising campaigns and donations. It is fully integrated with Salesforce, so all data is securely stored and easily accessible. With AC Fundraising, nonprofits can create and manage fundraising campaigns, register donors, track donation amounts, and automate donation receipts and thank-you emails. This makes it easier for nonprofits to engage with their donors, increase donations, and ultimately achieve their philanthropic goals.
Can AC Fundraising integrate with other Salesforce apps?
AC Fundraising is a Salesforce nonprofit software for donations built on the Force.com platform that fully integrates with Salesforce and its products. It can be used in conjunction with other apps such as Marketing Cloud to create targeted email campaigns for your donors.
How do I use AC Fundraising non-profit software for donations to fit my organization's specific fundraising needs?
You can use AC Fundraising to create a customized and effective donation process for your organization's specific fundraising needs. For example, customize the donation form, set up campaigns, promote them, track progress, and follow up with donors.