A Complete Guide on Salesforce Experience Cloud for Nonprofits
Nonprofits around the world are facing significant fundraising challenges as their need for funding to continue operations increases. From volunteer engagement, donor retention and acquisition, to grant reporting, nonprofits must constantly look for innovative ways to maximize their fundraising efforts. One tool that has become increasingly popular in recent years is Salesforce Experience Cloud. It provides an integrated platform of tools that help nonprofit organizations efficiently manage their donors, boost engagement, and meet their goals.
Salesforce is a powerful solution for any nonprofit organization looking to maximize the impact of their work. With Salesforce Experience Cloud, charities and nonprofits can leverage the power of the world's leading customer relationship management (CRM) platform to streamline operations, increase donor engagement, boost fundraising, and gain insight into the causes they care about. In this blog post, we'll explore the features of Salesforce CRM for nonprofits and charities, and show you how it can help in accomplishing your philanthropic mission.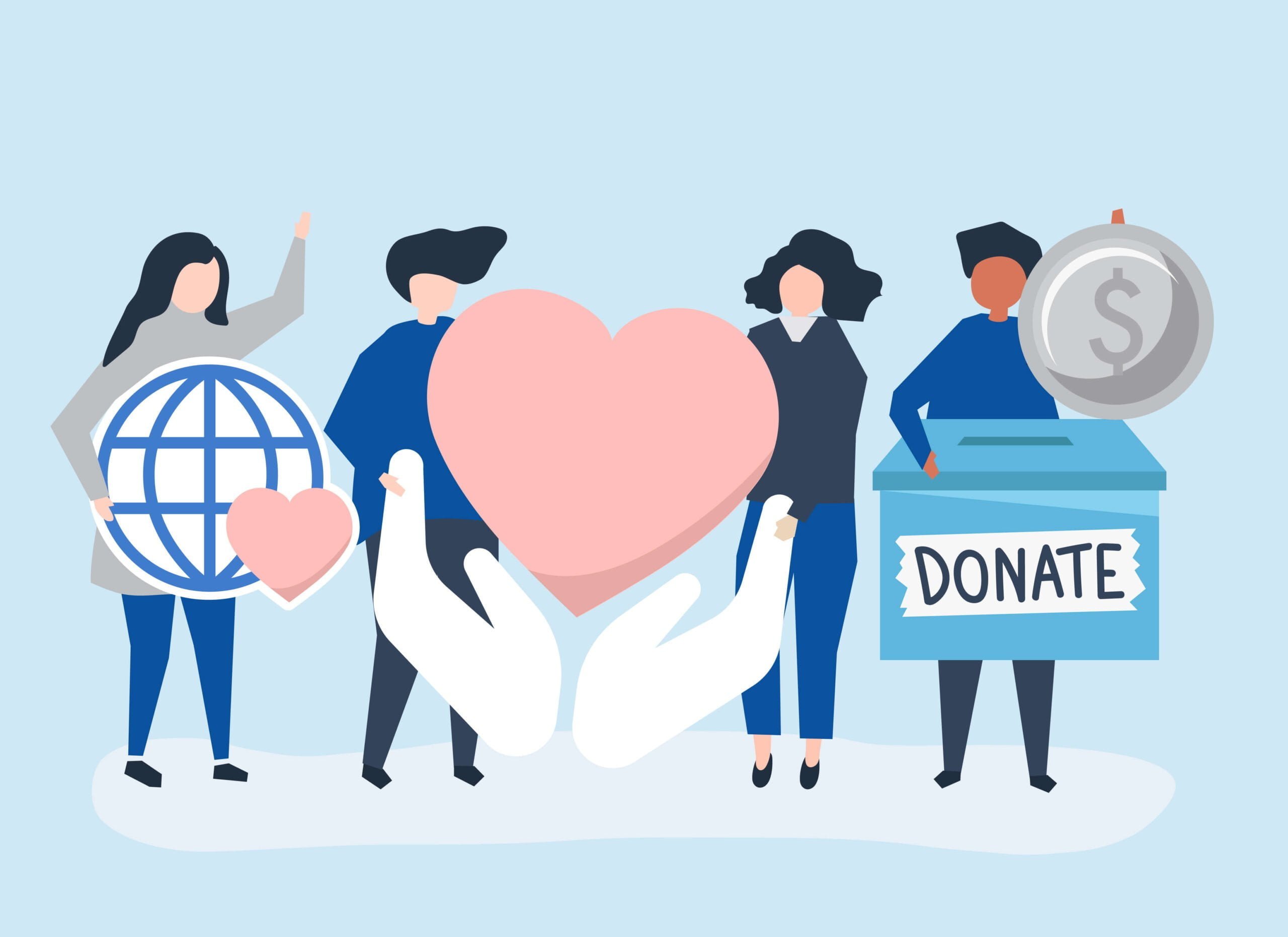 How Can Experience Cloud Help You Build Better Digital Communities?
Salesforce Experience Cloud is a DXP platform empowered with technologies, products, and solutions that allow the creation of personalized digital experiences linked to the CRM data in Salesforce. Flexible, customizable, secure, and packed with excellent analytical and optimization tools, it enables nonprofits to connect with donors, volunteers, and supporters in a more efficient way.
With Experience Cloud, nonprofits can build beautiful, fully-fledged sites aligned with their specific fundraising needs: member or volunteer portals, high ed/alumni sites, or fundraising portals to gather donations and help people in need.
The most outstanding Experience Cloud features charities can take advantage of when building beautiful Salesforce experiences are:
Flexibility and unlimited customization capabilities of Experience Builder;
Personalization and audience targeting;
The Salesforce Content Management System (CMS);
Automated email notifications;
Reports and dashboards;
Easy branding;
A flexible access control system;
Enhanced moderation of member-generated content;
Google Analytics integration;
… and more.
Note!
Salesforce has a new Experience Cloud for Nonprofits license, an impactful solution for both nonprofit organizations and donors. The Experience Cloud for Nonprofits license provides the same platform capabilities, functionality, and Lightning Experience Builder features as the PRM licenses, but for a significantly discounted price. Read more in our article.
6 Ways Nonprofits Can Use Salesforce Experience Cloud
Nonprofits are rapidly embracing Salesforce Experience Cloud to enhance their work. The combination of Salesforce features makes it a powerful tool to further their cause, and accomplish their missions.
Here are six ways nonprofits can use Salesforce Experience Cloud:
Nonprofits can create an efficient donor management system and cultivate meaningful relationships with supporters using Experience Cloud as a unified platform for communication, scheduling, tracking, and reporting on volunteer efforts. Experience Cloud's cloud-based architecture allows staff members to collaborate with donors in real time from anywhere around the world. It also makes the reporting of donations, as well as managing online events or auctions, easier while keeping everything secure within the organization's internal network.
2. E-commerce secure donations
Nonprofits can use Experience Cloud's site and eCommerce Salesforce integration solution – AC E-commerce for nonprofits – to raise money for their charitable projects by creating a stunning storefront to sell goods and services, or accept donations, directly on the site. Salesforce offers integration with donation processing services, such as PayPal and Stripe, to make it easy for nonprofits to collect donations from donors and keep donors' data safe.
3. Fundraising campaigns
Salesforce provides a comprehensive suite of tools that enables nonprofits to build, manage, and track their fundraising campaigns. This includes creating custom campaigns, tracking donations, managing donor profiles, as well as sending out emails and marketing materials, all from a single place.
4. Personalized interactions with donors
With Experience Cloud, nonprofit organizations get a comprehensive view of their supporters, making it easier for staff members to segment donor bases effectively. Through tracking donor interactions across different channels, nonprofits can gain insights on supporter preferences, customizing messaging and experiences tailored specifically for each donor type. Experience Cloud also helps with streamlining communications through automated emails, targeted campaigns, and more so outreach initiatives reach the right people, at the right time.
5. Events organization & management
Nonprofits can use Experience Cloud to organize effective fundraising events to raise awareness for various causes, and generate significant revenue from new donors.
If you are a nonprofit organization and are looking for a 100% native to Salesforce event management solution, AC Events Enterprise is your best choice! As a robust Salesforce event app, it provides you with everything you need to build, promote, manage, track, and report on virtual, hybrid, or in-person events.
6. Members networking
There are widely seen nonprofits using Salesforce to create online communities to connect with donors and supporters in a more personalized and efficient way, providing better support.
There are three ways nonprofits can use Experience Cloud for networking:
Create a Knowledge library full of helpful articles, FAQs and guides to enhance self-service so volunteers find the answers they need without contacting the organization. Use AC Knowledge Management Enterprise to bring your Salesforce knowledge management to the next level.
Enable Chatter on an Experience Cloud site to ensure enhanced online collaboration and knowledge sharing.
Add local volunteer groups to allow members to ask questions, share knowledge, and discuss relevant topics with their peers.
With Experience Cloud, nonprofits get complete control over data and performance metrics. They can use pulled data to create meaningful reports to keep donors updated of how each dollar is consumed and deployed by the nonprofit for their mission.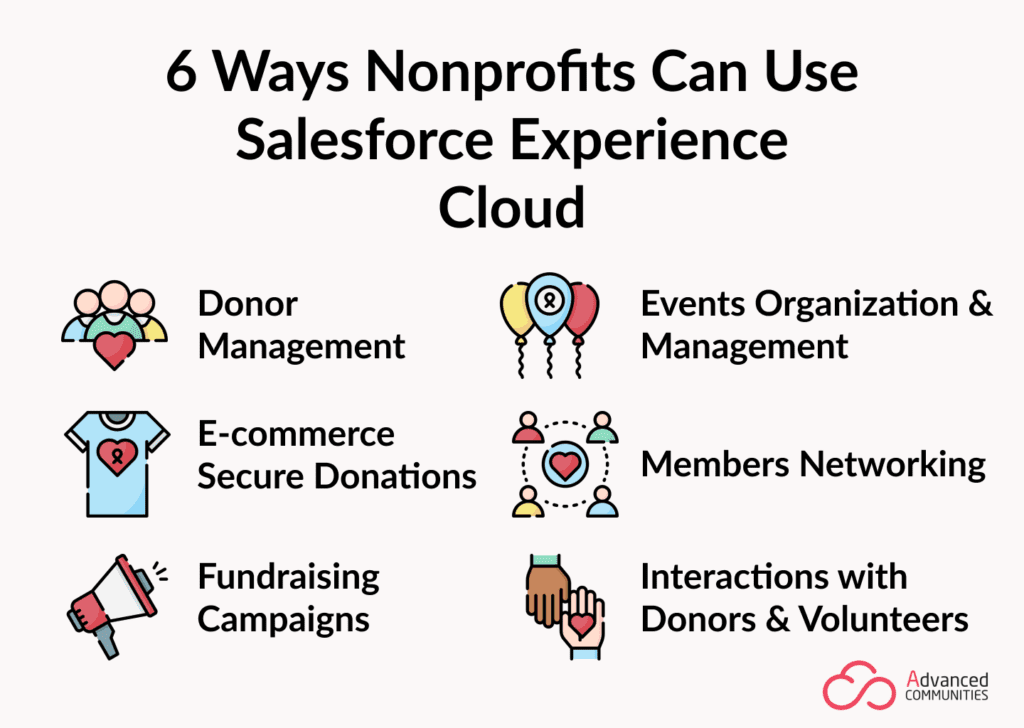 Use Cases: How Are Nonprofits Using Salesforce Experience Cloud?
Keep reading to see how real nonprofit companies are using Salesforce Experience Cloud. Learn how Advanced Communities helped them get the most out of their investment.
Guide Dogs
Guide Dogs company provides a range of services to support people with visual impairment, equipping them with the skills they need to lead an active and independent life.
With their CustomEyes Books online store, they want to give children the chance to read a real book, just like every other child, for the same cost as every other child.
To make the distribution of CustomEyes large print books easier and more flexible, Advanced Communities provided Guide Dogs with the AC eCommerce component for launching an easy-to-use online store on their existing website. Now, members can easily search and browse the thousands of titles available to them, place their orders and pay online. They can also choose and customize book recommendations based on a child's eyesight parameters, and save those custom preferences in their customer profile to make the ordering of more books easy in the future. Salesforce Experience Cloud combined with the AC eCommerce component was the perfect fit to achieve their goals.
Wesleyan Church
Wesleyan Church is a US Protestant church working with vulnerable and exploited communities to help alleviate poverty, suffering and injustice. They continually provide substantive support to ongoing international relief and development efforts.
Wesleyan Church required a brand new and successful Salesforce-powered online giving portal that would make it quick and easy for donors to donate to the funds listed.
The Advanced Communities team made a new modern, user-friendly design from scratch with a flawless user experience. We also configured the Nonprofit Success Pack (NPSP) out-of-the-box features with some additional customization so donors can manage their giving history, as well as recurring donations, in real time. By improving the donation flow and creating a reliable, secure Giving Cart (Shopping Cart) solution, we enabled multiple donation options with credit cards and ACH.
Greenpeace UK
Greenpeace chose Experience Cloud to create a powerful, centralized community and help their volunteers. To make it even better, they used Advanced Communities to help them incorporate a wide range of functionality for better engagement and to strengthen their relationships through managing events, volunteers, and groups working across the country.
Thanks to Advanced Communities, Greenpeace can now organize and manage events, allow volunteers to collaborate and communicate online, share their knowledge, and to find like-minded members according to their skills, locations, and groups. We empowered their site with AC Events Enterprise, AC Blogs and AC Member Directory (now part of AC MemberSmart) to meet their specific needs.
Subscribe to our Newsletter
Receive regular updates on our latest blog posts, news, and exclusive content!
Final Word
SFDC Experience Cloud provides an innovative platform for nonprofits to manage their operations from end-to-end, especially when it comes to its crucial fundraising efforts. By leveraging advanced technology, such as AI and predictive analytics, in addition to cloud computing features, like remote access at anytime and real-time collaboration, Salesforce Experience Cloud enables nonprofit organizations of all sizes to unlock more potential from existing resources than ever before.
If you need assistance with Salesforce Experience Cloud implementation or are looking for expert advice on how to use Salesforce for charities, Advanced Communities is your best choice. Our strong expertise and years of experience working with nonprofits have helped us understand your wants and needs, and paint better perspectives to deliver the best solutions aligned with your needs.
Reach out for more information or book a demo session of our products for nonprofits.