Salesforce Co-Branding Software for Product & Services Marketing
Help your partners reach a wider audience through co-branding marketing
AC Partner Co-Branding is a one-of-a-kind solution for Salesforce Experience Cloud that helps businesses reach wider audiences, increases lead generation, and strengthens positions in the market by applying a co-branding strategy with their partners. This app allows your partners to develop their own marketing materials, including their logo, name, contact details, and other important elements, while aligning with your marketing strategies and brand guidelines. It's a must-have co-brand product for any business looking to grow its brand presence and expand its reach through partnership branding.
Empower Partners. Expand Horizons.
Expand your brand's reach by empowering your partners to create co-branded marketing materials that resonate with their audience while aligning with your guidelines. Propel your business to new heights through the magic of partnership branding!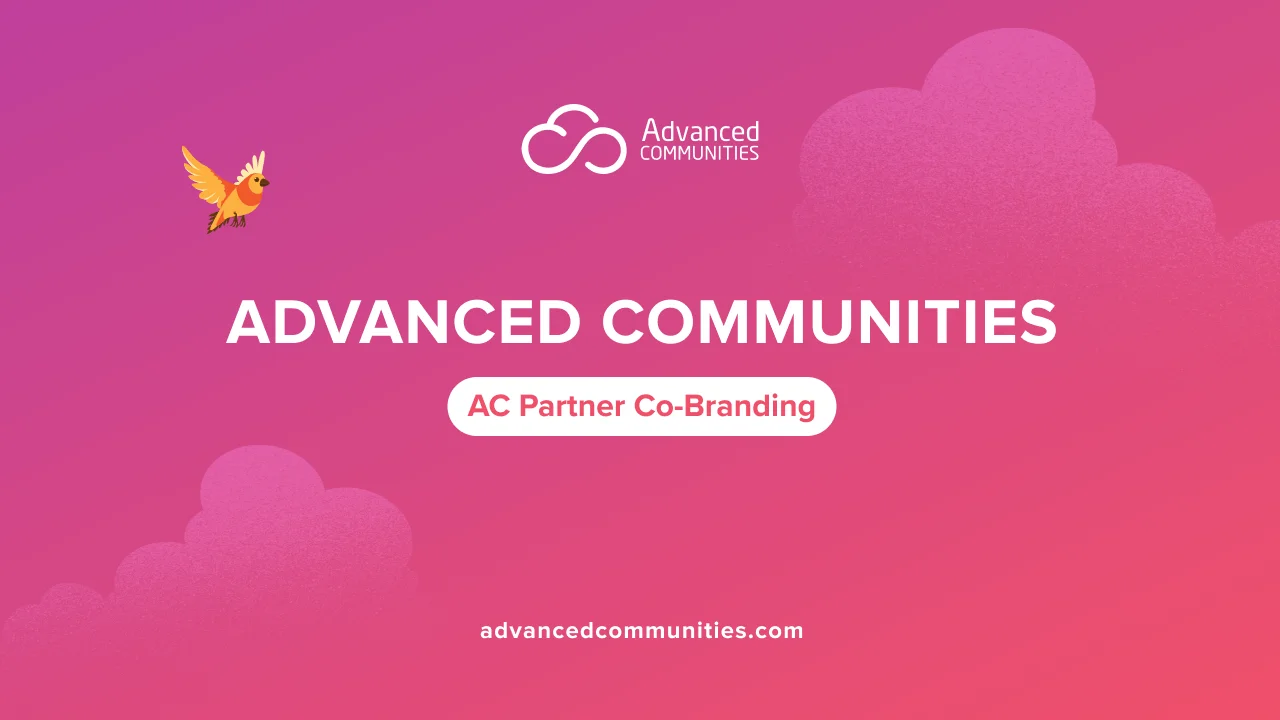 AC Partner Co-Branding Features

Brand identity protection
With AC Partner Co-Branding, your partners are supplied with co-branded resources that retain your company's brand identity. Partners can also create their own co-branded assets on-demand while adhering to your brand and logo usage requirements.

Account Brand management
AC Partner Co-Branding lets partners manage their branding within the Experience Cloud site using the Account Brand standard object. This includes updating company information such as co-branding logos, name, or contact details, and adding fields, with the ability to restrict access as needed.

Quick document generation
Create templates to let your partners create co-branded materials in seconds. Partners can easily customize these templates with their own branding and corporate information to fit their marketing needs. The re-generate option allows partners to easily update documents if any changes have been made.

Multiple format support
AC Partner Co-Branding supports the most popular and common formats, like .docx, .pptx, and .pdf. It helps to generate documents, presentations, and email templates from the existing vendor-provided templates using the co-brand partner company details, and assets such as logos and images.

Easy image uploads
AC Partner Co-Branding enables you to quickly upload company logos and other images in popular file formats to use in your templates. The app supports multiple uploads at once, allowing you to upload various images in seconds.

Multiple folders for asset organization
Create separate co-branding folders for marketing assets to organize files and data easily. By grouping the assets in folders, you help your partners quickly search and identify relevant documents and files optimizing co-brand marketing efforts.

Native Salesforce integration
AC Partner Co-Branding is specifically designed for Salesforce Experience Cloud sites. This means that there is no need for integration and that the app is highly stable and reliable. Unlike other similar solutions, AC Partner Co-Branding seamlessly integrates with your Salesforce environment.

Co-branded marketing management
AC Partner Co-Branding streamlines co-branding efforts with partners by providing comprehensive marketing management features. This saves businesses time and resources while ensuring consistent branding and messaging across all channels.
Ready to take your co-branding efforts to the next level? Try AC Partner Co-Branding today and see the benefits for yourself.
Get Started Now!
Contact us for
any questions
If you want to have a conversation about anything related to Experience Cloud or see demos of our components and learn how to maximize the value of community to your business.
FAQ
What license is needed to use the app?
Users with co-branding capabilities will need a Partner License 
Do you use native objects for partner branding?
The app uses both  custom and standard objects. For example, partner information is stored on native Account Brand records.
Which software is needed for PDF template building?
You may use any software which supports the form filling feature. We suggest Adobe Acrobat Pro.
What is co-branding in marketing and why is it important for businesses using Salesforce Experience Cloud?
Co-branding is a marketing strategy that involves two or more brands collaborating to create a product or service that showcases both of their names and logos. This approach provides a unique opportunity for both brands to leverage their strengths and benefit from the increased exposure and recognition that comes with working together.
In the context of Salesforce branding and Experience Cloud, businesses can take advantage of various tools and features to establish co-branding relationships with their partners. Additionally, there are third-party apps available, such as AC Partner Co-Branding, that can further streamline the branding process within Salesforce and enhance the overall experience for all parties involved.
Branding with Salesforce Experience Cloud: best practices.
Here are some best practices for branding with Salesforce Experience Cloud:
Consistency is key. Ensure that branding elements are consistent across all Experience Cloud pages.

Personalization. Use Salesforce's personalization features to tailor branding to specific customer segments.

Branding customization. Customize pages with brand color schemes and logos for consistency.

Test and refine: Continuously test and refine branding for effectiveness, using analytics to track user behavior and engagement.
The best co-branding products for Experience Cloud site?
There is only one third-party app available for co-branding with Salesforce Experience Cloud – AC Partner Co-Branding. This app offers a range of features and functionality for businesses looking to establish co-branded relationships with their partners, including customizable branding, asset management, and customizable templates to help businesses enhance their branding within the Salesforce environment and create a more engaging, cohesive experience for their customers.
Give me a co-branding example with AC Partner Co-Branding solution.
Let's say your company, ABC Manufacturing, has partnered with another company, XYZ Distribution, to jointly promote a new line of products. With AC Partner Co-Branding, you can create co-branded marketing materials such as product flyers, email templates, and landing pages within Salesforce Experience Cloud.
You can use pre-built templates that are already designed with your company's branding elements and customize them with XYZ Distribution's logo, color scheme, and other corporate details. This allows both companies to be represented in the marketing materials and increases the exposure and recognition for both brands.
Additionally, with AC Partner Co-Branding, you can organize all the co-branded assets in separate folders for easy access and management. This way, both companies can quickly find and use the materials they need to promote the new line of products, helping to strengthen the co-branding partnership and ultimately drive sales.
How to co-brand with AC Partner Co-Branding?
To co-brand with AC Partner Co-Branding, follow these steps:
Upload your company logo and other relevant marketing assets to the app.

Create co-branded marketing materials by customizing the pre-built templates with your branding elements and partner's details.

Share the co-branded materials with your partners through the Salesforce Experience Cloud.

Allow partners to manage and update their assets and details through the PRM Portal, ensuring that all materials are up-to-date and consistent.

Use the co-branded materials to promote your business and partnership across various channels, such as email campaigns, social media, and events.