PRM for Slack App: Key Considerations
The latest Salesforce Summer '23 update has brought some fantastic features for sales teams, making their lives easier and helping them save time and enhance efficiency. One of the most exciting additions in this release is the PRM for Slack app. In this article, we'll give you the lowdown on this awesome new solution and show you how to get started with it. So, let's dive in and explore how to use Slack for Salesforce partner management and uncover the transformative potential of the PRM for Slack app!
Salesforce Summer '23 Release: Most Exciting Features for Experience Cloud​
In this blog post, the Advanced Communities team covers the Salesforce Summer '23 Release and what new features are introduced for Experience Cloud​. Read our blog to find out what's new in Salesforce Summer Updates 2023.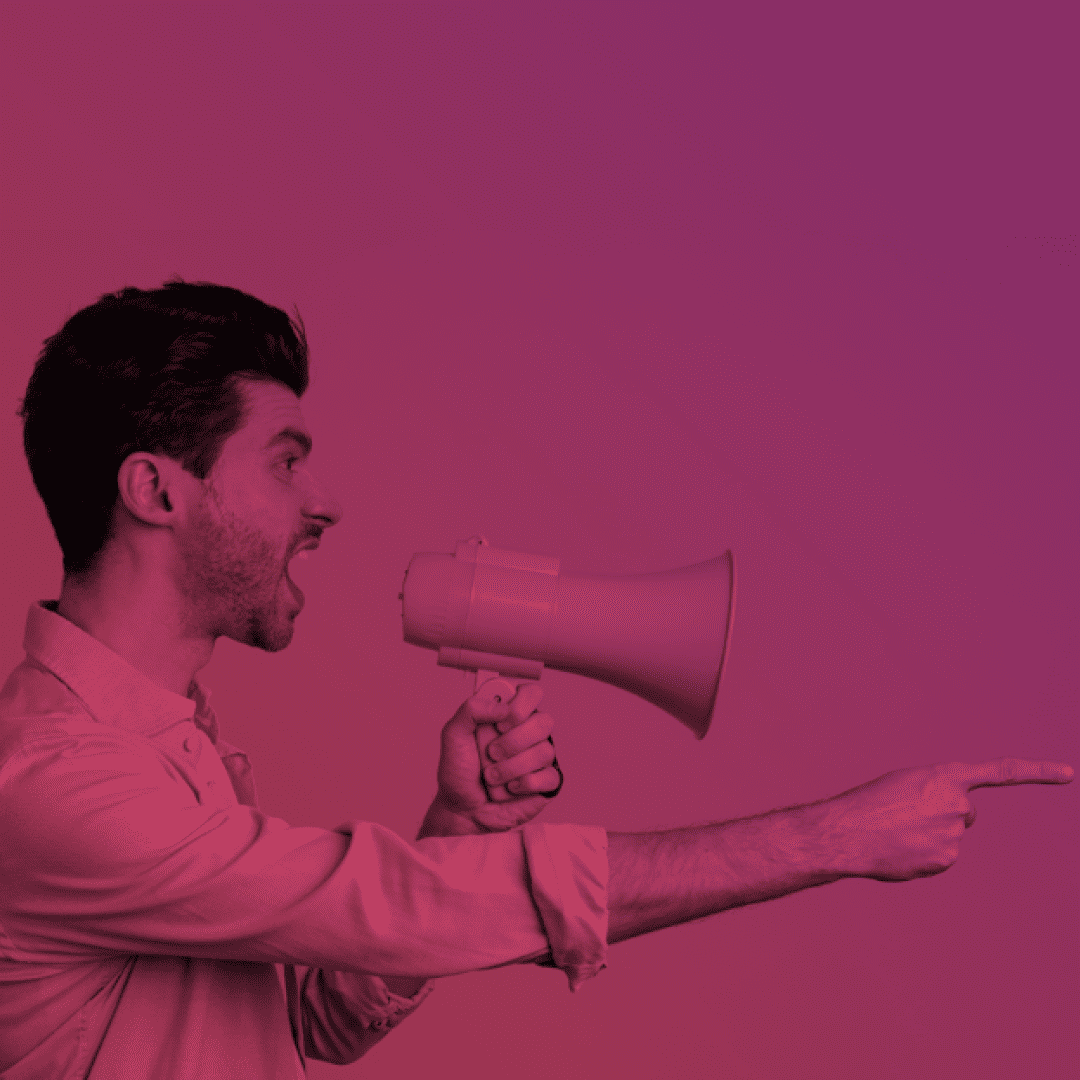 PRM for Slack App: what it is and how it works
PRM for Slack app is an innovative tool, part of the Sales Cloud partner relationship management, designed to revolutionize how vendors and partners work together. By connecting vendors and partners directly within Slack, it allows for seamless communication, information sharing, and collaboration, bringing everyone on the same page.
Imagine having a centralized space where vendors and partners can easily share updates, collaborate on opportunities, and speed up approval processes. Well, that's exactly what the PRM for Slack app offers! It brings your internal sales teams and partners into a single partner channel, making it a breeze to access, update, and share important records. Plus, you can automate key business processes, saving time and effort. Integrating the PRM for Slack app with Sales Cloud and the partner portal takes partner management and collaboration to the next level.
With the PRM for Slack partner management software at your disposal, as a vendor, you gain the ability to:
Collaborate effectively with your partners, promoting synergy and joint efforts.
Sell together with your partners, leveraging combined strengths for increased success.
Automate processes to enhance efficiency and reduce manual effort.
Ultimately, drive partner sales as a cohesive team, maximizing results and achieving shared objectives.
Why do you need a new PRM for Slack app?
The PRM for Slack app is a game-changer in partner relationship management. It simplifies crucial processes like deal registration and lead distribution through automation using Salesforce Flow and global actions. By connecting it to your Sales Cloud and partner portal, you centralize communication and streamline collaboration between your sales teams and partners.
5 unique features of PRM for Slack partner relationship management software:
Seamless integration. Stay up to date on opportunities and deals by searching and posting records on partner channels directly from Salesforce within Slack.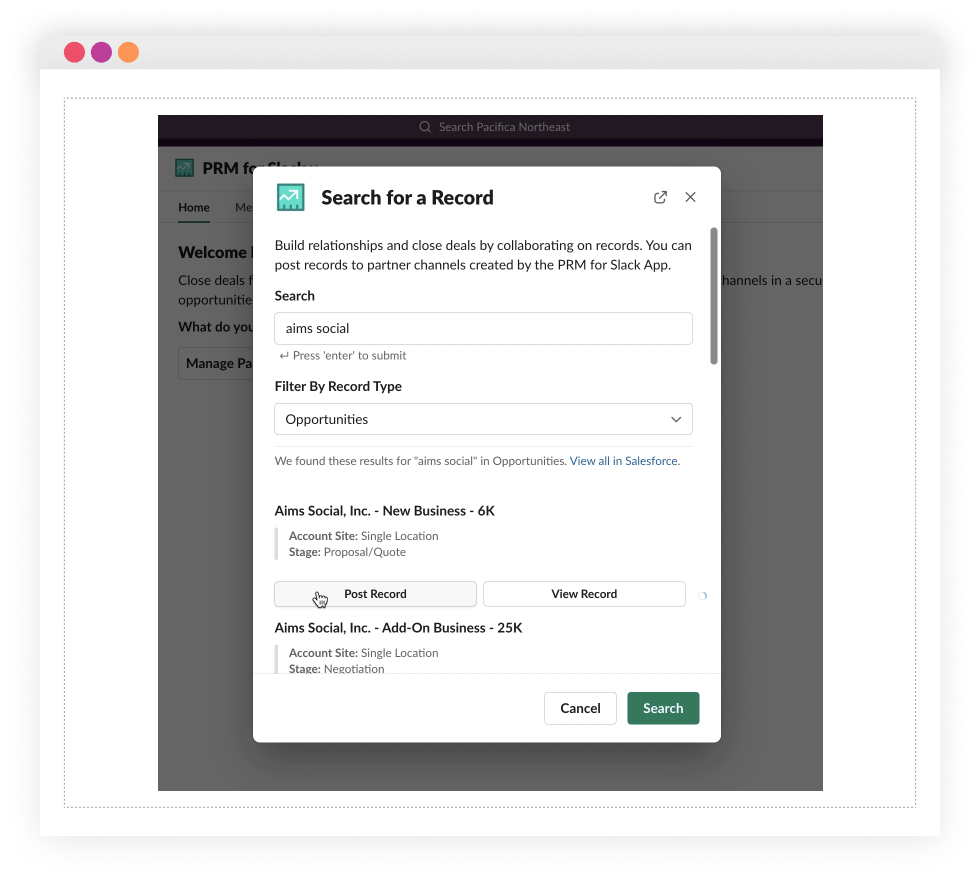 Streamlined partner channels. Create and manage partner channels in Salesforce Lightning Experience or in Slack. Automatically include all partners associated with an account, ensuring everyone stays connected.
Real-time collaboration. Receive notifications and collaborate instantly from any device. Stay productive and connected, whether you're at your desk or on the go.
Lead acceleration. Qualify leads and close deals faster with the "Lead & Opportunity scoring" PRM for Slack app feature.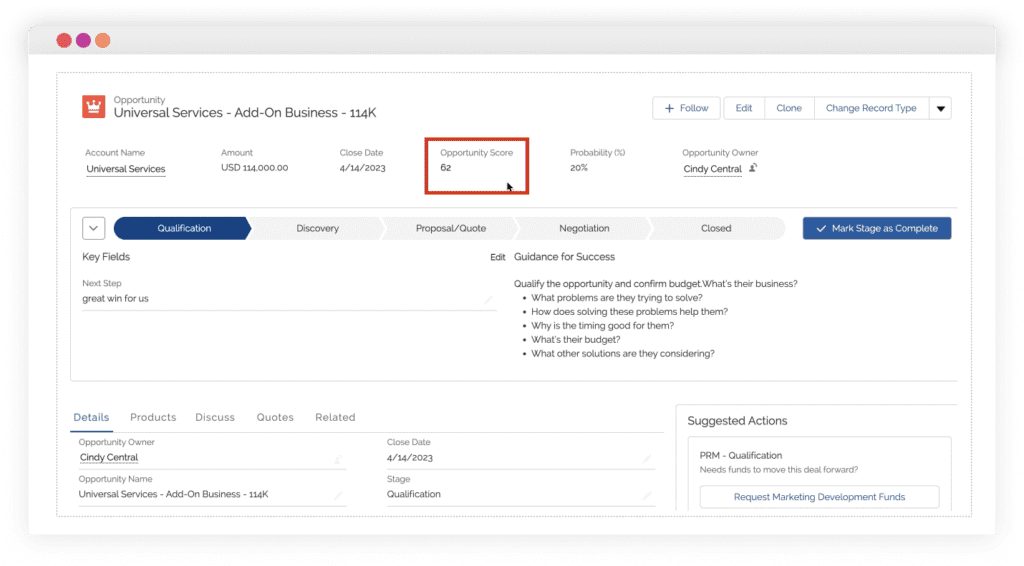 Strategic partnership. Develop and execute strategies with partners through the partner portal, leveraging established Salesforce permissions.
Automated business processes. Make deal registration and lead distribution easier with business process automation built on AI-powered insights, all from within Slack.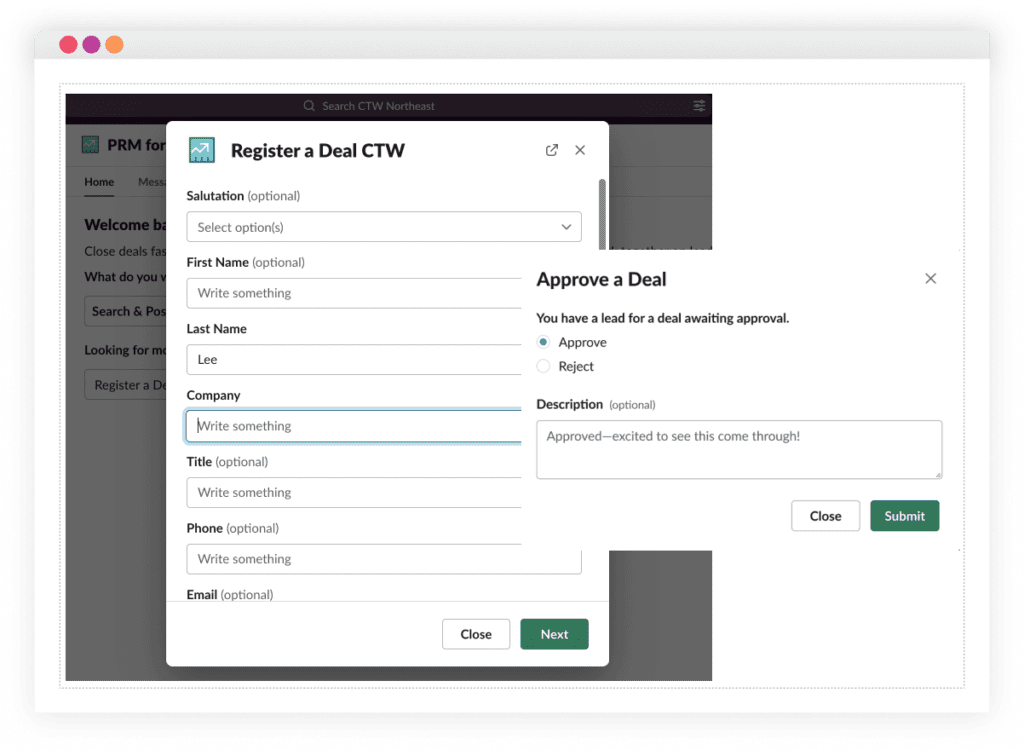 Looking for ways to enhance your strategic relationship management with partners and drive lead generation for your business? This is the blog you need to read to learn how to enhance the capabilities of your partner portal.
PRM with AC Partner Marketplace: Enhancing Partner Relations and Lead Generation
Read our article to learn how the AC Partner Marketplace, a robust solution for partner portals in Salesforce Experience Cloud, can help you enhance your partner relations management and drive lead generation for your business.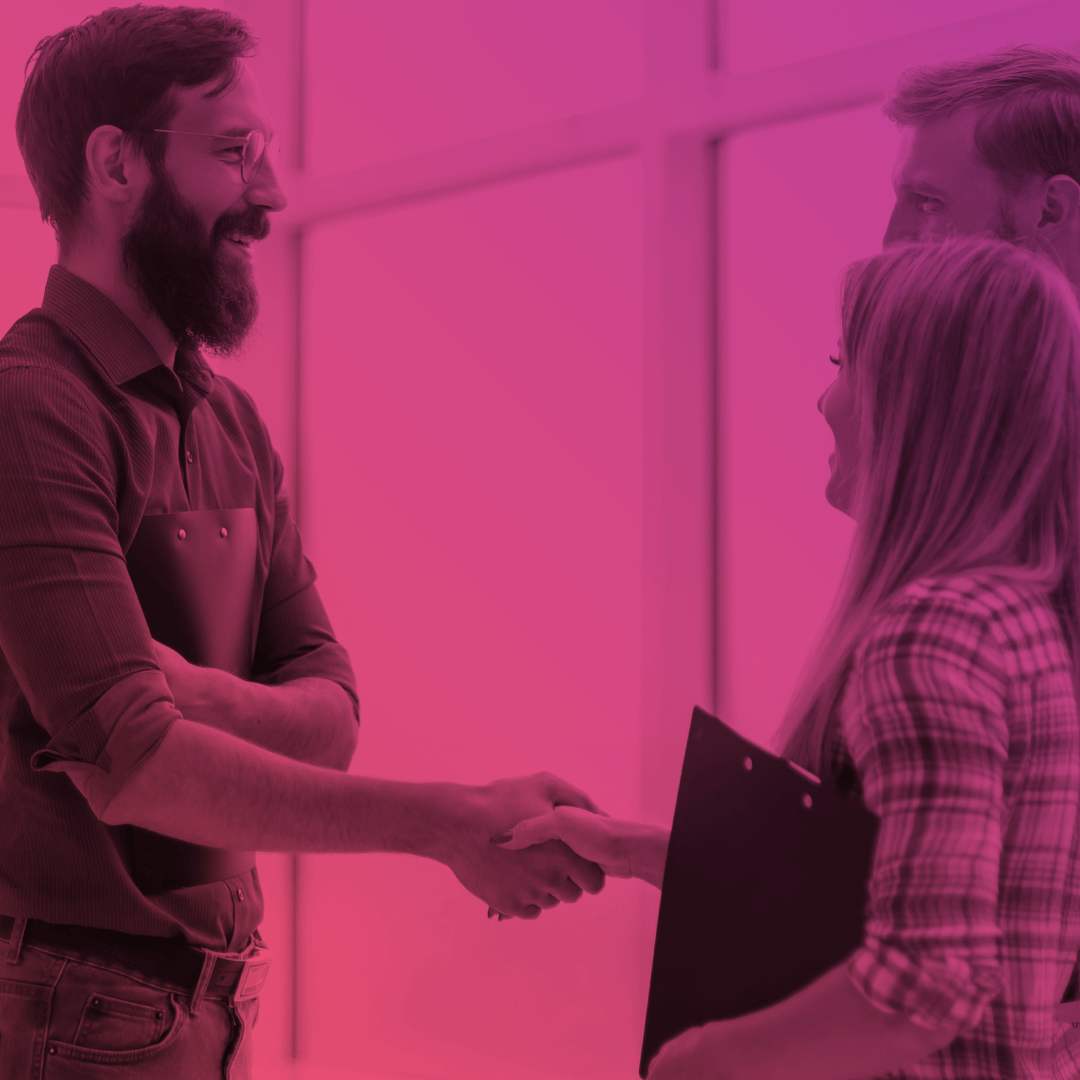 Key considerations to keep in mind
To use PRM for Slack app customers need a Slack Enterprise Grid edition and Partner Community Licenses.
Required editions:
Available in: Lightning Experience with Salesforce for Slack Integrations Enabled
Available in: Enterprise and Unlimited Editions with Salesforce for Slack Integrations Enabled
Available in: Slack Enterprise Grid
Ensure a smooth setup process for PRM for Slack by keeping these requirements and limitations in mind:
You must enable the PRM for Slack app in Initial Slack Setup.
You must be a Salesforce PRM customer and use Slack Enterprise Grid.
Partner users need a Partner Community license. This requirement can be fulfilled by either the Logins and Members or the Partner Relationship Management SKUs.
Partners must have a Slack workspace before they can work with the PRM for Slack application.
What do partners want? It's an age-old question for vendors, suppliers, and those involved in sales or managing partnerships. We've made an effort to answer it for you. Check out our latest blog to learn more about Salesforce partner management and discover the top three things partners desire and see what a partner portal as a PRM system can offer.
The Role of a Partner Portal in Delivering an Effective Partner Program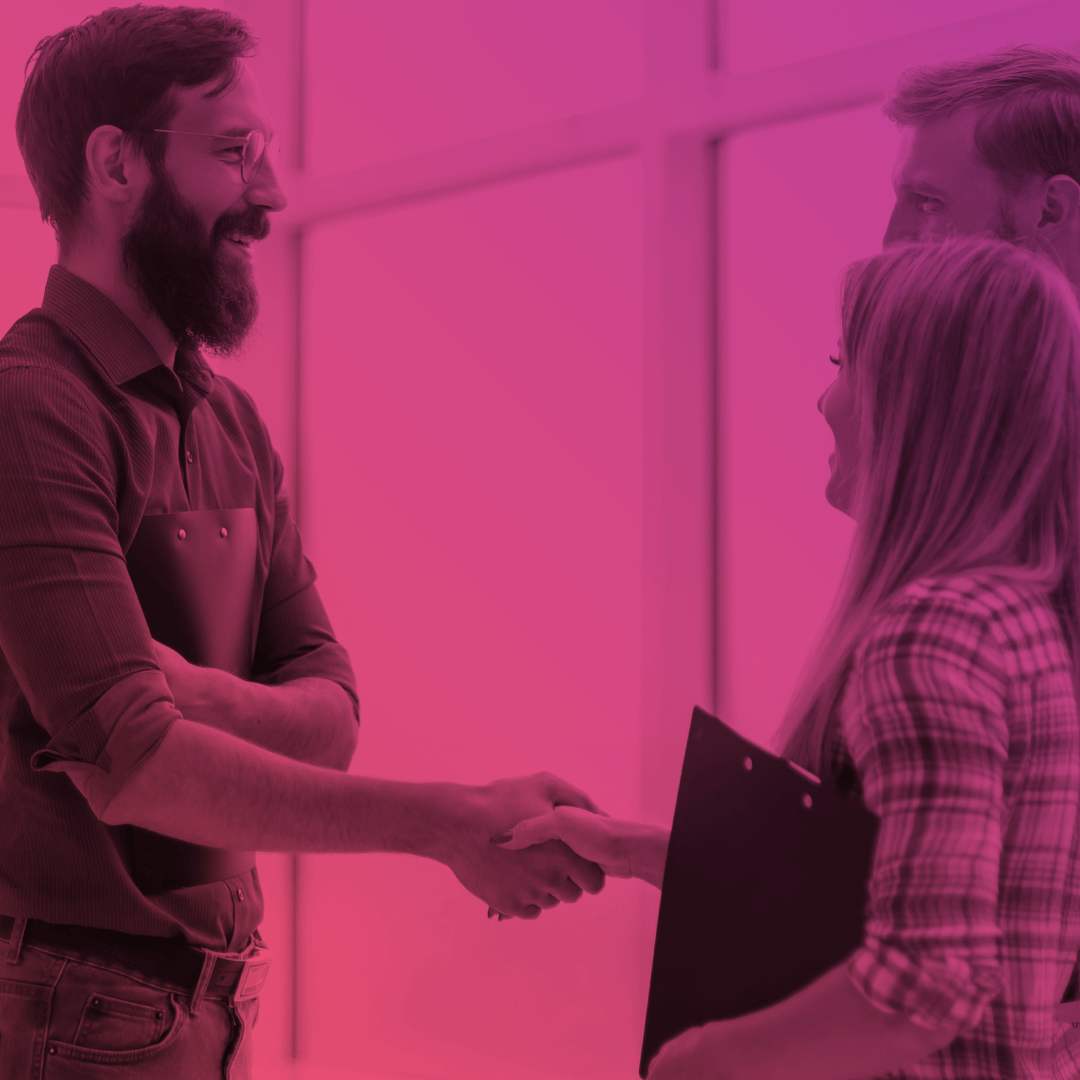 How Advanced Communities can help
If you want to explore Slack integrations with Salesforce, need assistance in getting started with the PRM for Slack solution, or require help with setting up and configuring your partner portal, feel free to reach out to us. Advanced Communities is an award-winning provider of Salesforce Experience Cloud services and apps, with a strong specialization in Experience Cloud. We help companies from various industries set up beautiful sites on Experience Cloud and provide impactful apps to meet their specific business needs. Our AC MemberSmart members management software, AC Events Enterprise event management app, and AC Ideas Ultimate LEX native idea management software are highly appreciated by our customers. Don't be a stranger; reach out and learn what we can do for you!
Subscribe to our Newsletter!
Receive regular updates on our latest blog posts, news, and exclusive content!
Tag cloud