Salesforce Member Management App
TAKE YOUR MEMBERSHIP ORGANIZATION TO THE NEXT LEVEL WITH OUR COMPREHENSIVE AND FLEXIBLE SALESFORCE-NATIVE SOLUTION
AC MemberSmart is a comprehensive Salesforce-native member management software designed to simplify the digitization process for membership organizations and associations. It offers a single membership solution for membership communities on Experience Cloud to increase efficiency, transparency, and member engagement, while also addressing data protection, security, and reliability concerns. The app is customizable and flexible, making it a powerful addition to any organization or association looking to grow and scale.Give your members an easy-to-use, robust platform for events, networking, discussions, collaboration, asset sharing, and member engagement.
Streamline. Engage. Thrive.
Transform your Experience Cloud member portal into a centralized hub for managing and organizing members' data, communication, events, finances, job postings, fundraising, reporting, and many more. Boost efficiency, productivity, and member engagement.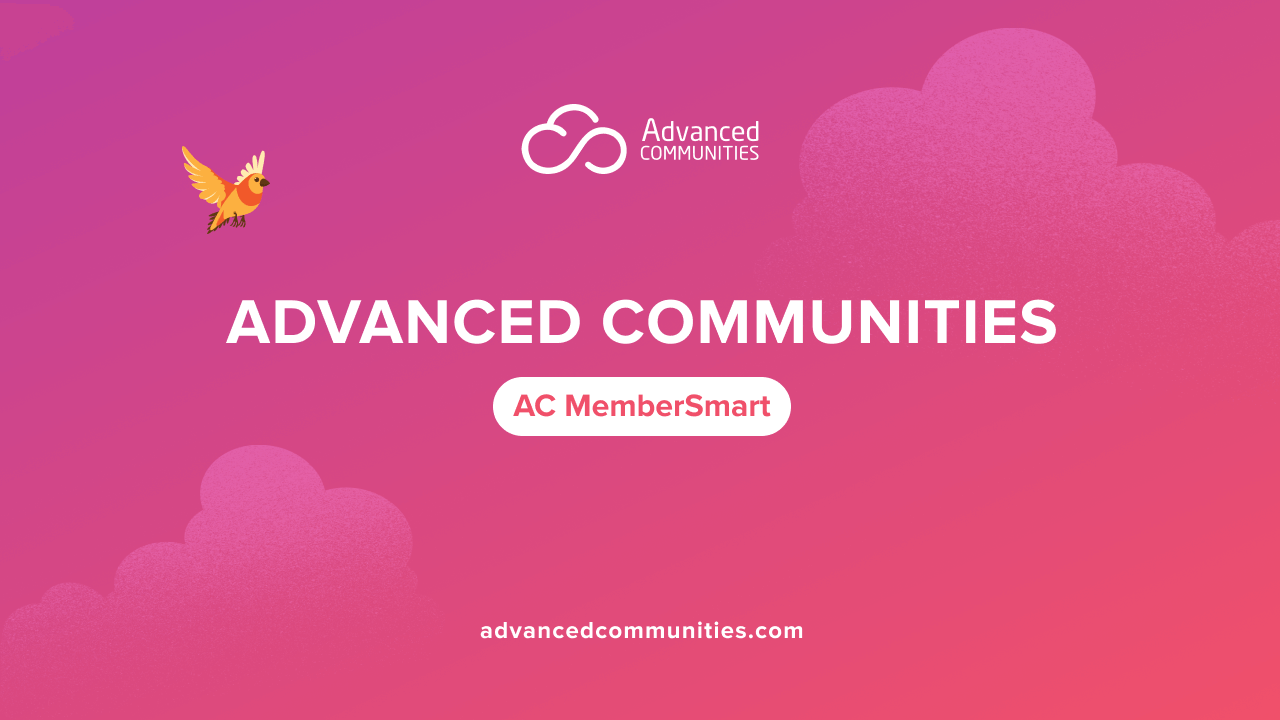 AC MemberSmart Features
Extensive analytics
Use standard and custom dashboards and reports to gain a real-time full view of your organization's metrics. Create reports on data such as your most popular events, donations or membership payments, renewals, and more. Make decisions based on a complete understanding of your member activities.
Control engagement scoring
Leverage the Engagement Scores metric which is part of our membership management software AC MemberSmart to measure how engaged your members are. Numbers looking a little low? Identify it and brainstorm ways to counteract it to raise the motivation of your members.
360-degree member view
AC MemberSmart membership association software stores your members' activities in one secure place to give you an easy understanding of their level and type of engagement. Gain insight to the value of each member to your organization based on pure data.
Continuous professional development
With AC MemberSmart association management software for Salesforce, you can easily create and manage training programs, track progress, and provide personalized learning experiences to ensure your members' success. Create a calendar with events scheduled for a certain month, week, or day.
Payments and donations management
Simplify your membership organization's financial management with AC MemberSmart membership solution. Accept membership payments, subscriptions, and renewals, collect donations through the member portal, and track all revenue and fundraising sources – all in a single system.
Advanced Member Directory
AC MemberSmart's Member Directories feature empowers your organization by increasing its visibility and connecting members with ease. This feature enables your members to search for organizations or other members based on customizable filters, and the Google Maps integration makes it effortless for them to locate like-minded professionals nearby.
Jobs Board
AC MemberSmart's Jobs Board feature is an efficient way to connect your members with open positions and volunteer opportunities. Members can easily navigate to a dedicated page that organizes job postings by type, industry, and experience. They can also attach their CV or resume and add a cover letter to enhance their application.
Events management & organization
AC MemberSmart membership software for nonprofits app supports both free and paid events, whether they're simple or complex, one-day or multi-session. Members can easily browse through different types of events, including local and in-person events, and virtual events via Zoom.
E-commerce management
Organize an online shop to allow your members to purchase products, services, merchandise, event tickets, or courses directly from your member portal. Generate additional income for your Salesforce-based member community to reinvest into future programs and initiatives.
Who Is It For?
Associations
AC MemberSmart can help associations of any size to better manage their members, simplify the membership renewal process, and offer value-added services to members.
Nonprofits
Nonprofit organizations can use AC MemberSmart to manage their members, donors, and volunteers, and run campaigns to raise awareness and funds.
Galleries and museums
Galleries and museums can use AC MemberSmart to manage their membership programs and ticket sales, from storing member information and tracking membership expiration dates to automating renewal reminders and sending event invitations or updates on new exhibits or programs.
Top Benefits of Salesforce Member Management and AC MemberSmart
Customization
Salesforce allows for customization to match your organization's specific needs. With our nonprofit membership management software AC MemberSmart, your member portal can be tailored to fit your organization's requirements, allowing for a more personalized experience for your members.
Data centralization
Salesforce can centralize data from various sources, which means that your organization can better track and analyze member data. AC MemberSmart community membership software takes this one step further by providing a comprehensive tool for Salesforce membership management, including member directories, event management, and job boards, all in one centralized location.
Efficiency
By automating routine tasks, Salesforce frees up staff time to focus on more important tasks, such as member engagement and programming. AC MemberSmart provides automation and digitization, providing your member organization with the right tools to increase efficiency and transparency while avoiding potential challenges.
Ready to take your membership and subscription management in Salesforce to the next level? Try AC MemberSmart today and see the benefits for yourself.
Get Started Now!
Contact us for
any questions
If you want to have a conversation about anything related to Experience Cloud or see demos of our components and learn how to maximize the value of community to your business.
FAQ
What features are included with MemberSmart?
When we say "robust" and "holistic", we mean it. With MemberSmart you get: Events, Ideas, Job Board, Member Directory, Organization Directory, Payments and Donations, Blog, Groups, Trainings, eCommerce, Subscription Management, and Member Portal
Are there any additional fees for those features?
We don't believe in tricky pricing models or hidden costs. All the above features are included
How do I manage members?
MemberSmart provides a fully customizable dashboard that displays all data about your members (such as donations, event attendance, and more)
How can I use Salesforce to manage memberships?
You can use Salesforce to set up a custom association membership portal or community on Experience Cloud where members can manage their own profiles, renewals, and access resources. To make the most out of the Salesforce CRM for your member association, you should go for a Salesforce subscription management software. AC MemberSmart is the best software to manage memberships and subscriptions in Salesforce. Integrate it to your existing Experience Cloud site to boost out-of-the-box functionality to meet your specific goals. 
Can AC MemberSmart be integrated with other membership management systems?
AC MemberSmart is specifically designed to work with Salesforce, and it is not designed to integrate with other membership management systems. However, depending on the features and functionalities required, it may be possible to integrate AC MemberSmart with other third-party membership databases softwares and apps that work with Salesforce. It is recommended to consult with a Salesforce expert or the AC MemberSmart support team for further information.
How can I track membership renewals and expirations with the AC MemberSmart?
With AC MemberSmart, you can track membership renewals and expirations by setting up automated renewal reminders and notifications. The system can send notifications to members before their membership expires, reminding them to renew their membership. You can also track renewal and expiration dates through the Membership Dashboard and generate reports on membership status and trends. Additionally, you can customize the renewal process to fit your organization's specific needs.
Can AC MemberSmart member community software automate membership-related tasks, such as renewal reminders and payment processing?
Yes, AC MemberSmart can automate membership-related tasks such as renewal reminders and payment processing. The software has features like automated renewal reminders and an integrated payment gateway that streamline the membership management process and help organizations save time and increase efficiency.
Can I use custom member management software AC MemberSmart to manage payments and revenue?
Use AC MemberSmart as a revenue management solution for your membership organization. Accept payments and donations through the member portal and track all revenue and fundraising sources in a single system, streamlining the payment and donation management process. Additionally, you can sell products, services, merchandise, event tickets, or courses directly from the member portal, generating additional income that can be reinvested into future programs and initiatives.