Membership Management for Associations
Elevating member management and engagement
Take the first step towards transforming your association's member organization experience by creating a Member Portal and empowering it with AC MemberSmart members management software for Experience Cloud.

Gain access to a wealth of features and benefits that revolutionize the way you interact with your members. From seamless member onboarding and renewal processes to simplified event registration and payment organization, our development and management membership software solutions cover every aspect of member administration in your organization.
Our Membership Association Software Services
Member Portal website development
We provide tailored solutions for membership associations, offering a seamless and engaging online platform for member coordination on Experience Cloud to unite all members in one place, enhance communication, and provide easy access to tools and resources they need.
Association membership software implementation
Provide your members with a central repository and platform for events, networking, discussions, collaboration, asset sharing, and member engagement using our customizable and flexible software for membership management, AC MemberSmart, on your Experience Cloud Member Portal.
User Experience (UX)
We prioritize UX for membership management systems, ensuring a seamless and intuitive interface that enhances member engagement. With a user-centric approach, we create an intuitive navigation, visually appealing design, and personalized features, delivering an exceptional user experience that keeps members coming back for more.
Benefits of Our Membership Platform Software Solutions
Enhanced member engagement and retention
Leverage the Engagement Scores metric which is part of our nonprofit membership software AC MemberSmart to measure how engaged your members are. Numbers looking a little low? Identify it and brainstorm ways to counteract it to raise the motivation of your members.
100% cloud solution
We provide you with a 100% cloud nonprofit membership management software solution. With cloud-based accessibility, you can securely access and manage your membership data from anywhere, on any device. This ensures convenience, flexibility, and the ability to work efficiently, even when you're on the go.
360 degree member view
Use our AC MemberSmart software to manage memberships on your Member Portal to store your members' activities in one secure place and get an easy understanding of their level and type of engagement. Gain insight to the value of each member to your organization based on pure data.
Powerful self-service features
With intuitive self-service tools, your members can easily update their information, register for events, make payments, and access resources independently allowing you to reduce your workload and streamline administrative tasks, focusing on strategic initiatives and member support.
A central point for membership management
Member Portal and associations membership management app AC MemberSmart is the best combination for member organizations to manage and engage with their member communities, create targeted communication campaigns, manage fundraising efforts, streamline event organization – all in a centralized online membership system.
Membership financial administration
Accept membership payments, subscriptions, renewals, and donations through the Member Portal. Track revenue and fundraising sources effortlessly, all within a single, integrated system empowered with AC MemberSmart membership software for nonprofits & associations.
Why Advanced Communities?
Expertise and experience
With years of experience in the industry, we bring deep expertise in developing and implementing membership solutions. Our team of professionals understands the intricacies of association management and can provide tailored solutions to meet your specific requirements.
Customization and flexibility
We recognize that every association is unique, which is why our solutions are highly customizable. We work closely with you to understand your organization's goals and tailor our cloud-based membership software to fit your exact needs. This flexibility ensures that you get a solution that aligns perfectly with your workflows and objectives.
Seamless integration
Our online membership directory software solutions seamlessly integrate with your existing systems, allowing for a smooth transition and minimal disruption. Whether it's integrating with your CRM or third-party tools, we ensure a cohesive and efficient ecosystem.
User-centric design
We prioritize user experience and design intuitive interfaces that enhance member engagement. Our solutions are built with a user-centric approach, making it easy for your members to navigate, access resources, and engage with your association.
Comprehensive features
Our apps offer a wide range of features that cover all aspects of

nonprofit membership management

. From member onboarding and event organization to payment processing and analytics, our solutions enhance your

Salesforce community functionality

and provide a comprehensive suite of tools to streamline your operations.
Ongoing support
Our partnership does not end with implementation. We provide ongoing support and maintenance to ensure that your

membership tracking system

runs smoothly and efficiently. Our dedicated support team is readily available to address any queries or concerns that may arise.
Member Portals Case Studies
With our team of Salesforce Certified Experience Cloud consultants, we bring our expertise and years of experience to the table, helping our customers effectively manage and make the most out of the Salesforce Experience Cloud.
Cases: Nonprofits
The African American Alliance of CDFI CEOs (The Alliance)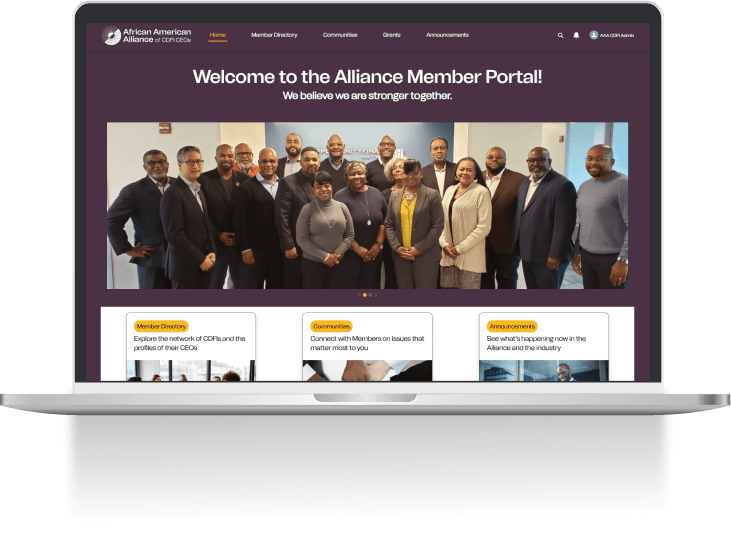 The African American Alliance of CDFI CEOs (The Alliance) is a coalition of more than 80+ CEOs of Black-led Community Development Financial Institutions (CDFIs), comprising loan funds, credit unions, venture capital firms, and nonprofit developers.
The Member Directory is a central point for all Alliance member profiles.
Members can access communities to connect with each other and obtain valuable information tailored to their interests.
Eligible members can apply for the Alliance's open grant opportunities.
Сommunity members can track all group activity based on their feed and interests.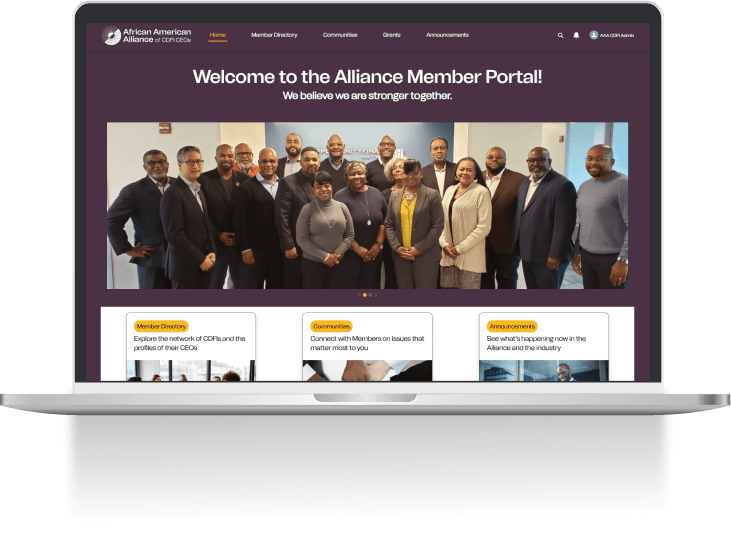 Let's talk services
If you'd like to discuss any of our services or how we can help, please complete the form and we'll back to as soon as we can.
Trusted by great companies
We help our customers succeed with Salesforce and Experience Cloud