Salesforce Knowledge & Case Management App
Supercharge Your Salesforce Knowledge With the Most Powerful Knowledge Base App on Experience Cloud
AC Knowledge Management Enterprise is a user-friendly solution for Salesforce knowledge and case management on Experience Cloud. Its intuitive interface, powerful search capabilities, and self-service features help organizations deliver accurate and consistent information to their customers, enabling effective case deflection and reducing support costs.

Ideal for managing large volumes of knowledge articles in Salesforce, streamlining customer support, and improving the customer experience. Try it today and optimize your knowledge management in Salesforce to elevate customer satisfaction.
One Solution, Limitless Knowledge
Tailored to your organization's needs, our Salesforce-native AC Knowledge Management Enterprise app empowers you to centralize and modernize knowledge management on your Experience Cloud site. Whether you're onboarding partners, collaborating on crucial projects, or enhancing customer support, our app simplifies every aspect, ensuring your success.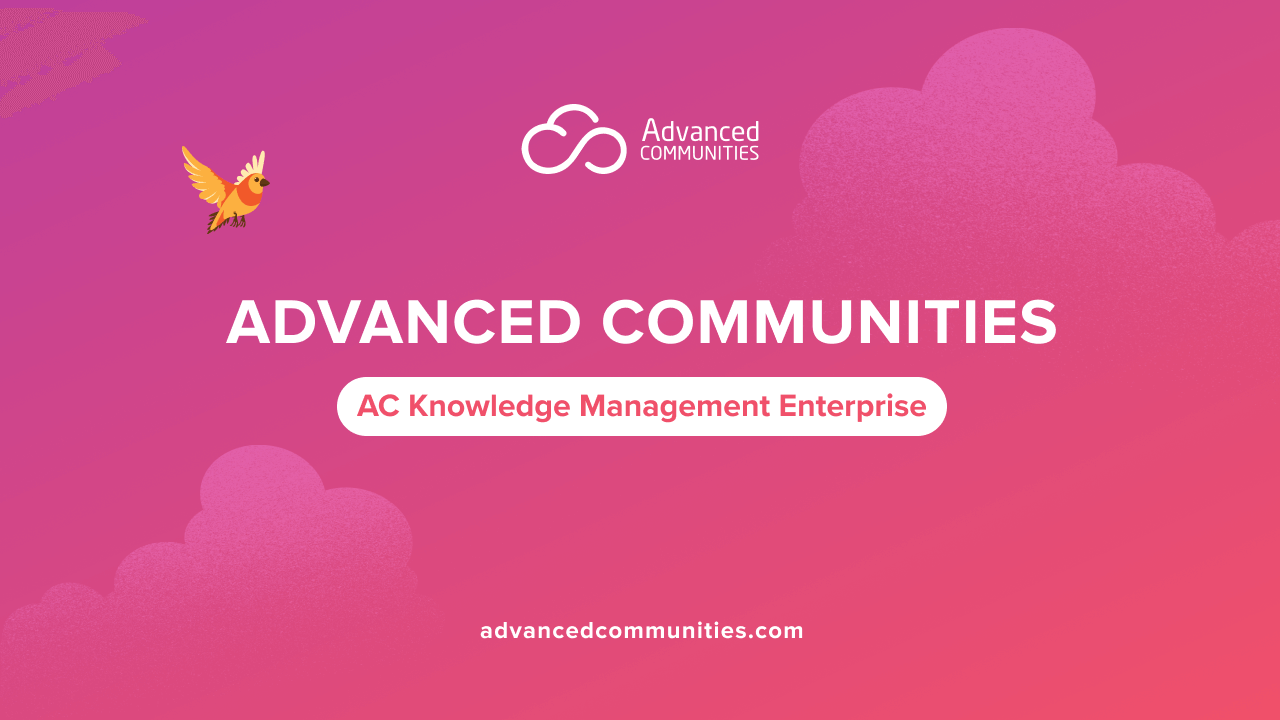 AC Knowledge Management Enterprise Features
Enhanced article sorting logic
Specifically designed for those using the Advanced Navigation configuration, sorted articles appear at the top of the page while unsorted articles are displayed at the bottom. This feature makes it easier for users to find relevant content quickly and simplifies knowledge base management.
File attachments support
AC Knowledge Management Enterprise enables you to provide your site members with additional resources by supporting file attachments. You can attach any file types that may be relevant to your users, including presentations, Excel spreadsheets, PDF files, image files, audio files, video files, and many more…

Landing page support for each category
Each data category has a separate landing page that gives your site members a concise and clear description of a particular category. The landing page can be customized to provide additional resources, links, or tips related to the category, improving the overall usability of the knowledge base in Salesforce.

Case deflection statistics
AC Knowledge Management Enterprise records and saves case deflection statistics, including visits to the cases page, viewed articles, and created or deflected cases so that you can easily track and analyze your SFDC knowledge management system performance.
Benefits of Using AC Knowledge Management Enterprise
1
Data Categories Support on Experience Cloud
AC Knowledge Management Enterprise fully supports a hierarchy for data categories, which can be used as filters for knowledge articles in Salesforce. Filter articles by specifying categories, groups, article type IDs, or custom values. The checkbox option allows for simultaneous filtering by multiple categories.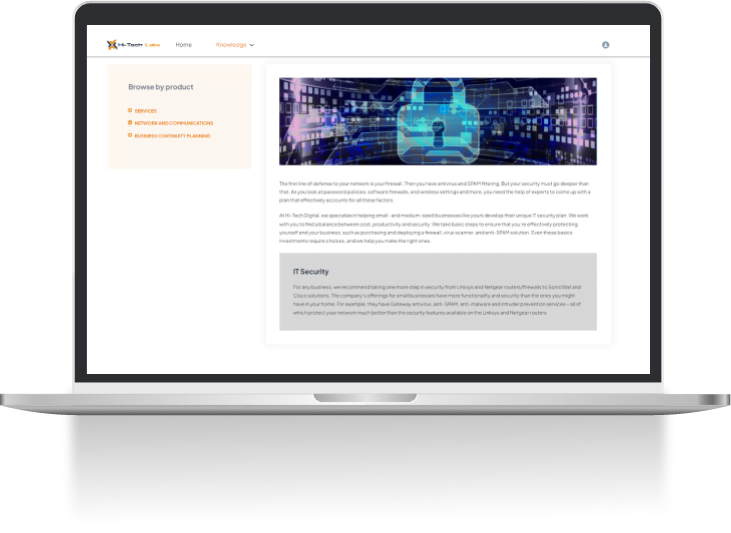 2
Create articles from Experience Cloud sites
Encourage interaction and increase engagement organically by allowing your site users to contribute to the knowledge base and provide valuable content directly within the site. The newly created articles are stored as drafts until you, as an administrator, confirm or reject the publication.
3
Article following and subscription with rating system
Let site members subscribe to articles and receive updates with email notifications as well as voting by the 5-star and thumb ratings so you understand the value each article brings your audience.
4
Enhanced article view
Allow your users to easily navigate to any article section by utilizing collapsible and expandable content sections and anchor links. Encourage engagement by enabling your users to rate articles with a five-star rating system and subscribe to receive email notifications for updates.
5
Multibases support
Set up separate cloud knowledge bases for multiple products within a single system. This feature enables your users to search for articles specific to each product separately, resulting in a better user experience and more accurate search results.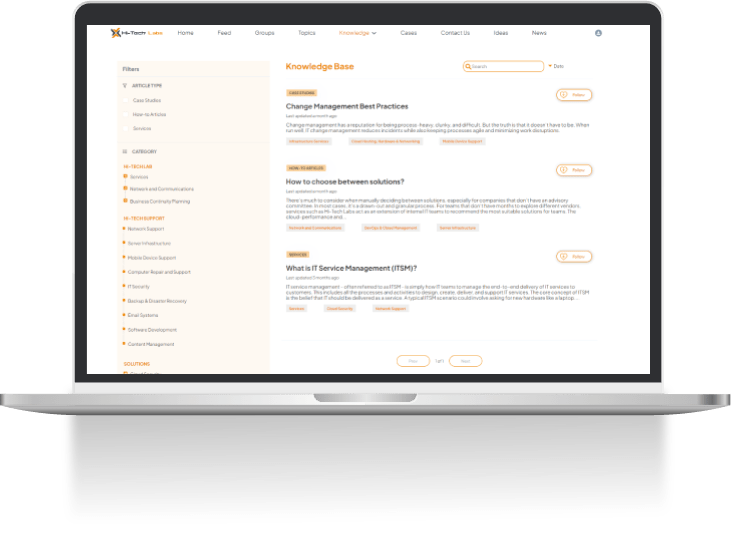 6
Powerful filtering capabilities
AC Knowledge Management Enterprise offers two configurations: Standard Filtering for quickly searching and filtering articles in large knowledge bases and Advanced Navigation feature for structured navigation through articles such as guides or manuals with subtopics and sections.
7
Advanced Salesforce case deflection
Deflect up to 70% of support cases with a guided wizard. Help your users find relevant articles instead of creating a case. Monitor the usefulness of your content by allowing users to rate articles using a thumbs-up or thumbs-down system.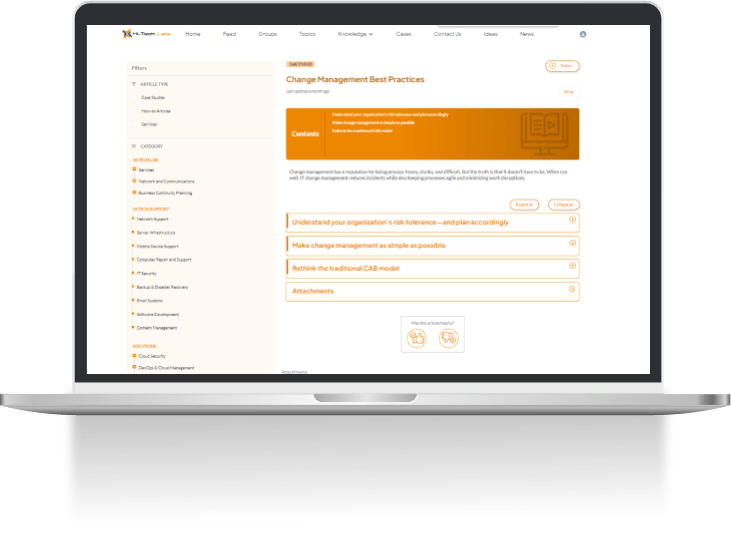 Ready to take your knowledge management efforts to the next level? Try AC Knowledge Management Enterprise today and see the benefits for yourself.
Get Started Now!
Frequently Asked Questions
How do I publish an article from the Experience Cloud site?
User-created articles are saved as drafts until checked and published by knowledge managers.
What kind of content is supported for organizing our category landing pages?
You can organize landing pages by any content using a Rich Text field.
What does the Multibases Support feature provide?
This feature allows you to create different knowledge bases for multiple products and let your members search through each base independently.
What is Salesforce knowledge management?
Salesforce offers a powerful system for storing and managing documentation, providing website visitors, clients, partners, and service agents with easy access to important information – Salesforce Knowledge base. It is a versatile knowledge management tool that helps increase agent productivity, enhance customer self-service, and improve support capabilities.
How to enhance knowledge management in Salesforce Experience Cloud with knowledge base components?
Salesforce Knowledge base's limited out-of-the-box functionality for Experience Cloud can hamper your ability to solve business challenges. Poor filtering, complicated topic-based navigation, and unsupported article categorization are common issues. To address these gaps, we created AC Knowledge Management Enterprise, an app for seamless and holistic knowledge management on Experience Cloud.
What's so special about AC Knowledge Management Enterprise as a knowledge management tool?
AC Knowledge Management Enterprise offers a comprehensive and user-friendly solution for managing knowledge in the Salesforce Experience Cloud, with advanced features that go beyond the out-of-the-box functionality of the Salesforce Knowledge base.
What are the Salesforce knowledge management best practices?
Here are some Salesforce knowledge management best practices in short:
Define a clear strategy and goals for your knowledge management program.

Define a taxonomy and categorization structure to organize your knowledge base.

Regularly review and update your knowledge base to ensure accuracy and relevance.

Encourage collaboration and knowledge sharing among employees.

Use data analytics to measure the effectiveness of your knowledge management program and identify areas for improvement.

Provide easy access to the knowledge base through various channels, such as websites, portals, and mobile apps.
How do I set up a knowledge management app in the Experience Cloud site?
To set up a knowledge management app in the Experience Cloud site, you need to install an app designed for Experience Cloud, such as AC Knowledge Management Enterprise. Then, configure the app to meet your organization's needs, create and publish knowledge articles, and add the app to your Experience Cloud site so users can access the knowledge base.
Our Cases
Salesforce communities implementation has driven success
By providing our expertise and utilising years of experience of our Salesforce Certified Experience cloud consultants, we help our customers manage and benefit from the ever-increasing number of new product features.
IT/High-Tech
Spotify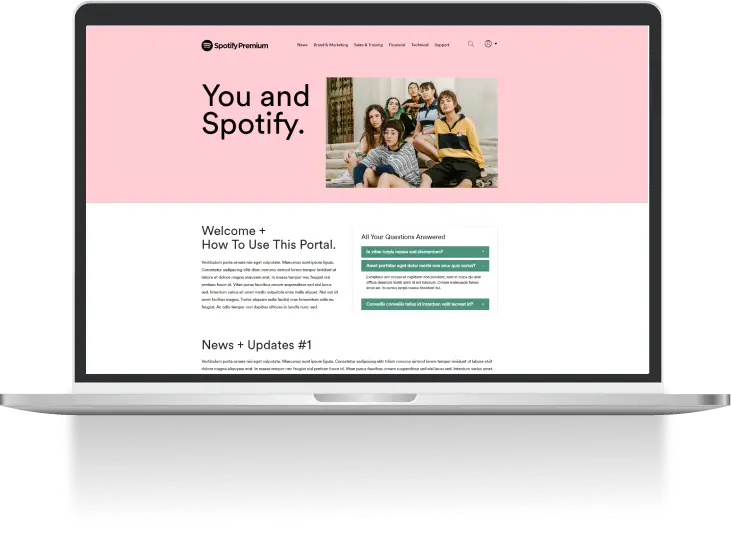 Spotify Technology S.A. is a Swedish music streaming service that provides DRM-protected music and podcasts from record labels and media companies. Spotify required two separate sites: one for bringing artists, developers, investors, and vendors together and another as a communication channel used for sharing news, events, announcements, and blog posts.
Enhanced file management and sharing
Exceptional customer service with a new case management system
Better connection and collaboration with the customers
Increased website traffic and overall company productivity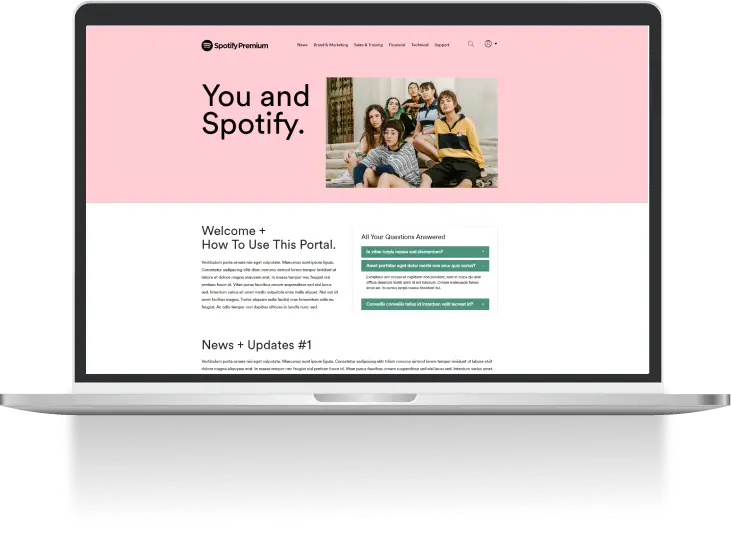 Cases: Nonprofits
Greenpeace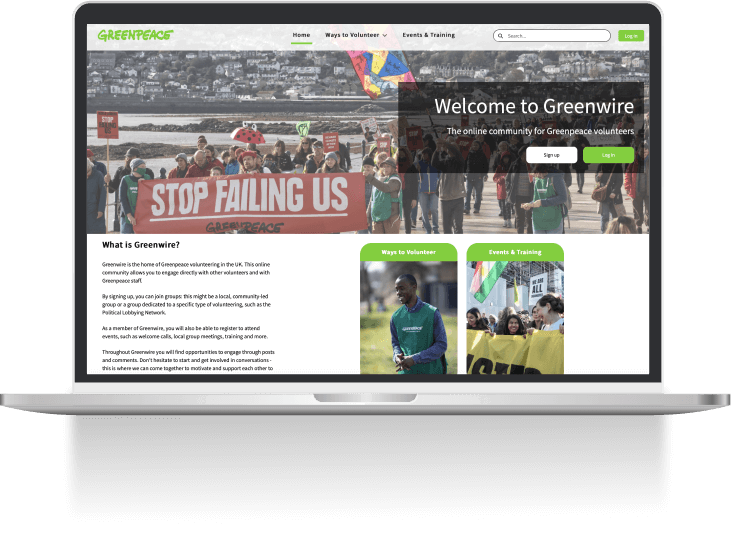 Greenpeace is a well-known non-governmental environmental organization with offices in 55 countries. Relying on volunteers, Greenpeace works on defending the natural world for a green and peaceful future. Greenpeace UK required its existing volunteer community groups to be updated and moved from the external system to the Salesforce Community Cloud platform.
Better communication within the community
Enhanced online collaboration and information sharing
Simplified and more effective group management
Increased engagement and user satisfaction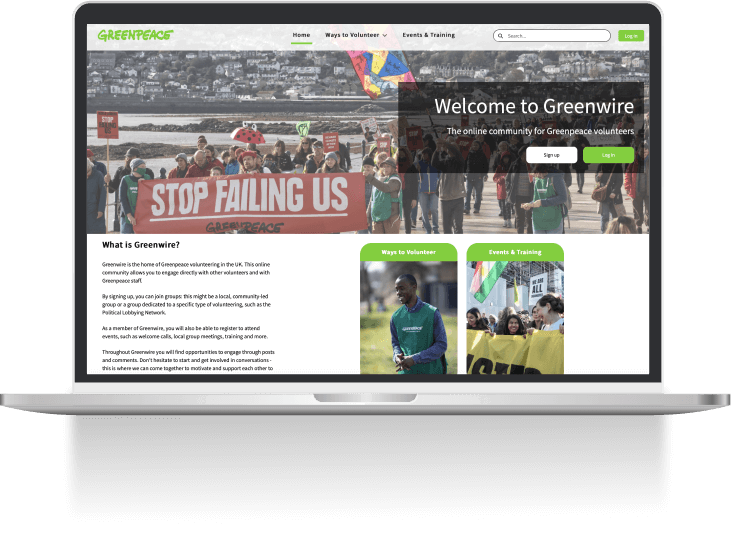 IT/High-Tech
MuleSoft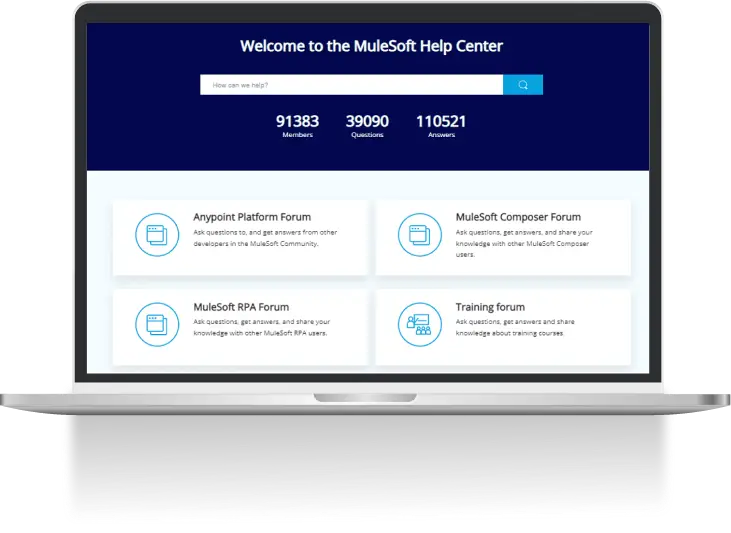 MuleSoft, Inc. is a software company that provides iPaaS software for connecting applications, data, and devices without writing code. Advanced Communities was involved in the strategic project of moving the Mulesoft Help Center from the legacy PHP forums to Salesforce Community Cloud. That included moving 20000+ forum users with the discussions, likes, follows, reputation points, images, and userpics to Salesforce.
Improved engagement and collaboration with Mulesoft customers
Better system performance
Streamlined and more efficient company processes
Increased productivity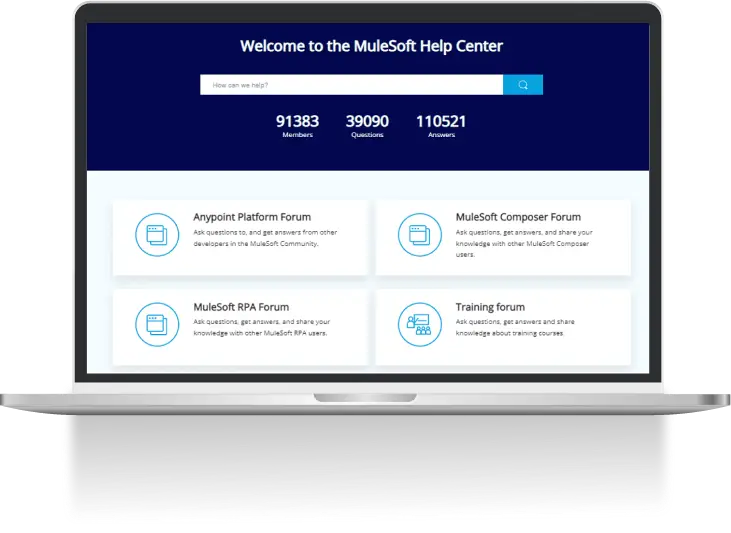 Contact us for
any questions
If you want to have a conversation about anything related to Experience Cloud or see demos of our components and learn how to maximize the value of community to your business.