The African American Alliance of CDFI CEOs (The Alliance)
Nonprofit membership association
Florida, United States
Emloyees: 22, Community members: 92
The African American Alliance of CDFI CEOs (The Alliance) is a coalition of more than 80+ CEOs of Black-led Community Development Financial Institutions (CDFIs), comprising loan funds, credit unions, venture capital firms, and nonprofit developers. The Alliance is dedicated to empowering Black CDFI CEO members to lead and grow their institutional operations, teams, and social impact. 
Since 2018, The Alliance has represented all 50 states and the District of Columbia. As a result, members are uniquely positioned to address issues related to housing and access to capital for African American populations and communities. 
Project Objectives
The Alliance aimed to provide a technological solution to house member-only content, increase member-to-member communication, maintain specific profile data and house a member directory. By utilizing the Salesforce Experience Cloud, the portal would serve as a central repository and platform to unite all members, providing easy access to tools, connections and much needed resources to support and advance the work of Black-led CDFI members.
The Alliance also wanted to implement a Single-sign on (SSO) user authentication service on the member community to allow their users to securely authenticate two of the Alliance's websites using just one set of credentials. This way, the members can either log in to the Member Portal or log in to the Alliance's main website and automatically gain access to the portal.
Solution
Advanced Communities (AC) developed a beautiful, user-friendly member portal on the Salesforce Experience Cloud from scratch and implemented the AC Member Directory app (a part of the AC MemberSmart app for membership organizations). Our solution enables portal members to connect with other members and Alliance staff, apply for grants, seek assistance and ask questions as well as stay up to date with the current happenings at the Alliance and in the CDFI industry. 
Understanding that Salesforce was a new tool for the Alliance, Advanced Communities also provided the team with constant ongoing knowledge support throughout the implementation journey and after the portal was launched.
Functionality implemented in the member portal:
The Member Directory is a central point for all Alliance member profiles.
Communities: These are groups that members can access to connect with each other and obtain valuable information tailored to their interests.
Announcements: This serves as the core hub for communications between members and the Alliance.
Grant management: This functionality is intended for eligible members to apply for the Alliance's open grant opportunities.
Community feed: This feature allows community members to track all group activity based on their feed and interests. 
Custom design: The member portal's design was developed from scratch, providing a unique and tailored user experience.
Benefits & Results

● The Alliance has a beautiful, user-friendly community portal designed for CDFI members, allowing easy navigation and access to core resources while facilitating connections with other like-minded CEOs.
●  With the Member Directory functionality, members can explore the network of other members, view detailed CEO profiles with information such as name, title, organization name, address, and contact information; as well as access posts made by these CEOs within the community. Members have the flexibility to set up their profiles, make changes, and update personal contact information, including their photo, as needed.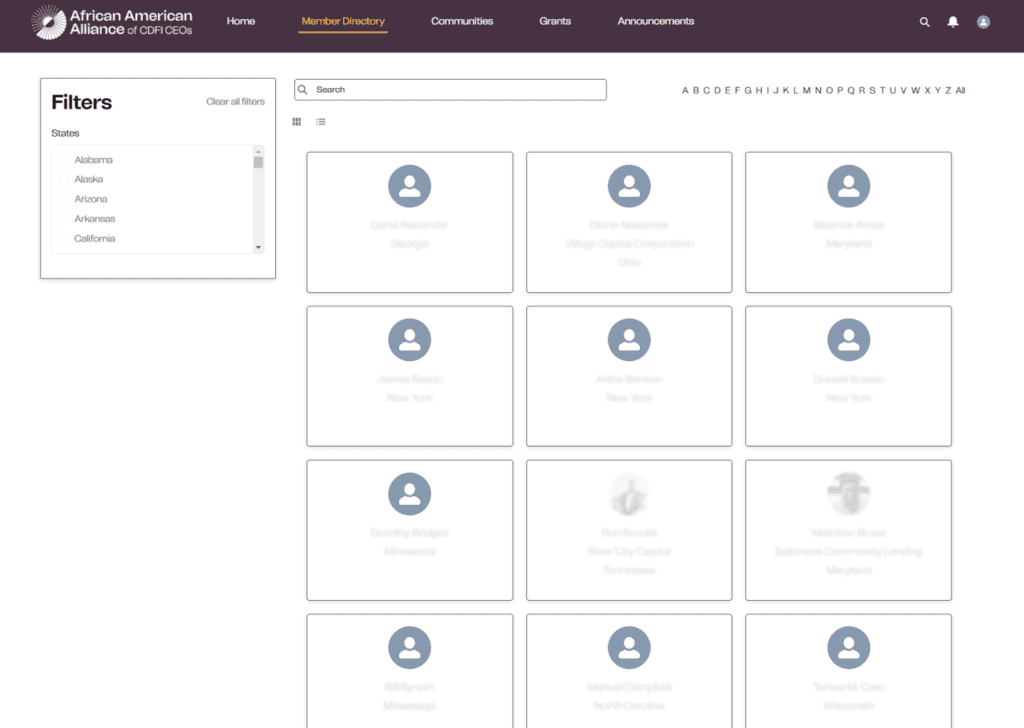 ● The Communities section allows members to view all communities listed in the member portal and join the ones that they are interested in with just a few clicks. Additionally, the Forums section provides a Question & Answer functionality for seeking assistance and obtaining answers from Alliance staff and fellow members.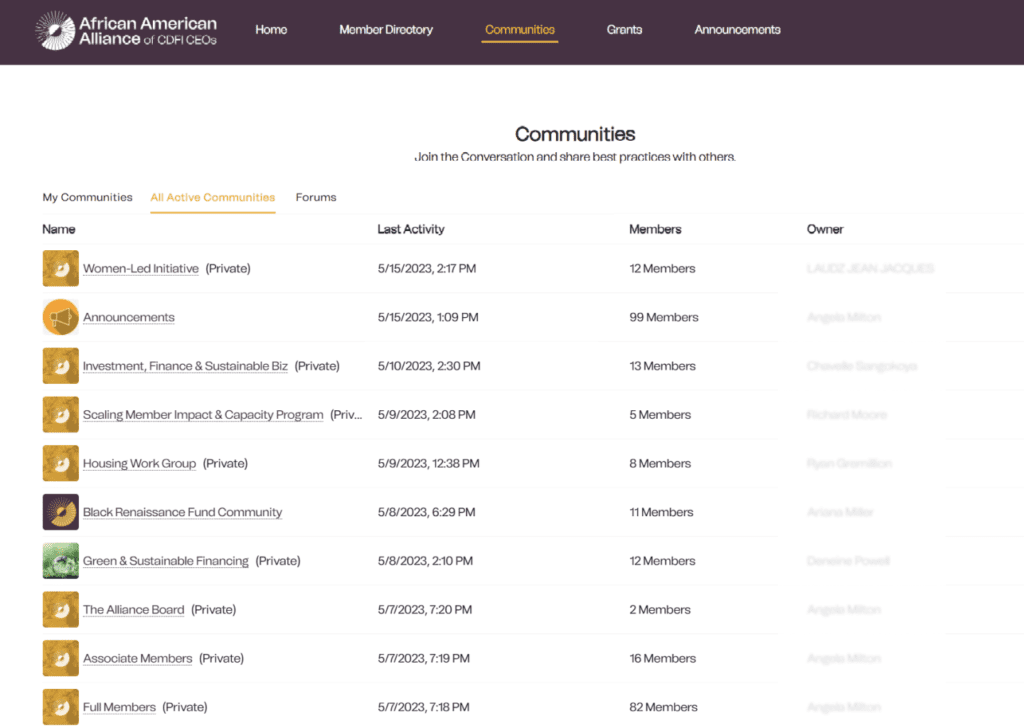 ● Members can personalize their experience by setting notifications for specific posts based on their preferences. Interactions within the portal include the ability to like, comment, share, and mention others in posts, as well as bookmarking posts to keep track of ongoing activity.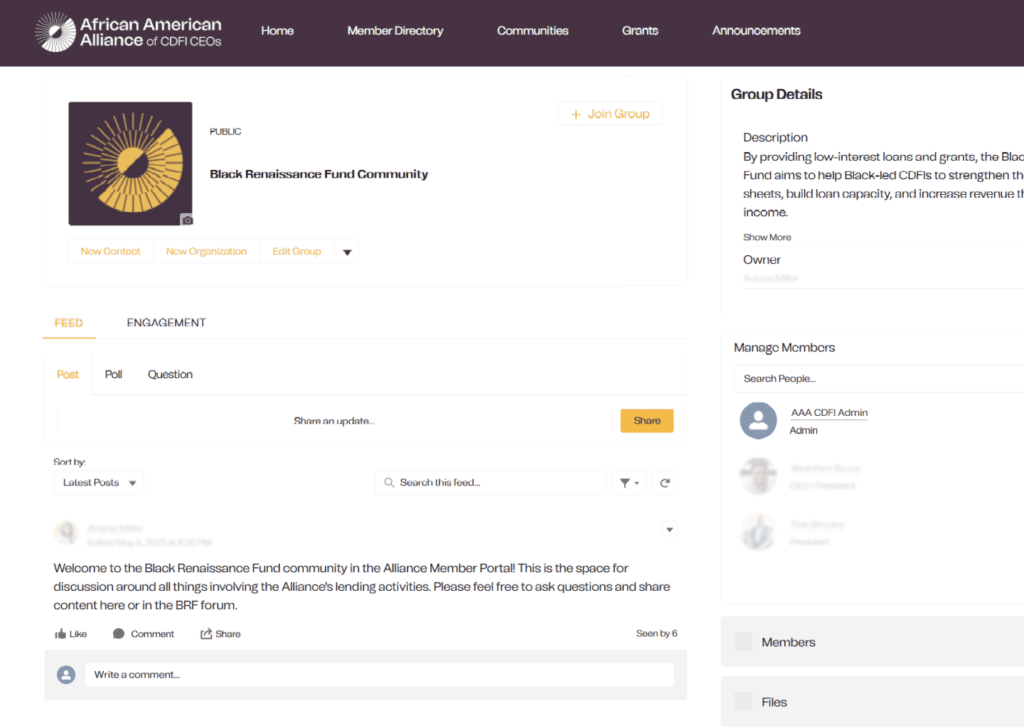 ● The Alliance members can access up-to-date information and stay informed with the latest news by navigating the Announcements page. This eliminates the need to be overwhelmed by announcement emails, as community members can conveniently find all the relevant information in one centralized location.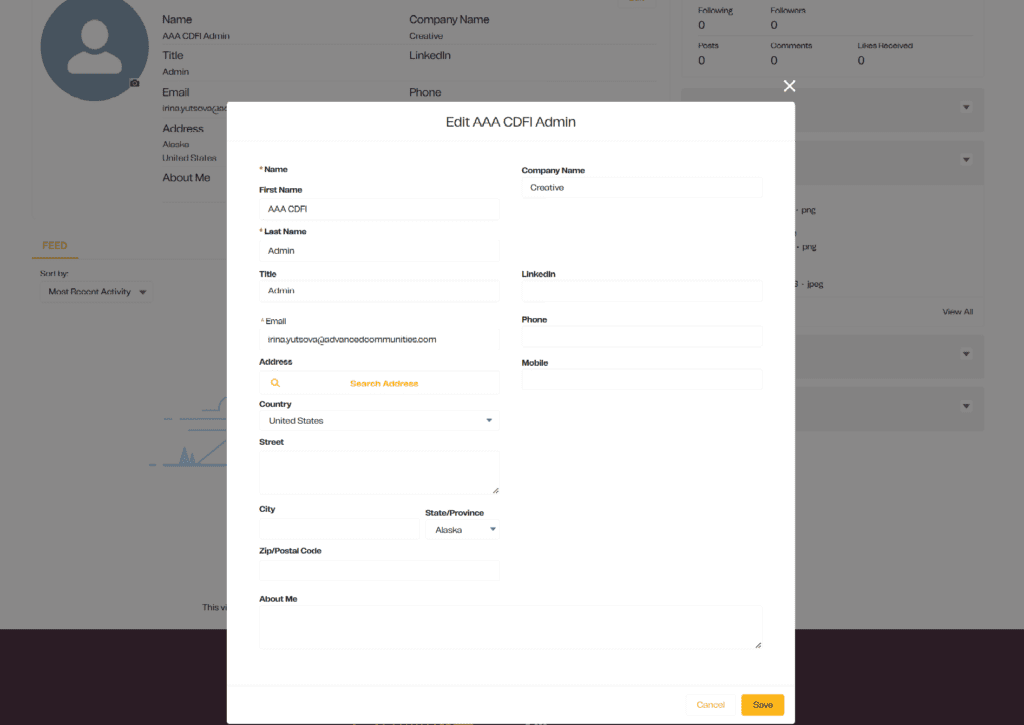 ● Eligible Alliance members can apply for grants directly from the member portal without needing to navigate to other platforms or websites.
Discover all the features and functionalities of the portal through the video presentation from the African American Alliance of CDFI CEOs to its members:
And here's what the Alliance said about our performance:
"Advanced Communities has been an excellent partner to work with on the implementation of our Member Portal and other Salesforce applications. Throughout the project, the AC team demonstrated strong expertise, professionalism, responsiveness, and flexibility to our organization's needs. I was especially impressed by the time and attention the AC team dedicated to truly understanding our organization's requirements and developing the solutions needed to better serve our membership and drive operational efficiency. The AC team also communicated effectively, keeping us informed on the status of each requirement and alerting us of any barriers to the project objectives. It has been a pleasure working with Advanced Communities (especially Irina and Maksim) and I would highly recommend their services to other organizations seeking to leverage Salesforce in their organization."
Chavelle Sangokoya
Vice President, Programs & Strategic Initiatives

"I joined the Alliance family in Nov 2022. The project was in full motion and towards the end of phase 1 of development. The AC team had done an incredible job with setting up our Member Portal ensuring that all of our requests to make the vision come to fruition was on track/completed. Maksim and Irina were super helpful (and willing) in answering my questions and explaining things in a way that I, who's likely the least tech-savvy on the team, could easily understand. Their support, focused attention, timely turnaround time, recommendations and stellar client service made the engagement a pleasure."
Germaine Mclver-Cherry
Sr. Program Director, Programs & Strategic Initiatives
Learn more about Advanced Communities:
Visit AC Consulting Services page on the Salesforce AppExchange.