CDC Foundation: EIS Alumni Association
Nonprofit organization/Philanthropy/Public Health
Atlanta, Georgia, United States
1,400+
The CDC Foundation is an independent nonprofit organization that works in partnership with the Centers for Disease Control and Prevention (CDC) to promote public health and improve health outcomes around the world. Established in 1995, the foundation serves as a strategic philanthropic partner, providing essential funding and resources to support CDC's critical health initiatives. 
CDC's Epidemic Intelligence Service (EIS) Program was established in 1951 to prepare epidemiologists and public health professionals to respond to and investigate outbreaks and other public health emergencies. The EIS Program has since become highly regarded and plays a crucial role in investigating and controlling numerous disease outbreaks around the world. Its alumni association (4,000+ members strong and growing) is administered by the CDC Foundation and continues to foster and sustain a sense of collegiality among its members and to promote the welfare of the EIS Program. 
The CDC Foundation came to Advanced Communities asking for help in creating an Alumni Association platform for connection, sharing experiences, research findings, and best practices among EIS graduates. 
Project Objectives
The project aimed to bring together a network of EIS alumni in a shared space to enable them to stay connected, collaborate and continue their professional development based on their interests, experience and EIS Program education. It was crucial to implement advanced data filtering options with multi-select functionality to accommodate a vast amount of information while simplifying the search for fellow alumni and ensuring an aesthetically pleasing and easily customizable user profile. It was also important to provide alumni with the capability to independently update their contact information on the portal, ensuring the updated data automatically syncs with Salesforce. Additionally, the client needed a job board and groups management functionality on the site, along with the capability to highlight upcoming events, such as courses, conferences or annual meetings.
Solution
Advanced Communities developed a beautiful, user-friendly alumni portal on the Salesforce Experience Cloud from scratch and implemented an AC MemberSmart app to fulfill the CDC Foundation's requirements for an advanced Member Directory, Job Board, Events, and other essential functionalities. Our solution empowers EIS alumni to easily connect with fellow alumni, engage in group activities, post and discover job opportunities, explore upcoming events and access tailored information that aligns with their specific interests and requirements.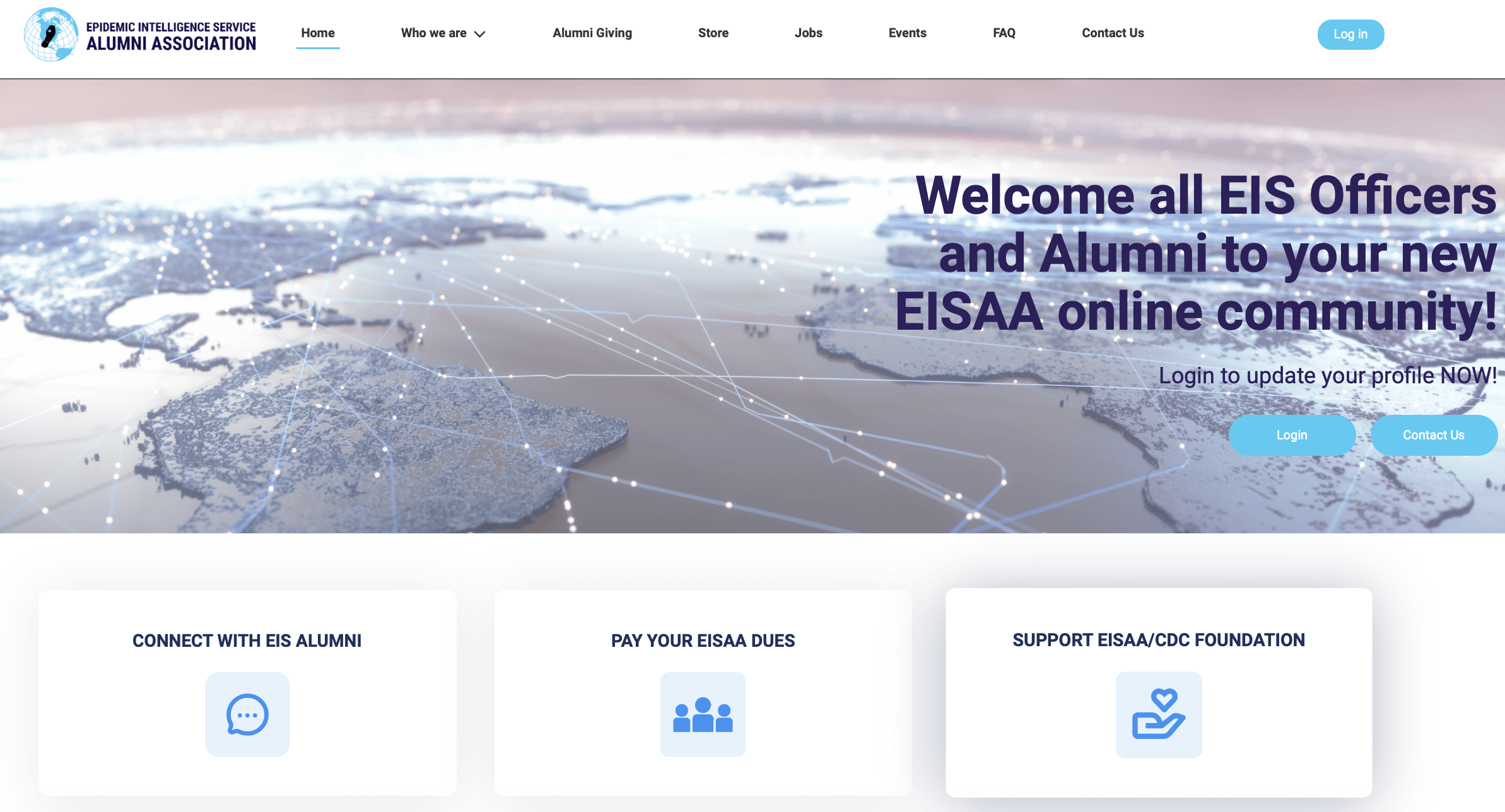 Advanced Communities provided knowledge support to the team throughout the implementation process. We extended our assistance even after the successful launch of the portal, guiding the team in learning more about Salesforce's intricacies, including working with screen flows, editing Salesforce objects and fields, and more. 
Benefits & Results
● We have implemented an advanced filtering system with multi-select functionality on the site allowing long filters with 20-100 possible options to appear compact and user-friendly, while ensuring advanced search capabilities. As a result, alumni can easily find fellow members who precisely match their requirements, making the process of connecting with like-minded individuals a breeze.
● With the Member Directory functionality, alumni can explore and connect with other EIS alumni. Utilizing the standard Salesforce component in conjunction with screen flows, we have developed a user-friendly profile layout that showcases 40+ fields, including EIS assignment details, education history, and work history – all on one page for a clean and organized user experience.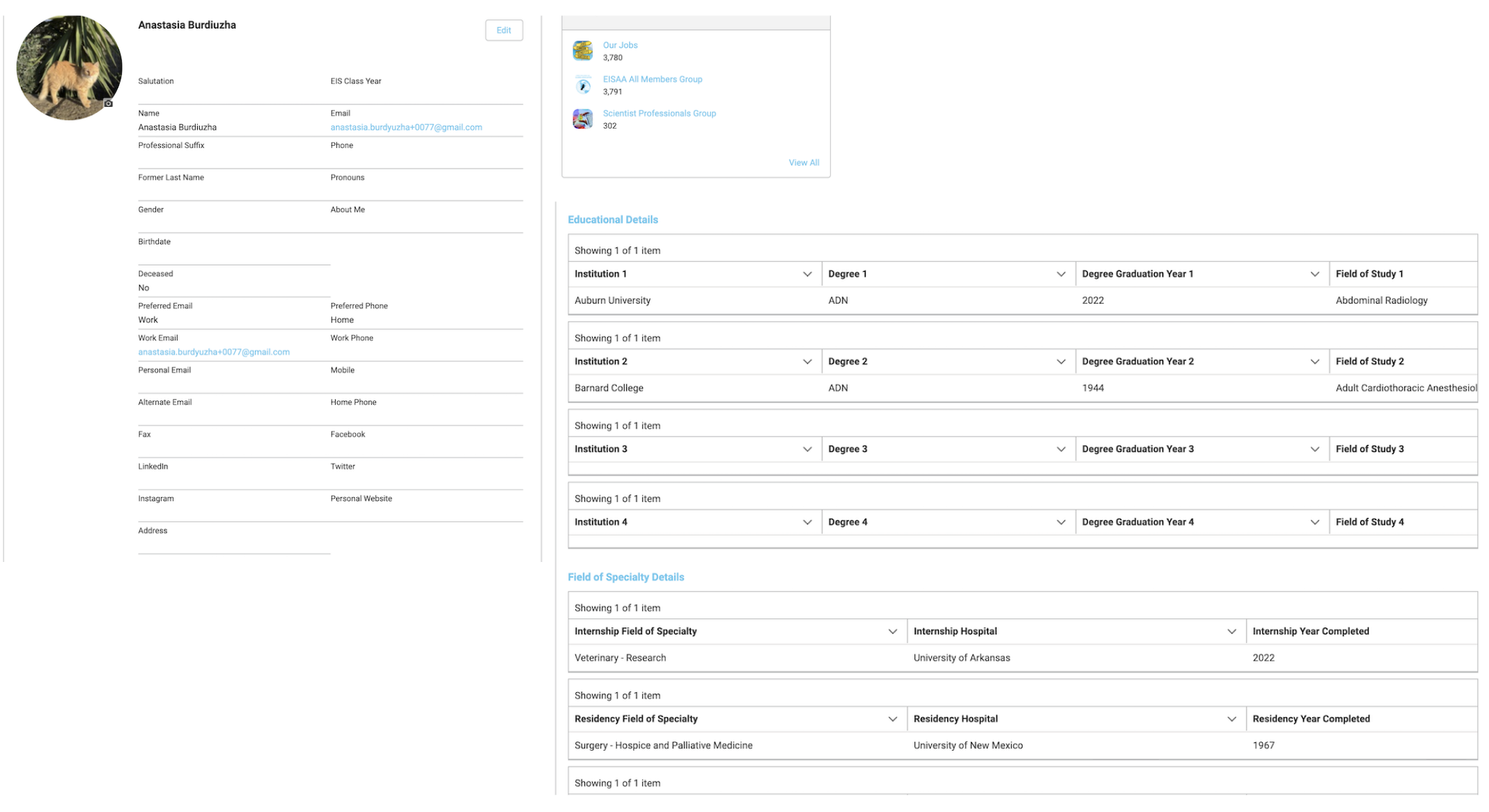 ● By applying Salesforce flows and screen flows, we have provided CDC Foundation staff with the flexibility to customize alumni data quickly by adding or removing fields without coding or development assistance. Additionally, alumni members have the flexibility to set up their user profile pages, make changes and update their personal contact information directly within the portal. This information is automatically synced with Salesforce, ensuring the CDC Foundation has access to up-to-date and accurate data.
● With the Job Board functionality, we enabled the CDC Foundation, alumni and guest users to post publicly visible job listings and volunteer opportunities. The custom job digest feature automatically adds registered users to job announcement groups, sending weekly updates on new job postings. Alumni portal members can personalize their experience by adjusting notification frequency.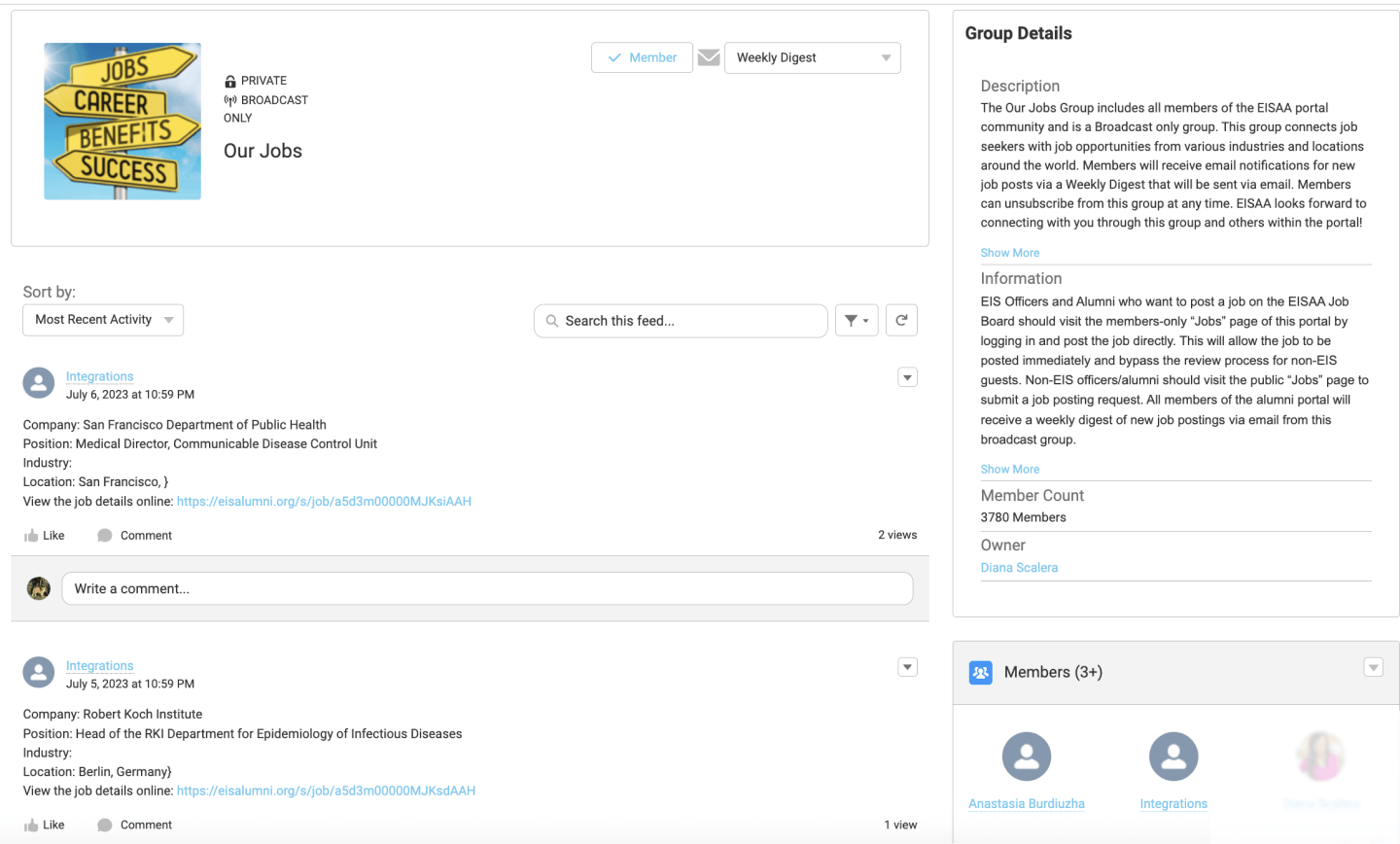 ● During the implementation of the Groups feature, we utilized custom development to automate the process of adding users to relevant groups based on their graduation year or subject of study in the EIS Program. Users are seamlessly added to groups aligned with their interests during the enablement process or when they update their EIS Assignment details, ensuring they are connected to groups that best match their preferences and areas of expertise.

● Events functionality was incorporated to display information about upcoming and past events, while libraries allowed the CDC Foundation to share useful information with their alumni community.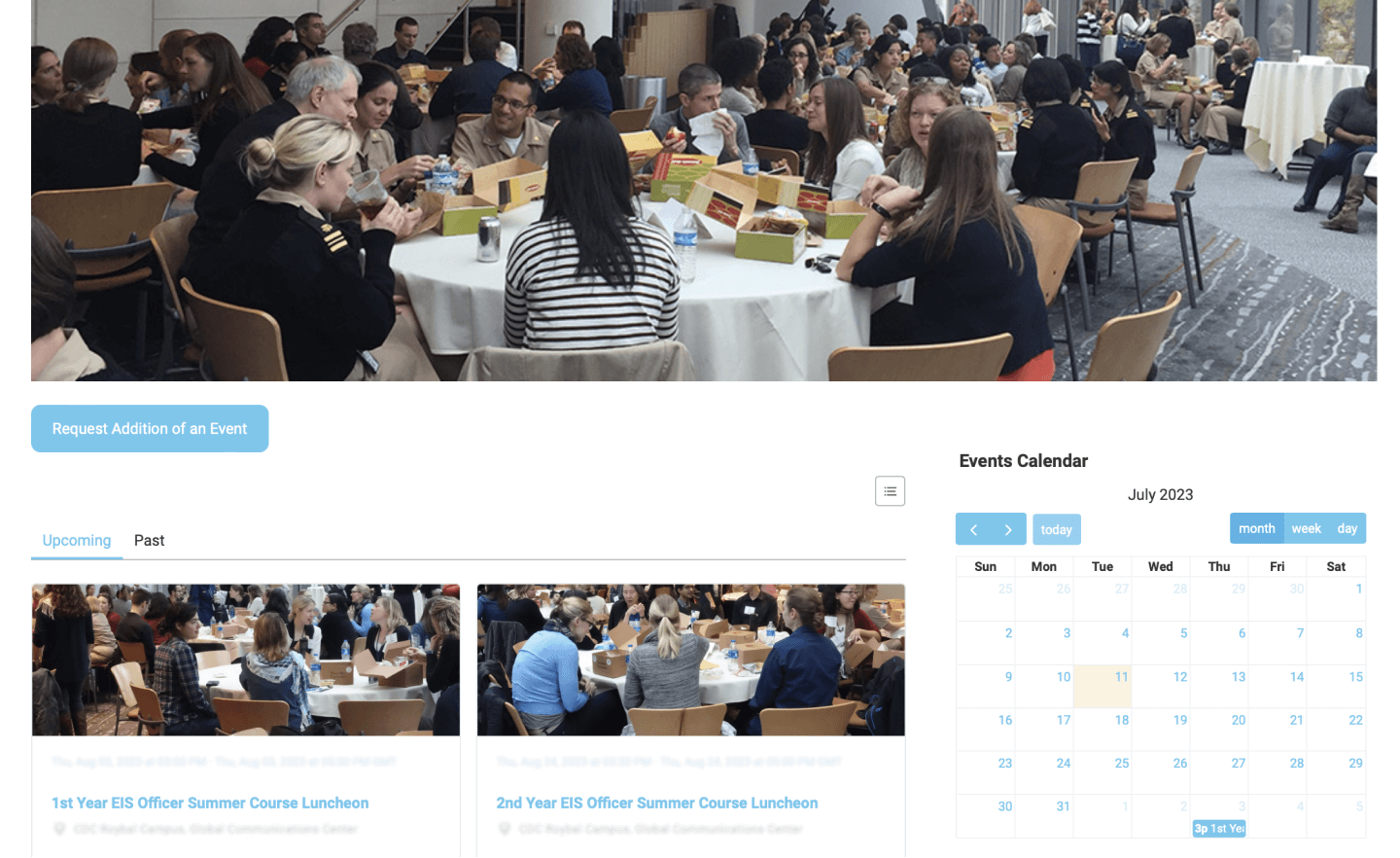 And here's what CDC Foundation said about our performance:
The Advanced Communities implementation team was very responsive to our unique needs and worked with us to create an effective, customized member portal solution which we will be able to leverage across multiple member communities. The training and support provided to ensure we are able to maintain our current member portal and begin design of new portals has been extremely valuable. Thank you AC Team!
CDC Foundation Team
Learn more about Advanced Communities:
Visit AC Consulting Services page on the Salesforce AppExchange.