Salesforce Experience Cloud for Nonprofits: License Overview
In an increasingly competitive world, where customers have more power than ever before, businesses are looking for ways to deliver experiences that exceed expectations. That's where Salesforce Experience Cloud comes in. By implementing Experience Cloud, you make your users feel valued and consistently fulfill their needs:
Easy sign-ups
Customized, relevant content that's in perfect harmony with their interests and needs
Around-the-clock personalized support
Enhanced self-service
Secure debit and credit card payments
…and much more
Salesforce Experience Cloud is widely used by non-profits to fundraise money to support charitable causes and improve the quality of life for people who need it.
Salesforce for nonprofits pricing
Is Salesforce free for non-profits? No, it's not free for any non-profit organization but offers some additional benefits and quality solutions at affordable prices.
To start your journey with Experience Cloud, you first need to choose the right license. There are various Experience Cloud license types that differ in platform capabilities and pricing. With the SFDC Experience Cloud for Nonprofits license, you can create beautiful online spaces for enhanced collaboration between stakeholders and your organization. Keep reading to learn more about the new Salesforce for non-profits license and its main features.
Experience Cloud for Nonprofits: Key Features & Capabilities
Experience Cloud for Nonprofits is a Salesforce solution that's packed with various non-profit components and flows. Its features make it easier to get started creating online spaces for volunteers, donors, and clients, as well as helping them engage with your non-profit organization.
The Experience Cloud for Nonprofits license provides the same platform capabilities, functionality, and Lightning Experience Builder features as the PRM licenses, but for a significantly discounted price.
Using the Salesforce for nonprofits license, you also get access to objects in Nonprofit Cloud Products such as Salesforce Nonprofit Success Pack (Salesforce NPSP), Volunteers 4 Salesforce, and Nonprofit Cloud Case Management. Use Experience Cloud for Nonprofits as an extension to these package solutions: create donor portals for volunteers, and get more functionality to manage, track and report on all data.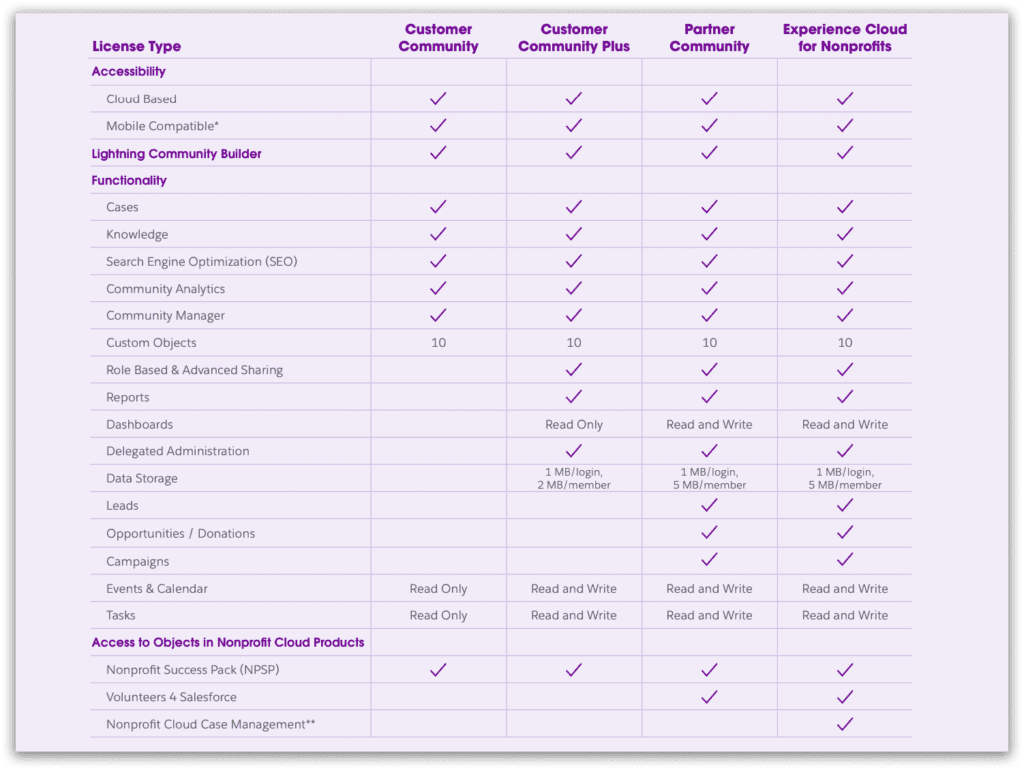 Experience Cloud for Nonprofits will help you, as a non-profit organization, manage your programs, contacts, income streams, donation payments, and much more—all in one place. For volunteers, it's the perfect place to stay in contact with a non-profit they've chosen to support and collaborate with other stakeholders on the same or separate programs.
Let's go over the most outstanding features and advantages of the new Experience Cloud for Nonprofits license:
More transparency and control: Create a dashboard to share donation reports with your volunteers so they can understand where their donations are being allocated.
Enhanced self-service: Focus on your fundraising growth by providing your donors with enhanced self-service. Create a shared library of resources, including how-to articles and FAQs, to supply your stakeholders with the information they need. Bring the right people to the right location by creating cloud communities for better communication and collaboration between fellow supporters.
Seamless and engaging user experience: Create digital experiences that are branded to the look and feel of your organization. Thanks to the high customization capabilities of Experience Cloud sites, you can define exactly how your site will look and what actions users will be able to take according to your specific needs as a non-profit.
More power to stakeholders: With Experience Cloud for Nonprofits, volunteers can log in to your donor portal and view their giving history to the last detail, update their giving amount, contact information, or credit card data, or make changes to ongoing gifts.
Secure debit and credit card payments: Your program participants can make donations quickly and securely. Salesforce ensures secure credit or debit card transactions between donors and non-profits.
Tracking: Monitor your organization's performance by running various reports. Define custom criteria to get the information you need. Filter, group, or display data in a graphical chart for better visibility and understanding.
Time-efficiency: Save time on service by creating an online space for your stakeholders where they can search and sign up for volunteer programs and manage their contact and profile information along with their own shifts.
Application process: Does participation in your volunteer programs include an application process? Let your participants share their experiences, interests, and skills—all within your donor portal built with Salesforce Experience Cloud. 
Advanced Communities is a Champion for Non-Profits!
Are you using Salesforce for donor management, and need a beautiful portal or community enriched with Salesforce-native components and solutions? Advanced Communities is here to help! 
Customer Story
See how Advanced Communities helped international Greenpeace organization to overcome their communication and collaboration challenges by merging its five regional Experience Cloud sites into one international space.
read
Over the years, we've accumulated a wealth of experience working with Salesforce Experience Cloud, helping non-profits connect with their stakeholders and fundraising program participants. We'll create a beautiful volunteer, member, fundraising, alumni, or any other portal type for you in accordance with your specific needs and requirements.
Already have a portal? Then use our AC solutions to enhance its functionality and take your non-profit organization's management to the next level:
Connect and collaborate with volunteers, donors, and clients in a whole new way with Experience Cloud and Advanced Communities!
Contact Us
Advanced Communities delivers professional Salesforce Experience Cloud integration services and apps to help you reach your non-profit goals. Contact us any time to ask about setting up a Salesforce community, receive more information on our products and services, or schedule a demo.
Subscribe to our Newsletter
Receive regular updates on our latest blog posts, news, and exclusive content!
Tag cloud