A New, Completely Redesigned Salesforce Ideas Management app for Experience Cloud.
AC Ideas Ultimate: for every step of your innovation journey! Make the process of gathering insights on products and services clear, put the brightest ideas into development and get the most precious feedback from your customers.
Popular Features

Native to Salesforce Lightning Experience

Ideation Dashboard for Visualising Your Great Ideas

Idea Campaigns for the Getting Right Ideas at the Right Time

Full Chatter support (likes, mentions, replies, and attachments)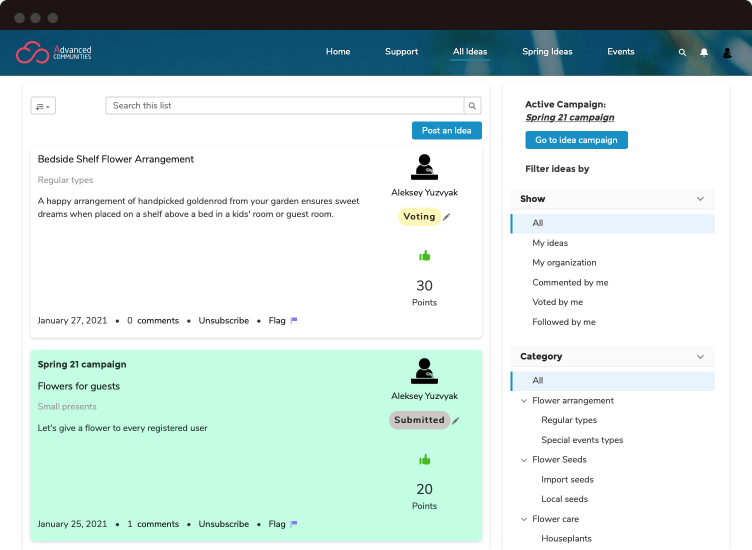 AC Ideas Ultimate – the most comprehensive Salesforce Innovation management software!
Lightning Experience Support:

Lightning Experience support allows your admins to create, adjust and remove ideas without leaving LEX.

Categories Hierarchy.

Create a straightforward structure of your ideas applying our two-level categories hierarchy feature.

Email Updates.

Keep community members updated about the ideas status changes or new comments.

Subscription.

Allow your community members to subscribe to their favourite ideas by enabling automated subscriptions on voting or commenting on ideas.

Status Colour Assigning.

Assign a different colour for each status of each of your idea.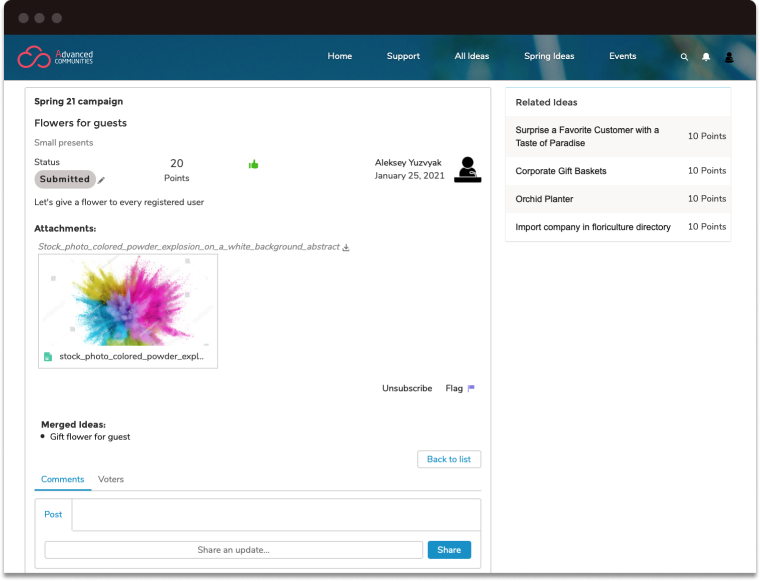 Unleash collective intelligence with AC Ideas Ultimate!
Filters and Advanced Search.

Manage your Ideas page efficiently applying filters, advanced search and Similar Ideas component.

Zone Settings.

For multiple communities, AC Ideas Ultimate allows you to have separate ideas zones for each of your communities and separate settings for each zone.

Reputation Support (Gamification).

Encourage community members to participate in the ideation process and be awarded reputation points for each comment, vote or idea they create on community.

Status Auto-Update.

Automate escalation of Ideas by setting up the votes' threshold to notify your product manager via email.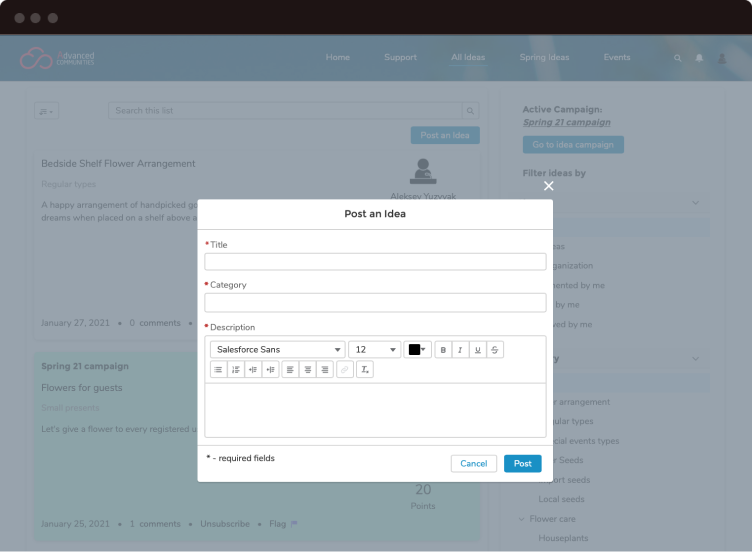 Engage your customers, employees and stakeholders to create new, absolutely unique ideas!
Ideas Moderators.

Set your product owners as Idea Moderators for a particular category and they will get notified about each new idea in that category via email.

Moderation Rules.

Block abusive and offensive content by creating a list of forbidden words and by enabling a flagging feature, allowing the community members to help you to spot content issues.

Official Answer.

Provide your customers with an official answer.

Custom Fields Support.

Add custom fields and create a unique view of the idea.
AC Ideas Ultimate enables companies of all sizes across all industries to continuouslyinnovate and develop, leading the ideation process. Native to Salesforce, AC Ideas Ultimate, powered by Experience Cloud, allows anyone who has access to your community to post and track their ideas from creation to implementation.

By providing one central location to gather, evaluate and develop ideas, companies are able to create an organised path to innovation. In the past, ideas would be forwarded to different departments through a wide range of channels and there was a big chance that a promising idea would fall through the cracks. AC Ideas Ultimate ensures that every idea is properly evaluated and that its creator is fully recognised for their contributions.

AC Ideas Ultimate enables companies to expand their search through external idea capture. Companies get empowered to recruit and collaborate with top talent from around the world. A curated network of researchers, engineers, academics, tradesmen and even customers will have the opportunity to submit ideas and help drive innovation.
Get in touch
If you want to have a conversation about anything related to Community Cloud or see demos of our free components and learn how to maximize the value of community to your business.