Salesforce eCommerce for B2B
Create B2B Orders on Behalf of Your Customers Without Leaving Salesforce
Create B2B orders on behalf of your customers without leaving Salesforce

The AC Orderpad app is an easy-to-use solution for Experience Cloud designed to support B2B e-commerce businesses by enabling B2B sellers' agents to create orders on behalf of their B2B customers internally in just a few clicks, without leaving Salesforce. With a user-friendly interface and customizable features, the AC Orderpad B2B e-commerce app streamlines the ordering process for businesses of all sizes.

Try it out today and improve your sales efficiency!
AC Orderpad Demo Video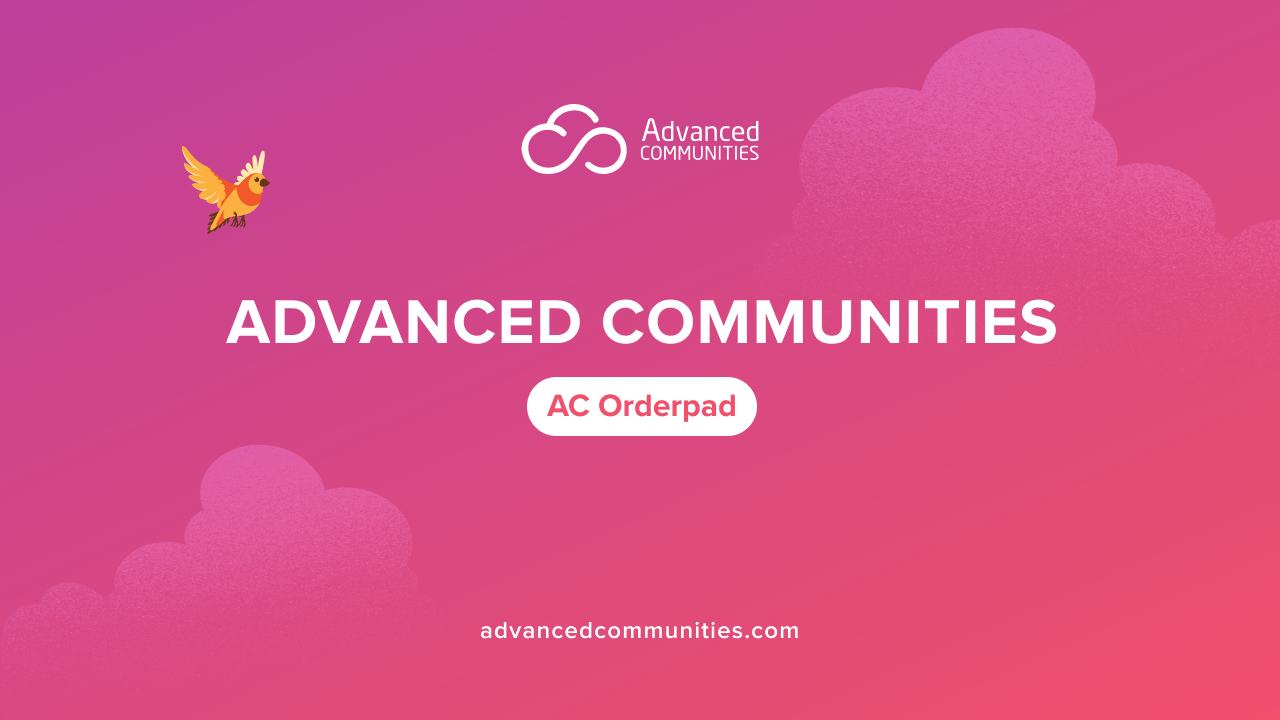 AC Orderpad Features
Customizable order flow
Customize and configure your checkout flow the way you like. AC Orderpad B2B e-commerce solution will work with any e-commerce flow you have configured in your org.
Easy order creation
Create orders quickly and with ease without leaving Salesforce using AC Orderpad B2B e-commerce software. With AC Orderpad, admins no longer need to order through the site, simplifying the ordering process. Orders can be easily created from Account or Contact records within Salesforce.
Centralized order information
Stay up-to-date on your recent purchases and improve efficiency with AC Orderpad. The app provides easy access to order information and enables users to track their shopping cart data, including order status, amounts, billing addresses, ordered dates, and more.
Quick reordering capability
Save time and automate your B2B sales with AC Orderpad's Quick Reordering feature. Simply create a new order based on previous data, make any necessary edits, and send it for payment. With this streamlined feature, you can quickly and easily place repeat orders, reducing the time and effort required to manage your B2B orders.
Detailed order summaries
Monitor and track your online orders with ease enabling AC Orderpad's Order Summaries feature in your B2B order portal. This feature provides detailed summaries for each order, allowing users to quickly access and analyze their order data in one convenient location.
Shopping cart tracking
Us AC Orderpad e-commerce B2B software to manage shopping carts internally and monitor all orders easily and fast. The app allows you to increase revenue by tracking abandoned carts and recovering them.
Ready to feel the benefits of the powerful B2B solution that helps you streamline, automate, and scale faster? Try AC Orderpad today and see the benefits for yourself.
Get Started Now!
Top Benefits of Salesforce for B2B E-commerce and How AC Orderpad Helps
Centralized data management
Salesforce provides a centralized platform for managing customer data, order history, and other critical business information. With AC Orderpad installed in your B2B ordering portal, you can easily access this data to streamline your order management and improve sales efficiency.
Real-time analytics
Salesforce provides real-time analytics and reporting capabilities, enabling businesses to track sales performance, customer behavior, and other key metrics. AC Orderpad provides detailed order summaries and shopping cart management features, allowing you to track your order data and identify areas for improvement.
Scalability
Salesforce is highly scalable, making it an ideal platform for businesses of all sizes. AC Orderpad implemented in your B2B marketplace can help you scale your operations by streamlining order management processes and improving sales efficiency.
Who Is It For?
B2B e-commerce companies
Experience seamless order management and tracking with AC Orderpad. Designed to work within your e-commerce platform for B2B in the Experience Cloud, it streamlines the order management process and empowers B2B sellers' agents to create orders on behalf of their customers internally with just a few clicks.
Sales teams
AC Orderpad streamlines the order management process, making it an ideal solution for sales teams. It provides centralized data management, detailed order summaries, and shopping cart management features, enabling sales teams to improve their overall operations.
Wholesale distributors and retailers
AC Orderpad is the best solution for wholesale distributors and retailers who want to streamline their B2B order management processes and improve their sales efficiency. It can also be useful for businesses that use Salesforce as their primary CRM system and want to integrate their B2B e-commerce system and sales operations on a centralized platform.
Create Orders from Account or Contact Records
Get a demo
Contact us with
any questions
or if you'd like to see a demo of our apps. We're happy to have a conversation about Experience Cloud and share how to leverage the value of a community for your business.
FAQ
How do I set up eCommerce for B2B in Salesforce?
Empower your customers with a dedicated B2B ordering site utilizing store templates and customizing them with Experience Builder. Using standard Lightning functionality, configure store settings, checkout, and payment. You can also define customer experiences such as search, carts, and checkouts. To import commerce data for accounts, products, price books, and entitlements, use a CSV file. Consult with a Salesforce expert or follow step-by-step guides provided by Salesforce to ensure a successful setup.
How does AC Orderpad help streamline the order management process?
AC Orderpad helps streamline the order management process by providing centralized data and shopping cart management features, as well as detailed order summaries. This enables businesses to manage and track their orders more efficiently, improve sales efficiency, and identify areas for improvement. Additionally, businesses can allow staff and sales reps to place orders on behalf of customers internally from the Contact or Account page in just a few clicks.
Can AC Orderpad be used for B2B and B2C businesses?
No, AC Orderpad can be used only by B2B businesses.
How does AC Orderpad help with abandoned cart recovery?
Utilize the AC Orderpad B2B e-commerce software to efficiently manage internal shopping carts and quickly monitor all orders. The application enables revenue growth by monitoring abandoned carts and recovering them.
How does AC Orderpad help sales teams?
AC Orderpad simplifies the process of managing orders, which makes it an excellent option for sales teams. Its features include centralized data management, comprehensive order summaries, and shopping cart management, all of which help sales teams enhance their overall efficiency.