AC Ideas Ultimate Goes Live!
Dear friends,

Advanced Communities proudly announces the AC Ideas Ultimate – our new, completely redesigned Ideas Management app! Get valuable feedback from your customers and turn their ideas into reality.

Native to Salesforce Lightning Experience

You no longer need to constantly switch to Salesforce Classic as now all settings and actions with ideas are available in LEX. We decided to set ourselves free and abandon support for the standard Ideas object and go instead for the new custom Salesforce native object. The standard "legacy" Ideas object isn't natively supported in LEX and doesn't work with Chatter and reports so moving to a new Ideas object opens lots of possibilities and benefits.

Idea Campaigns

Create a campaign if you want to improve a specific feature or product. Users can see the campaign and attach ideas to it so you get the right ideas at the right time.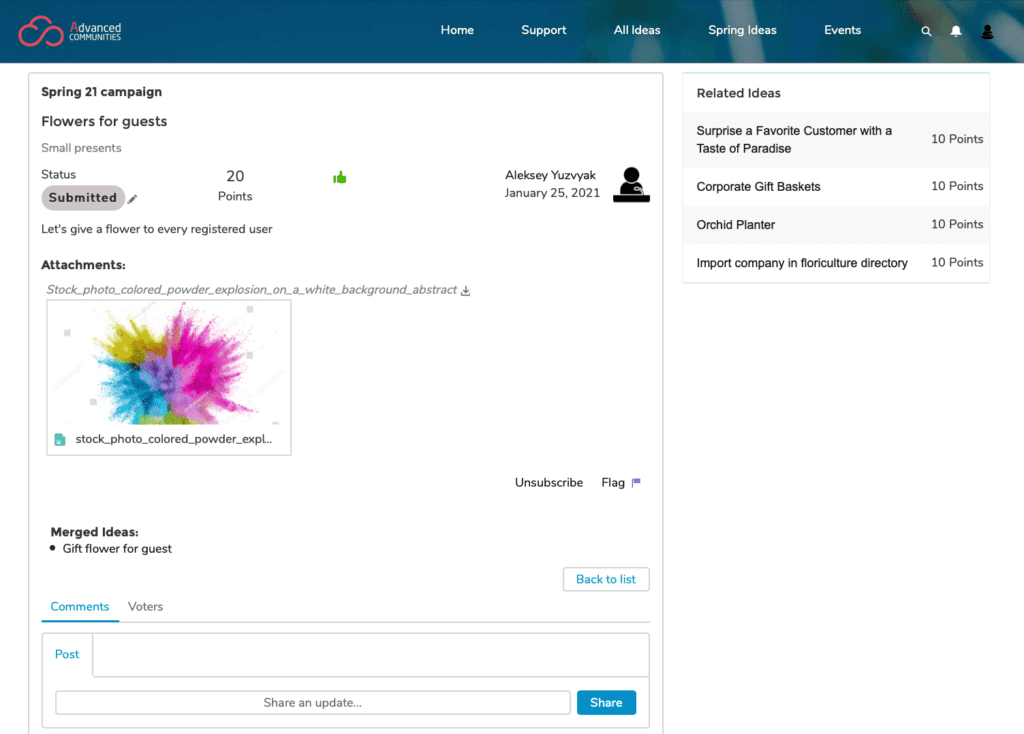 Reports and Dashboards
Get the clarity you need with the new extensive analytics features. You can use our preset reports and dashboards or create your own reports with the new Ideas object.

Multiple Zones
If you have two or more communities, you can create a different zone for each one. There are separate categories, statuses and settings for various needs.

Custom Fields Support
You can create a unique view of the ideas by adding custom fields.
Chatter and Reputation support
All Chatter features are available in our application. Customers can use mentions, comments, likes, replies, attachments and other Chatter functionalities for interactive communication. You can also increase customers' involvement in the ideation process by giving them reputation points for each created idea, comment, like or vote.
That's not all! Our product has many more great functions. View the full list of features.

With the AC Ideas Ultimate app, your customers will be wholly involved in the ideation process as they can track their ideas from creation to implementation, vote for other ideas, see the idea status changes and get notifications about any updates. Your product team will be able to collect ideas, select the most interesting and popular ones, and apply them to the product. Want to try it? AC Ideas Ultimate is available on AppExchange: https://appexchange.salesforce.com/appxListingDetail?listingId=a0N4V00000FguKaUAJ