Salesforce Experience Cloud Winter'21 Release Features Overview
Dear Friends and Salesforce Lovers!

Despite the fact that this year has turned out to be very unpredictable for all of us, there is still one thing that comes on time – Salesforce release!
Yes! The Winter'21 Release is on its way and will delight Admins and Developers with its new features and updates!
The Salesforce Winter'21 Release Notes are already available here https://releasenotes.docs.salesforce.com/en-us/winter21/release-notes/salesforce_release_notes.htm
The Sandbox Preview window for Winter'21 begins on September 11, 2020. You must have an active sandbox on a preview instance before then in order to take advantage of the preview.
Here's the quick overview of the upcoming Winter'21 Release features and functionalities for Salesforce Communities by the AC team.

Manage Your Pages and URLs with the Pages Menu

The Pages Menu in Winter'21 release will provide you with even more flexibility than you have now.

With the new release, you'll be able to organize your pages into the hierarchy, restructure them as you need, and manage the pages URLs.
To create a hierarchy, just click on Page Actions next to the page you want to start your hierarchy with, and click +Add Subpage. You can create up to six pages levels in the hierarchy.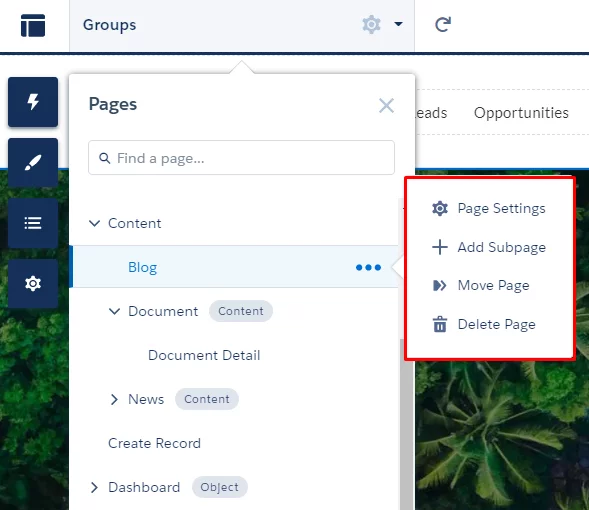 You can quickly change the hierarchy or order of the pages any time by choosing the Move Page from the Page Actions. Then select the destination in the pop-up window and confirm it.
When you move a page, any page set under it will also move. You don't need to worry about the URL either because your subpage URL automatically updates to reflect your changes.
And the cherry on top, you'll be able to manage the URLs for each page after creating your page hierarchy. Click Page Settings from the Page Action menu and edit the page's properties, including the page name and URL.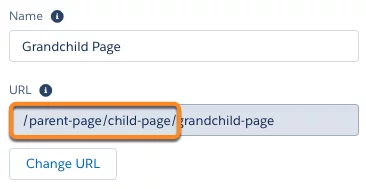 Apply Audiences to Record Detail Pages with Record-Based Criteria
Experience more granular audience criteria that enables you to vary record detail pages based on record fields. You can now vary what people see on a record detail page using audience criteria based on record fields.

The record-based criteria are available only for record detail pages.
You can create record-based criteria for the following objects:
Account
Asset
Campaign
Case
Contact
Contract
Lead
Opportunity
Product2
ProductCategory
Quote
Custom Objects
Any object with at least one record type (only some fields available)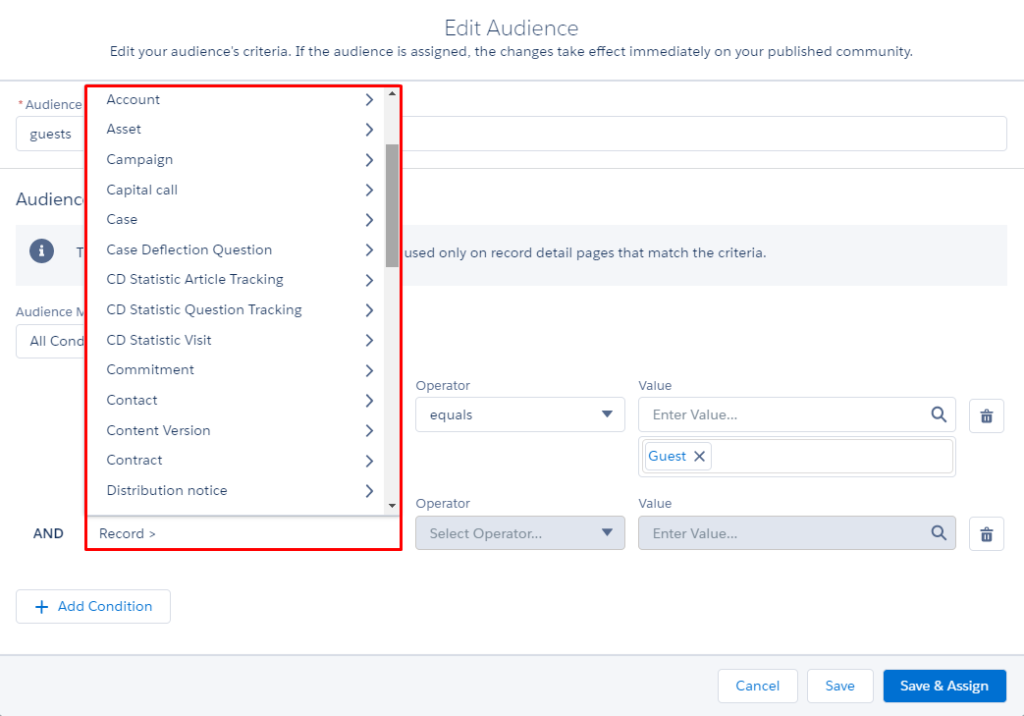 Package Tile Menus in Bolt Solutions
You can now package a tile menu with Bolt Solutions and distribute them. All the properties of the tile menu are included in the package, but admins have to associate a navigation menu to the tile menu after the Bolt Solution is installed.
Guest User Security Policies Enforced
In Winter '21, Salesforce is enforcing the guest user security policies that were introduced in the past few releases, such as the Secure guest user record access and Assign new records created by guest users to the default owner settings.

Salesforce is also reducing object permissions for guest users, like removing View All Data, Modify All Data, edit, and delete object permissions.

You can opt out of enforcing Guest User Object Permissions. Please note that this applies only for the Winter '21 release: with the Spring '21 release, these permissions will be permanently removed for guest users, and can no longer be enabled.

To improve security, new images associated with featured and navigational topics are stored as asset files and are private, i.e. they are not visible for guest users anymore.
To allow guest users to see new featured and navigational topic images in your community, select Let guest users view asset files and CMS content available to the community in Administration | Preferences in Experience Workspaces. This also allows guest users to see images associated with recognition badges, community branding, and account branding.

You can also read more about these policies and how to work around them in our other posts:

IMPORTANT CRITICAL UPDATES: Guest User Record Access
IMPORTANT CRITICAL UPDATES: Restrict Access to Custom Metadata and Settings

Let Users Authenticate by SMS

You can now allow your external users to use SMS as a multi-factor authentication method. No need to download special apps—verification can be as easy as getting a text message.
LWC-Based Template Upgrade
Support for:
An upgraded version of Lightning Locker that supports cross-namespace communication
Custom URL paths for unauthenticated sites, meaning no more /s cluttering up your site's URL — for example, https://mycustomdomain.com/mypage
Accessibility features, including screen readers and F6 navigation, which makes it easier to navigate web pages via keyboard
Search engine optimization (SEO) by including a sitemap that lets search engines crawl public pages
A new HTML Editor component that lets you add and edit custom markup
The following @salesforce modules:

@salesforce/client
@salesforce/customPermission
@salesforce/userPermission
Keep following us to dive deeper within the best community features.