Improve your Salesforce Partner Management experience with an updated AC Partner Marketplace app!
AC Partner Marketplace native to Salesforce partner management software was created to make your salesforce partner community cloud a powerful engine driving success!

AC Partner Marketplace for Salesforce Community Cloud provides the best benefit by creating a unique Partner Relationship Management that brings your partners and customers together.

Building out your own Salesforce PRM (Partner Relationship Management) portal will enable your customers to find the best partners and apps that perfectly match their needs. Our Partner Relationship Management application for Salesforce will also give your partners more exposure and will generate new leads for your business.

We are happy to announce that we recently launched a NEW highly improved Partner Marketplace app release that is already available for you on your orgs and on the AppExchange!

NEW upgraded design!
NEW Features:

Partner App list component for the community with the related Partner App object on the Salesforce environment allows you to create not only a marketplace of your partners but also let them add their apps and solutions
Partners who have been granted appropriate permissions by administrators can add their applications by clicking on the "Create App" button on the Applications list page.
Once the app is reviewed by administrators, it will be publicly available on the community within the list of apps for the partner brand.
App Additional Info – configure any additional information you would like to show about your app using and creating custom field sets
App Resources Slider – let your partners add images and videos for their applications and easily manage all resources from the org and their appearance on the community

So, on the app detail page partners can view/customize the following:
View the app review status;
Edit or delete the application (if set by admin and permissions are provided);
Add images and videos to the app image slider (the number of images is set by the admin);
View comments and app rating left by customers.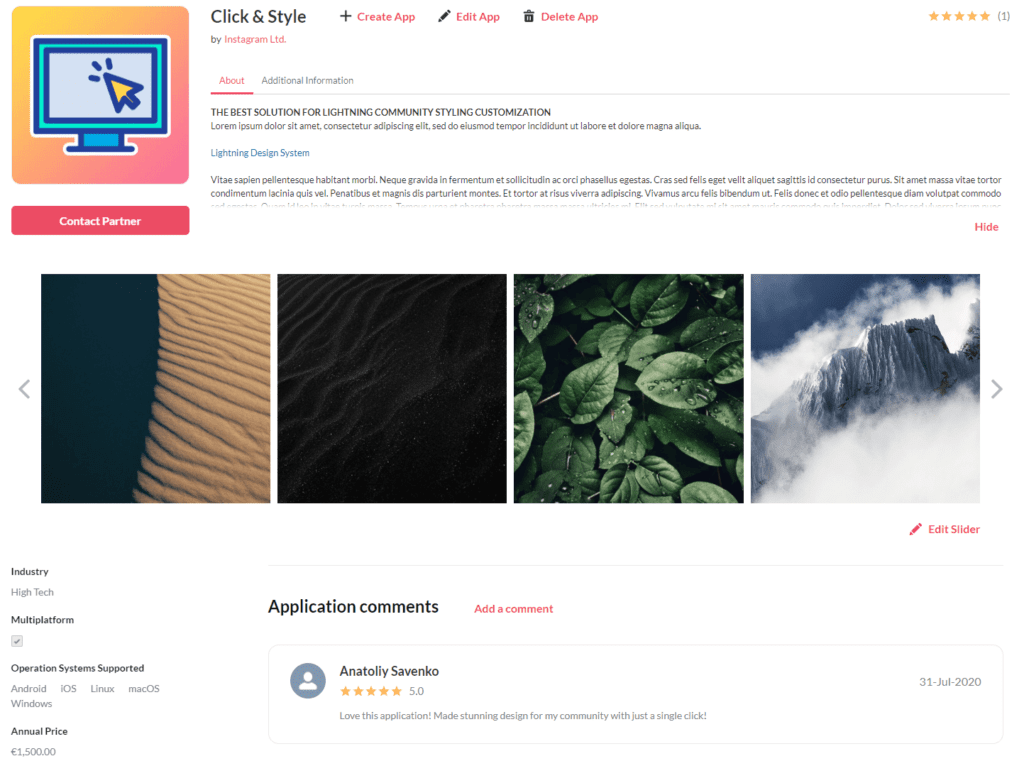 Moreover, we have added:
Advanced ordering on Partners list – choose if you want to show your best partners in the top part of the search results or during filtering
Improved location search – search for the closest partners by setting the Radius
Ability to hide or show a map on the Partner detail page
Improve your PRM experience with the AC Partner Marketplace app.
If you have any questions regarding AC apps, please contact us at products@advancedcommunities.com