Salesforce Lightning Knowledge Winter' 21 Updates!
Knowledge product raises its popularity across all types of organizations. So, today we want to share what's new for Salesforce lightning knowledge with the Winter 21 Release.

Salesforce rolled up a Beta version of Standard Sharing for Knowledge in Summer 20 Release. And now the Standard Sharing Settings are generally available for Knowledge.

You can enable standard Salesforce sharing in Setup -> Knowledge Settings.
These changes apply to lightning knowledge only.

So, now you are able to expose your knowledge articles to the community members using criteria-based and record-sharing rules instead of the Data Categories sharing.

As long as you have enabled standard sharing for knowledge it can't be disabled, but if you want to switch back to category sharing, change the default sharing for knowledge to Public Read/Write for all users.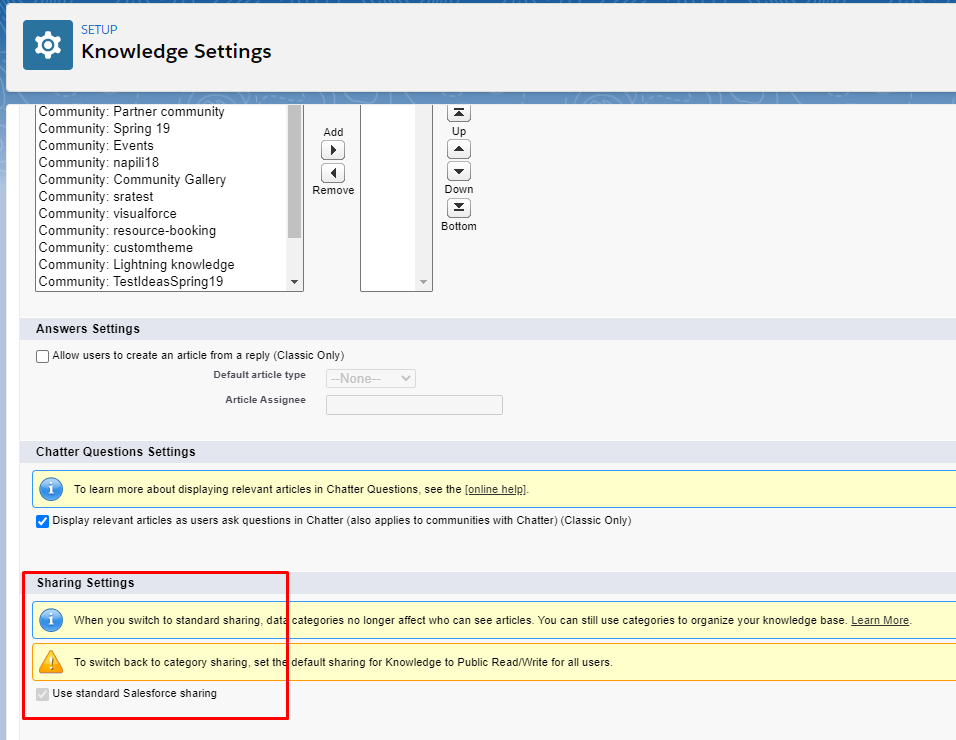 Within the Spring 20 release, the ability to change the owner of a draft article has been added and now you can also change the ownership of published and archived versions.
How? Just the same way you used to do this for other records. But first, make sure you have all of the following:
You are a "Knowledge User"
You have the "Manage Article" user permission
You have Read/Edit permissions for Knowledge
You have added the "Change Owner" action button to the Knowledge layout
Once you have done all the above, you can go to the knowledge article record, which is in the draft mode, and click the "Change Owner" button. In the pop-up window, you can also choose appropriate options to change other versions. And, of course, send an email notification. Doesn't it sound comfy?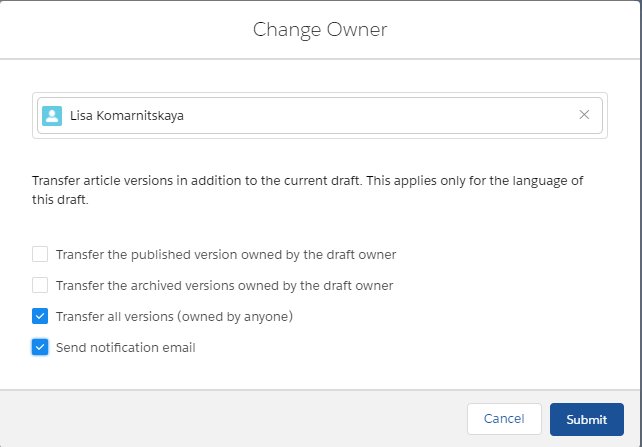 Moreover, if you need to change the owner for more than one knowledge article, Salesforce has performed mass ownership changes for draft articles.

In the list view of knowledge articles, select the draft articles you want to change the owner for.

Choose only the list of draft articles. If you select publish or archived articles, their ownership won't be changed.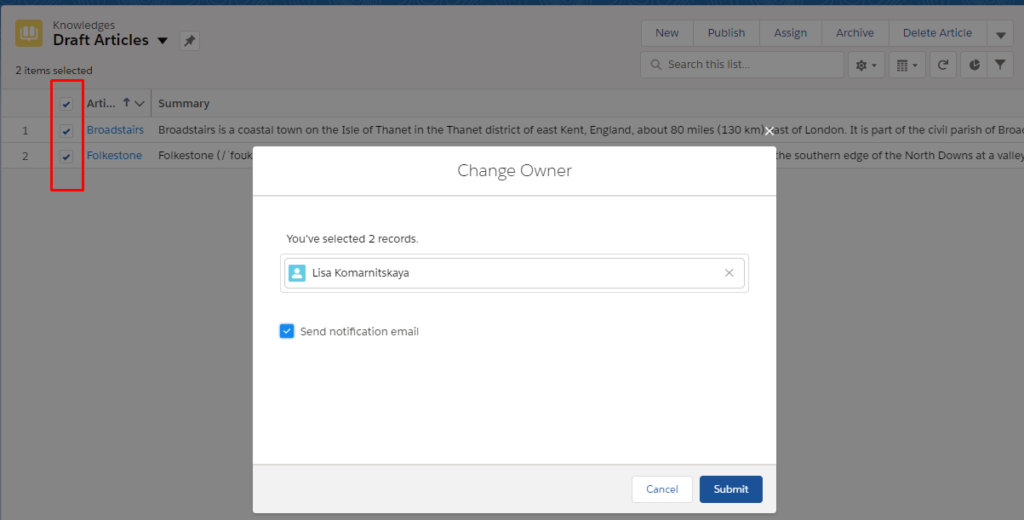 One more but no less important update with this release is that now you can also track article ownership changes.

To track the ownership changes, go to Object Manager – Knowledge – Fields&Relationships, and click Set Field History Tracking. Enable the Owner field for history tracking.

To see the history, go to the Versions related list and see all changes to each version there!