Salesforce PRM – Partner Communities
Salesforce PRM was created to improve your communication with partners and to achieve better coordination between suppliers, resellers and distributors. Using Salesforce PRM, you will no longer face issues with confusing spreadsheets, lost messages, long response times for emails and, as a consequence, non-effective partnerships. Salesforce PRM system supplies you with the best solutions to make working with you easy, fast and efficient.

Now, let's dive deeper and find out what key benefits Salesforce PRM provides:
Fast onboarding and training. With Salesforce Partner Relationship Management you can create a personalised portal with marketing, technical and product resources and an easy-to-use interface that allows partners to go through the onboarding process independently. They can find all the training, articles and videos in one place so the onboarding goes more quickly.
Help finding the right partner. Selecting the appropriate partner often takes a lot of time and involves lead research, segmentation, campaigns and other activities. Salesforce PRM provides a structured, defined process of selecting an ideal partner and recruiting the partners that will lead you to success.
Help your partners to sell. Increase your sales by giving partners access to marketing assets and guided sales processes. Help your partners by generating and driving leads and opportunities to them and always be available so that they can reach out to you at any time.
Automated processing. Is your sales team used to spending a lot of time on manual daily processes like partner deal registration and support? With Salesforce PRM, partners add new deals directly into the system so you can save your sales team time and let them concentrate on more important tasks.
Salesforce PRM is a Partner Relationship Management solution for direct and indirect sales channels and it is the only provider of a Single Platform that combines PRM software, Direct Sales and Channel Enablement, Marketing Automation Software and Marketing Asset Management.

Salesforce leads you through the entire sales process from lead to revenue, empowering your salespeople and channel partners to sell more and sell faster. Salesforce PRM provides a successful channel enablement, which includes:

Partners Onboarding: Salesforce PRM allows you to speed up new partners onboarding and to grow your partners community with a simplified recruiting process. New partners get guided through onboarding by being assigned role-specific tasks and timelines using a learning management system (LMS) which also ensures that every user stays current with your products by tracking training progress. Automating an onboarding process provides a cost reduction and eliminates repetitive administrative tasks.

Channel Marketing Automation. It allows you to drive more partner engagement and amplify marketing through the channel. Salesforce PRM allows you and your partners to extend pre-built journeys, manage marketing funds, and create co-branded collateral.

Channel Sales Automation. Salesforce PRM allows you to automate the channel sales process by preventing lead conflicts, creating or customising lead distribution workflows and simplifying the quoting process for your partners.

Channel Analytics allows you to track channel statistics in real-time and get insights on how to optimise sales and grow the business.

Channel Service. Support your channel partners by giving them the tools to answer their questions, connecting them to your knowledge base, allowing them to escalate support cases and proving help in real time.

Advanced Communities has gone one step further and created two apps that amplify Salesforce PRM and make it easier to manage your Partner Relationship.

AC Partner Marketplace has been developed to help companies transform and run their businesses. Building out your own Salesforce Partner Marketplace will enable your customers to find the best partners that perfectly match their needs. AC Partner Marketplace:
Helps partners to generate more and better leads,
Helps customers to filter by industry, level, reviews or any other attributes,
Enables customers to locate best and closest partners,
Gives power to customers through reviews,
Gets rid of the burden of administering partner information.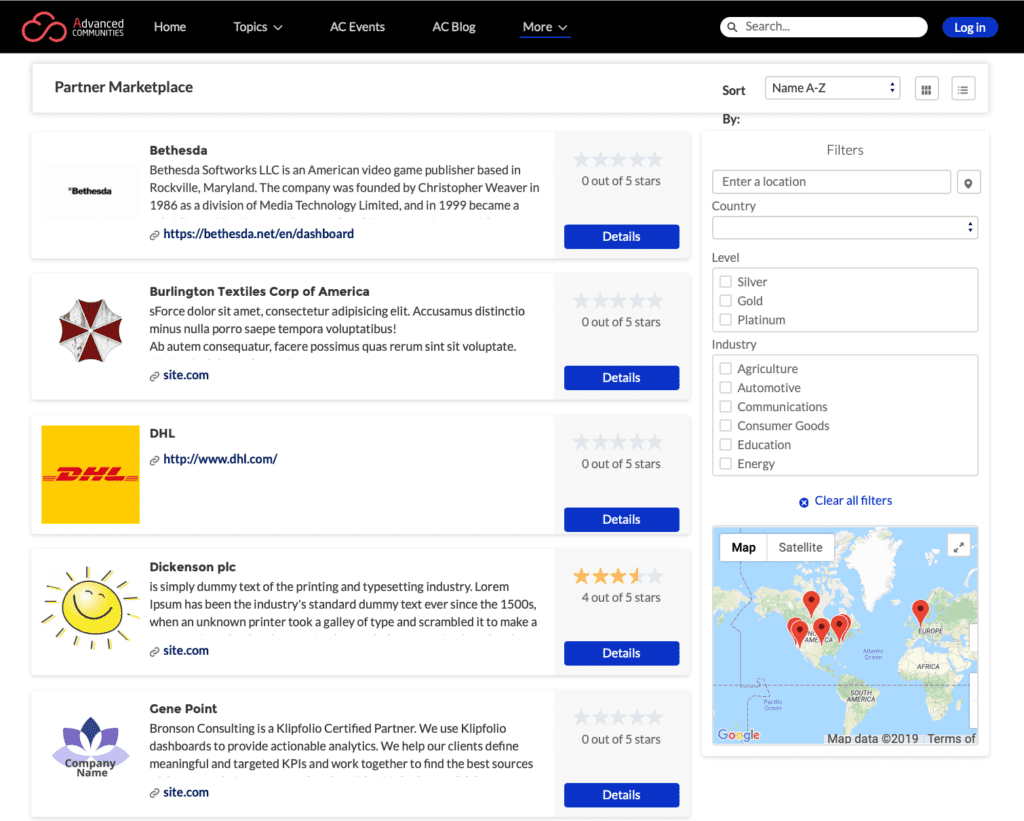 AC Partner Co-Branding enables your partners to brand and collaborate on the promotional items for your products and services by creating complementary marketing and sales resources. AC Partner Co-Branding allows you:
to provide partners with marketing assets,
to protect your brand identity,
to support multiple document formats,
to have multiple folders for better assets order.
Advanced Communities' Partner Relationship Management solutions bring insights into how to manage your partner channel. AC Partner Marketplace and AC Partner Co-Branding unlock the potential of your channel sales by optimising your partners' journey.