How to Create a Great Event Landing Page on Salesforce
Online meetings and events have lately received a complete makeover and have grown in popularity significantly in recent years. If you're looking for a reliable, turn-key solution for successful event management, then this article is a must-read for you. We'll speak about developing and modifying excellent event microsites on Salesforce and show you how to do it quickly using our ultimate, ready-to-use solution – a Salesforce event management tool AC Events Enterprise. So, without further ado, let us begin!
What is an event microsite, and why might you need one?
An event registration microsite is a small, simple website focused on a specific event. It may be a collection of one or more individual virtual landing pages with a drag-and-drop interface hosted in one Salesforce account.
An events management site is as good a solution as ever to host online events. A catchy, freshly designed event microsite with a user-friendly interface, strong emotional offer and a conversion-focused call to action will help you build trust and guide visitors to take action and register for your seminar, course, conference, etc. This is precisely what drives interest, engagement and sales, ensuring the successful acceleration of your business.
AC Events Enterprise – enhanced flexibility for custom landing page creation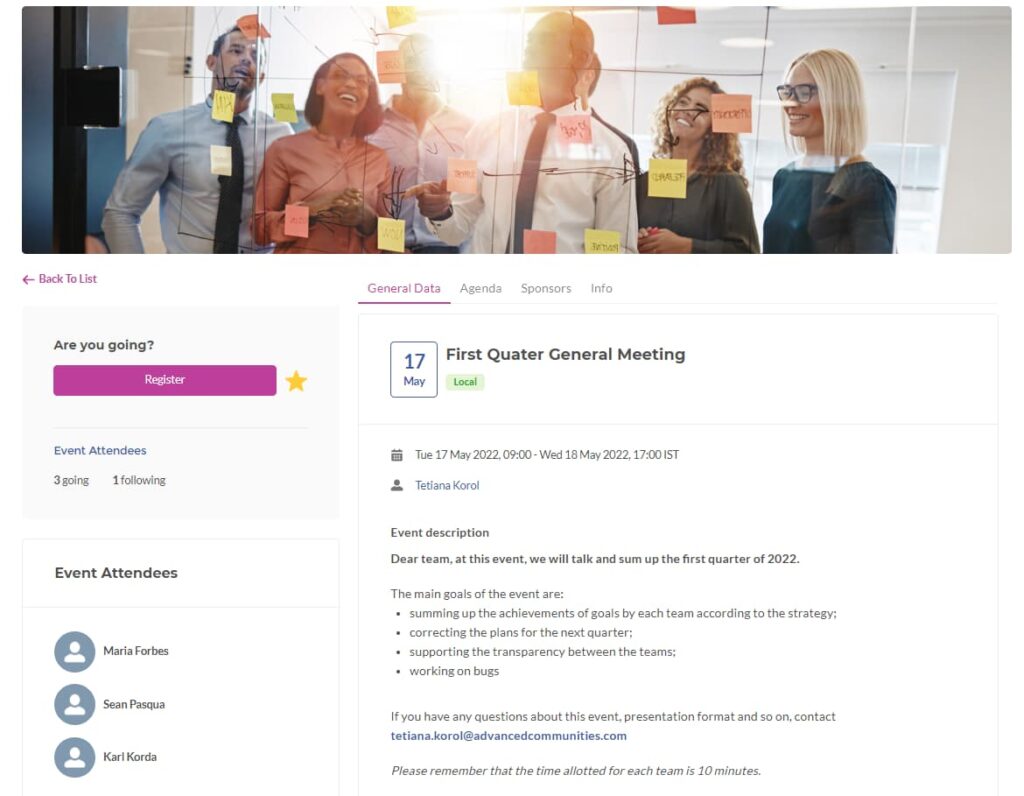 Advanced Communities Events Enterprise is your best choice if you look for a comprehensive, ready-made solution to provide your attendees with an end-to-end experience.
AC Events Enterprise is a Salesforce event management application designed to help you solve multiple event management tasks: from event creation and guest registration to analytics and payments. With AC Events Enterprise, you can also set up simple and feature-rich websites for all kinds of events. It's the smartest solution for creating and customizing full-fledged virtual event landing pages within the Salesforce platform. Microsites created with AC Events Enterprise consist of subpages with detailed information about an event, including location, collateral documentation and FAQ. They run on the Lightning Web Runtime (LWR) platform, meeting the high scale, security, and performance demands.
AC Events Enterprise application is used on Experience Cloud and provides you with a bunch of functional and flexible solutions for better and faster landing page creation. By replacing tasks you're used to doing by hand with more streamlined processes, the Experience Cloud platform helps you move fast and achieve more. When working with Experience Cloud and implementing AC Events Enterprise, you create a configurable, expandable, and adaptable event registration landing page that helps you power your events and business.
Working within the Experience Cloud, you can also enjoy various powerful Experience Builder features when building your event planning microsite.
You can choose and change a layout to define the content regions of your pages. You can also manage page settings to suit your content needs and control the appearance of your site by customizing or changing themes. Choose colors, upload images (company logo, header image), configure and customize fonts, and adjust additional theme settings.
Enhance interaction with your audience by dragging and dropping standard components such as rich text (for instance, it could be a banner with eye-catching photos, marketing or informational messages) or chatter feed. You can also use AC Events Enterprise out-of-the-box components in accordance with your needs and requirements.
It's also possible to override a template's default structure and create a custom layout component with its further assignment to a theme layout in Experience Builder for implementation in your pages. You can create as many components as you want for each event presented on your site. For example, you can create a weather widget that shows the weather at the event location. In case you face some issues with the component creation or customization, you are always welcome to ask for our help.
AC Events Enterprise provides an unlimited number of customizable tabs for your event landing page so that you can put all the necessary information about your event.
Personalization of the custom components is one more important feature that empowers the creation of microsites for events. You can set various event page layouts and assign them to particular audiences.
Unlimited flexibility and full customization are what you get by using the Salesforce events management software for community AC Events Enterprise. With this application, you can easily tailor your event landing page to meet your users' unique needs and ensure their satisfaction.
Tag cloud