Why more and more member organizations use Salesforce for membership management?
Salesforce is a universal platform that is flexible for any business needs. When we talk about Membership Management for non-profit and commercial organisations there are many reasons to choose Salesforce – and we are seeing that many of these organisations do! So let's dive deeper and see the real benefits that Salesforce provides for membership organisations!

A lot of organisations need a platform that is flexible to adjust to their business processes and how they manage membership. But many applications are restricted in customisation or have just some basic options.

Salesforce Experience Cloud is a great community membership software that allows both companies and non-profit organisations to interact with their members without needing to integrate or synchronise data with CRM as it works directly on Salesforce. The main features of Salesforce Community Cloud are:

To engage with members or volunteers in fundraising and other campaigns – this is especially useful now when non-profit organisations need to concentrate on activities that can help to generate income.
To allow members to collaborate efficiently and securely and to benefit from social network functionality such as posting, commenting, sharing files and using private and public groups.
Create virtual and face-to-face events to bring members together and extend their network.
Share files and media resources with members.
Browse the member directory and find and engage with other members. With more and more activities moving online, it has become increasingly important to be able to find the right people and you can do this by using advanced filtering or location-based search.
Advertise industry vacancies for your members and receive additional revenue streams through recruitment activities. Very often membership organisations represent companies and individuals from the same industry and having a job board with jobs that is relevant to that industry can provide additional value to members.
Provide e-commerce functionality to sell physical and virtual products.
Advanced Communities, being a Salesforce Silver Consulting Partner and Expert in Experience Cloud, provides comprehensive Experience Cloud components that are tailored for non-profit and member organisations. Depending on the sophistication of your software package, Advanced Communities offers a wide range of Salesforce cloud based membership management software solutions that will help to create and manage any charity campaign:

AC Member Smart enables members to identify partners by their first or last name, location, email, industry, skills or any other characteristic. It lets you easily accept membership fees, as well as single and recurring donations or payments for your products, service, and subscriptions.
AC Events Enterprise harnesses the power of our component to manage charitable events, seminars, conferences, and other traditional or virtual events.
AC Job Board provides job board functionality to advertise jobs, internships and volunteer opportunities.
AC E-Commerce offers a fully functional online shop that is Salesforce native and allows you to sell products to members and the public.
Advanced Communities' team has great experience working with organisations like Greenpeace, Jobcare, Guide Dogs, American Association for Cancer Research, Sustainable Restaurant Association (SRA) and others. Let's take a closer look at a few success stories:

American Association for Cancer Research is an organisation dedicated to accelerating the conquest of cancer through cancer research, education and training, funding, communication, collaboration and advocacy. They required an easy to use and effective event management system to organise different conferences and seminars. AC Events created by Advanced Communities provides support for paid and free events, community and guest users registration, Outlook, Mac and Google Calendar support, secure credit and debit cards payments, integration with Google Maps, flexible pricing and many other great features.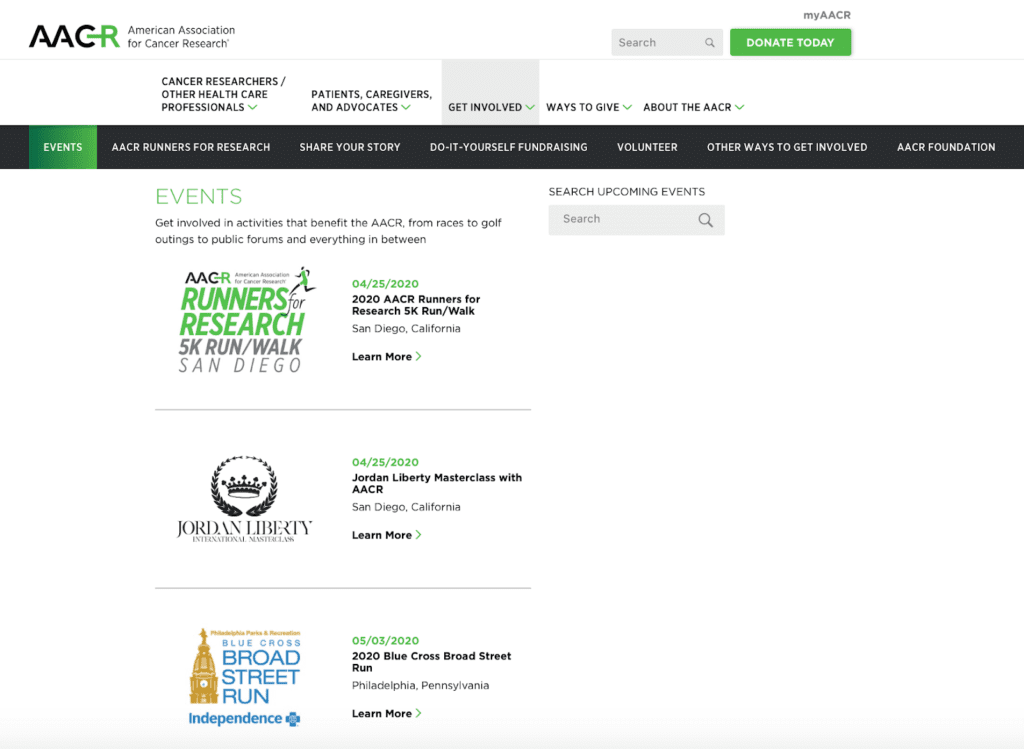 Sustainable Restaurant Association (SRA) is a non-profit organisation which brings together restaurants that commit to complying with certain standards such as treating their staff fairly and getting their food from sustainable sources. SRA required a community that would help members to communicate, share events and blog posts. They also needed to be able to run annual surveys in order to evaluate the sustainability of the restaurants and provide a PDF report for each member. Using Advanced Communities components we introduced a community that fully matched the Sustainable Restaurant Association requirements.
We at Advanced Communities have worked with large and small, commercial and non-profit member organisations and accumulated years of experience starting and improving their Salesforce membership management processes using Experience Cloud. Our certified Salesforce consultants can advise you on best practices and help you to maximise your investment in CRM. Please get in touch using our contact form and we'll get back to you shortly!