Building Sites Without Code: The Power of Experience Builder in the Salesforce Experience Cloud
No-code and low-code development approaches have been skyrocketing recently, allowing most modern companies with no dedicated development team to create the sites and apps they require to conduct their business.
This approach implies using no-code platforms empowered with tools for easy, fast software development. As a great alternative to traditional development, these platforms help non-technical people create sites of all types that are equally, and sometimes even better, than their coded versions. Salesforce Experience Cloud is one of those mind-blowing no-code solutions that takes the software creation process to the next level.
Keep reading to learn more about Salesforce Experience Cloud and how to use its powerful drag-and-drop no-code development tool, Experience Builder, to deliver personalized experiences.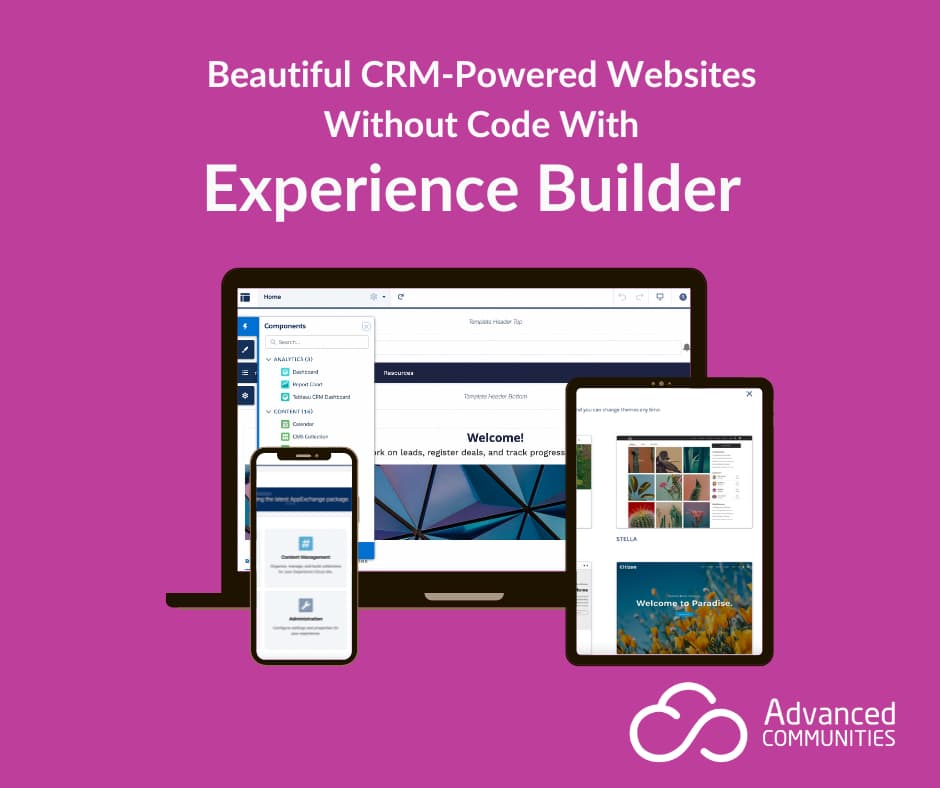 What is Salesforce Experience Builder?
Salesforce is no more than just a CRM system. But by uniting powerful tools and cloud technologies, it can help you better connect and collaborate with customers and partners, grow your business, raise productivity, and boost revenue.
Salesforce provides a set of cloud-based resources so you can build your own applications and websites easily, cheaply, and fast. This is where Salesforce Experience Cloud comes in. Experience Cloud allows you to create branded sites connected to your CRM without writing code, thereby addressing different purposes and achieving multiple online objectives. Eliminate worries about which infrastructure, operating systems, or development and deployment tools to use. With Experience Cloud, you have everything you need under one roof.
Salesforce Experience Builder is a no-code development tool that provides ready-to-use drag-and-drop functionality to develop and customize powerful CRM-driven websites fast, and with very low setup costs. The tool has been designed and developed as part of the Salesforce Experience Cloud platform.
The main capabilities of the Experience Builder website creator are:
Flexible customization
Easy styling
Empowering with pre-built or custom Lightning components
Different audience targeting and personalization
Automating
Enhanced security and data protection
… and many more.
Main Reasons to Use Salesforce Experience Builder on Experience Cloud
Building a site is often about complex software stacks, complicated hardware maintenance, frequent updates, balancing aesthetics with functionality and speed, and investing a lot of money in app development… Salesforce Experience Cloud covers all this for you. Widely adopted by organizations of different sizes and industries, it's the best solution in terms of time, effectiveness and money.
Main reasons why you should create a Salesforce community with Experience Builder:
No code. With Experience Builder, build beautiful, feature-rich, and easy-navigate Salesforce Builder sites using intuitive ready-to-use, drag-anddrop options without any coding knowledge. When customizing a site with Experience Builder, you see what you're building in real-time and can make instant changes when needed.
Easy configuration and setup. As development tools, servers and programming environments are readily accessible via the cloud, site creation has become nothing but a cakewalk. Take advantage of wide Experience Builder customization capabilities to build branded sites for various purposes that captivate audiences, and increase user involvement.
Low-cost maintenance and updating. To create and maintain an Experience Cloud site, you need only one person, not a whole team. Deploying changes and updates within Experience Cloud is much faster than previously thought possible. If you decide to change your target market, change access permissions, add site languages or something else, you can do so without engaging the developers, all inside Experience Builder.
Configurable accessibility. Manage the security and privacy settings of your site right inside Experience Builder. Use the Administration panel to take care of administrative tasks, such as adding members, securing your data, configuring email notifications, enabling reputation, determining data visibility, sharing opportunities, as well as accessing content, objects, and records in your site, and so forth.
Integration. The Salesforce Lightning community built within Experience Builder integrates with your Salesforce CRM. Thus, you don't need to worry about external platforms, additional setup, or third-party data storage. Integrate information and Salesforce data into your site, such as orders, cases or financial information, from any source and extend the data to different users – customers or partners – when needed.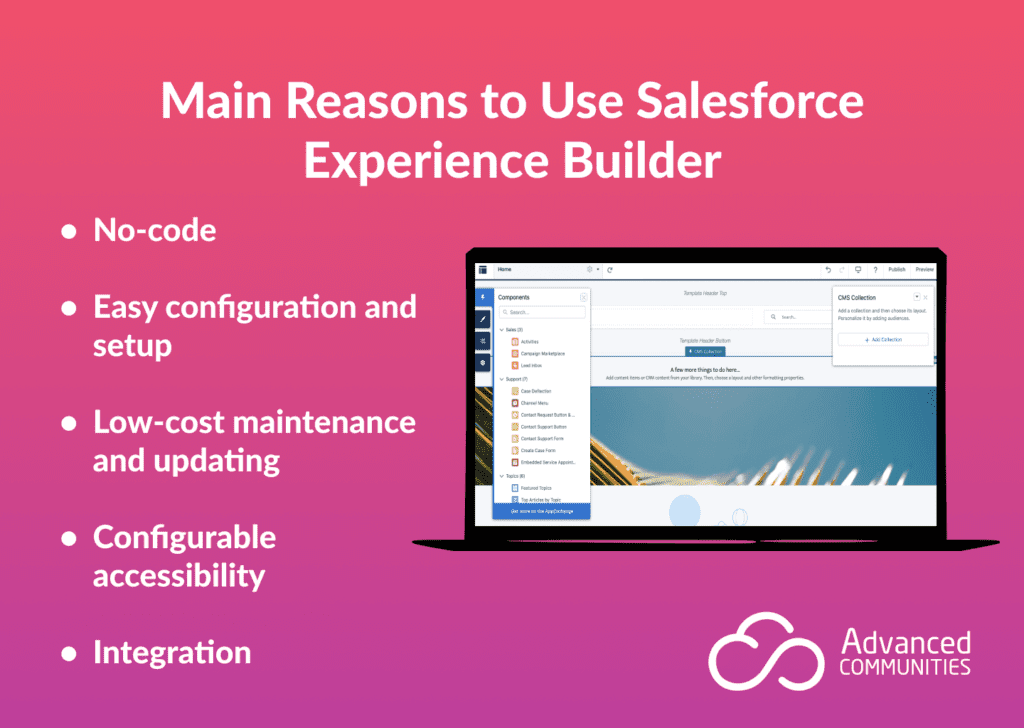 Salesforce Experience Builder on Experience Cloud – Key Features
Salesforce Experience Builder is enriched with various features that makes building a drag-and-drop site a breeze for users without coding skills.
Let's go over the most important and useful ones:
Flexible customization
You can create and modify your site pages, even adjusting the page structure if necessary. It's easy to customize each component on the page using a simple drag-and-drop interface.
Effortless branding
Tailor your site to your exact preferences. Take advantage of pre-designed themes, fine-tune colors and fonts, add images, and sculpt the page layout to match your brand's identity. Branding sets allow you to personalize your websites for specific target audiences.
Custom components integration
Enhance your site's functionality effortlessly by incorporating drag-and-drop components from the Components panel of Experience Builder. You can customize these components directly on the canvas without having to leave the Experience Builder interface. Visit AppExchange to discover solutions which are a best fit for your company, making your business processes more efficient and your teams more productive. For example, utilize the powerful Salesforce event management application, AC Events Enterprise, in your Experience Builder event microsite to plan, organize and manage events of all types and complexity. Or enhance self-service with AC Knowledge Management Enterprise to help your customers find the answers they are looking for, and resolve issues faster than ever before. 
Personalized content
Create unique experiences for different audiences by setting up audience targeting. This ensures that your content speaks directly to specific groups of people, delivering a tailored experience.
Multilingual support
Experience Builder lets you create multilingual sites to serve separate international audiences. You don't need to create separate sites for each language. All languages are maintained within one site, making it easy to switch between them without having to leave the site page when previewing or editing page content. In addition, let users translate individual questions, posts, comments, answers, and replies in Feeds. Export site content for translation then import it back into the site, if needed. Use Experience Builder settings to add site languages and manage their settings.
Mobile Publisher
The Mobile Publisher feature allows those without coding knowledge to develop mobile applications for Experience Cloud sites that work well on the range of devices in use. You don't need to hire anyone from outside the company to adapt your site for mobiles or list it in Google Play and the App Store. With Salesforce Mobile Publisher, app creation and distribution is easy, fast and cheap.
CMS
The Salesforce CMS provides you with a unique opportunity to create and manage content in one place, and distribute it across various channels, including Experience Builder sites. Personalize your content using audience settings, organize it into collections, flag it with topics, and connect your external CMS to your Builder site to save time in migrating from one CMS to another.
Note!
Salesforce Content Management System (CMS) is now a free application for Experience Cloud. That means every Salesforce user has access to the full CMS functionality without any limitations! Read more in our article.
Search engine optimization (SEO)
Drive traffic to your website by making it visible to search engines. Experience Builder allows you to set up SEO for your public site and lets search engines index all your public pages. Improve search results by configuring SEO settings, such as title and description properties, and by entering specific head tags for your site pages.
Please note: SEO features are supported on production orgs only.
Google Analytics
Experience Builder sites are integrated with Google Analytics, allowing you to track the usage of your sites, including user types and IDs, number of visits, number of page views, average time spent on the site, search activity, etc. Use received data to create the reports and build all-in-one informative dashboards to keep your team members up-to-date with progress metrics.
Experience Builder is empowered with a bunch of other cool features, like gamification and reputation levels, automated email notifications, login and registration settings, moderation rules, dashboards, and many more… But more on this in our next articles.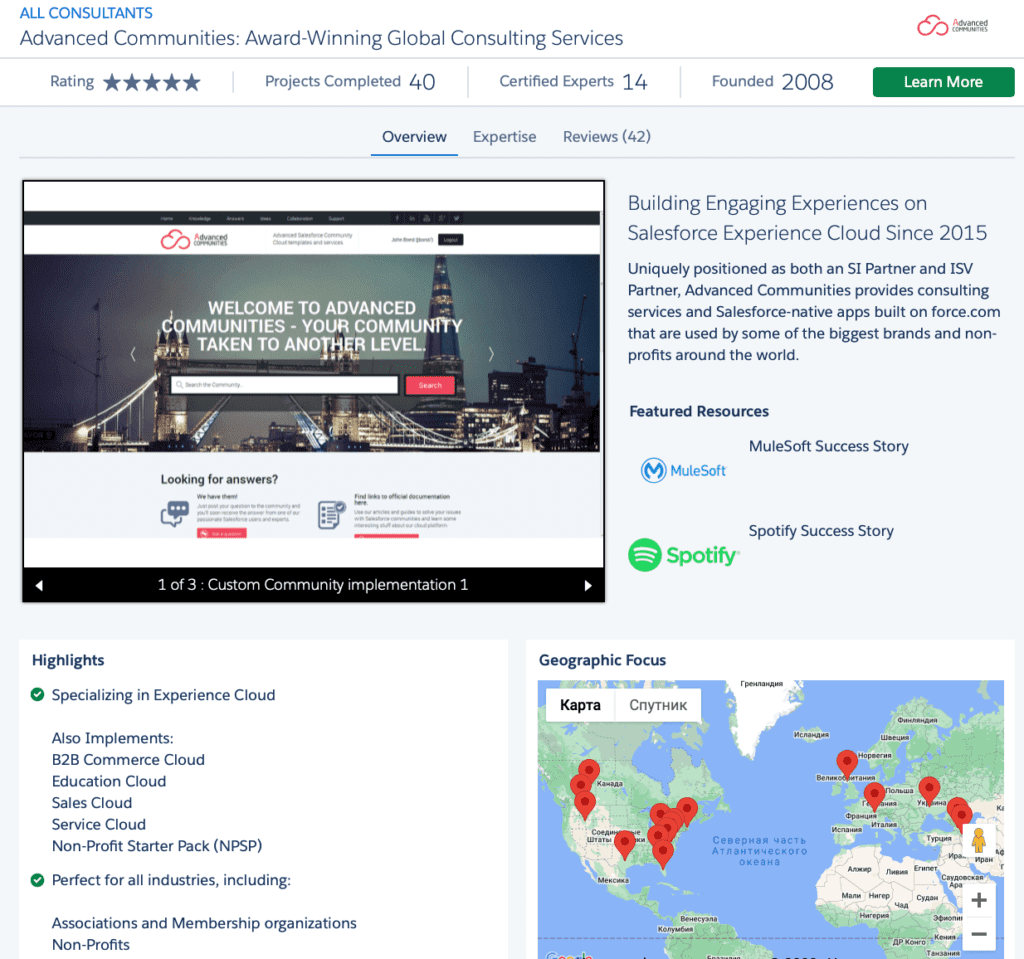 Want Us to Help?
At Advanced Communities, we build solutions that help our customers overcome their business challenges and find success. How do we do it? We put customer satisfaction at the very heart of what we do! Our teams work together to deliver the best Salesforce-native solutions that are just the right size for your specific needs. Utilizing years of experience accumulated by our Salesforce Certified Experience Cloud consultants, we deliver professional consulting services that help you achieve your goals.
If you're looking for professional assistance with Salesforce community implementation or need robust Salesforce-native apps built on Force.com, reach out to us.
We can also help with data migration into Salesforce Experience Cloud, designing (user experiences) in Salesforce, creating beautiful Experience Cloud sites, such as Salesforce self-service portals, PRM, B2B Commerce and support portals, as well as sites for nonprofits.
Subscribe to our Newsletter
Receive regular updates on our latest blog posts, news, and exclusive content!
Tag cloud