Welcome AC Knowledge Management Enterprise!
Dear friends,

As you might already know, the AC Lightning Knowledge component is now paid and has the new name AC Knowledge Management Enterprise.

In this post, we want to tell you more about which new features are already available with the Knowledge component latest release, how you can use them and how they can improve the use of your Knowledgebase and customer self-service.
Let your customers and community champions help you and other members to create perfect knowledge content. Using the new AC Create Article component, you can now allow your community members to contribute to the Knowledgebase and provide valuable content directly within the Community.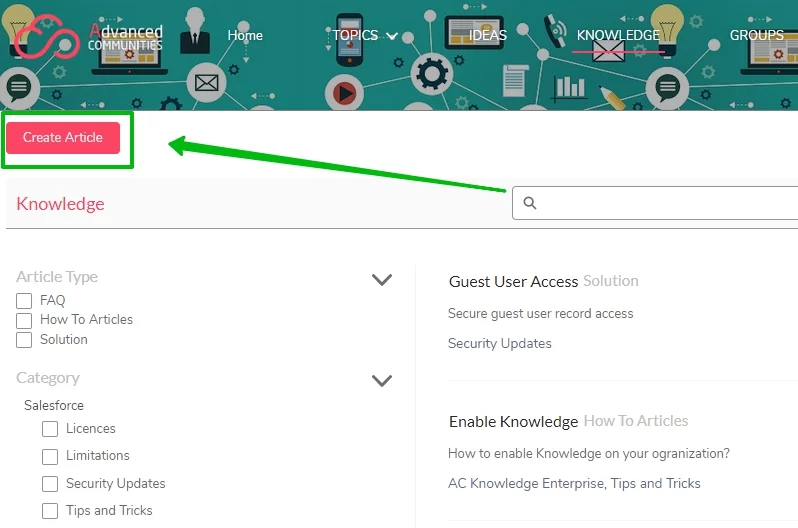 Articles created on the community are saved as a draft until checked and published by knowledge managers.

Your community members can now easily find the relevant content using responsive filtering and advanced search functionality.

Filters remain selected even when you go to the article detail page and back to the list. You can also quickly reset all filters at once by clicking "Clear All Filters".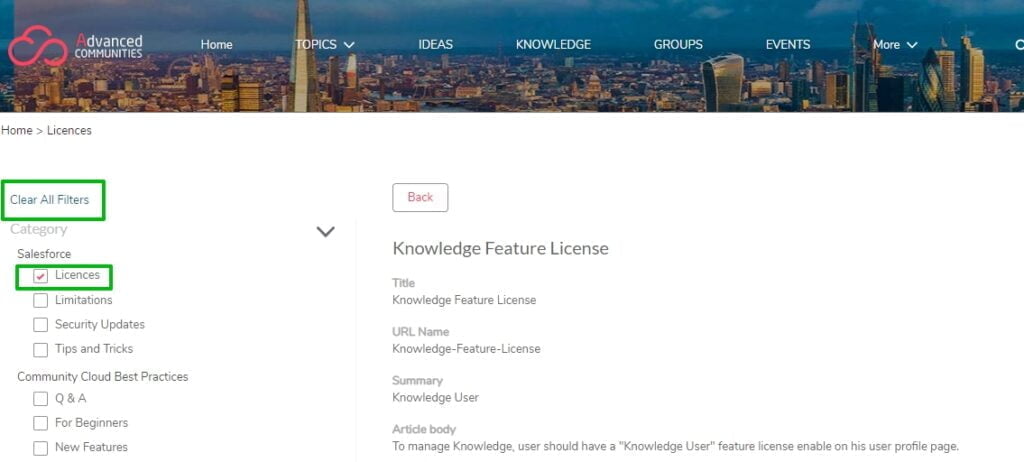 Search for the best content easily with a new "Most Relevant" sorting option for knowledge articles. You can also sort articles by date and by the most viewed. Well isn't that convenient?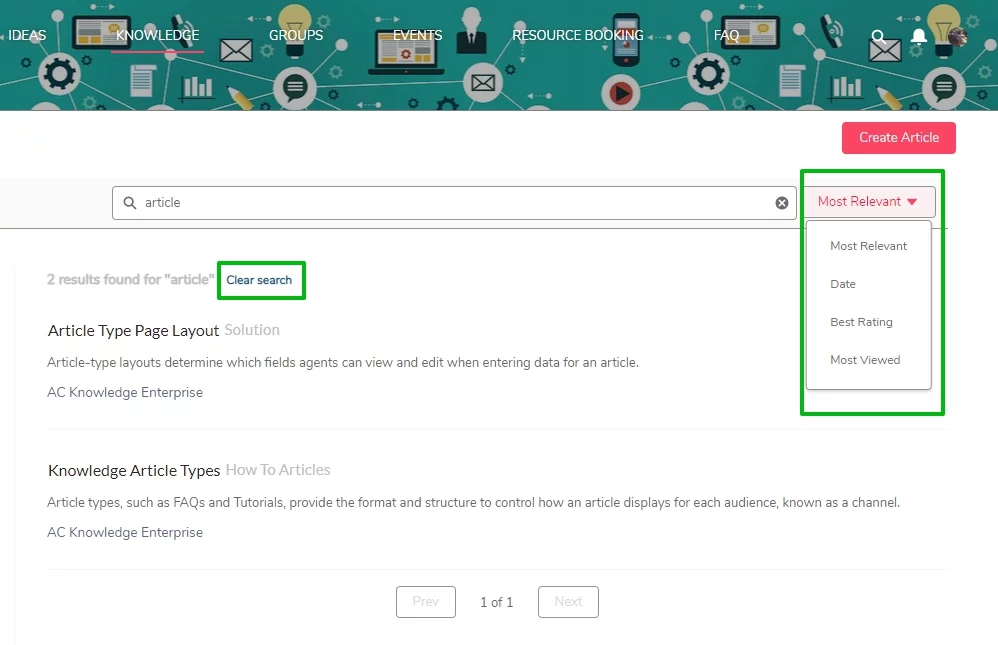 Now you can also configure whether to hide or show articles type's labels.
Use and enjoy better Voting functionality.
If you do not want to provide voting for knowledge articles, you can now hide it at all or choose from the two voting options: thumbs up/down or stars rating.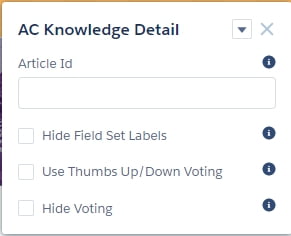 It is also possible to change between these options without losing votes. All votes an article gets will be converted back and forth:

Stars to Thumbs:
< 3 stars -> dislike
> 2 stars -> like
Thumbs to Stars:
like -> 5 stars
dislike -> 1 star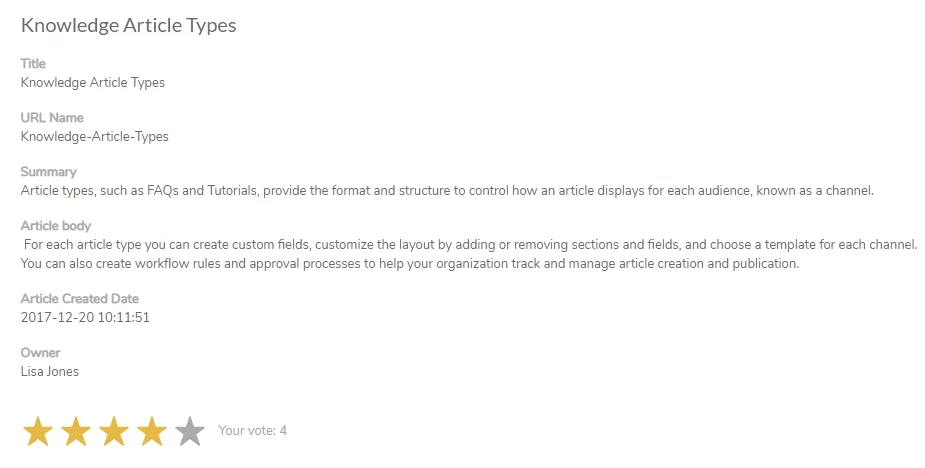 Take your customer's support to the next level with advanced Case Deflection functionality and decrease the number of created cases.

AC Knowledge Management Enterprise package is supplied with an advanced CD functionality. Create a clear and structured knowledge base of the most frequently asked questions and provide community members with links to relevant articles and resources.

What's more, you can build a responsive questions hierarchy with an unlimited number of CD questions by assigning a Parent Question and adding a Sort Order.

Add Article Links to provide your CD Questions with the relevant knowledge articles and configure custom Publish Article action update article links when new article versions are created.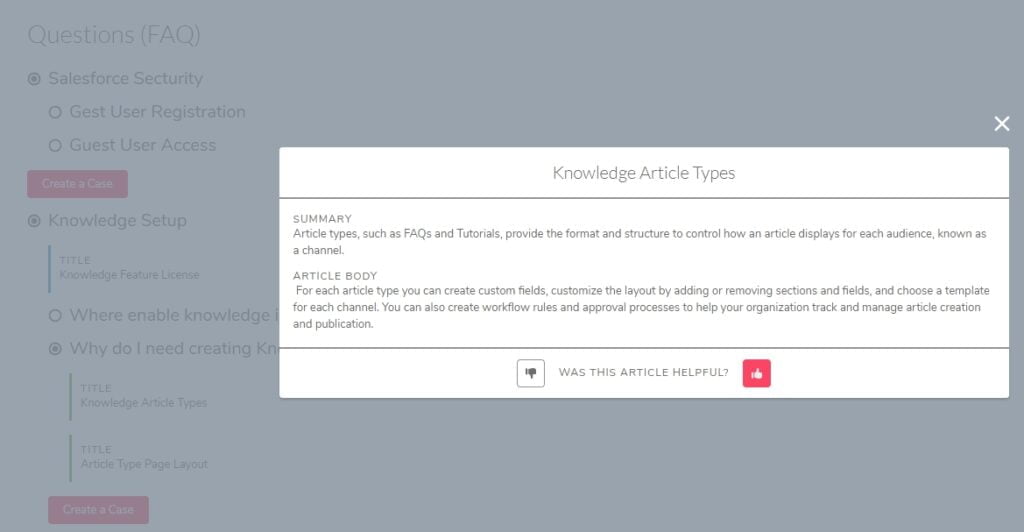 Track all your Case Deflection processes easily with Case Deflection analytics.

View and manage statistics about user visits, questions viewed and articles value.

Evaluate the significance of each knowledge article by disabling the ability to close the article popup window without voting.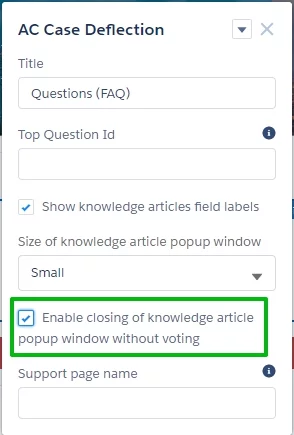 Enjoy the new and improved features for AC Knowledge Management Enterprise.
Don't hesitate to contact us if you have any questions!