Your Quick Guide to Salesforce Knowledge
Salesforce Knowledge Overview
What is Salesforce Knowledge and Why Do You Need It?
---
Salesforce Knowledge gives you the ability to build a Knowledge Base for storing and managing documentation to service your internal agents, website visitors, partners, and customers.
Your Salesforce Knowledge Base can include articles that have relevant information about your products, processes, or frequently asked questions.
Salesforce Knowledge helps you establish a self-service model for your customers to solve their own queries, leading to case deflection and increasing customer satisfaction.
Knowledge Licenses
---
Salesforce Knowledge is a paid product.
The Knowledge User license lets you enable and administer Salesforce Knowledge and manage articles – create, edit, and publish them.
All your internal, external, and guest users can read articles without a special license. That means you only pay for a license per user that creates and manages articles.
The Knowledge licenses can be provided as a part of Service Cloud.
To enable a Knowledge User, go to Setup – Users. Open a user record. Enable the "Knowledge User" checkbox, which specifies if the user is a knowledge user.
Knowledge Channels
---
Once you have your articles published, access can be set up through channels. These channels define the audiences for your content — Internal users, Partners, Customers, and Guest Users.
Internal Users
The internal channel is for internal users only. This is for content that your internal user needs access to, such as company rules, job descriptions, internal Salesforce documentation, etc.
The "Visible in Internal app" checkbox is always on, which means that this knowledge article is visible inside Salesforce.
Partners
Partners share the content with partner licensed users within a Partner Community. For example, share content such as sales process descriptions or product updates with your partners.
Customers
The Customer channel is critical for customer self-service and case deflection. The customer channel shares content with users on a customer community license within a Customer Community. It's good for FAQs, troubleshooting articles, and step-by-step guides.
Guest Users
The Public channel is how you expose and share knowledge content with guest users. This content can be shared on a public site page and is accessible to unauthenticated users.
Knowledge Object
---
In Lightning Knowledge, all articles are on a single Salesforce object called Knowledge (Knowledge__kav) by default. However, the object can be renamed.
The object has the default fields: Title, URL, and Summary. The other fields are created by users. For example, the company would add an "Article Body" rich text field in the most basic scenario, but there could be completely different fields.
Different article types are kept as Record Types, like any other Salesforce object. A record type controls an article's content and layout. For example, your FAQ pages are different from your manuals.
Each record type can have different fields for the different types of content you want to organize.
Knowledge Content Lifecycle
---
Keep your knowledge base up to date by deleting outdated information and updating guidelines according to the product changes.
Article States and Versioning
Knowledge Articles can be in a draft, published, and archived state.
The article is in the process of being created. Every time a new article is created, it is automatically saved as a draft article version. Once draft articles are completed, they will be published and will turn to Published Articles.
The article is approved and published. Published articles may be reverted to Draft Articles if changes need to be made. Old published articles can be archived or deleted accordingly.
Archiving an article hides the article, so articles don't display to agents and customers on your organization's Salesforce Knowledge channels.
Each article has a version number and a history of versions. When you need to update a published article, you edit it as a draft and then publish it (or send it for approval) as a new version. This allows you to add new content without impacting users' published versions.
Article Translations
With multiple languages for Salesforce Knowledge, you can lower support costs by translating articles into the languages your audience prefers.
If your organization supports a multilingual knowledge base, give agents and authors access to translated articles. Add authoring actions to user profiles so your agents can access master language versions and translation drafts.
Data Categories
---
Data Categories and Data Category Groups are some of the main features of Salesforce Knowledge. Article organization and article access are set up through these two functions.
Data Categories Groups and Limits
Data categories allow you to organize your article content in a hierarchical way. Data Categories can be grouped into Data Category Groups.
The feature can be set up in Setup – Data Categories Setup.
Create up to three data category groups with up to hundred data categories (can be extended by Salesforce). Each data category group can contain a five-level hierarchy.
Data categories can be assigned to articles for organizing and filtering the knowledge content and keeping the structure of the knowledge base clean.
Data Categories for Access Control
Use data categories to control access to a particular set of articles.
Default Data Category Visibility
Control what information should be displayed for users using default category group visibility. There are three variations of visibility:
All Categories. All categories are visible for the user by default.
None. No categories are visible for the user by default.
Custom. Specify the categories the user should see by default.
If you set the default visibility to none, the user will see uncategorised articles only.
Data Category Visibility Per Profile
Apart from default visibility, data categories access can be controlled via profiles and permission sets to ensure users only see knowledge content relevant to them.
If we go to Setup – Profiles and open any profile, we'll find Data Category Visibility settings specific for this profile. The settings define which articles from which data categories users should or should not see.
Standard Salesforce Knowledge Sharing
Salesforce allows standard access control for articles.
The standard Salesforce sharing model works differently compared to the default sharing model for Knowledge, which uses data categories to control access beyond object permissions.
When you use standard sharing, data categories no longer control record access. Your knowledge base continues to use data categories to classify articles. Data categories affect searches and can be used as filters.
To use the Salesforce sharing model for Knowledge, go to Setup – Sharing Settings:
Click "New" under "Knowledge Sharing Rules" to add a sharing rule.
Integration with Service Cloud
---
Knowledge Articles are a great way to solve cases and keep service agents efficient.
Article Autosuggestions On Cases
Suggested articles help support agents solve cases quickly. When a new case is created, the search engine automatically looks for articles based on the case content.
Attaching Articles to Cases
When customers have similar questions, you can create one article with the answer and attach it each time the question is asked.
Attaching articles allows you to report which articles are attached more than others and measure what knowledge content is more valuable.
Create Article On Case Closing
When closing a case, you can convert it to an article (classic only).
In Salesforce Classic, go to Setup – Knowledge Settings and enable the "Allow users to create an article from a case" checkbox.
When closing a case, click Save or Save and Create Article.
Salesforce Knowledge and Experience Cloud
Topics on Experience Cloud
---
The main way to expose articles on Experience site is through topics.
Setting up navigational, featured, and content topics allows you to structure your site content and provide easier searching within your knowledge base. One article can be assigned to different topics depending on its content.
Topics are assigned to articles in Content Management – Topics in Experience Cloud workspaces.
Navigational Topics and Data Categories
Organize content for your site members by assigning articles to navigational topics using data categories.
In Experience Workspaces, access navigational topics by clicking Content Management – Topics – Navigational Topics and simply link current Salesforce Knowledge articles associated with those categories to each topic.
Create up to 25 navigational topics and up to 10 subtopics for each topic. Each subtopic can have 10 subtopics.
Search
---
Find Knowledge articles faster by performing a search using a standard Search Component on site.
The article detail page can be accessed from suggested search results (for global search) or from the search results page.
Case Deflection
---
Salesforce Knowledge is one of the great methods of managing customer support.
Knowledge articles exposed on your site can help external and guest users deflect support cases from your service agents as you empower your customers to self-service and solve their own queries.
When a user creates a case on site, the Case Deflection component searches text as it's being entered into the Contact Support Form component, and returns relevant articles and discussions.
If users don't get the answer they need, they can continue with their request for support.
New Einstein Search for Knowledge
Einstein Search for Knowledge (Pilot) uses AI to power the Knowledge search experience for internal users, service agents and their customers, and users externally facing Experience cloud sites.
The goal of this pilot is to help service agents quickly and easily find the knowledge articles they need, as well as help your customers help themselves and deflect cases.
Einstein Search for Knowledge improves the search experience in three places:
A global search bar
A knowledge sidebar
An experience cloud search
The first change that users notice when searching for Knowledge is the addition of the badges, identifying promoted articles.
Promoted badges are applied to results from the global search bar and the knowledge sidebar.
Users can also expand the results to get more information about an article without leaving the knowledge search results page.
Admins can customize the details shown here by modifying the profile search layout for the Knowledge object.
Einstein Search for Knowledge also provides improvements to search relevance with an AI-powered model to customize the search behavior for your org, making the order of search results more relevant.
In the Knowledge search sidebar your users can conveniently attach an article to a case, and see which of the listed articles are already attached.
After completing a search from the sidebar, users can now apply filters like language, products and record type to quickly refine their results.
If the user determines that the article is not relevant for this case, they can also conveniently create a new one with the "New Article" button.
Salesforce Knowledge and AC Knowledge Management Enterprise
Out of the box, support of the Salesforce Knowledge on Experience Cloud sites is quite limited – topic-based navigation might not be convenient for some organizations' use cases.
AC Knowledge Management Enterprise gives companies and organizations of all sizes the ability to build out a comprehensive Knowledge Base inside their Salesforce Experience Cloud to serve their customers, partners and employees.
Here are the benefits we provide:
Two Scenarios of Configuration
Suppose your knowledge base is big enough and you need to let your site member search through the base and filter existing articles. In that case, Standard Filtering is a great option.
Provide an easy way for users to find the relevant content via filtering by data categories and articles types.
We recommend the Advanced Navigation configuration if your knowledge base requires strict order like a guide or manual.
This scenario allows creating ordered navigation through articles and building up your Knowledge Base in a well-organized and structured way.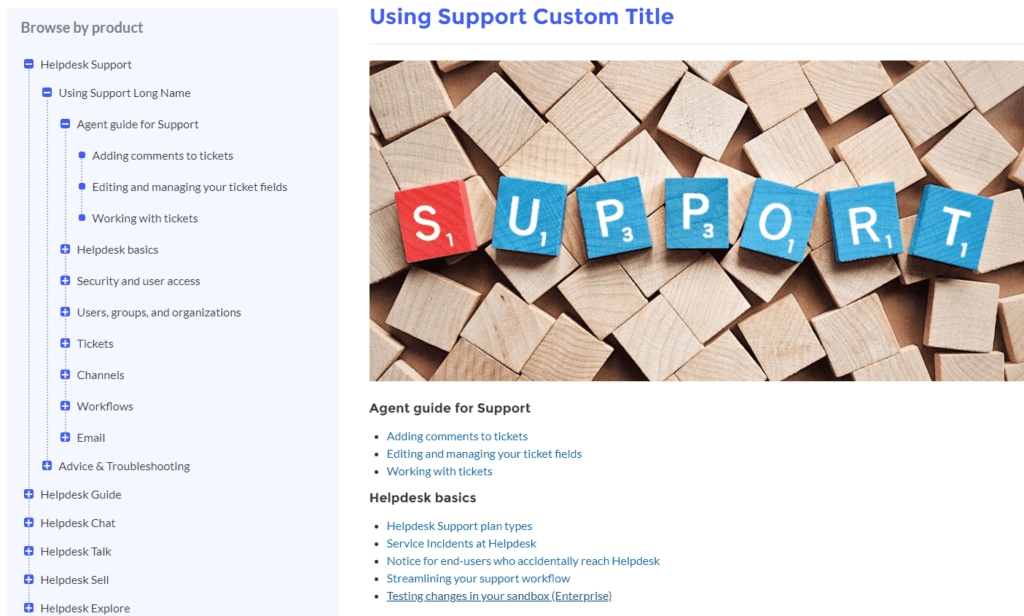 Create Articles From Experience Cloud Site
Let your customers and site members help you to create perfect knowledge content. Using the new AC Create Article Form component, you can allow your site members to contribute to the knowledge base and provide valuable content directly within the site.
Content Section Support and Collapsible/Expandable sections
Long articles are rather difficult for users to navigate. Let your site members navigate to specific sections of the article using anchor links. Additionally, display article content on the advanced navigation hierarchy tree.
Help your members navigate to any article section without scrolling by using collapsible and expandable sections.
Landing Pages
Create Landing Pages for your categories, where you give a brief description of the category information.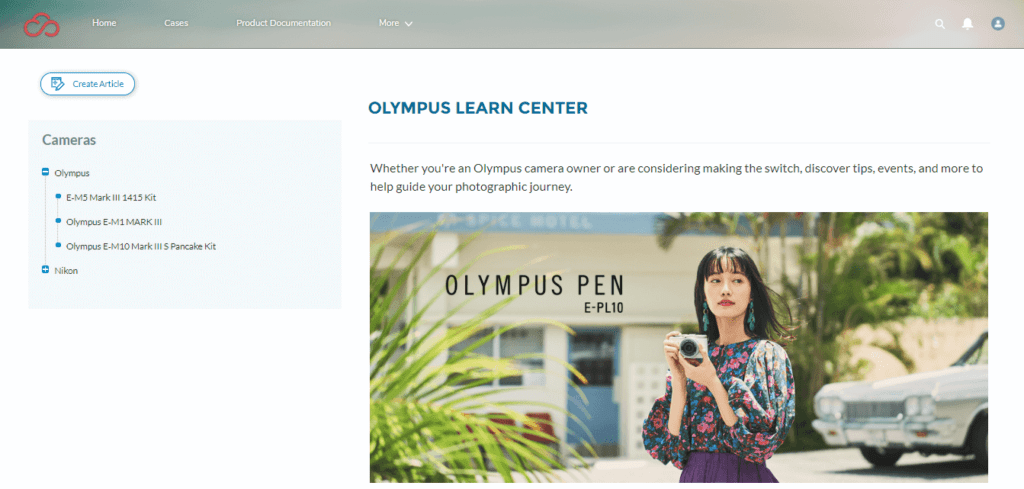 Advanced Case Deflection
Advanced Case Deflection wizard provides great case deflection. Decrease the number of cases by letting users go through the most common problems and questions and finding solutions in relevant knowledge articles instead of submitting cases.
If users don't get the answer they need, they can continue with creating a case.
Multibases Support
The multi bases feature would allow you to support separate knowledge bases for your multiple products, including the ability to search through each base separately and display the correct navigation if one article is assigned to different data categories.
Custom Filters
Expand filtering options for your site members by creating custom filters for your knowledge bases.
Article Following and Subscription
Let site members subscribe to their favorite articles, and be notified about changes or version updates of the articles they are followed by sending email notifications.
File Attachments Support
Enrich your articles with attached files. We support article file attachments with a separate component.
Case Deflection Analytics
Track and analyze the relevance of case deflection questions and knowledge articles. See the precise statistics about how many questions have been raised, articles viewed and the number of user visits.
Star Rating System
We support articles' 5-star rating, so you have a better understanding of what articles are highly rated by your users.
To sum up, Salesforce Knowledge is a great tool for managing your documentation and helping your support agents and customers by deflecting cases.
AC Knowledge Management Enterprise addresses some limitations of the standard Knowledge on Experience cloud and provides Data Categories support, a better and more intuitive way of filtering and searching knowledge articles. AC Knowledge Management Enterprise also provides splitting your Knowledge Base into multiple Knowledge Bases if you have multiple products.
Tag cloud