5 Most Interesting Features of Spring 22 Salesforce Experience Cloud release
Salesforce Spring 22 Release has already arrived in our orgs and we can enjoy all the new features and updates. Advanced Communities, as always, have prepared an extract of the most exciting news of this release for Experience Cloud.
Here's a visual overwie of the most interesting improvements: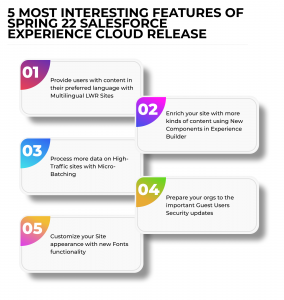 Let's take a look at these features closer!
Provide users with content in their preferred language with Multilingual LWR Sites
Now you can add up to 20 languages to the Site Languages list and provide your users with the ability to select the language in which the site will be displayed. Using this feature, you can extend your audience and reach new people.
This functionality is available on Build Your Own (LWR) and Microsite templates. To add new languages, go to the Settings -> Languages page on the Experience Builder and add preferred ones. Then you can use the language selector in the Experience Builder to switch to another language.
Enrich your site with more kinds of content using New Components in Experience Builder
There are four new components added to Experience Builder: Card, Columns, Overlap and Language Selector.
Card component allows you to place content in the rectangular card.
Columns component allows you to add up to 6 columns of content to your site page.
Overlap component allows you to overlap an image with content components, like Text Block and Button, for a layered look.
Language Selector component allows you to place the button with a picklist so users can select the site language.
Process more data on High-Traffic sites with Micro-Batching
Now it is possible to process a large amount of self-registrations faster. This is more relevant for sites with big traffic which expect more than 500,000 self-registration requests per day. For example, registration for vaccination sites, sites with high-volume commerce or event ticketing.
These requests will be collected into small batches with micro-batching and then processed to provide efficient handling. After the batch is processed successfully, users receive an email with their login instructions.
Prepare your orgs to the important Guest Users Security updates
Since Spring 22 Salesforce starts to make changes to Guest Users' security policy, all permission sets and permission set licenses with View All, Modify All, Edit and Delete object permissions will not be available anymore.
These changes will happen gradually from Spring 22 through Winter 23:
Starting from the Spring 22 release, you can't assign guest users permission sets associated with mentioned object permissions.
In the Summer 22 release, replacement permission set licenses will be added that contain only allowed permissions.
In the Winter 23 release, Salesforce enforces this update and removes permission set licenses and their related permission sets from guest users.
To avoid disruptions that can affect workflows and other customizations, we recommend you review and remove all licenses and permission sets that contain restricted permissions before the Winter 23 release.
Customize your Site appearance with new Fonts functionality
Now you can optimize your site and specify the different Font sizes for the Desktop and Mobile versions in pixels or in rems. As you might know, the pixel is an absolute unit, so unfortunately, it doesn't adapt to different devices or browsers and that may cause inconvenience to the user. Rem is a relative value and it shows font size relative to the default browser font size so you can improve site readability for your users.
The second great point about site appearance is that now you can select different fonts for all types of headings, links and buttons from the complete Google fonts library. This new feature simplifies your site branding and allows you to display all content within your corporate fonts.
Watch the video below to see how all these features work:
Please keep in touch for more up-to-day information about Salesforce and Experience Cloud by following us on LinkedIn, Facebook, Twitter, and YouTube.
Tag cloud