New Salesforce Experience Cloud features in Winter '16 release
Lightning is a framework that was created by Salesforce to meet the demands of multi-device businesses.
The whole Winter '16 release from Salesforce is about the new Lightning Framework and its incredible power and flexibility. When it comes to discussing Lightning Framework and its meaning for communities, first we should talk about Community Builder and the new community templates based on Lightning. In addition, we should not forget its amazing ability for you to add your own custom components.
With Lightning, it is easy to create responsive apps for any type of device. The new Lightning Framework includes a number of tools that developers will find helpful:
The Lightning App Builder is a tool that allows you to build apps without coding, just visually. With the help of off-the-shelf and custom-built Lightning components, you can build applications quicker than ever before.
With Lightning components, you get a client-server framework that allows you to accelerate both development and app performance. This is perfect for Salesforce1 (mobile platform) and Lightning Experience.
Lightning Components for Communities
The Community Builder version, released in 2014, allows you to create communities without the need for any coding. Salesforce provides out-of-the-box templates to configure communities. Koa, Kokua and Napili are templates with basic functionality. To configure self-service communities for employees, customers and partners, the Salesforce administrator needs just pictures and content. Thanks to the Salesforce cloud platform, communities based on these templates are responsive and work well on any device.
This year, at Dreamforce 2015, Salesforce presented many new features and enhancements for Community Builder with Lightning Components. The Winter '16 release brings some interesting updates and offers additional possibilities.
Some of the major enhancements:
Ability to create custom pages quickly
Ability to provide navigation beyond Topics
More flexibility in adding your own CSS to basic templates
Ability to import Lightning components directly from AppExchange
Ability to build your own Lightning components for communities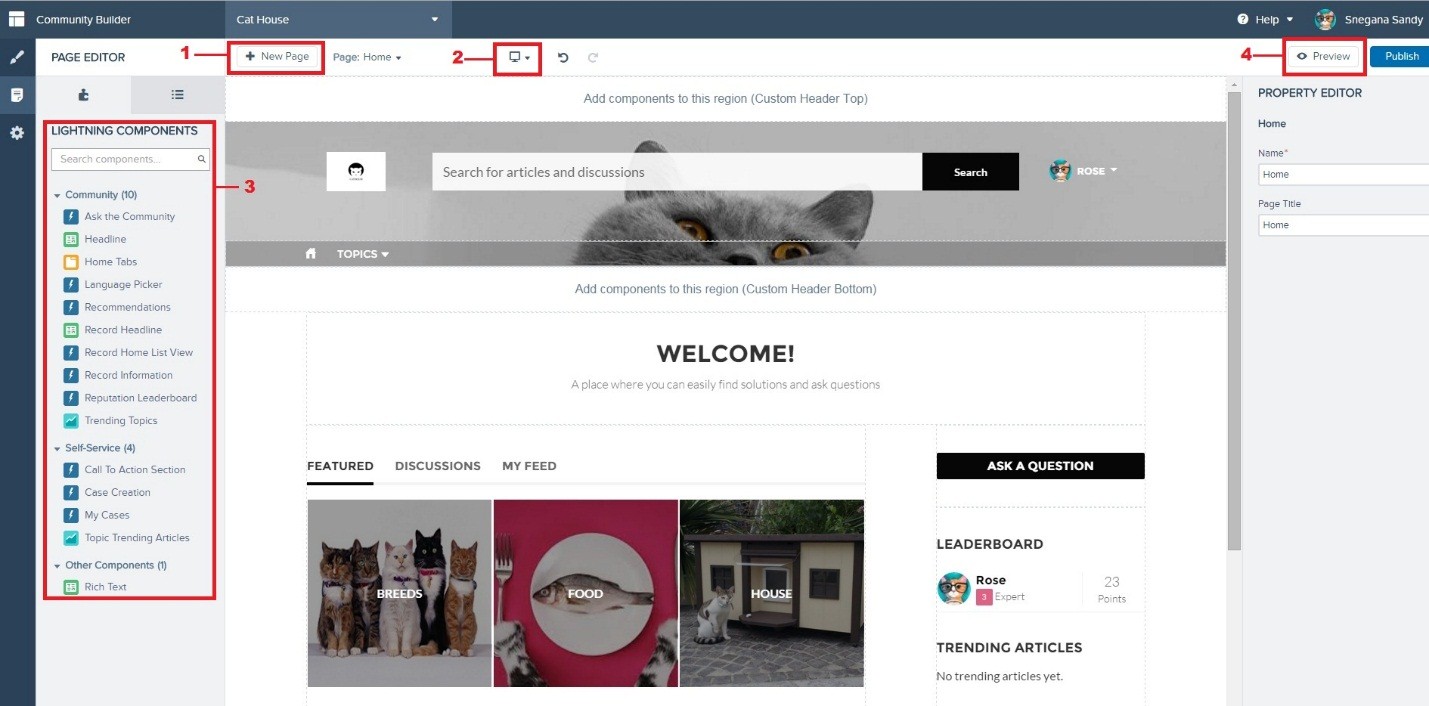 Building communities is easy!
Use "New Page" button (1) to create custom pages quickly; drag and drop Lightning components on the left side menu(3) to specific areas on the canvas page. You can see how your community appears on different devices (2) and use Preview mode (4) to make sure everything is correct before publishing your changes.