Salesforce Is More Than Just a CRM
When people think of Customer Relationship Management (CRM), they usually imagine software that holds their entire customer data, like address, name, details of previous interactions, and other details in one place. Salesforce has completely changed the idea of traditional CRM. It merged all the features of a traditional CRM with a bunch of new unique tools and capabilities, offering its users MUCH more than ever before.
Is Salesforce a CRM?
Salesforce is a powerful CRM platform that millions of companies use to manage interactions with existing and potential customers. Built on the Customer 360 concept, Salesforce connects customer data from every step of their journey into a unified database of information. The Customer 360 feature helps deliver better customer experiences, build efficient engagement strategies, and make smart business decisions.
Salesforce as a CRM provides companies with all the necessary tools to collect and manage customer data from multiple channels, and build more precise customer profiles. Companies can deliver exceptional service and build solid, long-lasting relationships with the knowledge of their customers' needs and preferences.
What Does Salesforce Do Exactly?
Salesforce CRM provides customers with cloud technologies to better connect and collaborate with customers and partners. Extremely popular in different areas and business sectors, it's become an industry leader that doesn't have analogies.
The Salesforce platform unites marketing, sales, commerce, and customer service tools under one roof, helping you grow your business, raise productivity, and earn more.
It has long ceased to be just a CRM. So, what's so special about it?
The Salesforce CRM platform is about three important things:
SaaS (Software as a Service). Salesforce is a SaaS provider that delivers software services and applications over the Internet, allowing you to access the system anytime, through any computer with an internet connection.
PaaS (Platform as a Service). As a PaaS platform, Salesforce provides development and deployment tools, allowing you to build your own applications and websites easily, and quickly.
IaaS (Infrastructure as Service). As an IaaS provider, Salesforce delivers the infrastructure you need to run your apps, including virtual servers and storage disks.
Benefits of Salesforce CRM
Salesforce CRM is an invaluable tool for long-term growth. It helps companies better understand what their customers are looking for and shapes the roadmap to a better future. We've prepared the main Salesforce advantages so you can see how this platform may help your organization.
All your data in one place
Keeping all your historical data in one place from all departments, Salesforce helps you build a truly customer-centric organization focused on the customer experience.
Optimized processes
Salesforce ensures effective time management with robust automation features. Providing a set of automation tools (i.e. Lightning Flow, Approvals, Process Builder, Workflow) allows you to automate your organization's repetitive business processes, saving time and resources in delivering a better, faster customer service.
Simplified collaboration
Salesforce unites your marketing, sales, commerce, and customer service teams under one roof, allowing seamless and productive collaboration. By providing a single shared customer view, every team member has access to the same data. It helps to deliver better customer experiences, build efficient engagement strategies, as well as make thoughtful forecasts and predictions.
Statistics and reporting
Salesforce offers a robust suite of reporting tools to monitor your business performance and progress. Create dashboards to visually showcase data in action and define key business metrics in real time.
Advanced security
When it comes to cloud platform security, no one place is better protected than Salesforce. All data is stored inside Salesforce, ensuring superior protection from unauthorized access and totally controlled accessibility.
Which Companies Use Salesforce?
Salesforce CRM software is widely used by companies in different industries, helping businesses fulfill various activities and achieve many goals. It's the best CRM solution for healthcare, manufacturing, IT/high tech, e-commerce, non-profits, member organizations, higher education, communications, financial services, and many other sectors…
Note!
Know more about Salesforce for associations and member organizations. See how they benefit from using Salesforce for their business in our article.
Over 150,000 customers are flourishing on the secure, scalable Salesforce cloud platform. Salesforce's top clients include Walmart, Spotify, Amazon, Macy's, American Express, and many more.
Top Salesforce Features Overview
Designed for service, marketing, and sales, Salesforce delivers the best CRM integrations and tools to help companies of different sizes, in various industries, create more meaningful, long-lasting relationships with their customers and partners, boost sales and improve productivity.
We've prepared some of the top features you should know about before starting your journey with Salesforce.
Sales Cloud
One of the core Salesforce products, Sales Cloud is created especially for salespeople to help them sell more and faster. Sales Cloud allows you to keep all your customer data in one place, accessible by the whole team so that every team member can work on leads, prospects and opportunities faster to close more deals. Sales Cloud improves your lead management, leading to greater productivity, even on the go via the Salesforce mobile app. You can see how your sales team is progressing in real time, create reports and dashboards that measure performance, and track the progress of your business which is essential for growth and scale.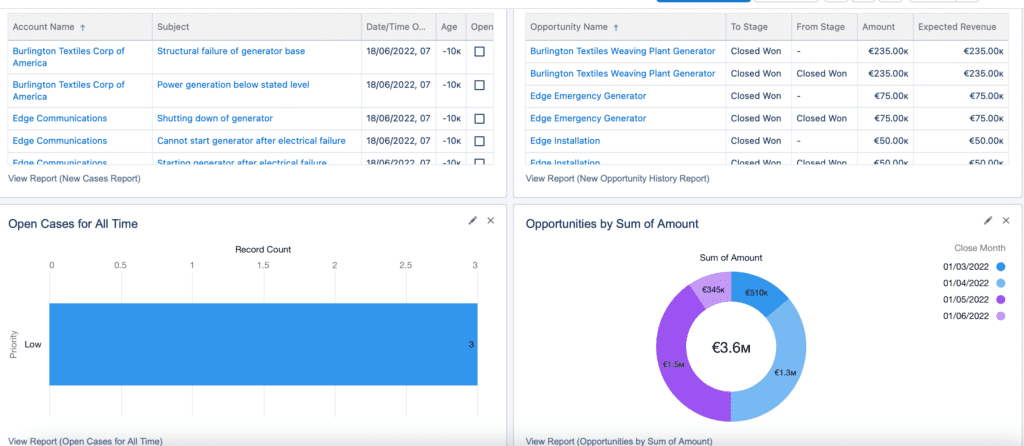 Service Cloud
Service Cloud is another Salesforce CRM tool designed for support agents in providing a better service and resolving cases faster.
You can leverage Service Cloud to:
Exceed customer expectations by personalizing your interaction in the contact center, chatbot, etc.
Analyze your CRM data with reports and dashboards. Track case history, chatbot activity, and service team productivity.
It's no secret that service agents can help sales teams close deals. With the sales and service solutions on the same powerful, integrated platform, you'll be able to let your sales and service teams operate as one! Teamwork is always the best way to boost sales and improve customer experience.
Experience Cloud
Experience Cloud is a digital experience platform (DXP) that allows you to build customized websites, portals, and mobile apps, making connecting with your customers and partners more productive.
With Experience Cloud, create beautifully branded digital experiences and multiple sites connected to your CRM, without writing code, to address different purposes and achieve multiple online objectives.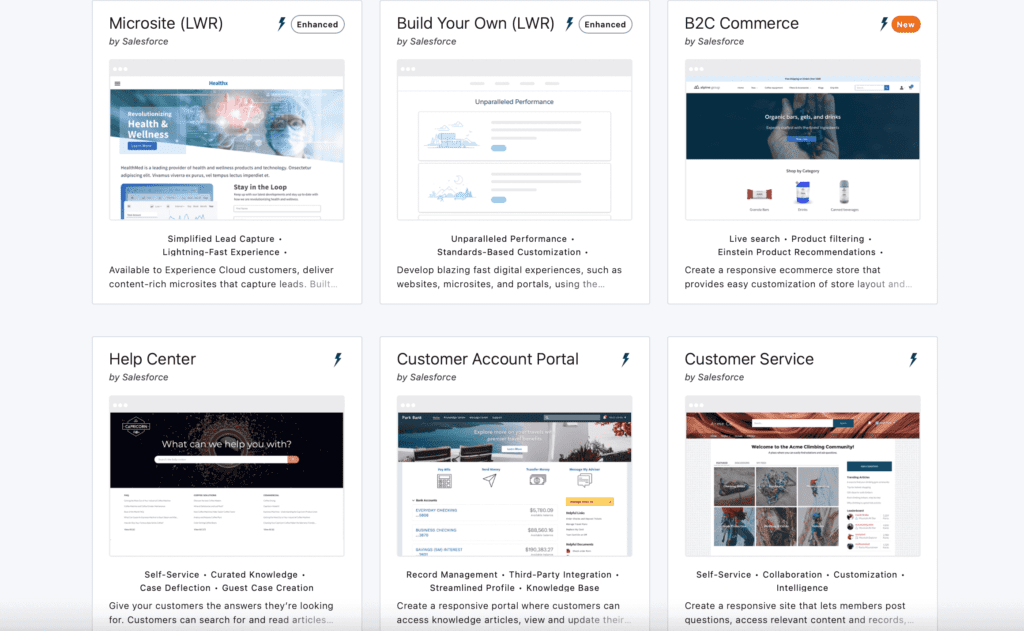 Note! One of the main Advanced Communities specializations is Salesforce Experience Cloud implementation. Feel free to contact us for more information or professional assistance.
Marketing Cloud
Marketing Cloud is a customer engagement platform empowered with a suite of various products and services to help you engage with your customers, and grow your company. Mobile Studio, Advertising Studio, Marketing Cloud Personalization and Journey Builder are only some of them. Use Salesforce Marketing Cloud to unify all customer data in one place. It can then be used to make every interaction with your customer relevant, human, and personalized. Connect with your customer via email, mobile, social, advertising, and the web — all in one place. Measure, report and optimize marketing performance by gathering valuable analytics about your budget and goals in real time.
Marketing Cloud helps you reach your customers in a more personalized way, building trust and cultivating long-lasting relationships.
AppExchange
AppExchange is the official Salesforce marketplace for different things, such as apps, Lightning components, Flow solutions, and more – all built on top of Salesforce. Use AppExchange to find ready-made third-party solutions and apps to plug into Salesforce, extending its functionality. Make your business processes more efficient and your teams more productive.
Advanced Communities has many apps and solutions for your business. Visit our listing page on AppExchange to see our complete range of apps, including AC MemberSmart (Salesforce member management app), AC Events Enterprise, AC Ideas Ultimate, AC Knowledge Management Enterprise, our one-of-a-kind AC Partner Co-Branding, AC Partner Marketplace, and many others.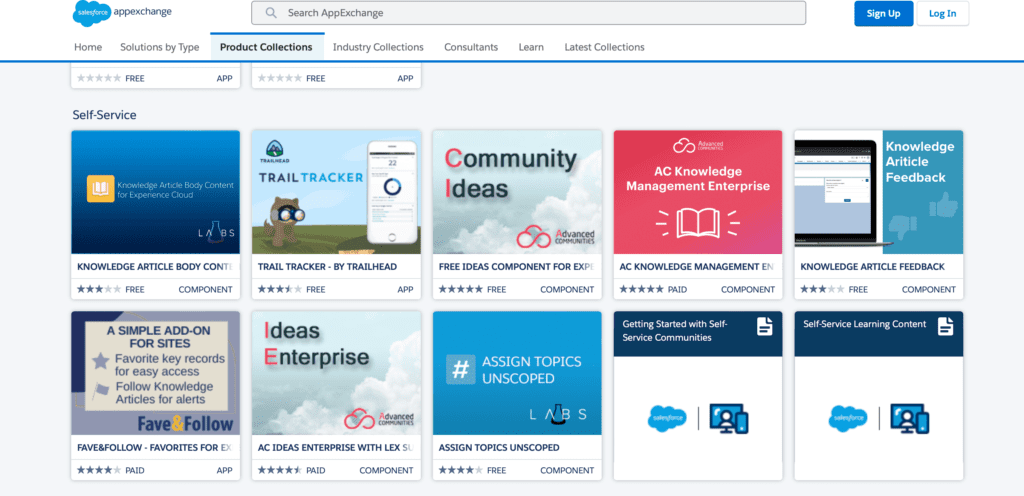 Force.com Platform
Salesforce Platform is the app development platform that extends your CRM's reach and functionality. Salesforce allows you to develop and deploy different cloud-based applications and websites depending on your requirements, without needing to be an experienced developer. Applications created in Force.com are connected to all the data stored in Salesforce.
6 Ways You Can Use Salesforce for Your Business
Salesforce is the leading CRM platform that comes with a lot of standard functionality (think out-of-the-box products and features). It helps companies run their business effectively and increase revenue.
Many companies use Salesforce for different purposes, depending on their specific needs and business goals. We've prepared some of the most common tasks businesses do with Salesforce.
Boost sales. They use Sales Cloud to manage Leads and Opportunities, analyze statistics and measure their sales team's performance.
Optimize business processes. By getting started with Salesforce automation tools, such as Lightning Flow, Approvals, Process Builder and Workflow, they save time and resources to deliver a better, faster customer service.
Engage with customers and partners. Companies make collaboration more efficient and productive by using Salesforce products and services, like Chatter and Slack, and create Experience Cloud sites (PRM portals or online storefronts).
Connect people and create like-minded communities and websites with Salesforce Experience Cloud.
Improve customer service and support. Businesses help their customers after a sale by using the power of Service Cloud and its features. They can manage Cases, create help centers or support portals to increase customer engagement, building long-lasting relationships.
Market to the audience, driving engagement and retention. Using Marketing Cloud, companies make every interaction with their customer personalized, creating trusted relationships for many years to come.
How can Advanced Communities Help You?
Have any questions, need help, or just looking for professional services? At Advanced Communities, our door is always open. Feel free to contact us at any time to receive more information about our products/services, or schedule a demo of our products.
Tag cloud