Comprehensive, fully re-invented new version of our most popular Salesforce Event Management app
Enhance your productivity with AC Events Enterprise, streamlining event creation, management and analytics collection within your Salesforce!
Popular Features

Ticketed and free events
Multi-track, multi-session and multi-day events

Event microsites with unlimited subpages

Online Events with Zoom integration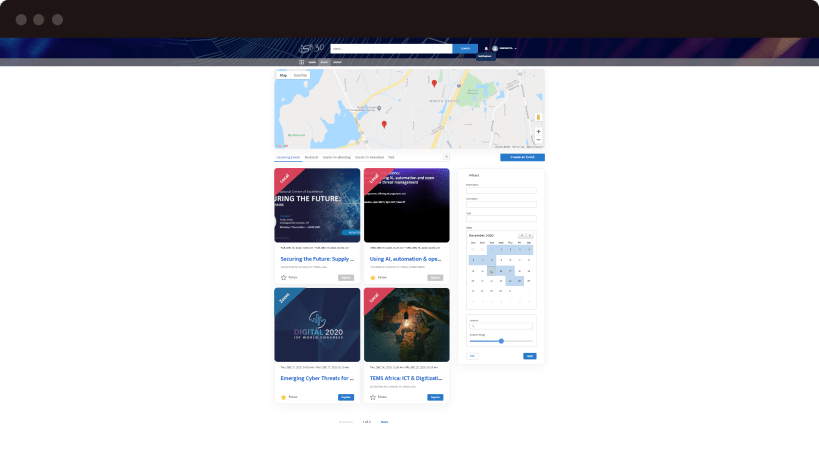 AC Events Enterprise – an event management app that takes your online and offline events to new heights!
New, completely redesigned interface. A slick and more intuitive interface of the event management app that makes it easier for you to create and effectively manage your events.
Events Lists. Let your future attendees view all your events in:
Built-in Calendar tool to show upcoming events on the calendar on your community. ICS confirmation that can be added to a user's personal calendar.
Keep a record of multi-track, multi-session and multi-day events. Organise events that last several days and comprise multiple sessions, your visitors can check and choose what days and sessions to attend.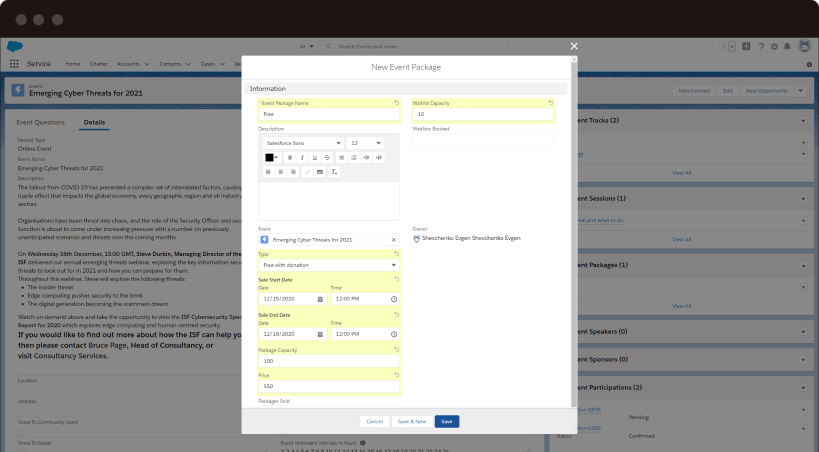 Plan, organise and host the most complex events easily, while keeping all the indispensable data in one place.
Event microsites with subpages for additional information about the event. Show your visitors more detail about your event such as its location, collateral documentation and FAQ.
Different events for separate groups, managing Public, Private or Members only access. Display events to community members, make them open to public or make them private and accessible only to selected users.
Zone management. AC Events Enterprise provides great flexibility and allows you to have separate lists of events for different audiences or communities.
Mass Invitation. Increase the number of visitors to your event by sending out mass invitations.
Creating events by Community members. Allow members of your community to create their own event, setting feasible limits.
Chatter Group integration. Link your events to chatter groups and make them available to chatter group members only.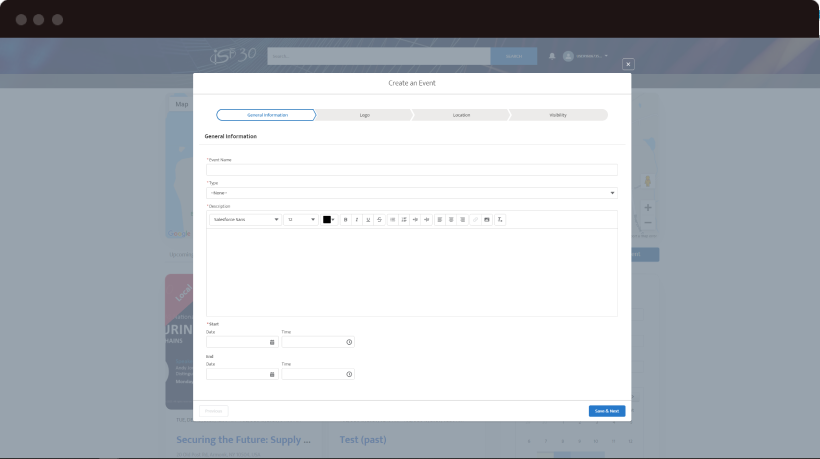 From guest registrations, badge creation, right through to payment – an all in one solution that allows you to achieve the best results!
Attendees & Guest Registration. Attendees can register themselves or someone else. Provides functionality to generate new leads or contacts for guest users.
Online Events with Zoom integration. Launching online events has never been easier – use Zoom integration and organise your ultimate virtual event.
Credit/debit card payments (Stripe API integration). Get secured credit and debit card payments through Stripe API Integration.
Multiple pricing packages. Choose the most appropriate pricing option for your event:

Free package
Different priced paid packages
Donation package.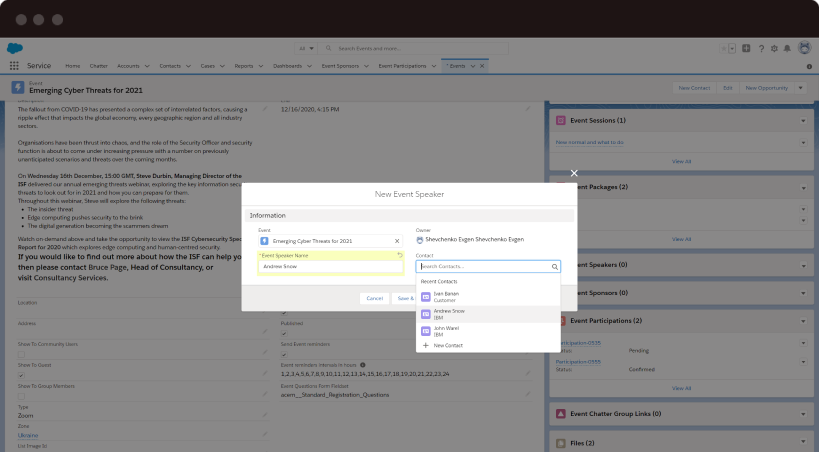 AC Events Enterprise is designed to help you focus on your event.
Waitlist. Each event may have limited capacity for attendee registrations. If the capacity limit is reached, the waitlist feature may be enabled.
Integration with Chatter Groups. Use public, private, or unlisted Chatter groups to collaborate with specific people in your company.
Separate pages for each event with optional Chatter feed for discussions. Attendees can register themselves or someone else generating new leads or contacts for guest users.
Speakers management. Publish information on your speakers and generate wider publicity for your event.
Sponsors management. Attract more sponsors to your event and get them promoted, providing mutual benefits.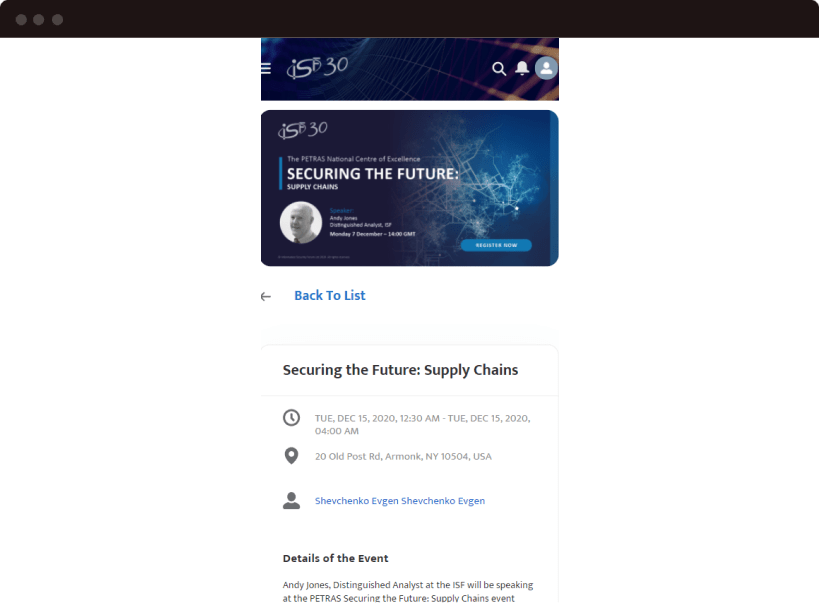 Provide your attendees with an end-to-end experience with an ultimate AC Events Enterprise
Event preferences form/questionnaire. Enable your visitors inform you about their special preferences and dietary.
Reminders and Emails. Ready-made customisable templates, confirmation emails and reminders.
Google Maps Integration and Time zone Support. Display partner location on the community. Show in which time zone an event is taking place
Flexible Events Builder. Add scheduled reminders, limit the max capacity and visibility of attendees, etc.
Easy-to-Use. Drag and drop community builder components.
Mobile friendly. Accessible from any device.
An organisation of an event has always been overwhelming. Hopefully, technology has made it much easier to launch and manage events no matter how large they are, as well as to track event attendance in Salesforce. AC Events Enterprise, native to Salesforce, is an integrated community event management software for running conferences, seminars and other private or public events.

Whether you are organising a corporate event or a charity one, AC Events Enterprise brings your company or organisation a wealth of benefits including:

— Generating new leads;

— Gaining sales growth;

— Growing brand awareness and affinity;

— Building customer relationships;

— Establishing thought leadership and credibility.


Get in touch
If you want to have a conversation about anything related to Community Cloud or see demos of our free components and learn how to maximize the value of community to your business.