The most powerful and comprehensive Salesforce Ideas Management app for Community Cloud.
AC Ideas Enterprise is innovative in its approach to the Ideation process. Explore the new way of collaboration! Use our platform for creating and sharing bright and unique ideas! Ask your customers directly for their opinions.
Popular Features
Lightning Experience
Support

Keep customers engaged with Ideas email updates

Motivate members with the gamification support

Enjoy extra flexibility with categories hierarchy and custom fields
Discover smart new features in the app you use every day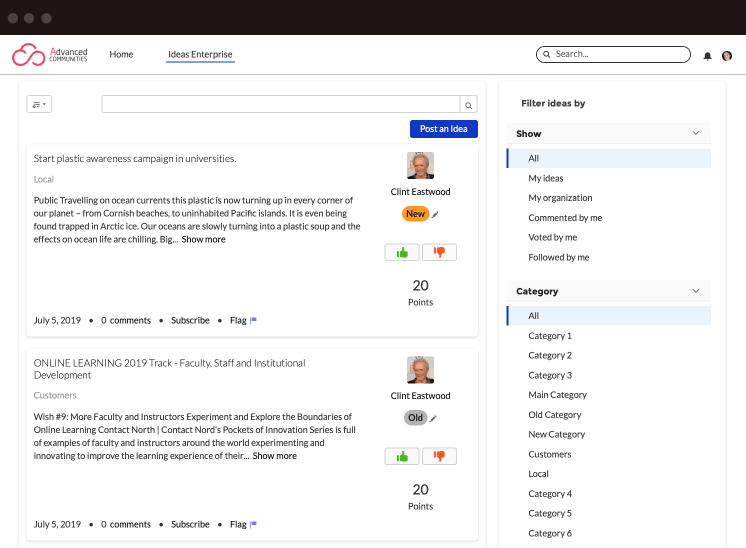 AC Ideas Enterprise – the most comprehensive app for ideas management developed for Salesforce Experience Cloud.
Lightning Experience Support:

No more constant switching to Classic interface. New Lightning Experience support enables your admins to create, edit and delete ideas without leaving LEX. You can also customize how your Ideas list would appear in Lightning.

Status Change Updates.

Keep community members updated about the ideas status changes and new comments!

Subscribing / Unsubscribing.

Community members can now subscribe, and you can also enable automated subscriptions on voting or commenting on ideas.

Colour Assigning.

Make each Idea status stand out by assigning a different colour for each status.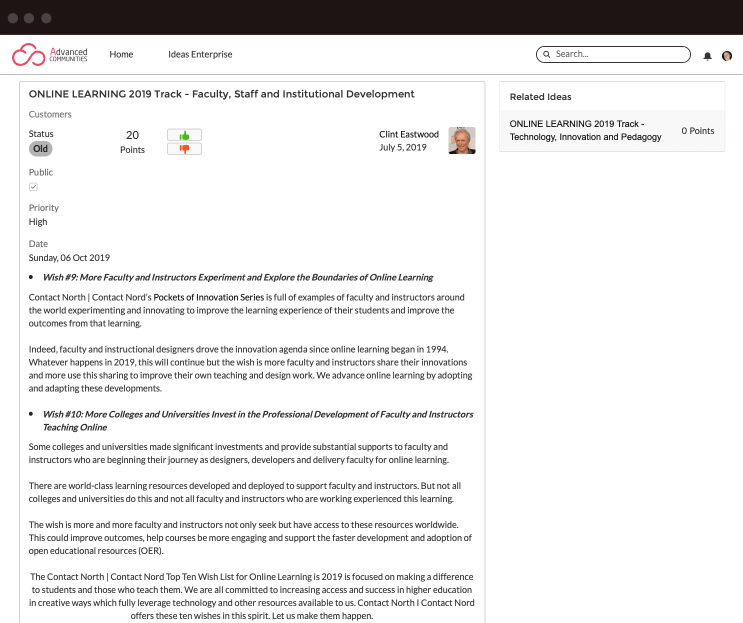 Let your customers design your product with Ideas Management for Salesforce Community Cloud
Zone Settings.

If you have multiple communities, the Ideas component has great flexibility and allows you to have separate ideas zones for each of your communities and even to have separate settings for each zone.

Reputation Support (Gamification).

Encourage community members to participate in the ideation process by enabling reputation support. Users will be awarded reputation points for each comment, vote or idea they create on community.

Votes Threshold.

Automate escalation of Ideas by setting up the vote's threshold, e.g. after exceeding the set threshold, the Idea will automatically change its status from "New" to "Under Consideration" and the product manager will get notified via email.

Ideas Moderators.

If your product managers want to stay on top of things, you can set them as Idea Moderators for a particular category. This means they will get notified about each new idea in that category via email.
Native to Salesforce, powerful, yet simple to use Ideas Management app
Blocking Abusive Content.

You can block abusive and offensive content by specifying a list of forbidden words and also by enabling a flagging feature so that the community members can help you to spot content problems.

Official Answer.

Give an official answer to your customers on their ideas with ready-made customisable email templates.

Custom Fields Support.

Create a unique view of the idea by adding custom fields.

Filters and Advanced Search.

Organize your Ideas page efficiently using filters, advanced search and Similar Ideas component.

Clear Structure.

Create a clear structure of your ideas using our two-level categories hierarchy feature.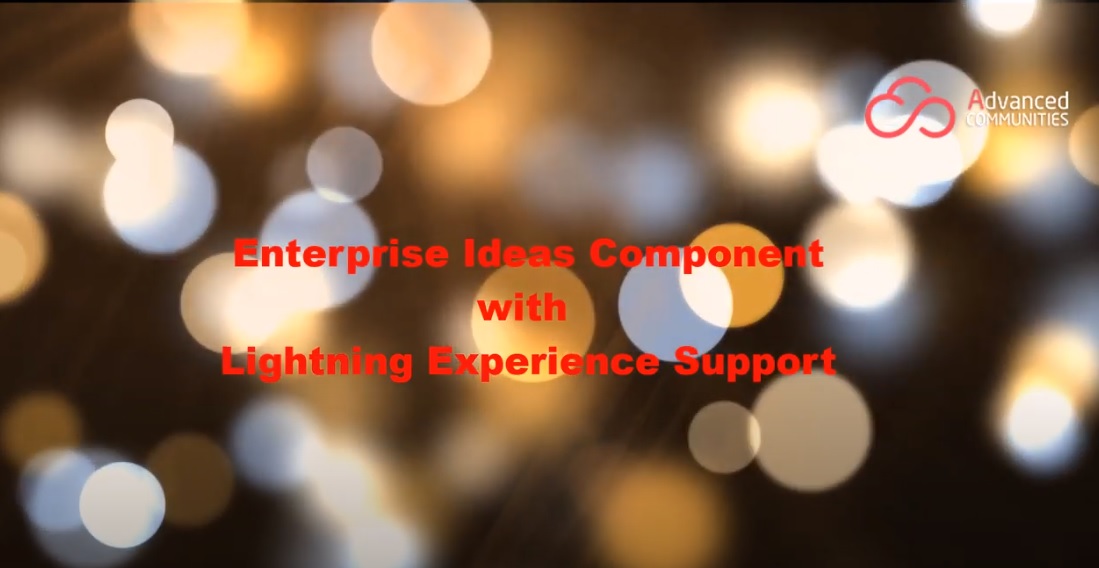 Native to Salesforce, AC Ideas Enterprise app has been created to facilitate the Ideation process. The Ideation process can be employed by companies and organisations of all sizes and across all industries as an important part of product design. This means that your customer, partner and even your own employee now can generate the brightest ideas and share them with you.

For staying one step ahead of their competitors, companies and organisations need first and foremost to listen to their customers which would allow them to succeed in both growing their business and retaining their existing customers. AC Ideas Enterprise within your Salesforce Experience Cloud (former Community Cloud) allows all participants of the Ideation process to create, view, comment and, most importantly, vote for implementation of the most useful ideas.

Discover a completely re-designed AC Ideas Ultimate - a comprehensive innovation management package for LEX!
Get in touch
If you want to have a conversation about anything related to Community Cloud or see demos of our free components and learn how to maximize the value of community to your business.