Create bright and unique ideas with Salesforce Ideas Management!
Engage your customers, partners, and employees within a community and let them generate new and unique ideas using the AC Ideas for Salesforce Community Cloud!
Popular Features

Gather new ideas
Filter ideas by category and status and more

Evaluate and choose the best

Review most popular ideas
Discover smart new features of AC Ideas within your Salesforce Community Cloud!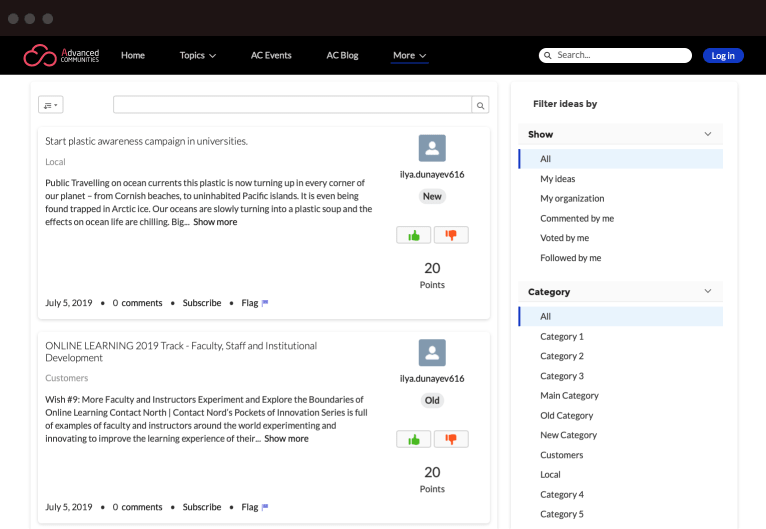 An innovative approach to the Ideation process for your Community Cloud in Salesforce:
Suggest new features for products or services.
Post your ideas and see how popular they are with other community members.
Vote and comment on other ideas.
Search or browse for ideas using keywords.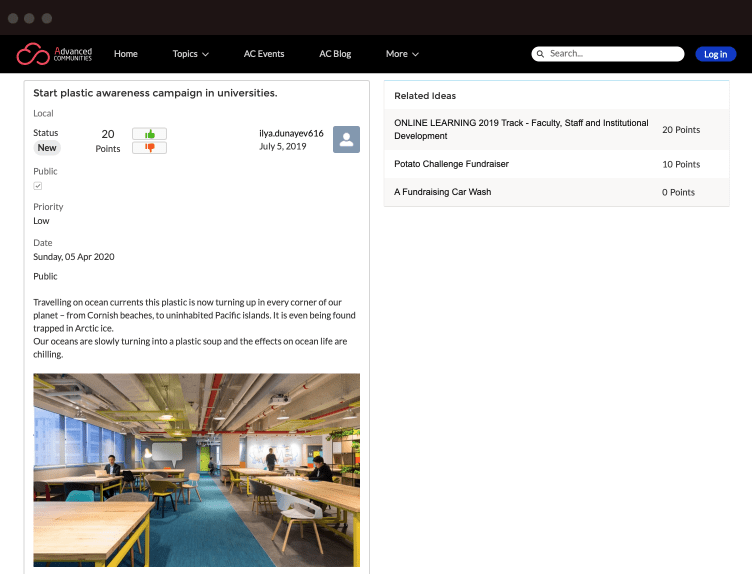 Native to Salesforce Community Lightning component for sharing the brightest ideas.
Ideas Zones

– create different sets of Ideas for different communities on your Salesforce.

Custom Categories

– add custom categories to use different sets of categories within different ideas zones.

Status Auto-Update

– automate escalation of Ideas by setting up the vote's threshold.
AC Ideas used for Community Cloud on the Salesforce platform can provide fantastic benefits for any business: it allows firms to interact with customers as well as partners and to engage with their personnel within a community thus providing an opportunity to generate fresh ideas.

Native to Salesforce, AC Ideas for Community Cloud is designed to help and improve collaboration between you and your customers, understand and quantify your users' feedback and we hope you find it a valuable tool for your business.

Use Salesforce for engaging all your customers, partners and employees through Ideation within a community and let them generate new and unique ideas using our AC Ideas for Community Cloud on Salesforce!

Discover the most powerful and comprehensive Salesforce Ideas Management for Experience Cloud - AC Ideas Enterprise!
Get in touch
If you want to have a conversation about anything related to Community Cloud or see demos of our free components and learn how to maximize the value of community to your business.