Jive to salesforce migration guide
Jive to salesforce migration guide
Jive To Salesforce Community Cloud Migration Guide
We have been in Community Cloud consulting since it was announced and recently, we are seeing more and more clients switching from different social platforms to Salesforce Community Cloud. One of the most frequent cases that we are seeing is Jive users moving to Salesforce. We are not going to debate which product is better, but Salesforce Community Cloud is growing at a fast rate and as the leading Salesforce Community Cloud consultancy we have put together a practical sensible Jive To Salesforce Community Cloud Migration guide to give you a complete overview of the migration process.
Fill out our short form and download the guide and you'll get:
Reduced risk of migration by getting access to an overview of Salesforce Community Cloud features;
Increased speed in moving from Jive to Community Cloud by having mapping of Jive to Community Cloud objects;
A list of the main Jive concepts and how they can be applied to the Salesforce Community Cloud;
Straight answers to questions such as:

You don't have events on Community Cloud, how can I move them from Jive?
How can I create blogs on Community Cloud?
How do I move files to Community Cloud?
How do I get Ideas functionality on Community Cloud?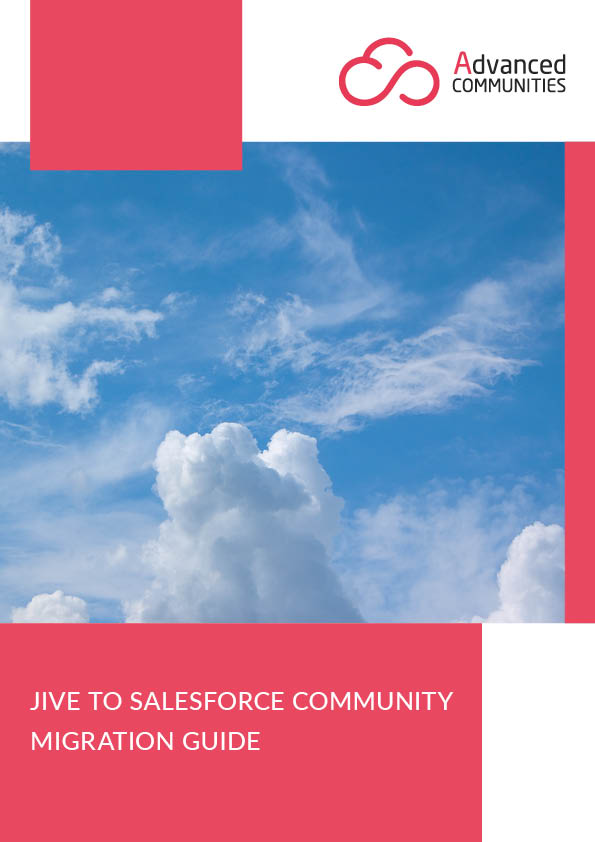 AdvancedCommunities.com is an award-winning boutique Salesforce Partner specializing in Community Cloud.
With over 30,000 installations, we are the biggest Community Cloud components provider on AppExchange.
Get in touch
If you want to have a conversation about anything related to Community Cloud or see demos of our free components and learn how to maximize the value of community to your business.