 Healthgrades
Hospital and Healthcare
Denver, Colorado, USA
about 900
Introduction
Healthgrades  is the U.S.'s leading platform for connecting patients and providers, helping millions of consumers find and connect with the right doctor, hospital, and care. The company's Platform division works with the nation's leading health systems to improve patient engagement and strengthen physician alignment, driving measurable financial outcomes.
Challenge
Our task was to create a convenient knowledge hub for Platform division employees and their customers. The knowledge hub needed to be flexible yet complex, contain diverse information, and be easy to navigate for users. They also wanted some information to be visible to all users, while other information to be accessible to employees only.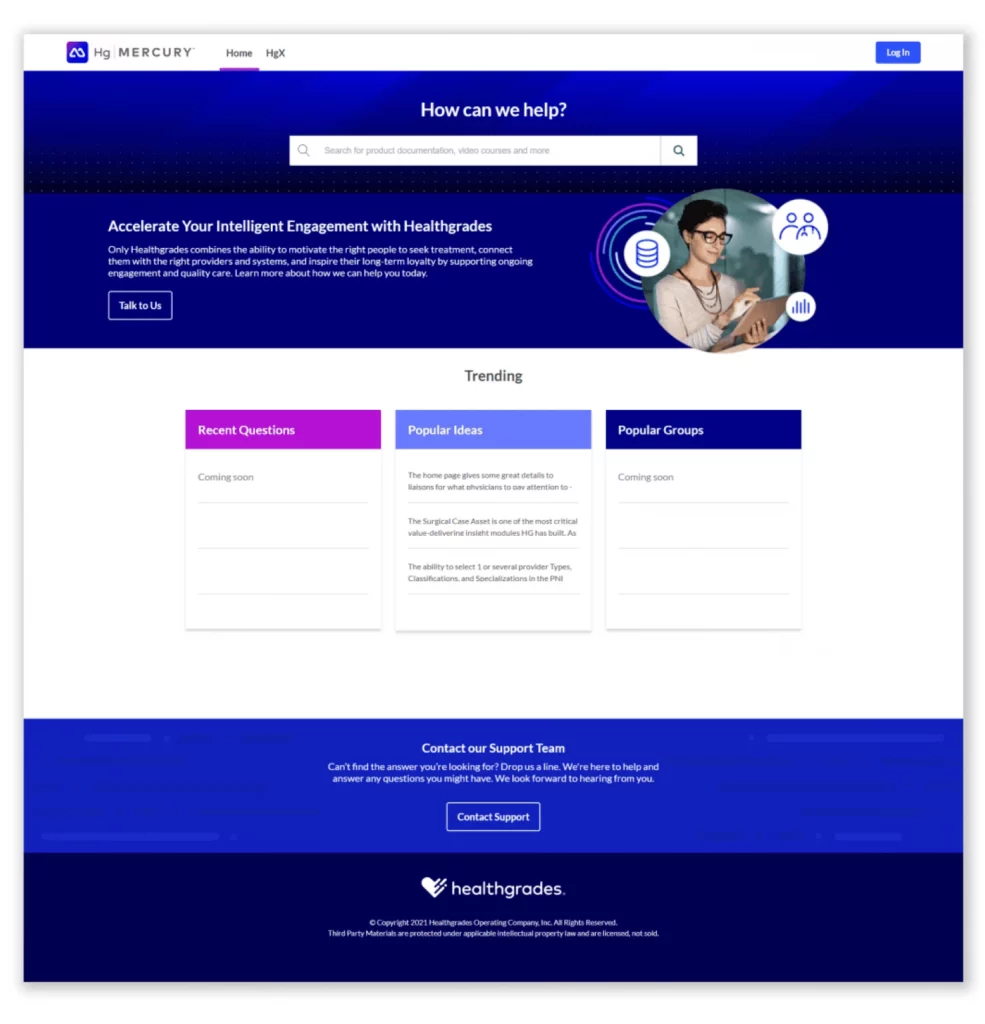 Solution
The project had two stages. The first stage was to implement, configure, and customize the AC Knowledge Management Enterprise app to support multiple customer products. During the second stage, Advanced Communities implemented an Experience Cloud Custom Design Theme in the community and transferred the same design to an already existing community with MuleSoft components. This was all done in accordance with the design provided by Healthgrades.
To fully meet the client's needs, Advanced Communities also provided setup and customization for AC Ideas Ultimate—another unique solution developed by Advanced Communities and available on the Salesforce AppExchange.
Benefits and Results
The project was accomplished successfully within the desired time frame so Healthgrades could present a new knowledge experience to its Platform division employees and customers, giving them the ability to self-serve through the hub, share ideas and join groups, easily find learning materials, and much more on their stylish new community.
Try the Apps From This Success Story
View AC Knowledge Management Enterprise and AC Ideas Ultimate on the Salesforce AppExchange.
How Can We Help You?
Over the years we've accumulated a wealth of experience working with Salesforce Experience Cloud, helping businesses and nonprofits connect with customers, partners, members, donors, volunteers, students, and alumni. We can help you with any kind of Experience Cloud engagement, and share our expertise and best practices to help you maximize your investment. We look forward to speaking with you!
Trusted by Top Companies Worldwide
We help our customers succeed with Salesforce and Experience Cloud