Salesforce Experience Cloud as a Tool for Digital Transformation
Technological progress is advancing at a rapid pace, impacting our lives on a professional and personal level. We are constantly seeing new and improved methods, theories, and practices developed for particular purposes with the main idea – to make our everyday life easier and better.
Although technology brings a lot of positive impact on our lives, it may also create problems that result in us struggling with things we've never had difficulties with before. Becoming increasingly complicated and interconnected, they capture every aspect of our lives, pushing us for progress ahead with digital transformation.
So, how do you adapt to these changes and spark innovation in your business? Keep reading to see why companies worldwide use DXP technologies, like Salesforce Experience Cloud, on their way to deep digital transformation.
Why is Salesforce a Powerful Digital Transformation Tool?
Once the ball starts rolling in the wrong direction, it's harder to stop it. Start your digital journey with robust technology to ensure your transformation is easy and smooth – choose Salesforce Experience Cloud.
Experience Cloud is a Salesforce digital experiences platform empowered with technologies, products, and solutions that allows you to create personalized, fully-fledged sites and portals connected to your CRM data in Salesforce. Flexible, customizable, secure, and packed with excellent analytical and optimization tools, Experience Cloud is the best software for companies that are undergoing digital transformation.
Save time and effort, collaborate effectively, improve service, cut costs, become more productive, and grow sales – all with Experience Cloud and its unbelievable potential.
Explore the results of digital transformation with Salesforce Experience Cloud:
Optimized operations
Improved business processes
Enhanced communication and collaboration with partners
Upgraded productivity
Increasing efficiency
Cutting support costs
Advanced data safety
Increased sales
Exceptional customer experience.
Experience Cloud Digital Experience Platform Features and Capabilities Overview
Salesforce Experience Cloud is a powerful digital experiences platform packed with many smart features and tools to help you reach your goals, grow and scale. Let's go over the most significant features and capabilities of Experience Cloud to see what empowers you to move faster, and reach more.
Customer 360. Experience Cloud sites are built on the Customer 360 concept; meaning your teams are provided with a single shared customer view. The Customer 360 feature helps you understand your customers and their behaviors, and deliver better experiences according to their personal needs.
Templates. Use Experience Cloud's readymade templates to create responsive experiences that you, your customers or your partners need.
Preconfigured themes and branding capabilities. Use Experience Builder to brand your site by utilizing prebuilt themes and adjusting colors, fonts, and styles. Add readymade Lightning components or use custom solutions to enhance the functionality of your site.
Salesforce CMS. Use the power of the Salesforce Content Management System (CMS) to create, organize, and manage your content in one place, then publish it across all your Experience Cloud sites. Salesforce lets you connect your external CMS to post relevant content on your sites.
Knowledge. Provide your customers with an exceptional support experience by enabling a Knowledge base full of articles, FAQs, notes, documents, etc., in your Experience Cloud site.
Chatter. Add Chatter Feed to your Experience Cloud site to let members reach out to your company and get expert advice/help faster. Allow Discussion Threads so your users can reply to answers or previous replies.
Question to Case. Enable the Chatter Questions feature to let moderators create cases from questions posted in Chatter. You can also use the automation capabilities of Salesforce and set up flows in Flow Builder to automatically create cases from questions that meet specified criteria.
Groups. Enhance self-service and collaboration in your Experience Cloud site by letting your site members and guest users browse and join the groups they like. Customize your group detail page the way you prefer using separate components.
Additional functionality with AppExchange solutions. Extend functionality of your site by empowering it with third-party solutions.
Analytics, dashboards and reports. Build reports and expose their data in dashboards to see the performance of your business in various areas, and provide your customers/partners with the insights they need.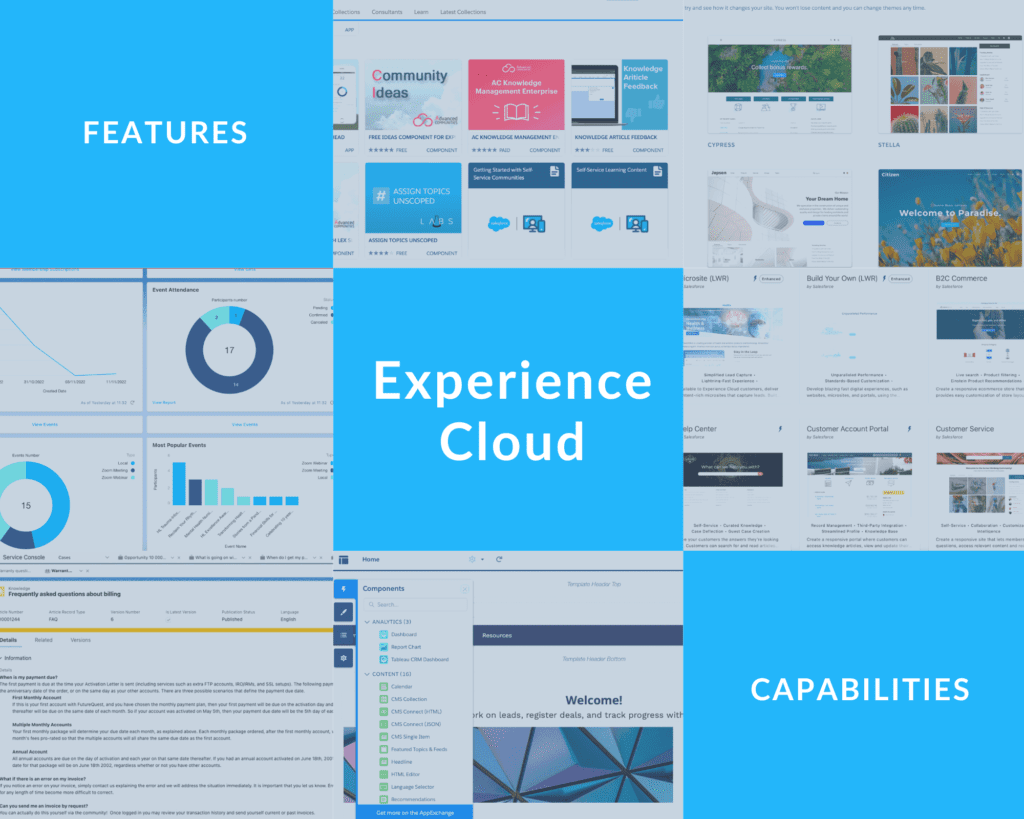 5 Ways Salesforce Experience Cloud Can Help Your Organization with Digital Transformation
Let's dive deeper to see how Experience Cloud makes your digital transformation smooth and easy.
How Salesforce helps with digital transformation:
Data integration
Experience Cloud provides you with the unique opportunity to quickly and easily create next-generation digital experiences, integrated with your Salesforce CRM. You can also connect your data from different places, such as external CRMs or legacy sources, in one central location.
Centralized data management
Experience Cloud unites your sales, marketing, and support teams, allowing them to work within one single database. This ensures reduced data redundancy, accurate reporting, better efficiency, enhanced productivity, and seamless service. With Experience Cloud, you keep everything from all departments in one place, retaining data accuracy and accessibility across the whole organization.
Customer-centric approach and personalization
Salesforce focuses on providing a positive customer experience at every stage of the customer interaction with your organization, ensuring strong engagement with your content and the company itself. With Experience Cloud, you can control your audience's interaction with your site and deliver only relevant information that connects your users' interests and needs.
Personalize your Experience Cloud site with the Audience Targeting feature. Create different page variations and assign them to different audiences to meet their specific content requirements.
Automation
The future of all operations is automation. Modern businesses are first on the road to adopting new changes, and Salesforce is here to help. By providing great automation tools, Salesforce allows you to create criteria-based rules to automate your business processes and repeatable actions, saving time and resources, increasing productivity and efficiency, and reducing operating costs. Use Flow Builder to create powerful automation in Salesforce. For further automation functionality, use other Salesforce automation tools, like Approval Processes, Flow Orchestration, Process Builder, Apex, etc.
Flexibility and customization capabilities
One of the most outstanding features of Salesforce Experience Cloud is Experience Builder. Its unlimited flexibility and full customization capabilities allow you to create custom sites aligned with your brand identity. You control the appearance of your site by choosing and changing page layouts, customizing or changing prebuilt themes, adjusting colors and fonts, uploading images (company logo, header image, etc.), or configuring additional theme settings when needed.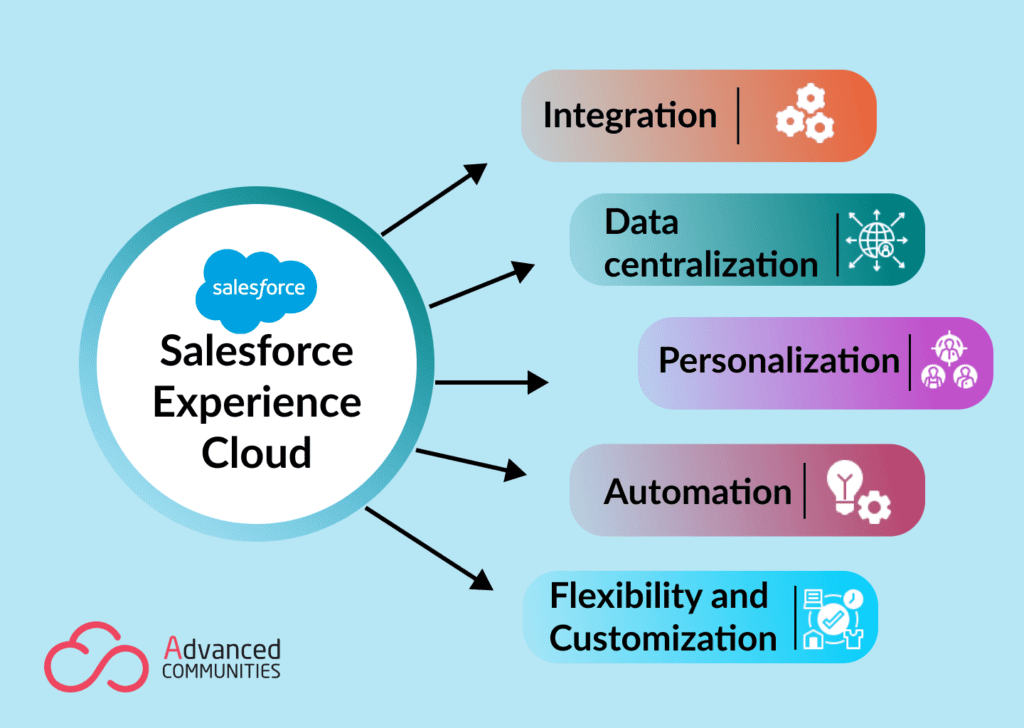 Best Practices and Tips to Using Experience Cloud for Digital Transformation
We've prepared a list of tips and best practices for using Salesforce DXP Experience Cloud for digital transformation.
Build a site aligned with your needs
Use the SFDC Experience Cloud platform to create beautiful, fully-fledged sites in accordance with your business needs.
Use Experience Cloud to create PRM (Partner Relationship Management) and support portals, B2B commerce sites, member or volunteer portals, sites for fundraising and charities, microsites, help centers, and many more…
Enable Knowledge base in your Experience Cloud site
Salesforce provides users with an excellent system for storing and managing documentation, keeping all critical information accessible to website visitors, clients, partners, and service agents when and where it's needed. Fill your Salesforce Knowledge base with helpful articles, FAQs, documents, guides or other valuable information to enhance self-service on your site, increase agent productivity and cut costs on support. However, the Salesforce Knowledge base's out-of-the-box functionality is quite limited for Experience Cloud. With our comprehensive Salesforce knowledge management solution, AC Knowledge Management Enterprise, empower your Knowledge base with enhanced functionality to solve any business challenges.
Integrate third-party solutions and components
Enhance your Experience Cloud functionality to deliver better customer experiences in Salesforce and meet your specific business needs. Use Salesforce PRM solutions to take your partner management to the next level. As one of the leading app providers on AppExchange, Advanced Communities delivers impactful native to Salesforce, built directly on Force.com, solutions for Experience Cloud sites. Gather insights and feedback on your products and services from site users, prioritize them, and put the ideas with the most impact into the development roadmap with our Salesforce ideas management app, AC Ideas Ultimate. Use the AC MemberSmart app to integrate Salesforce for associations and member organizations. Visit our site to find many more comprehensive solutions.
Enable Google Analytics
Take advantage of Google Analytics and track site traffic, user types, user IDs, average time spent, and search activity on your Experience Cloud site. Enable Google Analytics to get deeper insights into customer search behavior on your site and improve marketing ROI. Pull received data to create reports and provide your team with important information, and updates.
Turn on Google's IP Anonymization or configure other additional settings when required.
Take advantage of the Salesforce CMS
Salesforce provides you with the unique opportunity to create, update, organize, manage, and deliver your content to the world from one centralized location – Salesforce CMS. As a hybrid CMS, it allows you to extend your content across all channels, inside and outside of Salesforce, to target different audiences and deliver the right information to the right people, at the right time – all without code!
Note!
The powerful and flexible Salesforce CMS became free without any restrictions! Get details.
Use Mobile Publisher
Create a fully branded mobile app of your Salesforce Experience Cloud site with Salesforce Mobile Publisher, and get it published in Google Play or Apple Store by Salesforce. You can now build both enterprise-grade and consumer-grade secure mobile apps for iPad, along with the iPhone, and have the ability to lock the orientation to landscape or portrait. Salesforce Mobile Publisher is empowered with a bunch of other cool features to help you create branded apps totally aligned with your business needs.
We want to help you!
When you need a hand with Salesforce Experience Cloud integration or configuration, you are very welcome to reach out! The Advanced Communities team of experts is trusted by all major Salesforce partners. Thousands of happy customers are here to make your experience with Salesforce and its solutions as seamless, effective, and exciting as possible.
Contact us for more information on our products and services, or book a demo of our Salesforce-native components to see how they help businesses succeed.
Tag cloud