Show your best photos and videos with native to Salesforce Gallery app
AC Gallery is designed to create attractive image and video collections and to share everything you want: the highlights from events and meetings, product images, and customers' photo feedback on Community Cloud.
Key Features

Display Options

View Mode

Community Management

Image and Video Files Support
Take a look at how these key features can benefit your community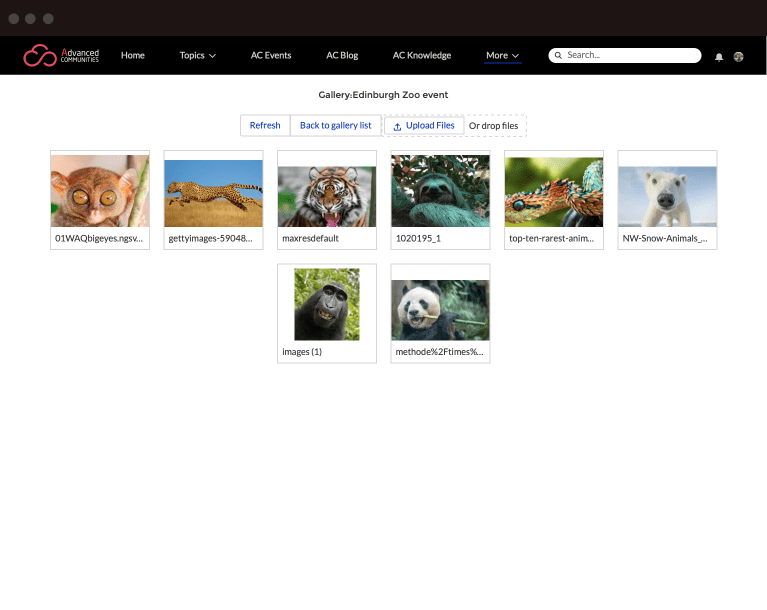 Create your own collection of unforgettable memories with our image and video gallery on Salesforce Community Cloud!
Display Options.

Choose whether to show Multiple Galleries or only one by specifying the ID.

View Mode.

Review files on the full-size view mode with a slider for switching images and videos.

Community Management.

Let community members create Galleries and upload files in the community.

Image Formats Supported:

jpeg, jpg, png, bmp.

Video Formats Supported:

mp4, webm, mov, ogg.
AC Gallery by Advanced Communities allows you to publish your own image and video gallery on Salesforce Community Cloud! Download the component on AppExchange for free!
Get in touch
If you want to have a conversation about anything related to Community Cloud or see demos of our free components and learn how to maximize the value of community to your business.