Make your Community Cloud a powerful engine driving Partner Success!
Native to Salesforce, AC Partner Marketplace has been created to help organisations of all sizes and across all industries transform and run their businesses. Building out your own Salesforce PRM (Partner Relationship Management) will enable your customers to find the best partners that perfectly match their needs. Our Partner Relationship Management on Salesforce will also give partners more exposure and will generate new leads for your business.
Find out Salesforce native Partner Relationship Management features:

Generate more leads

Enable customers to find perfect partners

Promote and help partners

Get feedback from customers
Discover smart new features in the app you use every day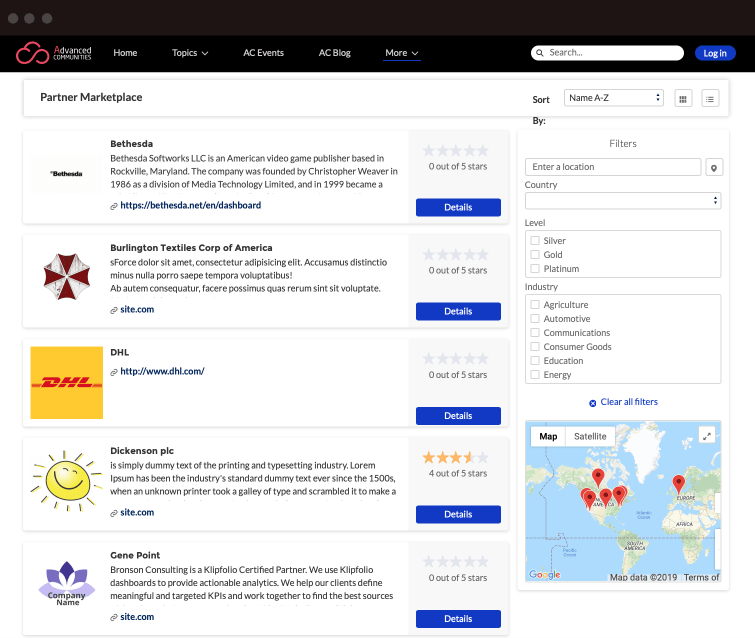 AC Partner Marketplace: enable Partner Relationship Management within your Salesforce
Helps partners to

generate

more and better

leads.

Helps customers to

filter

by industry, level, reviews or any other attribute.
Enables customers to

locate their

best and closest partners.
Gives power to customers through

ratings

and

reviews.

Takes away the burden of

administering

partner information.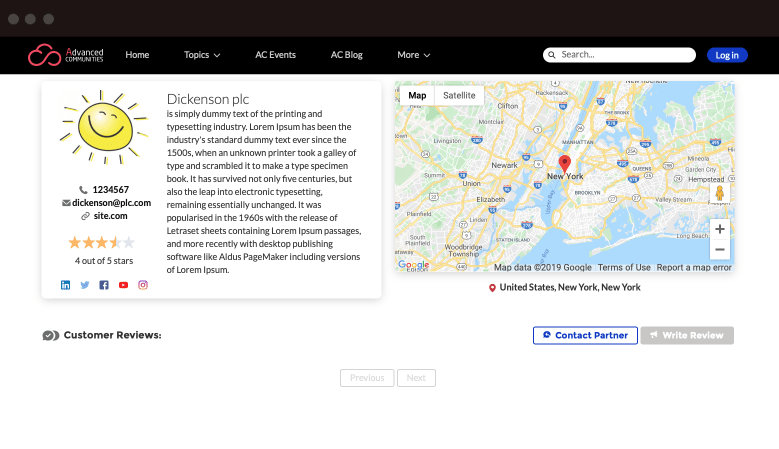 Product Features:
Native Salesforce App

– fit seamlessly your salesforce data and cause no potential data loss during the integration.

Google Maps Integration

– display partner location on the community.

Custom Account Brand Layout

– let your partners create unique brands.

Featured Partner component

– show the list of featured partners on the home page.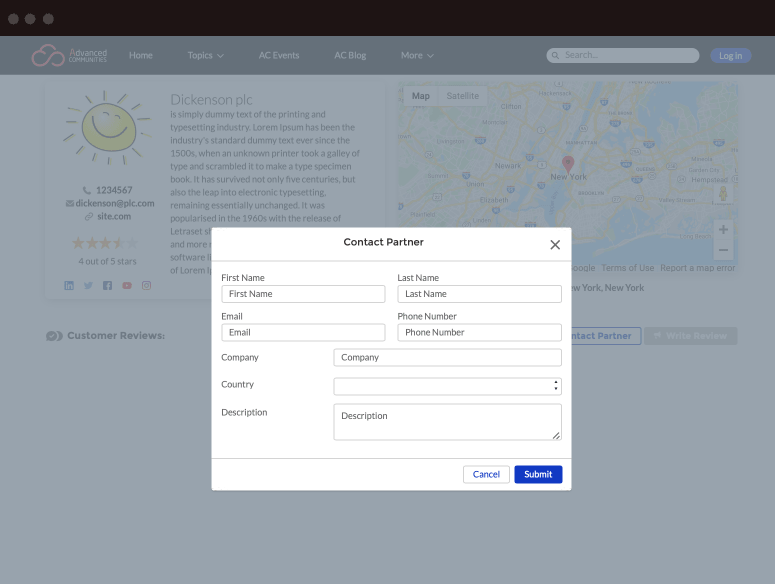 Dynamic filtering

– AC Partner Marketplace provides the functionality to add and remove your custom filters from the partner list page.

Flexible layout

– choose the most standout list view style (list or tiles), and control the sidebar position.

Partner rating

– enable/disable the visibility of the rating stars for partners.

Contact Partner

– use the out-of-the-box contact form or create a custom one to generate new leads and let customers contact partners directly.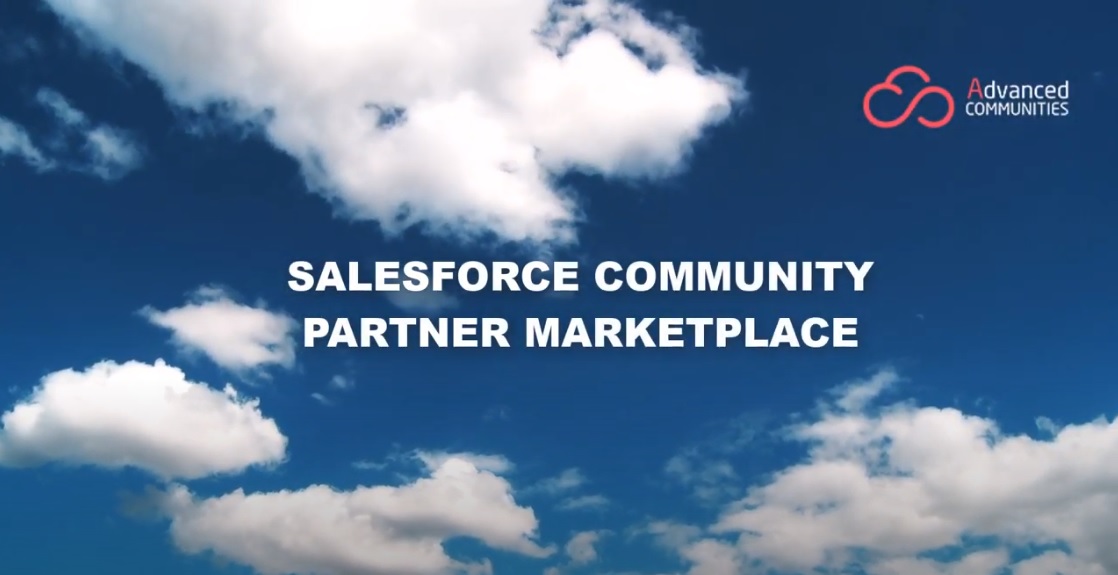 While more and more businesses are adopting Salesforce technologies and their innovative channel partner management solutions as their sales strategy, Advanced Communities has created its AC Partner Marketplace as a partner management within Salesforce Community Cloud.

Good partner relationships are a key factor for driving successful channel sales. Eliminate friction by delivering the sales content, tools, and experience your partners will love.

AC Partner Marketplace allows companies and organisations to easily manage their distributors, affiliates, resellers, and more and all in one place - within your Salesforce. Native to Salesforce, our PRM app ensures that our clients will get the most out of their partners by simplifying the channel sales process from onboarding to selling. Getting partners up to speed faster allows businesses to save time and money by automating their onboarding process.

AC Partner Marketplace for Community Cloud provides the best benefits by creating a unique Partner Relationship Management from Salesforce that brings your partners and customers together.
Get in touch
If you want to have a conversation about anything related to Community Cloud or see demos of our free components and learn how to maximize the value of community to your business.