Start accepting payments for your products, subscriptions, service or membership fees on your Salesforce community!
AC Payments, built native to Salesforce, allows to process credit and debit card payments from your customers, partners, employees, and members today!
Popular Features

Multi-Currency Support

Secure Card Processing

NPSP Integration

Mobile-friendly
Discover smart new features of our Salesforce billing software −
AC Payments & Donations.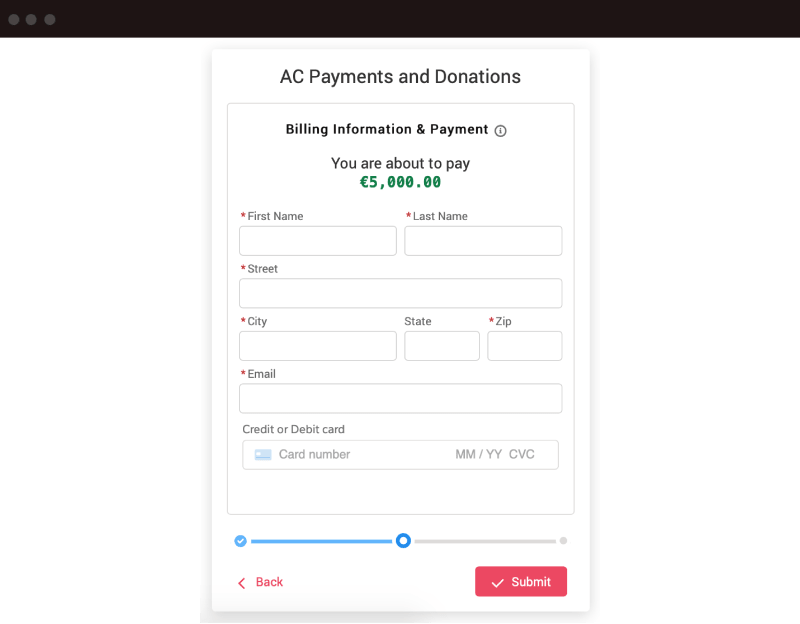 AC Payments & Donations is a powerful Salesforce payment management.
Easy to setup and configure payments

from Community members and guests.

Stripe API integration

- provide secure payment processing (salesforce data storage).

Multiple Payments Types

- process one-time and recurring transactions from any source object.

Custom Payment Amount

- provide any custom amount for donation.

Salesforce products, pricing books and orders

are supported.

Full tracking and reporting

on all payments.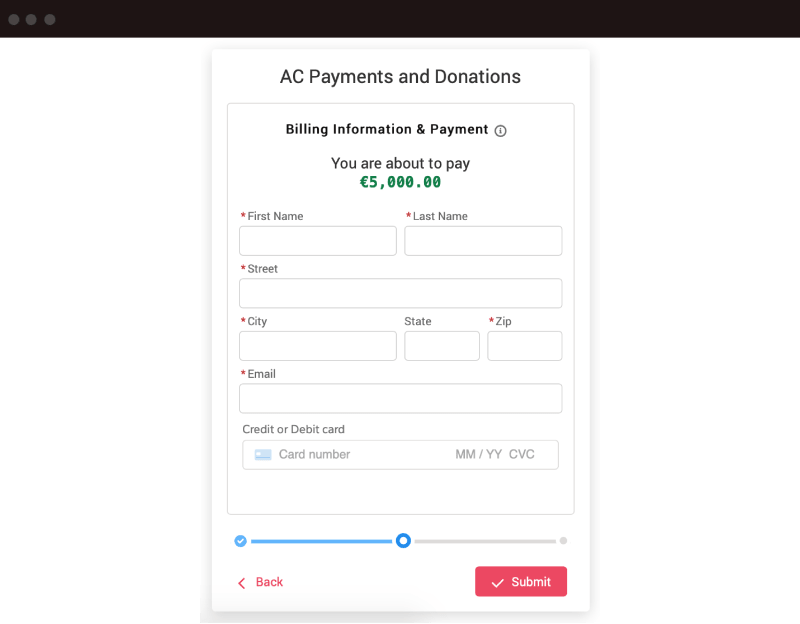 NATIVE SALESFORCE APP fits seamlessly your salesforce data management.
Easy-to-Use

- drag and drop community builder components.

Display Options

- use embedded component or a button with a pop-up window.

Salesforce Lightning Design System

- provides a responsive and modern look.

Predefined User Info

- auto-complete payment info for logged users.
Helping others has never been easier!
Reach out to your donors, streamline your programmes and raise more resources with the slick and easy-to-use Salesforce donation processing management − AC Donations!
Non-Profit Success Pack Integration - create donation records automatically based on transactions and subscriptions made within the component.
Reach out to your donors using power of Community Cloud. Both guest and community users are supported.
With AC Events your event team can easily create offline and online fundraising events to generate donations.
Accept one-time and recurring donations.
Create donation campaigns and track their performance in Salesforce.
Secure and reliable Stripe payment processing.
Completely FREE.
AC Payment & Donations for Community Cloud by Advanced Community is a powerful Salesforce billing software in your hands that allows you to control and manage your invoices inside your community. Salesforce billing integration is provided by one of the most reliable Stripe gateway that processes credit and debit card payment.
AC Payments & Donations is an outstanding tool inside your Salesforce for creating your fundraising campaigns on community in just a few clicks to create great giving experiences for today's connected donors.
AC Donations is an effective peer to peer fundraising platform developed for Salesforce Community Cloud that allows to help, donate and support others to change their lives.
Get in touch
If you want to have a conversation about anything related to Community Cloud or see demos of our free components and learn how to maximize the value of community to your business.