Managing a Member-Based Organization with AC MemberSmart: Best Practices
Running a member organization comes with its own set of challenges. From handling member data and engagement to organizing events and managing finances, the administrative workload can become overwhelming. Thankfully, modern technology has provided solutions to streamline these operations. In this article, we introduce you to AC MemberSmart – a comprehensive technology accelerator for the Salesforce Experience Cloud sites designed to simplify the member management of membership organizations and associations using Salesforce.
Also, at the bottom of this blog you'll find helpful recommendations on how to improve member management in your organization using AC MemberSmart.
Understanding membership organizations
Member-based organizations encompass a wide range of entities, including clubs, associations, and professional societies. These organizations thrive on the participation and engagement of their members. However, managing a growing member base and ensuring seamless communication and interaction can be daunting. This is where Salesforce for associations empowered by AC MemberSmart steps in, leveraging technology to address these challenges.
AC MemberSmart: an overview of the app for Experience Cloud
AC MemberSmart is a comprehensive and flexible Salesforce-native solution that offers a suite of features tailored to the needs of member organizations. Using this association management software, you can make your Experience Cloud member portal serve as a centralized hub for managing and organizing members' data, communication, events, and finances. With AC MemberSmart, administrative tasks that once consumed valuable time can now be automated, allowing organizations to focus on their core mission and significantly improve the membership experience.
Membership database management. Easily manage member profiles, track membership status, and facilitate registration and renewals.
Communication and engagement tools. Send personalized communications, newsletters, and updates to members, fostering a sense of community.
Event and activity planning. Plan, promote, and manage events, conferences, and activities of any size, all within the platform.
Subscription management. Automate membership processes, ensure secure payments, and offer a customizable experience for both admins and members.
Member & Organization directory. Establish a network of members and member organizations on your site, enabling easy searches based on customizable filters, and showcasing Google Maps locations.
Job Board. Connect your members with open positions and volunteer opportunities.
e-Commerce. Organize an online shop to allow your members to purchase products, services, merchandise, event tickets, or courses directly from your member portal.
Financial tracking and reporting. Keep a close eye on your organization's financial health with built-in tools for tracking donations, expenses, event and job board data, as well as membership subscriptions and shop order data.
Data security and privacy measures. AC MemberSmart prioritizes the security and privacy of member data, ensuring compliance with data protection regulations.
Benefits of using AC MemberSmart nonprofit membership management solution:
AC MemberSmart membership database software offers a range of benefits that set it apart from other member management applications for Experience Cloud.
Here are some of the standout advantages:
Centralized information. AC MemberSmart provides a centralized hub for all member data eliminating the need to juggle multiple platforms and databases.
Member self-service. With AC MemberSmart integrated into your Experience Cloud member portal, you enable your members to update their own profiles, renew memberships, register for events, and access resources, reducing administrative workload.
Automated communications. Stay connected with your members effortlessly through automated communication tools, including email updates and event notifications.
Easy Salesforce event management and organization. AC MemberSmart, a Salesforce membership management app, supports both free and paid events, whether they're simple or complex, one-day or multi-session, virtual or in-person…
Personalized member experience. Tailor your interactions with members based on their preferences, interests, and engagement history.
Engagement scoring. Leverage the Engagement Scores metric to measure how engaged your members are and brainstorm the ways to improve the community members motivation.
How to improve community management with AC MemberSmart: best practices for member organizations
Here is a compilation of recommendations to elevate community engagement and member management within your organization through our comprehensive member management solution, AC MemberSmart:
Seamless onboarding
Simplify the registration process using AC MemberSmart's user-friendly interface. Customize registration forms to collect relevant member information.
Establish open communication channels
Provide multiple channels for communication, such as forums and groups. Encourage open dialogue, active participation, and respectful interactions among members. Recognize and appreciate members' contributions and achievements within the community.
Case Study
See how we automated the process of adding users to relevant groups based on their interests
read now
Encourage member participation
Organize regular events, webinars, workshops, and discussions to keep members engaged. Utilize AC MemberSmart's event planning features for efficient event creation and promotion. Allow members to register for events, track attendance, and receive event-related notifications.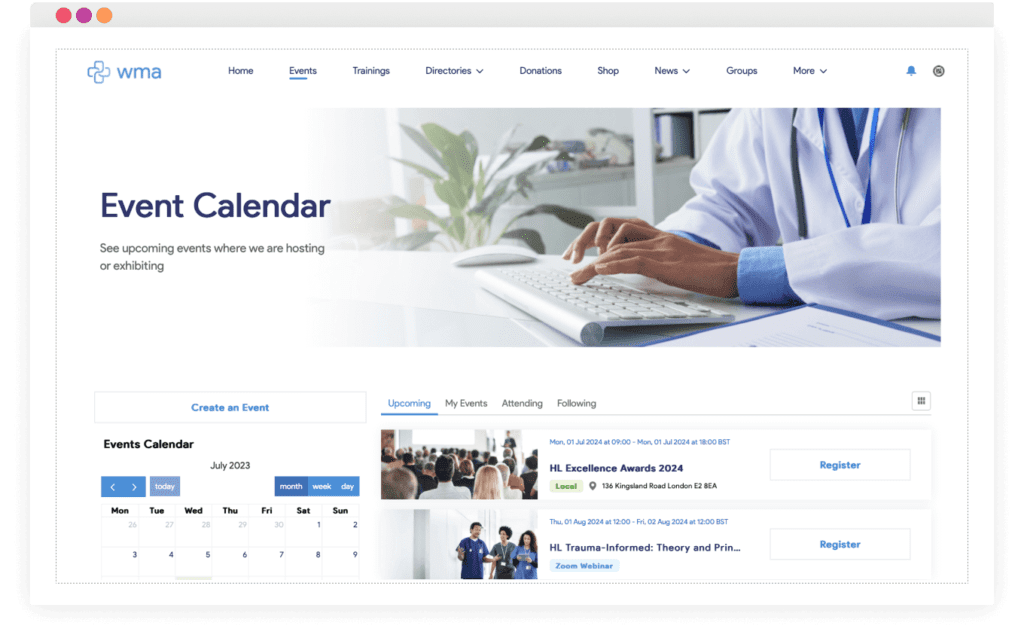 Resources sharing & education
Share relevant and valuable content, including articles, videos, and resources using AC MemberSmart's Blog feature. Ensure content aligns with the interests and needs of your community members.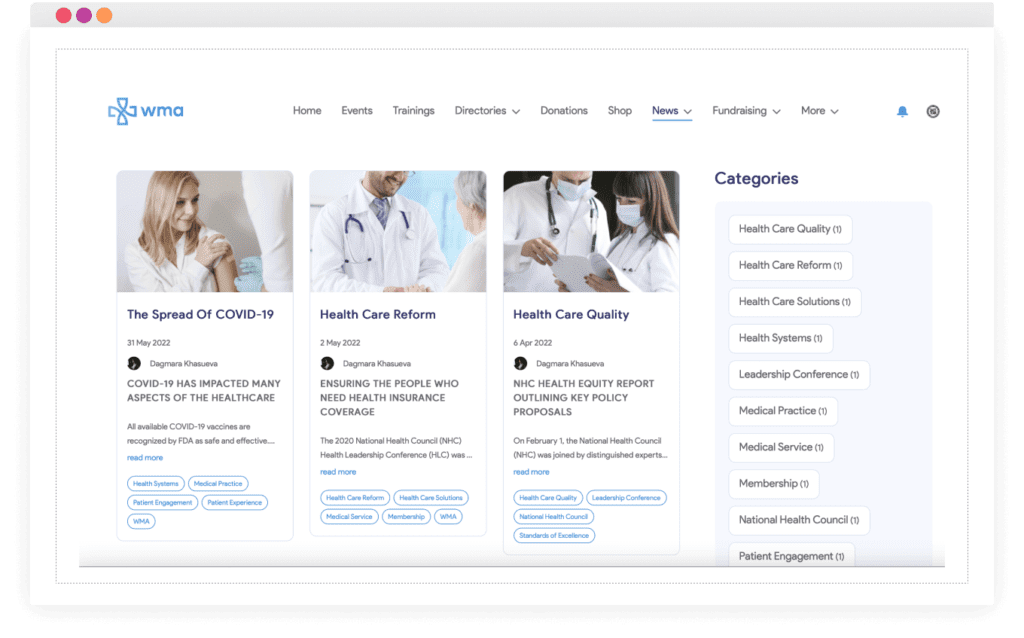 Provide opportunities for networking and collaboration
Set up a comprehensive member directory on your Experience Cloud site using AC MemberSmart. Allow members to connect and network with each other, fostering collaboration and relationships.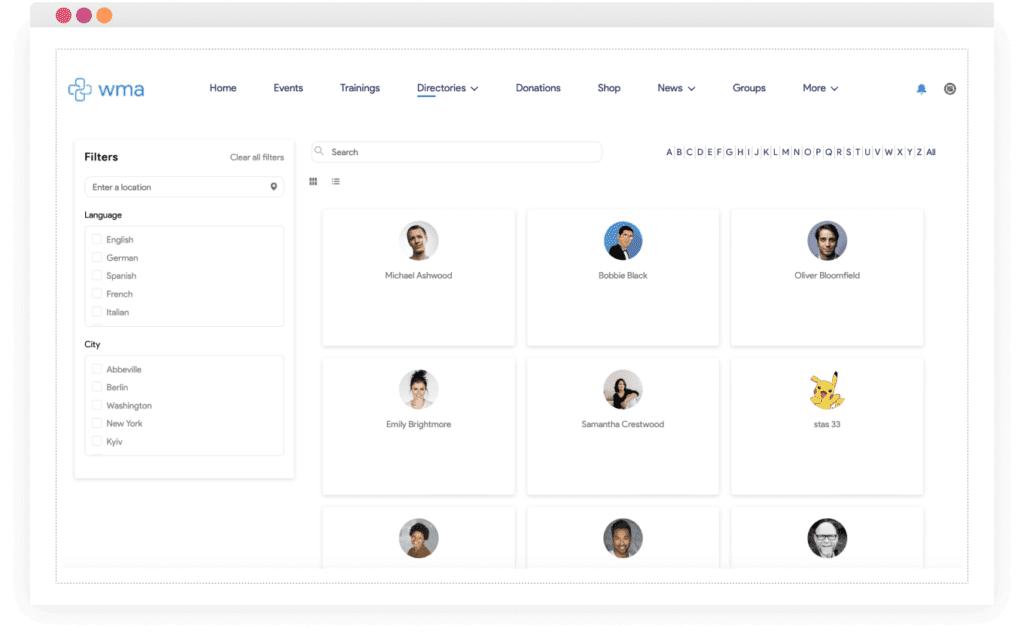 Share job & volunteer opportunities
Enable your members to take on volunteer roles or open positions to contribute to meaningful projects and initiatives within your organization, driving positive change and progress.
Boost your fundraising with an easy donation setup
Collect online donations right from your Experience Cloud member portal to establish a direct connection with your donors and support your fundraising efforts. AC MemberSmart makes it simple for your supporters to give money in various currencies using their bank cards. Plus, you can keep track of all the money you collect and where it comes from, all in one place.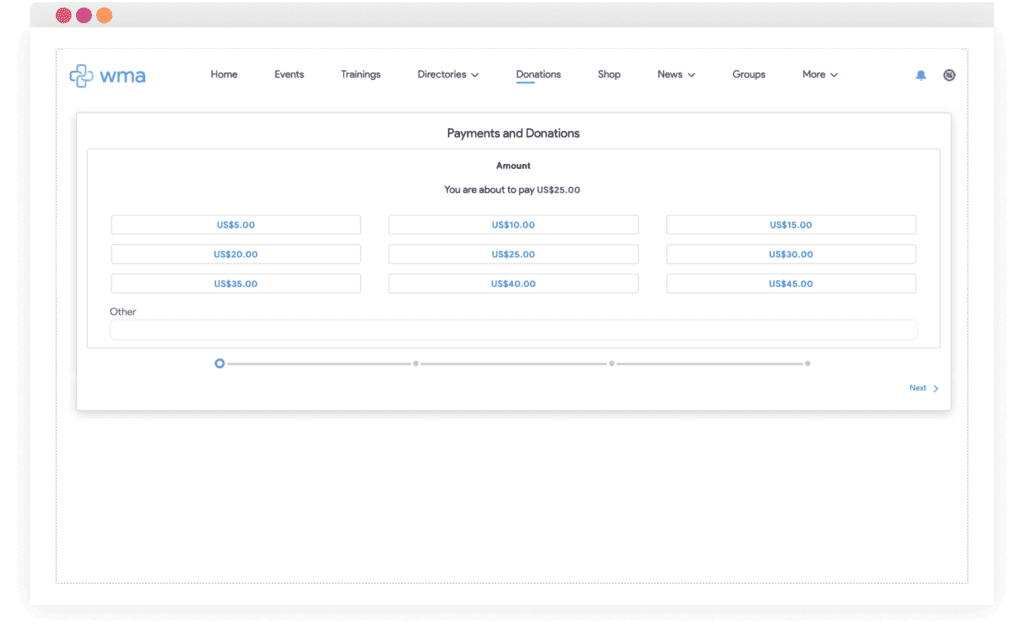 Adapt and evolve
Stay agile and responsive to changing member preferences and needs. Continuously enhance your community management strategies based on feedback and outcomes. You may want to additionally implement our AC Salesforce ideas management app – AC Ideas Ultimate to gather feedback and ideas from your members right on your Experience Cloud site.
Data-driven decision making
Generate accurate financial reports and analyze member engagement and participation data provided by AC MemberSmart's analytics features. Tailor your community initiatives based on insights gained from data analysis.
Wrapping up
Empower your Salesforce Experience Cloud site with our impactful solution for membership management AC MemberSmart to get the most out of this powerful platform!
If you require assistance with the Experience Cloud communities implementation, Advanced Communities is here to provide support. Feel free to reach out without hesitation.
Tag cloud