Greenpeace
Type: Non-Governmental Environmental Organisation
Industry: Charity
Headquarters: London, UK
Number of employees: 100
Introduction
Greenpeace is a well-known non-governmental environmental organisation with offices in 55 countries. Relying on volunteers, Greenpeace UK requires its existing volunteer community to be updated and moved to Salesforce Community Cloud platform. That would make Community future proof, enable single source of data, and ensure additional development in future.
Challenge
Advanced Communities already has most of the required functionality like AC Events, AC Gallery, AC Blogs and AC Member Directory of users implemented but requires some customisations in order to fully match the Greenpeace requirements.
Solution
Advanced Communities introduced new modern design for Greenpeace volunteer community that is consistent with the organisation design and branding requirements of Greenpeace website. It provides an intuitive and easy to follow interface.
The new Greenpeace Volunteer Community has the following features:
AC Events is a event management platform that allows Greenpeace Volunteers organising local and national events on the UK and find events organised by others in the same area.
Volunteers can find other like-minded members according to their skills, locations, groups using AC Member Directory functionality.
It became easier to find the local volunteer groups using customised "location aware" chatter Groups.
Chatter is used to facilitate discussions, share knowledge and collaborate online.
The Main/Dashboard page contains featured content, upcoming events, latest discussions, photos and group map.
AC Blogs component is used for sharing blog articles and news.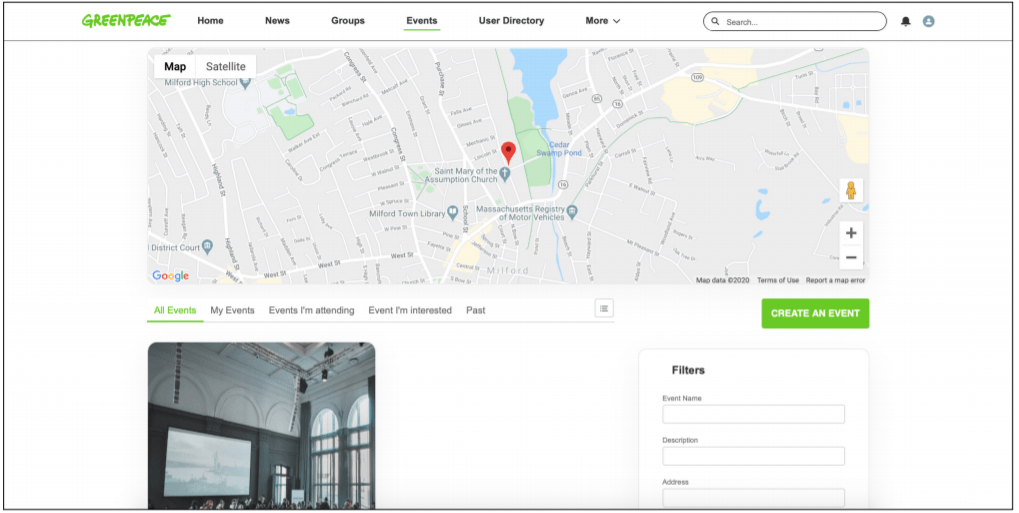 Benefits and Result
Using Community Cloud, Greenpeace enables its volunteers to connect at a single location, while Advanced Communities' components provide a wide range of functionality that helps to engage and strengthen its relationships by managing events, volunteers and groups working on varied campaigns across the country. Designed community is the place to join groups, host events, share photos, videos, blogs and news, and contact with other interested activists.
Get in touch
If you want to have a conversation about anything related to Community Cloud or see demos of our free components and learn how to maximize the value of community to your business.