 BigCommerce
IT
Austin, Texas, USA
600+
Introduction
BigCommerce provides mighty eCommerce tools that turn shoppers into customers. They enhance B2B and B2C eCommerce for more than 60,000 small and mid-size businesses, over 2,000 mid-market businesses, more than 25 Fortune 1,000 companies, and industry-leading brands such as Assurant, Ben & Jerry's, Gibson, Paul Mitchell, Martha Stewart, and Toyota.
Challenge
When a company has more than 60,000 customers, a quality user experience and support become a crucial factor. BigCommerce required a Help Center that would provide a high-end experience for customers to access documentation, videos, events, and other support options.
Solution
Advanced Communities developed a community that included a customized version of Salesforce Knowledge, custom search integrated with an external index engine, and AC Ideas Ultimate with Social feat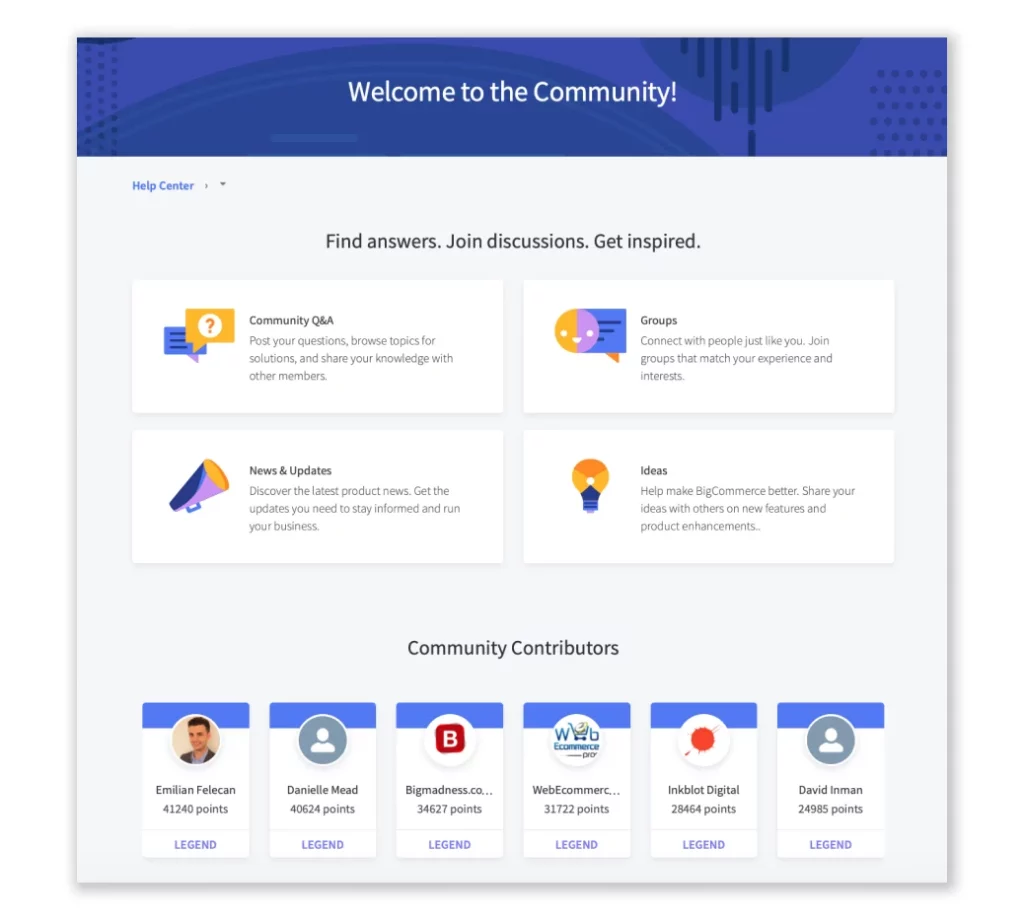 ures. In order to implement a slick and modern design, we developed a custom Lightning Bolt template.
Benefits and Results
The BigCommerce Help Center won a Salesforce Bolty Award and was praised as one of the most innovative communities on Salesforce Experience Cloud. The Help Center provides BigCommerce cus­tomers with intuitive and user-friendly access to the documentation and support they need.
Try the AC Ideas Ultimate App
How Can We Help You?
Over the years we've accumulated a wealth of experience working with Salesforce Experience Cloud, helping businesses and nonprofits connect with customers, partners, members, donors, volunteers, students, and alumni. We can help you with any kind of Experience Cloud engagement, and share our expertise and best practices to help you maximize your investment. We look forward to speaking with you!
Trusted by Top Companies Worldwide
We help our customers succeed with Salesforce and Experience Cloud