Salesforce Event Management: Strategies & Best Practices to Manage Events In Your Organization
Events are among the most effective tactics used by companies of different sizes and industries. As a great way to communicate, collaborate, learn, share experiences, build networks as well as find partners and sponsors, events have become an essential source of advertising, and the future of marketing and sales.
Commercial companies and non-profit organizations use events in their activities. As the number of events increases, organizing them becomes a more complex and difficult task. This is where Salesforce Event Management comes into play. Our team of professional Salesforce Experience Cloud experts responded to market needs and created a comprehensive event management solution that will make your events organization and management easy as well as seamless.
Boost productivity, streamline event creation, and collect analytics within your organization without leaving Salesforce with our 100% native to Salesforce event management app, AC Events Enterprise.
Let's keep exploring AC Events Enterprise and learn more about the best tips for successful event management in Salesforce.
Benefits of Using Salesforce for Event Management
The Salesforce platform is a fantastic event planning CRM tool. Storing all of your customer and event data in one centralized location for managing all event-related tasks makes your event planning experience effective and seamless.
Why is Salesforce the best CRM for event management?
Time saver. Having centralized data saves time and helps you stay more productive. With Salesforce, all the essential event processes, like registration, scheduling, payments, and tracking event attendance, are managed in one place.
All-in-one solution. With Salesforce, you don't need multiple solutions for every facet of event management. Not needing to import data from one platform to another ensures no data synchronization issues, such as delays, duplication or data loss.
Easy planning and management. Salesforce optimizes your time and effort by decreasing manual data entry processes. Combining CRM data and your event management solution allows you to hold various events for your business needs. Using Salesforce is about having up-to-date information, seamless data transfer, automation, and comprehensive analytics.
Experience Cloud. Salesforce delivers the functionality to build beautiful event microsites that are focused on a specific event. A catchy event microsite with a user-friendly UI, strong emotional offer, and a conversion-focused call to action is an excellent way to promote your webinar (seminar, conference, etc.), build trust and guide visitors to take action and register for your event.
Enhanced security. Salesforce ensures totally controlled accessibility and superior protection from unauthorized access.
How Can You Manage Events in Salesforce?
So, how do I get started? Glad you asked! You need to choose the right Salesforce event management app to start organizing and managing events in Salesforce.
Looking for a secure, already tested solution to expand out-of-the-box Salesforce CRM functionality? AC Events Enterprise is the easiest way to get the required functionality and take your event management to the next level.
AC Events Enterprise is built on Force.com, not Heroku, so it's 100% native to Salesforce. That means ultimate stability when gathering data about your events and attendees in a single CRM system.
Use AC Events Enterprise to hold various types of events, including simple or complex, one-day, multi-day, multi-session, multi-track, free and paid events.
Events Management for Non-Profits
Each non-profit organization needs to be creative and find new fundraising strategies to raise money, and keep moving forward with its mission. It is also important to build a long-term relationship with donors and to keep in touch with them regularly. For non-profit organizations, implementing Salesforce event software can make a big difference, especially if hosted NPSP events generate revenue and enhance fundraising efforts.
Salesforce and AC Events Enterprise is the perfect combination for charities, universities, churches or other non-profit organizations. It provides enhanced functionality and is highly flexible to serve as the ultimate solution for any non-profit that uses Salesforce Experience Cloud for charities. Connect and collaborate with donors and volunteers, raise more funds and achieve your non-profit's mission with AC Events Enterprise.
The Difference Between Native and Integrated Salesforce Event Management Apps
You have two options for the perfect Salesforce event management solution: native and non-native to Salesforce applications.
AC Events Enterprise is 100% native to the Salesforce application, which is one of its main advantages. What does it mean? It means it's built on Force.com, uses a Salesforce API, and is coded within Salesforce using Salesforce objects.
Non–native apps are built outside Salesforce and require integration with Salesforce. It usually brings many problems, such as complicated installation, messes with data stored in different locations, data duplication issues, and problems with data synchronization. Using integrated event management software may cause security and access problems because non-native apps usually have their own security parameters and servers.
Whereas using a Salesforce native application doesn't require any connectors or integrations with Salesforce, ensuring smooth performance, automated instant data sync, enhanced data safety, and no custom coding required.
AC Events Enterprise is a 100% native to Salesforce event management system that has all the benefits of native solutions, such as:
High-level security. Salesforce utilizes the best security technologies, ensuring enhanced protection against unauthorized access. All the data inside Salesforce is securely protected from leaks and break-ins.
Centralized data. Using the Salesforce native AC Events Enterprise app, you keep attendee CRM reach data and attendance data on one platform without any integrations or transferring needed. All data is coming from and returning to Salesforce.
Flexible access control system. You always control access to your data. Use Salesforce's flexible access control system (sharing, roles, profiles, permission sets, etc.) to provide relevant access when needed.
Personalization features. Use Salesforce native personalization features, such as audiences, page variations, and component variations to meet your specific needs. Set various event page layouts and assign them to particular audiences to target specific markets.
Guaranteed compatibility. You won't have to worry about external platforms, additional setup, or third-party data storage.
Reduced manual data entry. Enjoy Salesforce's automation capabilities to automate your organization's repetitive business processes, save time and resources, and achieve your goals faster.
Top Capabilities of the AC Events Enterprise App:
Organize and manage events of any complexity, including multi-track or multi-session events, conferences, webinars, training courses, fundraising events, etc.
Create recurring events for any regular events you hold. This will help you avoid the manual work involved in creating each event separately.
Control the visibility of events, making them available to all guests or only certain community users, or group members.
Monitor all data in one place. See details of the event and its related records, including a list of participants, tracks, tabs, packages, speakers, and sponsors.
Create multiple zones to specify which events will be displayed in a specific zone, which can differ by the audience, location, event type, or any other parameters you decide.
Set up simple and feature-rich websites for all kinds of events with Salesforce. Take advantage of Salesforce native Experience Builder drag-and-drop interface, unlimited styling capabilities, as well as powerful AC Events Enterprise features and components to build fully-fledged microsites aimed to solve multiple event management tasks.
Use event packages, such as standard, VIP, Post-Payment and Paid with Donation packages, and a variety of pricing options, including discounts for bulk purchases, early-bird discounts, and vouchers… Take advantage of the price band functionality that allows you to show different prices to different groups of users.
Let your community members create their own events. You can enable this feature for all members or just a certain group of users.
AC Events Enterprise supports virtual events, such as webinars and live-streaming events. For online events, Zoom meetings and Zoom webinars are available.
Add a dashboard to visualize KPIs and statistics across all events and attendee activities.
7 Tips to Successfully Manage Events with Salesforce and AC Events Enterprise in Your Organization
Regardless of its type and complexity, organizing an event is a complicated and challenging task that may be stressful, especially without the right tools. Imagine how much easier it would be if you've made the right choice and have everything to start your event campaign (think AC Events Enterprise solution)? How can you get maximum success? We've prepared a list of tips to consider when planning and launching events in Salesforce with AC Events Enterprise.
Let's dive in…
Tip 1
Choose 100% Salesforce native event organizing software
The conclusive way to succeed is to choose the right Salesforce event management app to run your events. 100% native to Salesforce AC Events Enterprise (built on Force.com, not Heroku) is your best choice! Ensure smooth performance, automated instant data synchronization, and high-level data safety – all with AC Events Enterprise.
Tip 2
Build a site for your events
Let guests get all the information about your event in one place by building a beautiful branded event landing page with Salesforce Experience Cloud. Put all the details about current or upcoming events, as well as add information about speakers, sponsors, attendees, prices, locations, agenda, etc.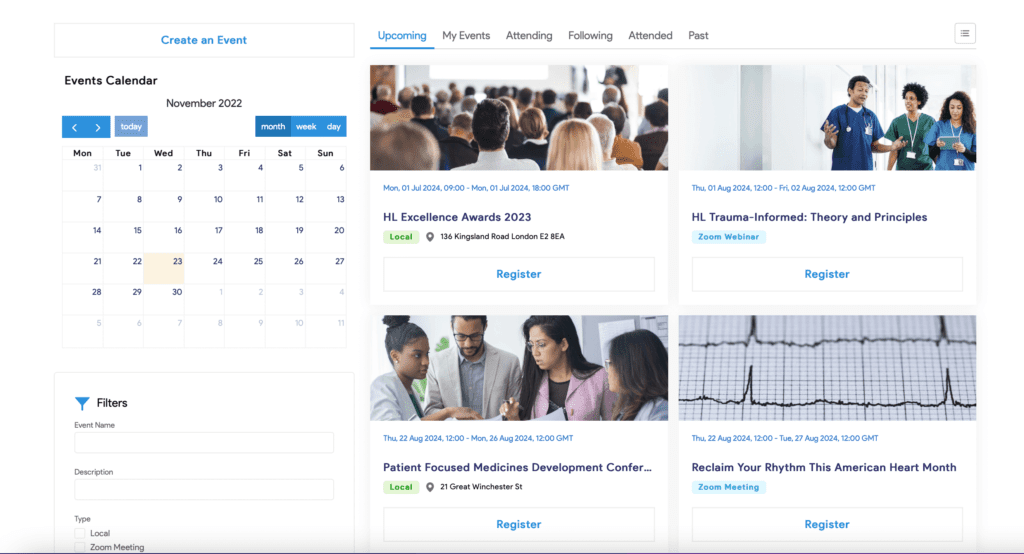 Tip 3
Enhancements with AC Events Enterprise components
AC Events Enterprise is enriched with a bundle of components to use in Experience Builder of your Experience Cloud event site. Use the components to beautify your event site, enhance its functionality, and deliver an exceptional customer experience.
Tip 4
Use the Flexible Pricing feature
With AC Events Enterprise, you can set up different pricing packages and a variety of pricing options for your event. Offer your guests Standard, VIP, Post-Payment, or Paid with Donation packages. Add discounts for bulk purchases, early-bird discounts, and vouchers. Help non-profits raise money by setting the option to add donations when purchasing tickets. It's also important to ensure smooth payment processing. With AC Events Enterprise, guests can register and pay in a few clicks using debit or credit cards with Stripe API integration.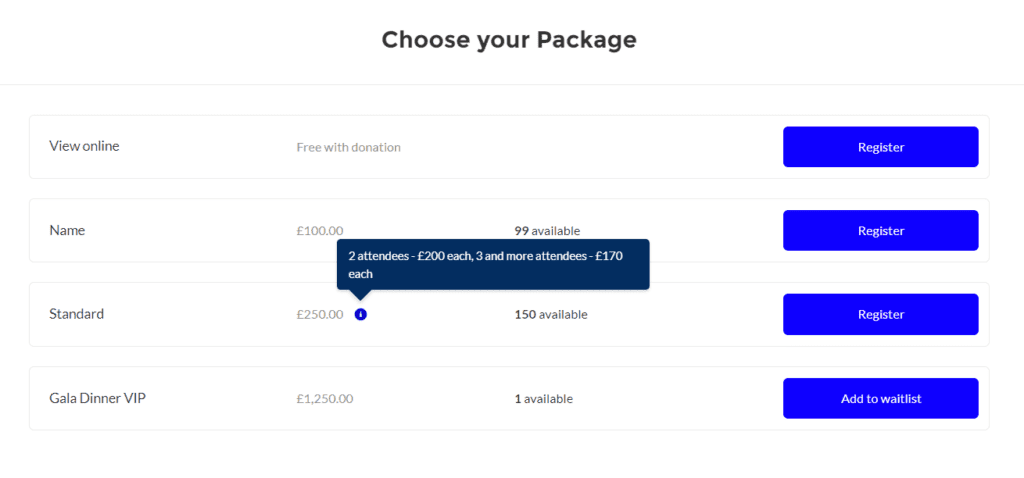 Tip 5
Personalization
With AC Events Enterprise, create multiple event zones to target specific audiences and deliver only relevant information to your markets. Having created a zone, specify which events will be displayed in a certain zone to a particular audience. Adjust location, event type, or any other parameters you decide.
Tip 6
Create reports and dashboards
The AC Events Enterprise app displays your event's metrics in real-time, including event attendance, registration, ticket revenue, the most popular pricing packages, and engagement of attendees. Use this data to create reports and lightning dashboards to simplify the analytics process and improve your business performance.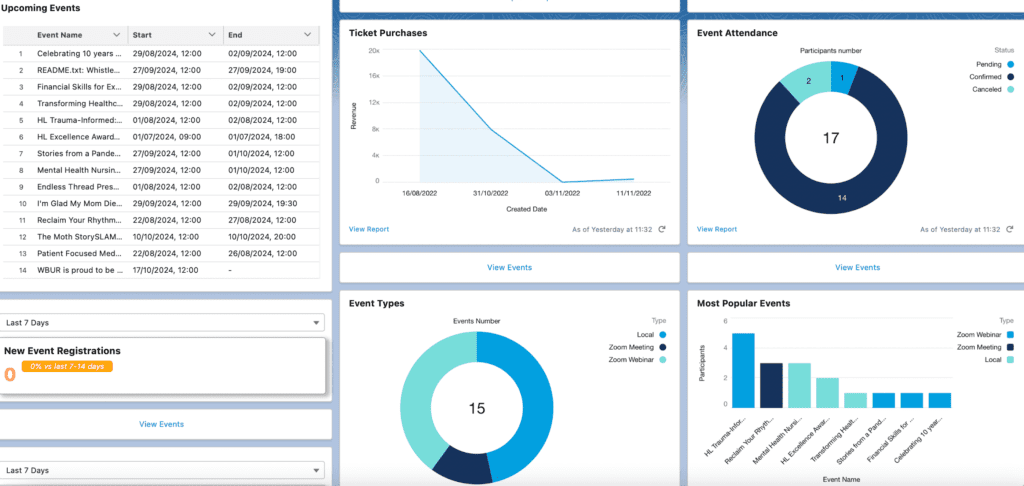 Tip 7
Send surveys before and after the event
Collecting valuable insight from attendees is essential for improving your service and making thoughtful business decisions. Send pre- and post-event surveys to show your event attendees you value their opinion and want to improve to meet their best expectations. Analyze received data to understand your customers, their needs and wants, as well as enhance your performance in the future.
5 Typical Salesforce Event Management Mistakes to Avoid
In this part of the article, we'll walk you through the most common event management mistakes you might be making to help you avoid them in the future, and bring your event management to the next level.
You are using a non-native to Salesforce application. Native to Salesforce apps are designed specifically to work in Salesforce, serving as an extension to Salesforce CRM. Non-native apps require additional integration and configuration, most likely leading to installation, synchronization and maintenance issues. Opting for a native to Salesforce event management solution ensures smooth integration and exceptional performance.
You provide little information about your events. Lack of information about the upcoming event is one of the common mistakes when it comes to event organization. Information catches the audience's interest and retains it, encouraging visitors to take action and register for your seminar, course, conference, etc. With AC Events Enterprise, you can provide your guests with all the event information they need, including a list of participants, tracks, tabs, pricing packages, speakers, sponsors, locations, etc.
You don't analyze your performance. Data analytics is important because it helps you understand your performance and optimize processes to reach business goals. With AC Events Enterprise, you can create reports and dashboards to visualize your event performance and reduce costs by identifying more efficient ways of planning, organizing, and managing events to reach the best results.
You set up one price for each attendee. While this is probably the simplest way to sell tickets, it means you lose other potential sources of revenue and growth. A dynamic pricing strategy gives attendees more buying flexibility and lets them choose what they want best. Offering different packages will help you better understand your attendees and their needs, as well as boost ticket sales.
You don't gather attendee feedback. Ignoring guest feedback is another common mistake that significantly impacts your success with future events. It's always a good idea to send your guests pre- and post-surveys to collect feedback. It will help you get to know your customers better, understand your strong and weak points, and deliver an exceptional customer experience in the future.
FAQs About AC Events Enterprise, a Comprehensive Salesforce Events Management Application
AC Events Enterprise: how to get it and set it up?
Find our comprehensive event management solution, AC Events Enterprise on AppExchange. Book a demo to see the app in action. Have additional questions or need professional help? We're here to help you! Contact us today.
What is an event microsite?
An event microsite is a small, simple website built on Experience Cloud. It may be a collection of one or more individual virtual landing pages hosted inside Salesforce, focused on a specific event or series of events.
When to use different time zones?
AC Events Enterprise supports the creation of multiple zones. Create different zones to specify which events will be displayed in a specific zone, which can differ by the audience, location, event type, or any other parameters you decide.
Can site users follow events they like?
AC Events Enterprise allows guest users to follow the events they prefer and receive regular notifications on any updates. The "Follow Events" feature is enabled in your org by default. You can disable it internally when you need it.
Can I organize Zoom Events?
AC Events Enterprise has native integration with Zoom, letting you create Zoom meetings and webinars right from your Experience Cloud site. With AC Events Enterprise, you can get information from Zoom about attendees connected to the event, and use collected data to create reports or send follow-up emails.
Does AC Events Enterprise support reminders functionality?
Yes. With AC Events Enterprise, you can send event notifications to registered users or those subscribed to a particular event. You can start sending automated event reminders 168 hours or less before the event begins.
Need help?
If you have any questions or are looking for professional help, feel free to contact Advanced Communities. We're a team of Salesforce Experience Cloud experts with strong expertise and vast experience in creating and implementing Experience Cloud sites. We also offer you a variety of 100% native to Salesforce solutions to extend the functionality of your Experience Cloud site. Visit our site to see how we help businesses of different sizes and industries succeed.
Tag cloud