7 Features of Our Salesforce Event Management App You Should Try Right Away
We live in a fast-changing world and the base of these changes accelerated in the last two years with a pandemic. That brings many challenges to any company.
People spend a lot more time online on their smartphones and laptops as everything becomes digital.
At the same time, with digitalisation, there are new opportunities coming for companies to be more effective in what they do, to understand better members, customers, students, partners, volunteers and donors, to bring them value and engage with them in new ways.

Events are one of the main ways of engaging with partners, members and donors and the importance of event management can not be underestimated.
From our experience, pretty much all of the non-profits that we worked with do events in one way or the other. And we see much demand for quality event management software among big and small organisations using Salesforce.

AC Events Enterprise app is a great event management solution, 100% native to Salesforce, that helps you to engage with members, donors, partners, customers, volunteers or students using the Experience Cloud platform.
You can define which events your members will see based on the industry or different event pricing based on the location or any other parameters you might need. Any customisations, business approaches and adjustments could be made inside Salesforce and Experience Cloud environment.

Features of the AC Events Enterprise You Should Try: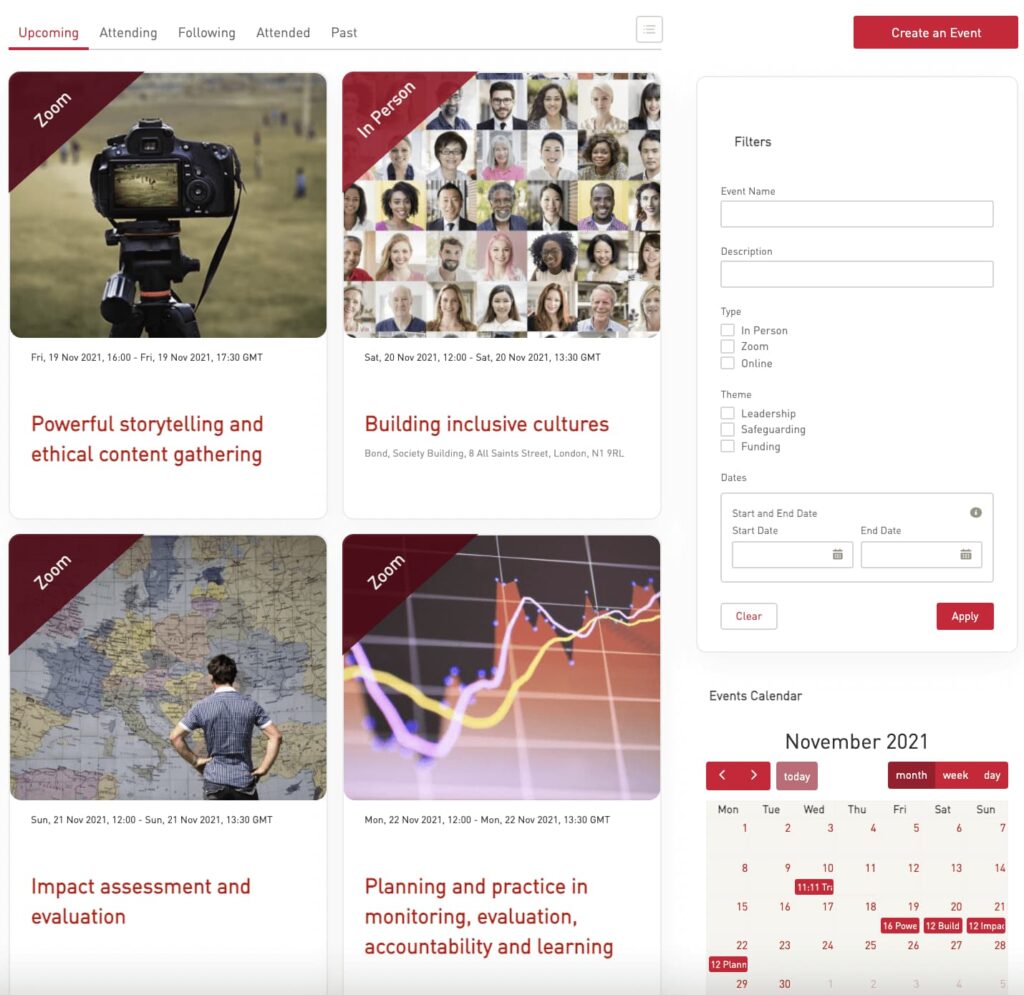 Online, In-person and Hybrid Events
Built-in integration with Zoom for the org-wide account or per user event hosting supported out of the box.
You can also provide hybrid events using embedded streams from YouTube, Vimeo and other platforms.
Custom Reports and Dashboards
You can monitor your event management KPI in real-time as we provide a bundle of reports and lightning dashboards.
You can keep track of event metrics like revenue, donations, registrations, most popular events by type, packages and other parameters.
It is also possible to adjust reports and create new ones to meet your business logic.
Different Types of Events
We support any type of event from a single short meeting or webinar to multi-day activities like multi-track and multi-session conferences with different venues and speakers.
Flexible Pricing Packages
Furthermore, you can create any type of event ticket with several clicks to motivate your users to participate in events.
For example: free, free with the donation, paid, and paid with donation package.
Using our Event Packages object, you can provide time-limited sales, group registration or group pricing, early bird or last chance tickets, voucher discounts, or user-specific pricing.
Payments Integration
We also integrate a payment system for collecting donations and income for your events. It's already in the package so no additional integrations are needed.
In addition, the payment transaction data is stored inside Salesforce so you don't need to collect revenue data from some other sources.
Customisable Questionnaires
During registration, you can use any custom questionnaires to get information from your attendees like dietary preferences and restrictions, vaccination approvals, or any other questions that can be implemented with a fieldset tool or custom lightning screen flows.
Member-hosted Events
This is our unique feature that allows your users to create their own events. This functionality could be crucial for member-driven organisations.
For example, students can run some campus activities, volunteers can organise meetings or partners can create events for their customers and employees right from the Experience Site.
Roadmap for Future Implementations
Our AC Events Enterprise package has multiple features to help different companies run and manage their events more effectively and provide users with an easy and intuitive environment where they can go through event registration and track the schedule of activities.

But the Advanced Communities team doesn't want to stop improving our product and make it more convenient for you.
We're planning to integrate with FinDock which provides payment capabilities for non-profits (donations, fundraising) for Europe and the USA.
The next thing we want to implement in our package is the hotel booking system to run offline events more effectively.
We also want to add a Session feedback feature so attendees can rate speakers and sessions and you will be able to analyse your events better and improve future activities. These and other delightful features are coming soon!

Follow us on social media to stay tuned for our product updates and exciting information about Salesforce and Experience Cloud.

Tag cloud