Salesforce Event Applications: The Ultimate Comparison
Salesforce Event Management App Comparison: What's the Difference between Apps?
If you're in charge of organizing events for your company, you're aware of the frequent issues and mistakes that will inevitably arise. That is why having the correct tools on your side is critical. The appropriate event management system is critical whether for non-profits, commercial, or governmental organizations since it may increase opportunities, save time, improve all processes, offer comprehensive data, and provide many other benefits.
What are the main tasks of the Salesforce event tools?
Full tracking of past and upcoming events, their locations, attendees, and collecting all these data in one place.
With the right tool, you can actually automate and optimize most of the processes, such as event creation, registration, payments, etc. It can help to save time for both admins and users.
Reports and dashboards are created utilizing event data. You may assess and enhance future events based on information such as the number of participants, package sales, most popular events, registrations, revenue comparisons, and other indicators.
Events are a very powerful tool for marketing efforts and clients' segmentation. It's also possible to set up integration with Marketing Cloud and get the maximum from its functionality.
One of the most important aspects of effective EMS is that it is native to your CRM, allowing you to gather leads, examine data, and do analytics all in one system.
Overview of Salesforce Event Management Market
Let's overview the most popular EMS with their benefits and disadvantages:
AC Events Enterprise
An ultimate application for event management. 100% native to Salesforce tool that allows you to manage all kinds of in-person and online activities: from short seminars to multi-day conferences. This app integrates with Zoom to let your users attend online events, Stripe to make secure online payments, Google Calendar to add events to the calendar on their devices, and Google Maps to check and find the event location.
The pricing starts at $500 USD per company per month. Discounts or special deals are available for non-profits
Unlimited free trial period on sandboxes.
Blackthorn
Blackthorn Events is a web-based event management software designed to help businesses plan, register, invite, run, and report all in Salesforce for both virtual and in-person events. With this app, you can create free or paid events, manage events budget and expenses, create recurring events, and many other features.
The pricing starts at $875 USD per org per month. 501(c)3 nonprofits receive a 10% discount.
Unlimited free trial period on sandboxes.
Fonteva
Fonteva Events is a native to Salesforce events management software for Salesforce users. Assemble lets you manage all your events, large or small, free or paid. It's fully featured to serve Startups and Agencies. This app allows you to create and manage multi-day conferences with multi-tracks and multi-sessions.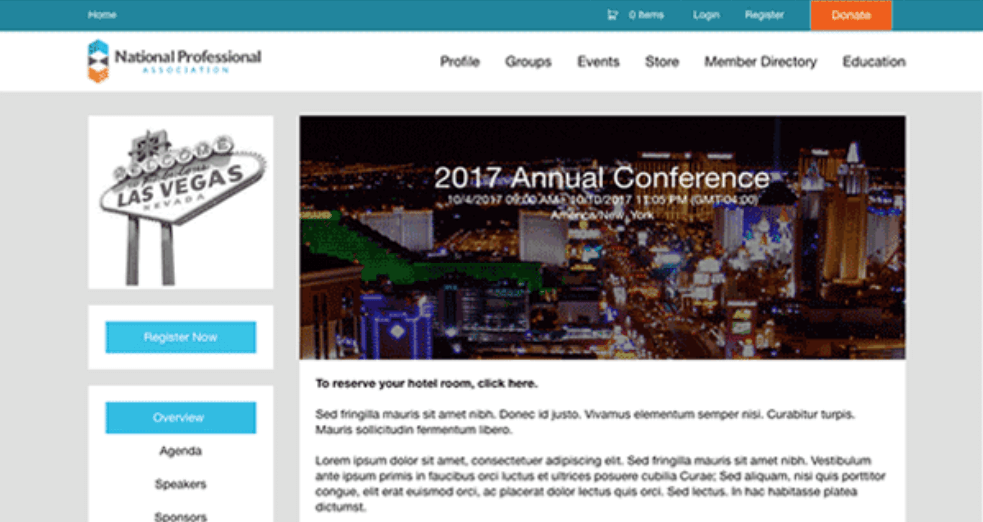 The pricing starts at $8400 USD per company per year.
Now let's take a closer look at a few important features for any EMS:
Dynamic Band Pricing. For most types of events, it's important to be able to set up various prices for users based on different criteria. For example, if you organize an event for multiple regions you can create a separate band for each of them and assign different prices based on location. So users from different regions will see different prices. Having this functionality gives you a lot of flexibility in setting up prices based on various criteria. This feature is available in AC Events Enterprise, but absent in Blackthorn and Fonteva Events.
Complex Questionnaires with Native Salesforce Flows. There are so many things that event organizers should take into account when preparing for events. And collecting the right information from attendees can be a very important thing that helps a lot. Using Salesforce Lightning flows you can set up questionnaires of any complexity with branching logic. It allows you to create various registration flows depending on users' answers. For example, you can add a question about Covid vaccination. If the user answers that he has a vaccination certificate flow will direct him to an offline event registration form, if he hasn't – he will be invited to join the event online. It's absolutely flexible and you can set up any flows that will meet your requirements. This feature is available in AC Events Enterprise but absent in Blackthorn Events and Fonteva Events. This feature is available in AC Events Enterprise but absent in Blackthorn Events and Fonteva Events.
One-click Registration for Logged-in Users. It's extremely convenient that users whose data is already in the database don't need to enter their registration data whenever registering for events. With this functionality, you can provide a simple and quick registration for your users and prevent data duplications. This feature is available in AC Events Enterprise and Fonteva Events, but absent in Blackthorn Events.
Flexible Event Page Styling and Layout. For many companies, it's important to follow the corporate style and design whether in small details or more global things. So the ability to customize event pages with specific colors, designs, and logos could be critical. Experience Builder provides unlimited flexibility in changing layouts, styling, and adding custom components and integrations. It's even possible to set up and display separate event landing pages with different layouts, components, and designs for different audiences with Page Variations functionality in Experience Builder. This feature is available in AC Events Enterprise, but absent in Fonteva and Blackthorn Events.
Zones. When you run different types of events, when your events are aimed at different groups of people or different regions it can be crucial to have the ability to divide them into sub-groups to better manage them and effectively work with different audiences. You can create several tabs for your event page with different types of events, or you can set up displaying particular events for a specific audience. This feature is available in AC Events Enterprise, but absent in Fonteva and Blackthorn Events.
Salesforce Audiences and Personalization features. Using Audiences and Personalization features provided by Salesforce you can significantly extend your customization possibilities. With Page Variations functionality you can easily create multiple alternative versions of a page and assign each of them to different audiences. You don't need to create a blank page every time you want to add a new one – you can just duplicate an existing one and change it. These pages can be completely different from layouts to components. It's also possible to set one of the page variations as the default page so that this page will be displayed to all users who are not a member of any audience. Audiences can be created by the following criteria: location, permissions sets, profiles, users, or records.
For example, if you want to notify users from a specific region about some changes to an event you can just add the Rich Text component specifically for this region and describe all the details. Or if you want to give permission to create events from the Experience Site only for users from a specific audience you can add Create Event button only to the page variation assigned to this category. This functionality is available only in AC Event Enterprise.
Salesforce Sharing and Access Control. Salesforce built a complex and extensive toolset for controlling access such as sharing rules, apex, and manual sharing, sharing sets that provide very powerful tools to control the visibility of events. For instance, it's even possible to set up different visibility for events that are created in one zone. If a company runs events for different regions and wants users from one of the regions could see only events taking place in their region and don't see others – it's possible with sharing and access control functionality. Since AC Events Enterprise and Fonteva Events are fully native to Salesforce, you can have full access control and make any visibility customizations according to your requirements. Blackthorn Events app doesn't provide such functionality.
Community Driven Events. For many companies and non-profit organizations can be very important to allow Experience Site users to create events by themselves. It could be some student activities, volunteer meetings, or employee events. And this unique feature is available in AC Events Enterprise. With this functionality, users can create events directly on the Experience Site. These events can be published immediately or after moderator approval, depending on the settings.
Chatter Groups Integration. You can provide event attendees with the ability to communicate with each other, discuss events, and share their thoughts, photos and feedback. AC Events Enterprise provides such functionality out-of-the-box, so your users can enjoy all standard Chatter features in this app. Other solutions don't provide it out-of-the-box so you need to do some customizations in order to use it.
Comparison Table of the Main Event Management Software Features
We have put all key features in one table to show you the benefits of each EMS we mentioned above. With this table, you could search for features important to you and draw conclusions about what application suits you best.
If you are interested in more information about the AC Events Enterprise app feel free to get a demo. Our experts will be happy to answer all your questions. Also, follow us on social media to stay updated ???? LinkedIn, Twitter, and Facebook.
Tag cloud