The most popular Salesforce events management app
AC Events is the ultimate community event management for running conferences, seminars and other private or public events.
Popular Features

Support for Free and Paid Events

Credit and Debit Card payments

Community and guest users registrations

Customisable dietary and event preferences form

Outlook, Mac and Google Calendars Support

Google maps integration

Flexible pricing Early bird, premium tickets

Email reminders
Discover smart new features of the innovative
Salesforce Event Management Module − AC Events.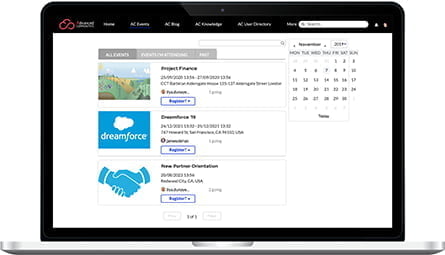 AC Events Management – the most popular Salesforce events management app.
Guest Registration with google reCAPTCHA plugin

provides functionality to generate new leads or contacts for guest users, while Google reCAPTCHA protects you from spambots.

Mobile friendly

– accessible from any device.

Flexible Events Builder:

add scheduled reminders, limit the max capacity and visibility of attendees, etc.

Stripe API integration

provides secured payments.

Public, Private or Members only access

– display events to community members, make them open to public or make them private accessible only to selected users.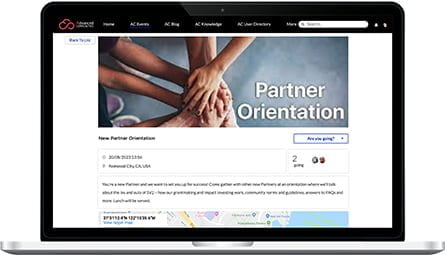 NATIVE SALESFORCE APP works both on classic and Lightning interface.
Easy-to-Use

– drag and drop community builder components.

Built-in Calendar component

– now within your

Salesforce Community Cloud

you can monitor new

events

with AC

Calendar

component.

Event Zones functionality

– separate different sets of events for different communities.

Timezone support

– we show which timezone event is taking place which is useful if you have events in multiple timezones.

Emails:

ready-made customisable templates, confirmation emails and reminders.

Events Component for Community Cloud by Advanced Communities is a great tool for your community that allows you to publish your events, training, webinars and engage with your customers, members and partners.
AC Event Management software provides your Salesforce Community Cloud with the essentials for publishing your events, training, webinars and engaging with your customers, members and partners. The recent software update has turned AC Events into the most ingenious Salesforce Events Management app for Community Cloud.
Get in touch
If you want to have a conversation about anything related to Community Cloud or see demos of our free components and learn how to maximize the value of community to your business.