The Top 4 Salesforce Experience Cloud Use Cases
Salesforce Experience Cloud is a highly customizable platform that offers a wide range of functionalities, allowing you to create communities that match your business needs. Use powerful Salesforce Experience Cloud tools to connect your customers and partners in one place to conduct business effectively, fuel growth, and drive business value. Keep reading to see some of the best examples of Salesforce lightning communities.
How Can You Use Salesforce Experience Cloud?
With Experience Cloud, you can create different types of digital experiences and online communities to help you meet your specific business needs. Such as:
Partner relationship management portals (PRMs). Create a partner portal to boost sales and make the collaboration between vendors and partners easier, faster, and more effective. Our solution – AC Partner Marketplace – can help you create a robust and impactful partner network easily. You can also empower your partners to develop their own marketing assets with their name, logo, contact details, and other elements while aligning with your marketing and brand guidelines using AC Partner Co-Branding.
Success Story
See how Bond membership organization successfully manages more than 4,000 users in their community with AC Partner Marketplace!
read case study
Member, volunteer, and fundraising portals. Build a portal to engage with your members, volunteers, and donors, as well as enhance your fundraising efforts to raise more money for your organization. Manage complex events and save time by automating manual tasks and processes with AC Events Enterprise. Build full-fledged online stores on Experience Cloud in just a few clicks to start selling today and gather donations through merchandise, services, or event sales with AC eCommerce for Non-Profits. And don't miss AC MemberSmart! It provides enhanced functionality and is highly flexible to serve as the ultimate solution for any membership organization or association.
Self-service portals and help centers. Optimize monotonous business processes and provide faster and better customer service with the Salesforce Experience Cloud self-service portals and help centers. Use the AC Knowledge Management Enterprise app to supercharge your Salesforce Knowledge base, increase agent productivity, enhance customer self-service, and provide robust support. Gather feedback and insights from customers right on your Experience Cloud site with the AC Ideas Ultimate app functionality.
With Experience Cloud, you can also build support portals, B2B Commerce sites, microsites/landing pages, and much more.
The Best Examples of Salesforce Communities
You can find many Experience Cloud Customer Stories navigating the Internet, but here are four of our favorite Salesforce Experience (Community) Cloud examples that demonstrate how companies from different countries can benefit from using Salesforce.
IQS University of Barcelona
Two years ago, IQS University started the digitalization path with Salesforce and reached stunning results. They made a full Salesforce integration to provide their students and employees with a single system to accomplish their work and studies. IQS University used Sales Cloud, Marketing Cloud, and Experience Cloud to deliver various solutions and achieve multiple goals.
About IQS University
IQS University is an educational institution in Barcelona, Spain that was founded in 1905. It has two schools: the School of Engineering and the School of Management. IQS University provides comprehensive education for students, equipping them with the necessary attitudes, knowledge, and skills for personal and professional growth.
IQS University has a large community of 200 employees and 3,000 on-campus students. It was hard to manage all the educational and operational processes with obsolete technologies, especially during the COVID era. IQS University management decided to follow digital innovations to upgrade their educational processes and make students more productive and progressive. They chose Salesforce (a smart decision!)
Challenges
Create one integrated platform that empowers the university and drives learner and education success.
Enhance automatization processes to eliminate repetitive manual operations and remove duplicate data.
Personalize student experiences by delivering exceptional student service.
Make the process of sharing information more efficient for both students and faculty.
Solution
IQS University used Salesforce Experience Cloud to create beautiful communities for different purposes:
A Careers Services Community where companies can post internship opportunities for students to apply to.
An Alumni Community that encompasses more than 15,000 graduates in science and management, and serves to create relationships and contacts among students.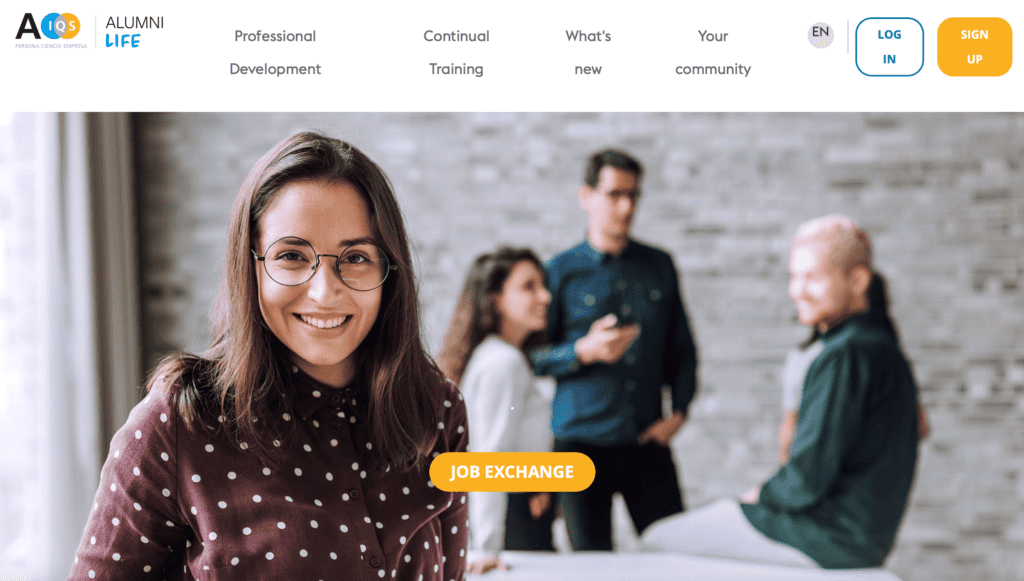 How IQS University profited from implementing Salesforce Experience Cloud?
Created a separate, feature-rich community that enables effective collaboration and relevant communication based on a student's activities and interests.
Automated all processes within the community, which increased efficiency and ensured a time reduction of over 40%.
Enhanced relationships with undergraduate, graduate, and executive program prospective students.
Accelerated student employability with online communities to jumpstart their careers.
Empowered student communication and engagement throughout the whole student lifecycle.
AC Knowledge Management for Salesforce: How to Use It to Increase Support Efficiency
Salesforce is an incredibly powerful CRM platform that enables organizations to manage their customer relations, and more. But keeping track of everything can be a challenge, especially if you're relying on manual processes or outdated tools. That's why we created AC Knowledge Management Enterprise — a 100% native to Salesforce app that makes knowledge management on Experience Cloud smooth and holistic.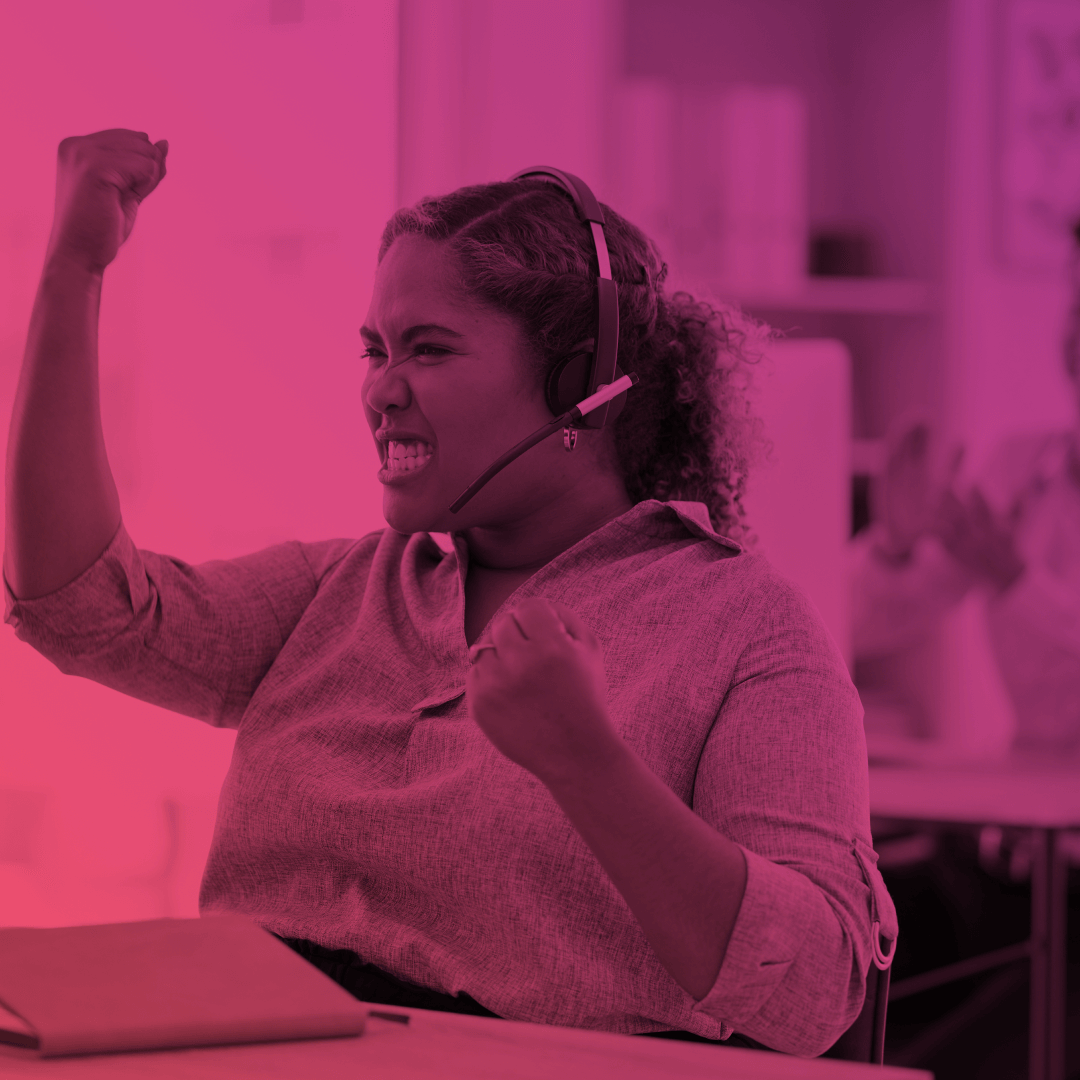 Cochlear
Cochlear serves people with hearing loss by providing them with diagnosis, treatment, and medical support. Cochlear deeply understands what it's like to live with hearing loss. So, they decided to create a portal for people with hearing implants to join the world's largest community, supported by a network of carers and hearing professionals. Let's see what they got.
About Cochlear
Cochlear is the global market leader in implantable hearing solutions. Its technologically advanced hearing devices are used by more than 400,000 people worldwide. They've already provided more than 600,000 implantable devices, helping people of all ages to hear and connect with life's opportunities.
Challenges
Cochlear's primary mission is to help people hear and be heard. They believed a Global Cochlear community would allow them to achieve their goals:
Provide informational and personal support for people with hearing problems.
Create a channel to interact with the company.
Build and maintain lifetime relationships with the people who use its implants everywhere in the world.
Connect people with hearing problems with each other to share their experiences.
Solution
Cochlear chose Salesforce Experience Cloud to complete these challenges. They created various communities for different purposes:
A global network of people with hearing problems, where they can contact each other and discuss their challenges
A Salesforce support community for hearing awareness, which is a website where people can find personalized information regarding their disease or contact a medical professional to seek help.
A volunteer community where people with implants share their experiences with those in the decision-making phase.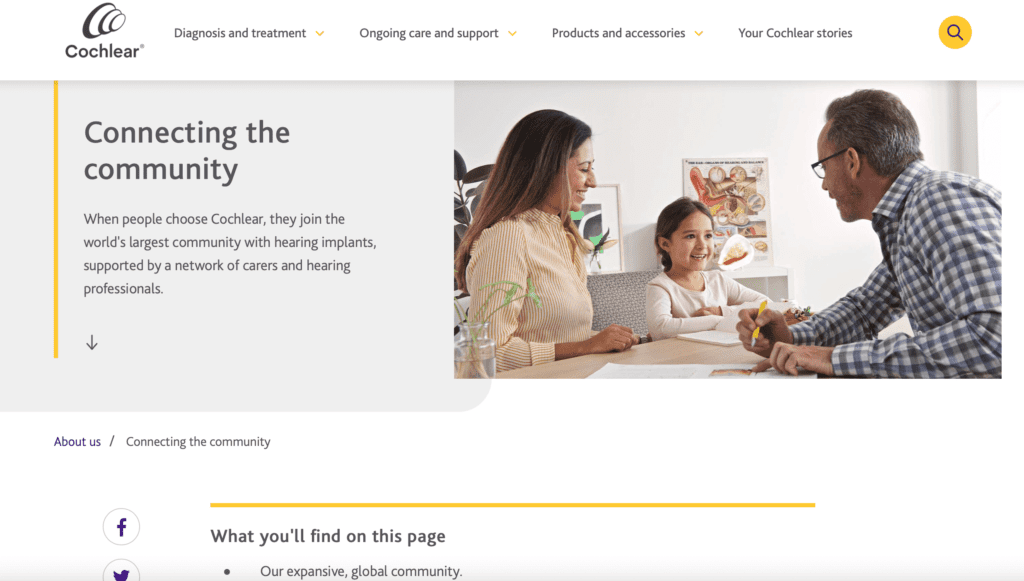 How Cochlear profited from implementing Salesforce Experience Cloud?
Created beautiful communities that fully met Cochlear's needs and goals.
Built and maintains lifetime relationships with the people who use Cochlear implants across the world
Improved the user experience and enhanced customer retention.
Established deep connections with partners (clinics, surgeons, audiologists).
Provided people with all the necessary information to ensure an outstanding experience as they adapt to their new lives.
Thanks to mobile-friendliness, Cochlear now allows people to engage and access information on-the-go.
(RED)
(RED) integrated with Salesforce in 2016 and used Experience Cloud for communications and data management to help them fight the world's biggest health emergencies more efficiently.
About (RED)
(RED) was founded in 2006 to fight the AIDS pandemic. With the emergence of COVID-19, the company (together with its partners, supporters, and collaborators) decided to answer the need for a truly global response and help people fight against COVID. 100% of the money raised by (RED) and its partners goes directly to strengthen health systems and support life-saving programs in the communities suffering from pandemics most.
Challenges
Create a beautiful community that centralizes all data and delivers relevant information.
Provide (RED) with the tools and functionality to be better, faster, and more efficient.
Enhance collaboration and interactions with partners and supporters.
Translate key statistics, data, and information in the global health community into easy-to-understand visualizations.
Create an exclusive knowledge base to hear testimonials and insights from the (RED) team, partners, and other collaborators.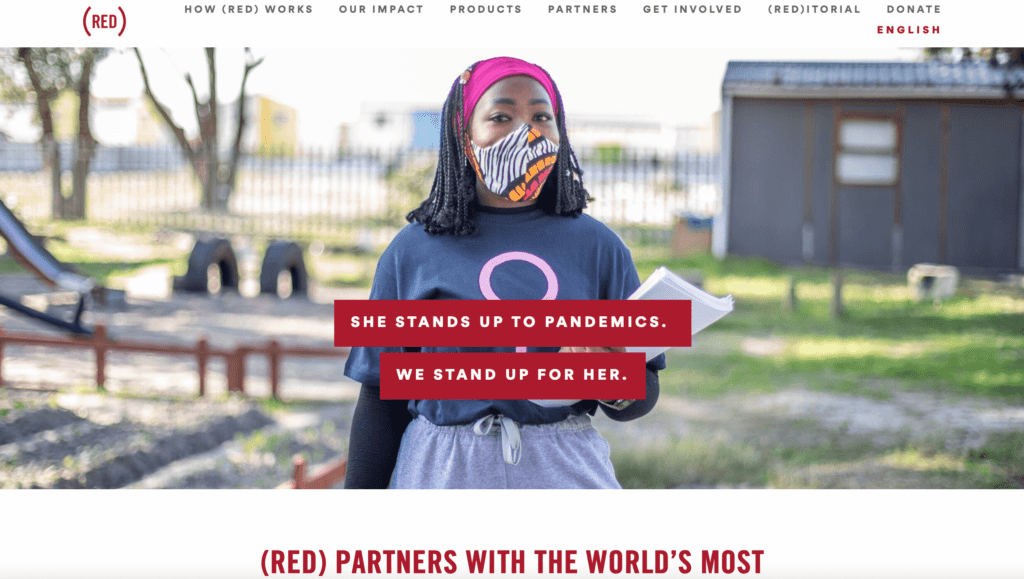 Solution
(RED) achieved all of its targets thanks to the partnership with Salesforce and its products. On their way to success, they used various Salesforce solutions:
Sales Cloud;
Pardot, a Salesforce marketing automation platform;
CRM Analytics;
Experience Cloud.
How (RED) profited from implementing Salesforce Experience Cloud?
(RED) received a beautiful, feature-rich Salesforce Community portal that meets all of the company's needs and requirements.
The company gained trust and deepened its relationships with partners and collaborators to become more productive and efficient.
(RED) streamlined key business processes and extended them across their collaborators and departments.
Experience Cloud helped (RED) engage with partners and increase corporate donations to the Global Fund.
The company provided its customers with a place to get answers and make donations without calling customer service, which reduced support costs.
We at Advanced Communities are so proud to share a tiny part of our work: our success with Greenpeace UK. This non-governmental environmental organization is passionate about defending the natural world from destruction. Greenpeace UK decided to update its existing volunteer community and move it to the Salesforce Experience Cloud platform. Let's see what they got!
A Complete Guide on Salesforce Experience Cloud for Nonprofits
Uncover the benefits of Salesforce Experience Cloud for nonprofits: explore the platform's features & discover how it can help manage donations, events, members, and more.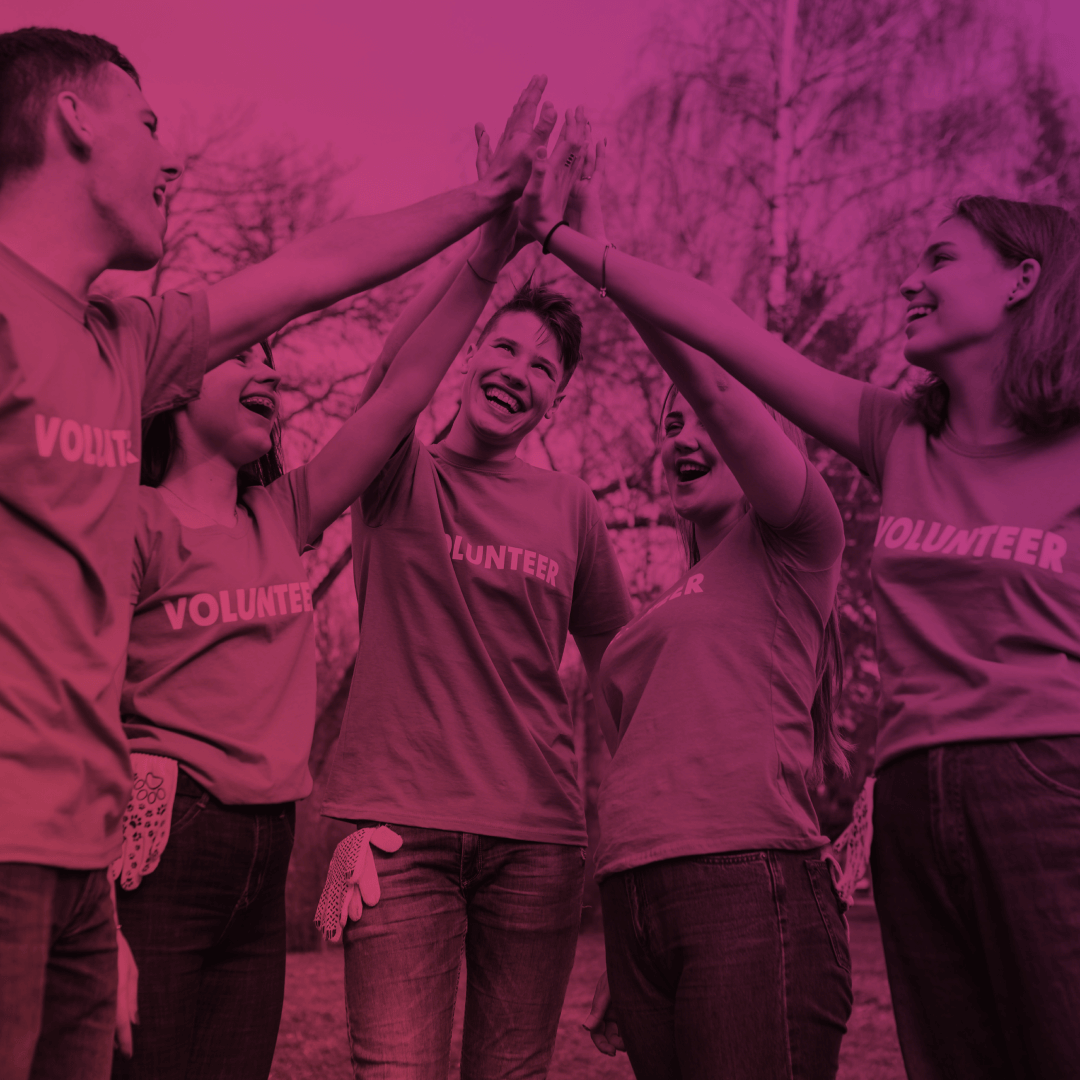 Greenpeace
About Greenpeace
Greenpeace is a well-known charity organization with offices in 55 countries. Relying on volunteers, Greenpeace works to defend the natural world for a green and peaceful future.
Challenges
The Greenpeace volunteer community was already powered by various Salesforce apps, but still required additional customization to meet their needs:
Improve operations;
Enhance Member and Volunteer Management;
Increase audience awareness about the company and its mission;
Improve relationships with partners and collaborators;
Provide better engagement with their audience.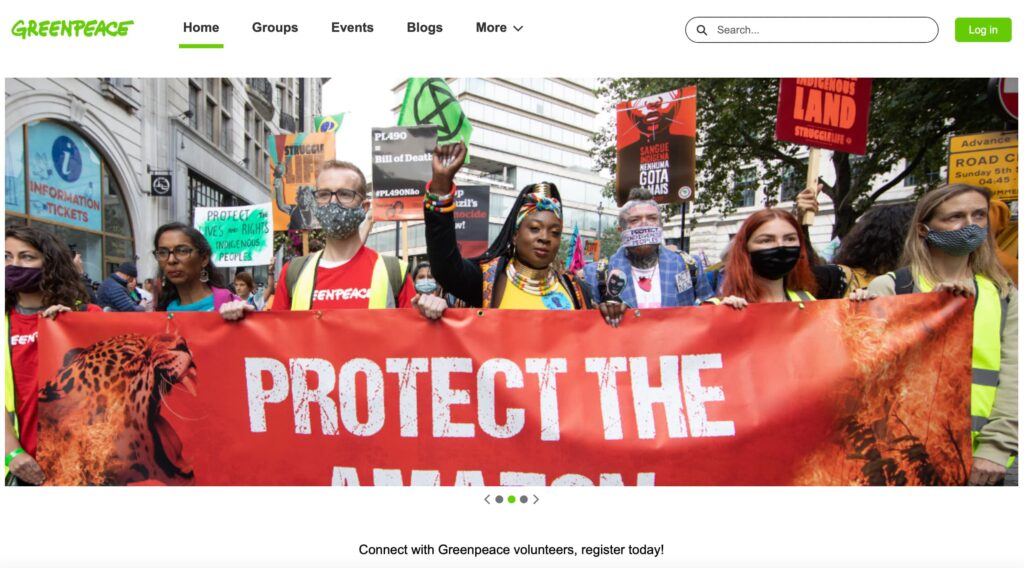 Solution
Implement an integrated AC Events solution;
Add AC Member Directory component;
Create customized location-aware Chatter groups;
Implement Chatter;
Make the main page more relevant and engaging.
How Greenpeace UK Benefited From Our Services
The company can now track, manage, and collaborate with community members more effectively.
It's much easier to find your local volunteer groups.
The main page contains visually appealing content, now featuring upcoming events, the latest discussions, photos, and a group map.
Chatter implementation ensures enhanced online collaboration and knowledge sharing.
Organization and management of local and national events became much easier.
The overall customer experience has significantly improved.
Salesforce Experience Cloud for Nonprofits: License Overview
Read the article to learn about the new Salesforce for non-profits license and its main features.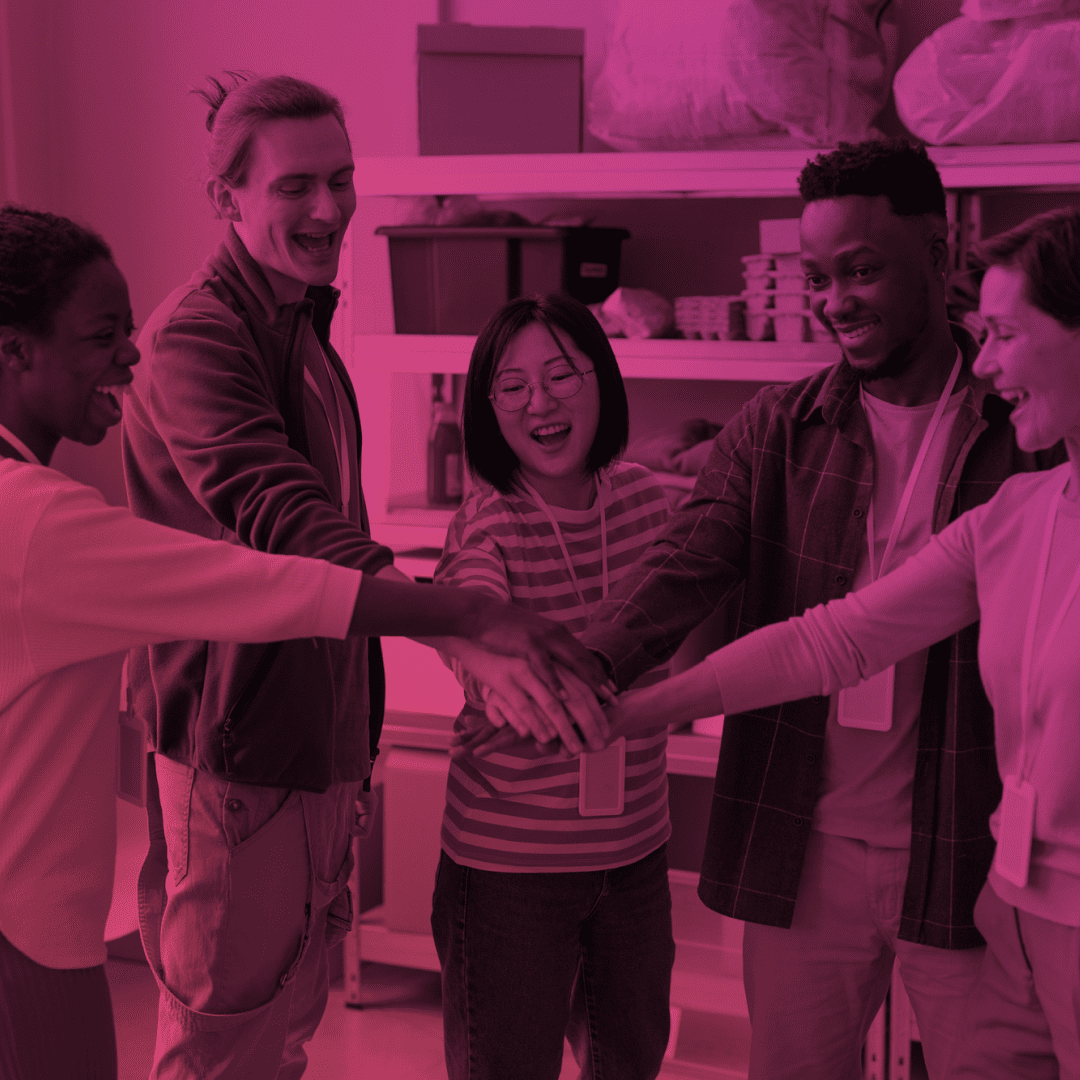 As you can see, there are many Salesforce use cases to discover and use for inspiration. Advanced Communities has experience building communities for different companies across multiple industries, and we've created several apps designed specifically for communities. Have an idea after reading the examples above? Contact us to book a meeting with our Experience Cloud experts!
Subscribe to our Newsletter
Receive regular updates on our latest blog posts, news, and exclusive content!
Tag cloud